Holds session to report consulting service on establishment of action plan of project designed to make Incheon an economic metropolis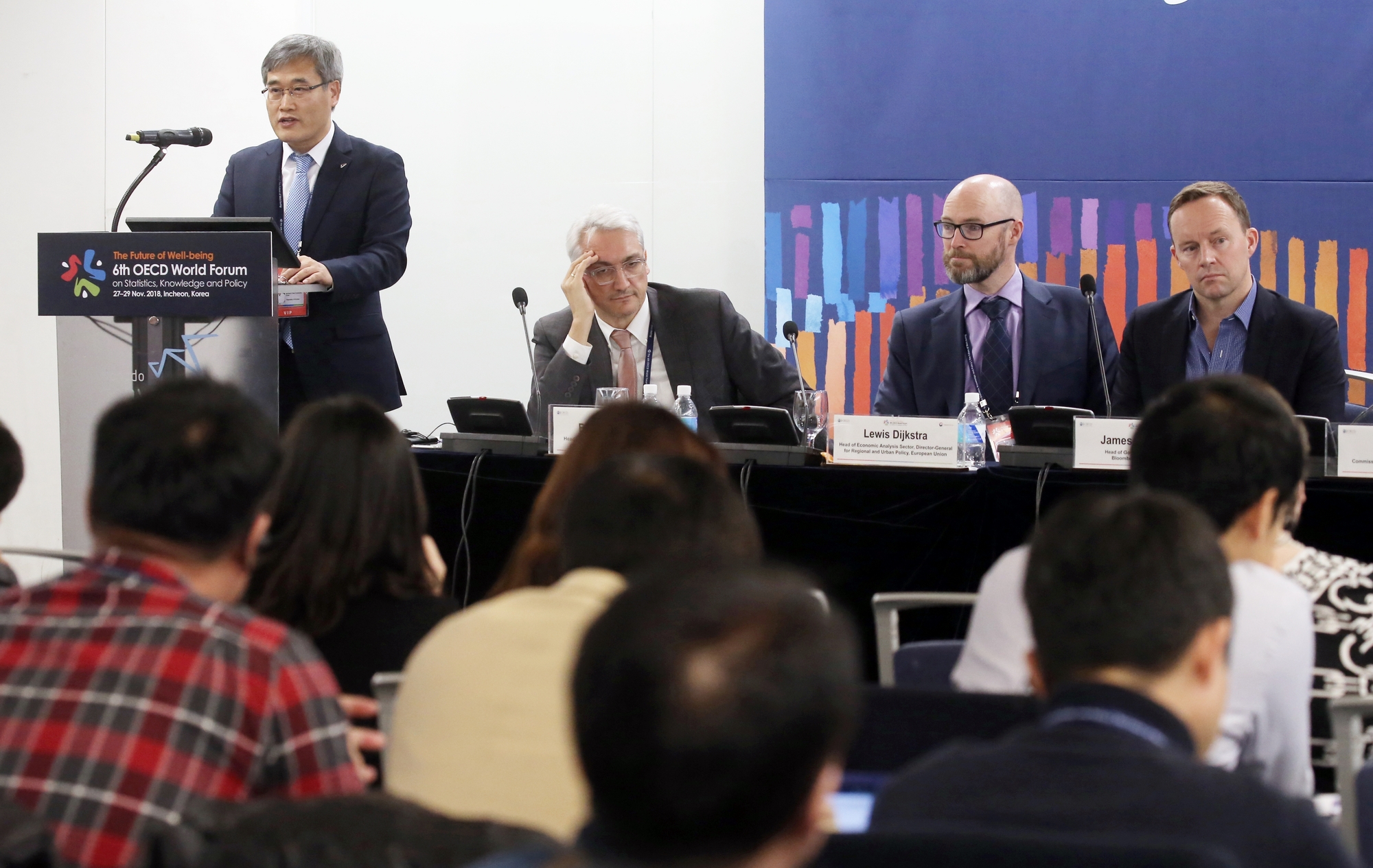 Commissioner Kim Jin-yong of the Incheon Free Economic Zone (IFEZ) Authority, speaks at the 6th OECD World Forum in Songdo Conventia in Incheon on Nov. 27. (Photo: IFEZ)
The Incheon Free Economic Zone (IFEZ) is launching the "Startup Venture Polis Project" to extend a helping hand to challenging youth in Incheon by exploring advanced areas such as IT&BT, smart city & aviation and MICE (Meetings, Incentives, Conferences, and Exhibitions) by 2023.

IFEZ held a session to report on the establishment of an action plan for the project designed to make Incheon an economic metropolis, creating jobs for youth at the G-Tower in Songdo International City on Dec. 5. The project is designed to provide support to youth wanting to launch startups and nurture specialized industries to secure future growth engines.

The event, titled "Incheon, an Economic Metropolis Creating Many jobs" was as opportunity to discuss how to provide financial and policy support to startups and venture companies based on "smart city" infrastructure, the strength of the IFEZ, and the sharing of data.

The project calls for the establishment of a regime where "one-stop support" is available, such as startup programs tailored to meet the needs of entrepreneurs and venture companies, contests for commercializing explored ideas and the supporting of technology development funds.

A startup nurturing fund of 50 billion will be created to support creative startups, thus creating an ecosystem of the most prominent "IT&BT, Smart-City Mecca" among free economic zones across the nation. The support project will be carried out in three stages.

The first phase project calls for centering the "Smart Innovation Center" in which youth and startups can realize ideas. The second phase involves the creation of a "collaboration science park" to back continuous growth of startups. The final and third phase project is designed to provide financial support for technology development and create a fund for nurturing startups.

IFEZ Commissioner Kim Jin-yong said, "Fundamental solutions will be worked out to help youth find quality jobs and settle down." IFEZ will devote itself to implementing the project of creating quality jobs and making Incheon an economic metropolis of creating more jobs, he added.

IFEZ Commissioner Kim Speaks on Smart Cities at OECD World Forum

The 6th OECD World Forum, themed "The Future of Well-Being," took place at Songdo Conventia in Incheon from Nov. 27 to 29. IFEZ Commissioner Kim spoked on the topic "Definition and Measuring of a Smart City that will Unfurl in the Future" on the second day of the conference, on Nov. 28, attracting attention from many people.

Dr. Rudiger Ahrend, head of urban policy, public governance & territorial development at the Organization for Economic Cooperation and Development (OECD), served as the chair of the forum.

Stats and smart city experts of each country participated in sector-by-sector sessions.

IFEZ Commissioner Kim announced IFEZ's process to implement smart city and development strategies under the title "The President and Future of IFEZ Smart City."

"Convenient city & smart city are core elements directly linked to the well-being of humanity, and the design idea of IFEZ Smart City originated from a look into the well-being of citizens and the city." he said.

Kim explained the chronology of the development of IFEZ and IFEZ's six public services designed to promote citizens' life satisfaction. IFEZ, based on experiences of developing a smart city platform on its own, is in a stage of exporting smart city technologies to Southeast Asia and Central and South Africa.

IFEZ is opening to the private sector data it has so far accumulated to make a leap forward to a next stage and it is implementing the "Startup & Venture Polis Project" that startups/venture companies can utilize the whole of the city as a smart city test-bed, said Commissioner Kim, adding that the project will serve as an opportunity to make new business models and create diverse jobs.