Pres. Hur decides to push two-pronged management plan to keep the bank to continue to make profit by boosting overseas operation with domestic financial market too crowded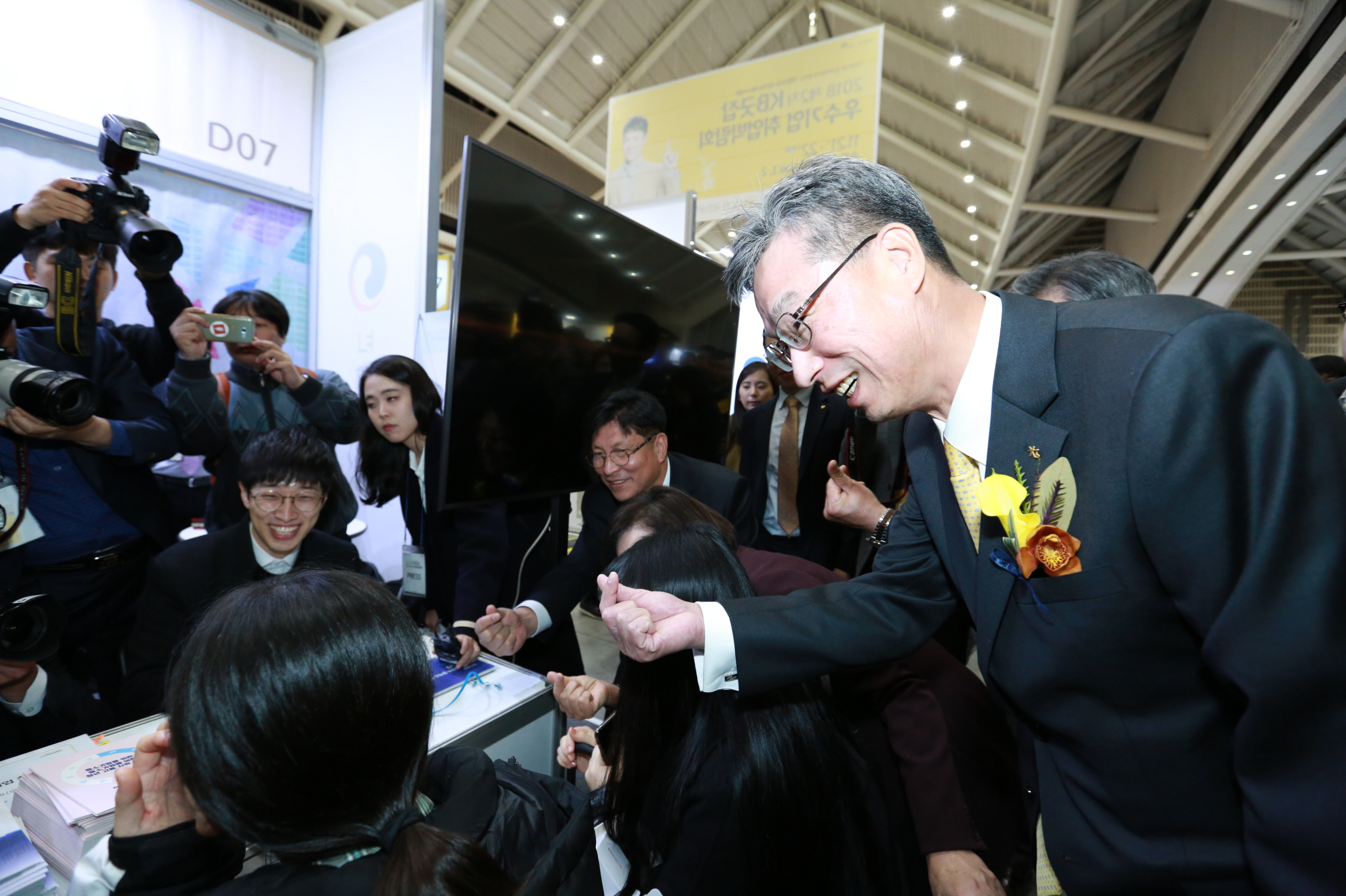 President Hur Yin of Kookmin Bank makes around of the young job seekers at the 2nd Good Jobs with Excellent Enterprises that the bank held on Nov. 21.
President Hur Yin of KB Kookmin Bank announced that he will pursue digital reform and a strategy to expand investment banking overseas as the two main points of his management policy as he welcomes his initial year as CEO of the bank on Nov. 21.

In a recent interview with a local daily, he explained that he thought new strategies were needed to continue to run the bank to generate profit, with the domestic financial market being already too saturated to count on meaningful growth. He said Kookmin Bank should lead customers to use mobile channels for such simple banking transactions as remittances, while cutting the waiting time and expand the consultation time for the customers as part of a two-track strategy.

President Hur ruled out any cut in manpower at local branches. He said he would rather boost manpower to handle the digitalization at the same time and increase joint projects with fintech startups. He said around 4,000 of 17,000 employees for the bank will be filled with digitalization experts.

The bank will make investments in the fund to finance the construction of an ecological structure for fintech and set up a new Cloud System to make its financial data accessible to corporate customers. The bank will create a venture capital fund, "CVC Fund" as large as 50 billion won in the coming five years. Transaction data will be available to fintech firms and outside developers so they may be able to create many and diverse financial services.

In connection with the project to foster the growth of IB operation overseas, President Hur said current global trends show that existing retail banking is being replaced by IB, with Japanese banks taking over large IB deals in the global financial market emerging as the leader in the area.

He said the bank will take advantage of its strategic cooperative tie-up with the Sumitomo-Mitsubishi Banking Corp. (SMBC) of Japan and secure some of the project financing deals flowing out of North America. But he will try to form a consortium to capture some of those PF deals as they come so big and by doing so make the bank known widely in the global financial market.

President Hur said he will see the bank set up its outlets in such key IB centers as London, New York and Hong Kong by speeding up the strategy for the move.

He attended a job fair called "KB Good Jobs with Excellent Enterprises," held by SMEs on Nov. 21, which is also the one-year anniversary for his tenure as the CEO of the bank. He brushed aside fears that the bank's health may be in danger due to its loans to SMEs, with the economic conditions growing worse in recent years.

By noting that the bank went through a tearful restructuring of its operation so that it may continue to weather the poor financial conditions better than any other banks in the country and stay healthy.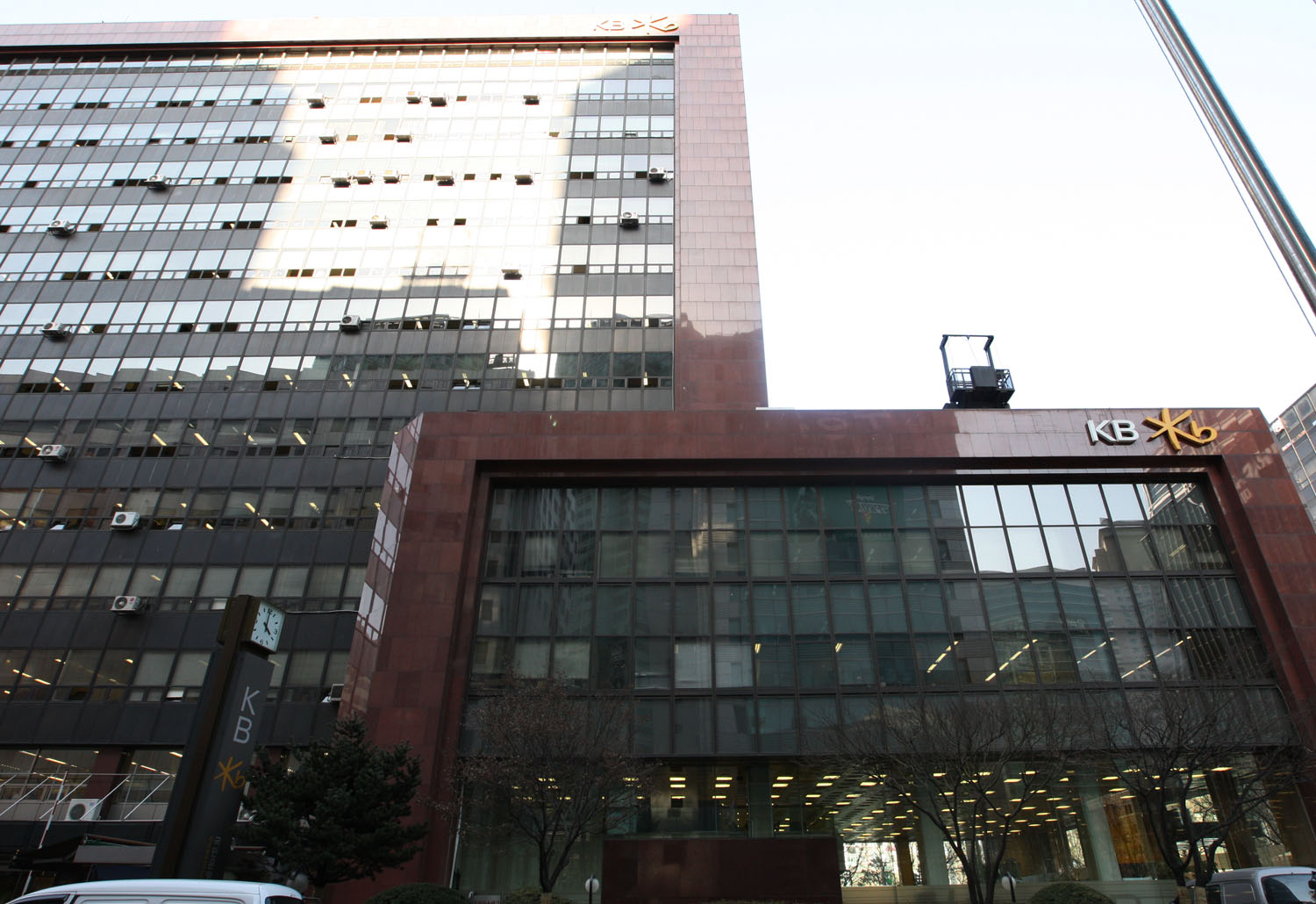 A view of the head branch of Kookmin Bank located in Yeouido, Seoul. (Photos: KB)