Holds this year's last meeting with businessmen from Gwangju and Jeollanam-do to work on strategies to support new industries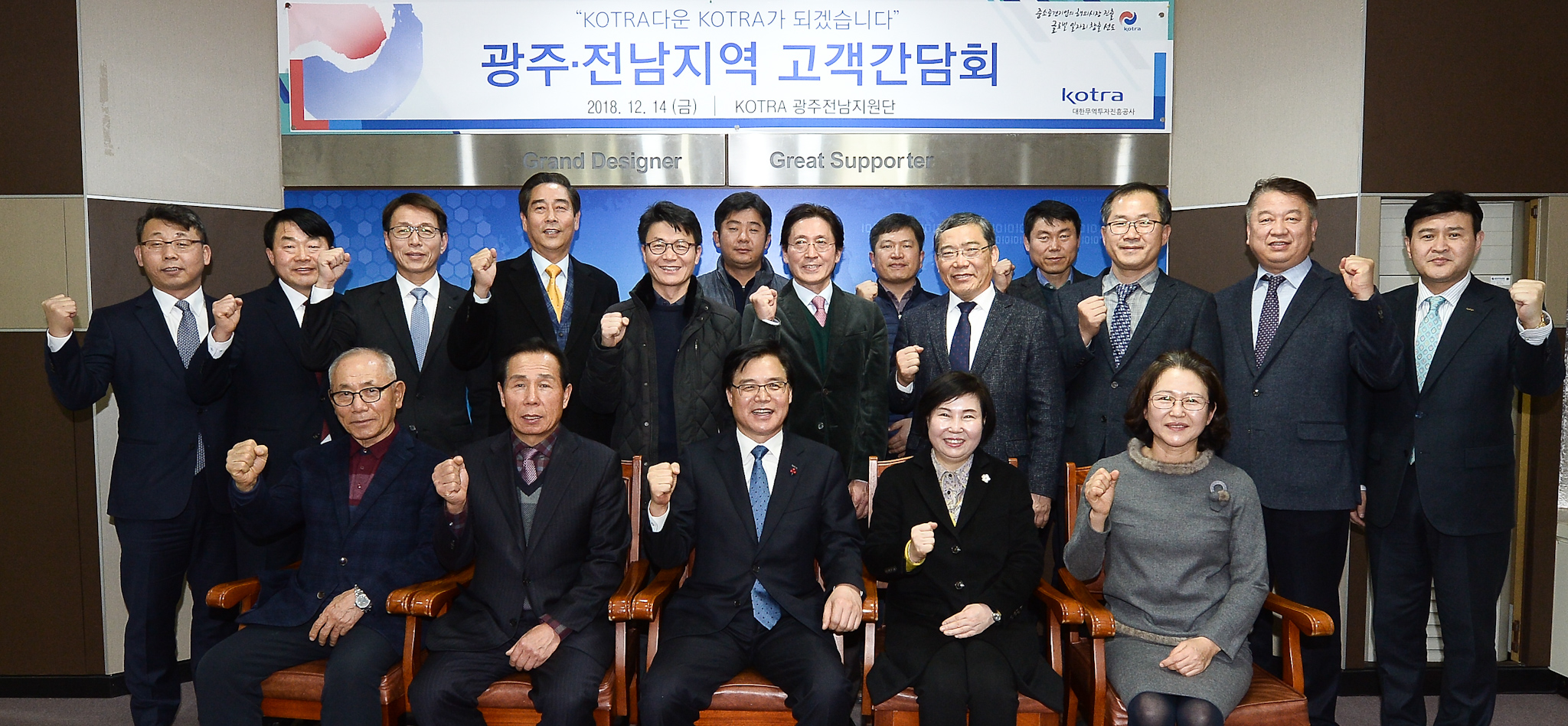 President Kwon Pyung-oh of Korea Trade Promotion Corp. (KOTRA) poses for a group photo session with businessmen from 12 companies in Gwangju and Jeollanam-do area after holding this year's last meeting to spur exports at Gwangju Metropolitan City on Dec. 14. (Photo: KORA)
President Kwon Pyung-oh of Korea Trade Promotion Corp. (KOTRA) huddled with businessmen from the Gwangju and Jeollanam-do areas at the last meeting of this year at Gwangju Metropolitan City on Dec. 14. They discussed ways to spur exports.

On hand at the gathering were 12 companies specializing in medical/bio sectors, being nurtured as future growth engines in the region as well as new/renewable energy, food processing and other mainstay industries.

The medical industry in the Gwangju area with a focus on biomaterials and parts segments is on a roll as the number of companies grew to 367 as of 2017, a 19 percent jump over the previous year and they posted 446.6 billion won in sales, a 13 percent surge. But if the industry continues to gain momentum, industry analysts and pundits share the view that it should secure leading technologies and investments to boost exports and infrastructure.

Yoon Taek-lim, head of the Bio-Convergence and Medical System Industry Support Center at Cheonnam National University, who once served as president of Cheonnam National University Hospital, said, "(We're) cooperating with Gwangju Metropolitan City and Techno Park to nurture industries related to dentistry, orthopedics, and ophthalmology and tap foreign markets."
He added that, starting with the Central Asian region, including Uzbekistan and Kazakhstan, his center is seeking to work on details, including the provision of information such as certifications and permissions and market surveys as well as collaboration such as market surveys and exploration of business partners.

The region is accelerating efforts to nurture new industries to cope with rapid environment changes of the energy industry.

Gwangju Metropolitan City plans to designate an energy industry convergence complex, establish an integrated support center and make a specialized industrial complex with smart power R&D platforms and EV charging platforms around 2020 as part of efforts to set up a global new energy industry cluster. Gwanju and Jeollanam-do have attracted more than 350 tenant companies under a scheme to build KEPCO's Energy Valley.

Senior Executive Vice President Chung Soon-pil of TOPINFRA, which won $30 million EDCF project orders involving photovoltaic power infrastructure and plant projects from Honduras, said his company is making all-out efforts to enter overseas energy markets such as Cambodia and other Southeast Asian countries by making the most of the experiences and knowhow the company has accumulated from the implementation of the projects in Honduras.
He expected KOTRA to give full support for the exploration of the Southeast Asian procurement market involving complicated interest parties, he said.

The value of exports of the province's mainstay agricultural produce amounted to $260 million as of the third quarter of this year, up 15 percent over the same period of last year, renewing the previous record.
Participants shared the view that support needs to be expanded to maintain the growth trend. President Kim Hee-sung of Gavo Farms, which exports mainstay products such as pear juice and other fruit juice products to China and Vietnam, said the company's exports to China are turning around toward previous levels on a slow pace following the recovery of relations between Korea and China. He said his company was making the most of fairs and consulting sessions, hosted by KOTRA to tap alternative markets such as Southeast Asian countries.

KOTRA plans to review ideas and views gathered during the latest meeting and reflect them to flesh out details of the overseas marketing projects the corporation will implement next year.
KOTRA will sponsor a consulting session on item-by-item market surveys in the medical/bio sector, support for obtaining overseas certifications and medical industry for the elderly in October and export consultation sessions during the Solar, Wind & Earth Energy Trade Fair 2019 (SWEET 2019) and the 2019 Green Car Korea. KOTRA plans to offer total support to explore overseas markets during the International Agriculture Exhibition 2019 slated for October and Gwangju International Food Fair 2019 slated for November.

KOTRA President Kwon said, "(We at KOTRA) will take preemptive steps and provide support starting from stage of policy-making and developing projects of metropolitan and local government by leveraging KOTRA's capabilities to provide overseas support and explore markets."