Fresh Homegrown Agricultural Produce Enjoys Popularity in Southeast Asian Markets
Rising popularity of Korean content such as Korean music and dramas serves as good opportunity to boost Korean agricultural produce exports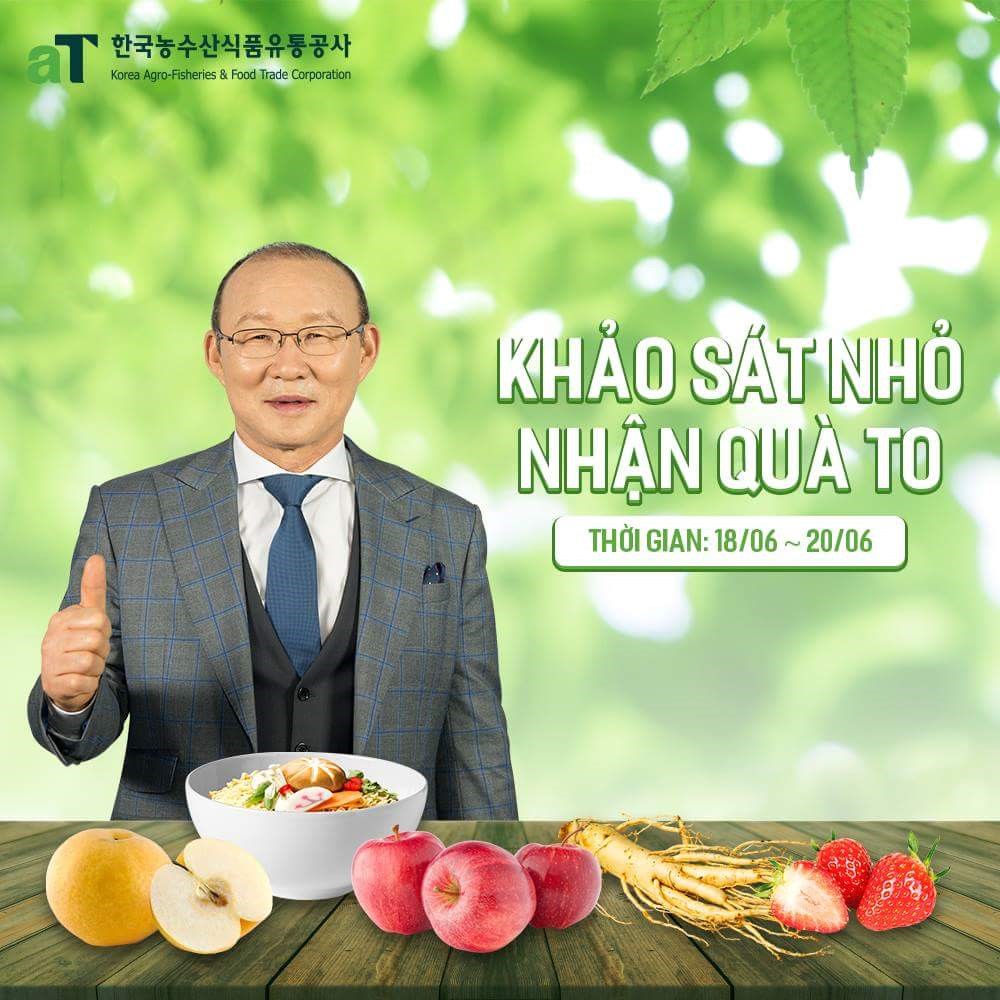 Korean-born, Vietnamese national soccer squad coach Park Hang-suh, dubbed "Vietnamese Hero," appears as a K-food model to make a pitch for Korean agricultural produce and food.
Exports of homegrown agricultural produce, livestock and food amounted to $6,367.9 million in the first 11 months of this year, a 2.4 percent rise over the same period of last year. In particular, fresh agricultural produce exports are on the roll as major fresh food products such fruits & vegetables, and kimchi products saw exports surge 18.9 percent.

This trend may be construed as Korean agricultural produce being increasingly recognized as high quality and meeting Asian consumers' palate. Homegrown strawberries attract popularity in Thailand and Vietnam. Presenting Korean produced strawberries as Valentine's Day gifts in Thailand instead of chocolates is all the rage.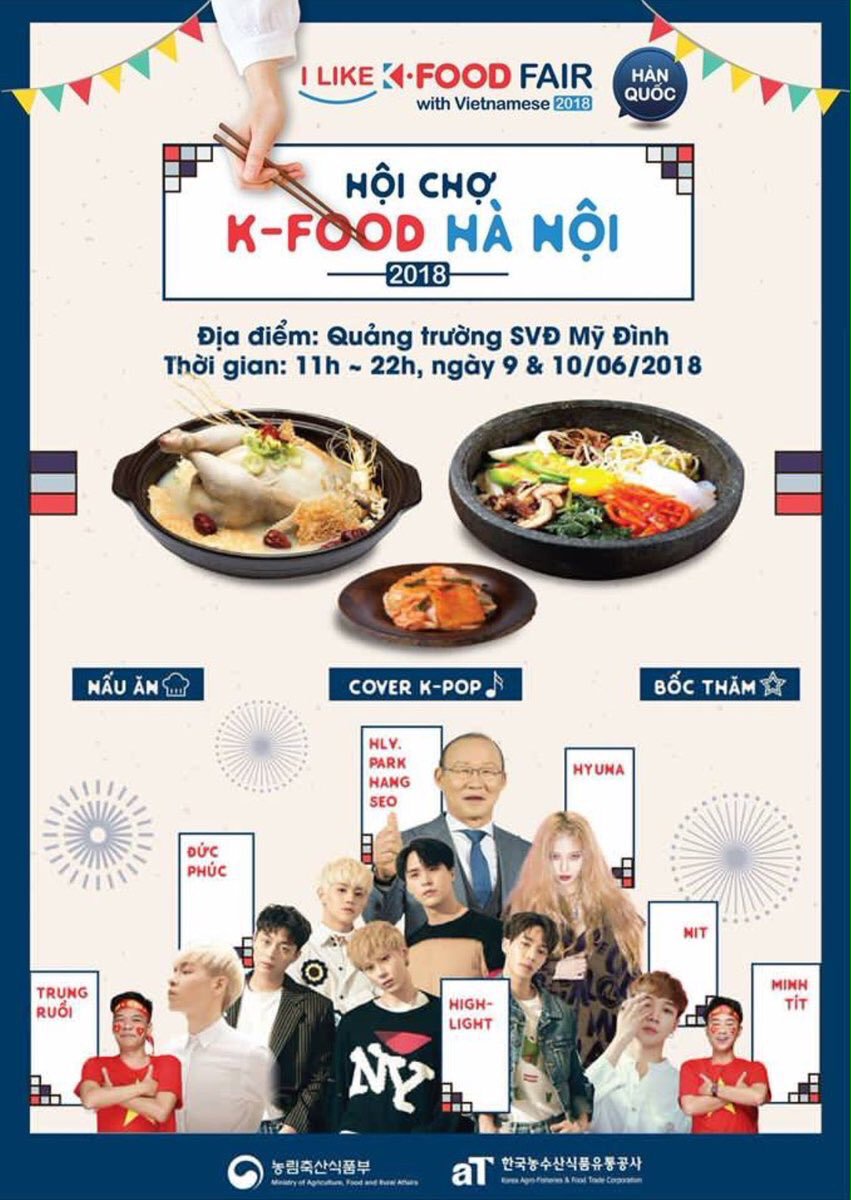 A poster for the K-Food Fair 2018 in Vietnam.

Korean cultivated pears have demonstrated a strong showing as they accounted 72 percent of all imported pears in 2017. Homegrown pears have enjoyed popularity as festival gift sets as they contain high sugar content and are crisp. Shine Musket, boasting bigger grapes and high sugar content of 22 brix, has emerged as a profitable item.

Homegrown agricultural product's feats are attributable to Korean agricultural produce's frenzy, influenced by hallyu (Korean Wave), coupled with agricultural produce and food companies' efforts to overcome the limitations of the Korean market with exports and the government's policy support.

Utilizing Hallyu Frenzy to Promote Marketing of Korean Agricultural Produce

Like the frenzy of hallyu, the rising popularity of Korean content such as Korean music and dramas serves as a good opportunity to boost Korean agricultural produce exports.

Consumption of perishable goods has greater spill-over effects by spreading Korean culinary culture, which is a departure from Korea's well-known non-perishable goods sales such as TVs and automobiles. Korean agricultural produce is being recognized for its safe and luxurious image in connection with hallyu content, which can boost Korean agricultural product exports.

The Ministry of Agriculture, Food and Rural Affairs (MAFRA) is seeking to implement diverse publicity blitzkrieg projects, including one to utilize hallyu entertainers to enhance the standing of Korean agricultural produce.

Among representative examples of supporting the cultivating of homegrown agricultural produce and foods as global brands and promoting star collaboration are the selecting Korean idol stars such as Nichkhun, a member of the idol group 2PM and Korean-born soccer coach Park Hang-suh dubbed as the "Hero of Vietnam" to conduct publicity blitzkrieg campaigns in Vietnam, Hong Kong and Thailand.

The ministry plans to make the most of media tools such as TV planning, commercial films and local power bloggers to make recipe content go viral on the social network system and host a food image contest to enhance the recognition of Korean agricultural produce.

"Red & Hot Theme Pavilion" designed to target foreign consumers, has obtained a good reception to promote Korean agricultural produce and foods like the K-Food Fair and the Korean Agricultural Produce and Food Pavilion during Asian Games.

Tasting of Korean hot items such as red pepper paste, kimchi, ramyeon, and tteobokki leads to the enhancing of local consumers' understanding of Korean agricultural produce and foods and expanding of their consumption.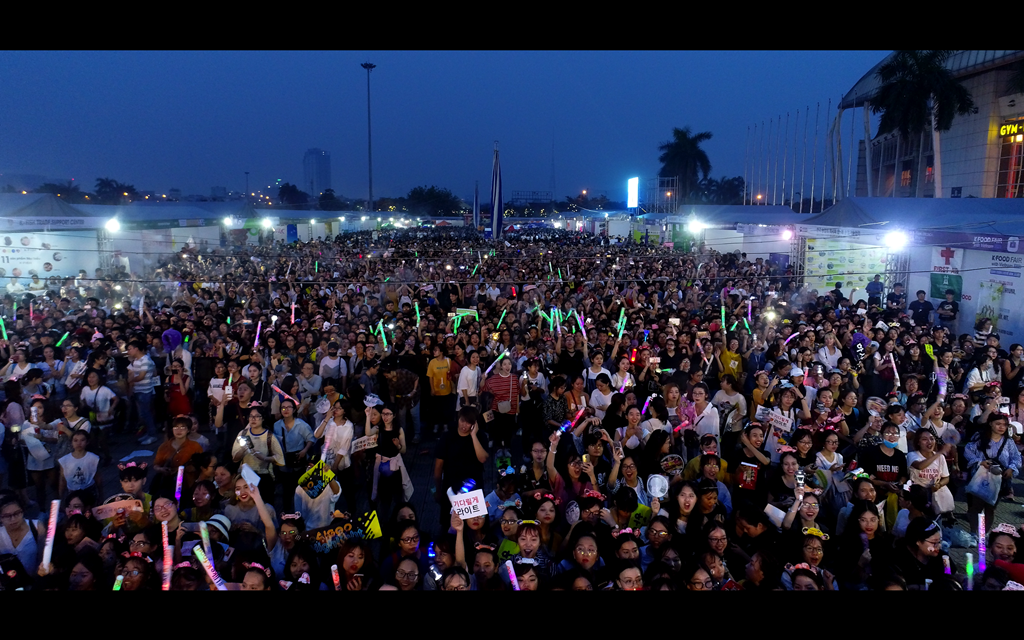 A throng of Vietnamese people crowd the K-Food Fair 2018 that took place in Hanoi in June.

Operation of AFLO to Foster Youth into Agricultural Produce Export Professionals

The ministry makes efforts to help agricultural produce and food companies diversify exporting markets with a focus on Southeast Asian countries to explore their global markets and ramp up their competitiveness. In order to diversify exporting markets, 20 countries, including Southeast Asian states with greater growth potential ,have been selected as strategic states to aggressively tap new markets.

Comprehensive support such as development of products, brand consulting and exploration of marketing channels is offered to 100 companies selected to lead the diversification of markets. In particular, the ministry operates the Agrifood Frontier Leader Organization (AFLO), which is designed to nurture passionate and capable youth as agricultural produce and food export professionals. AFLO members are dispatched to strategic states such as Malaysia, Taiwan, Kazakhstan, South Africa, Brazil and Poland to explore new momentum of agricultural produce and food exports.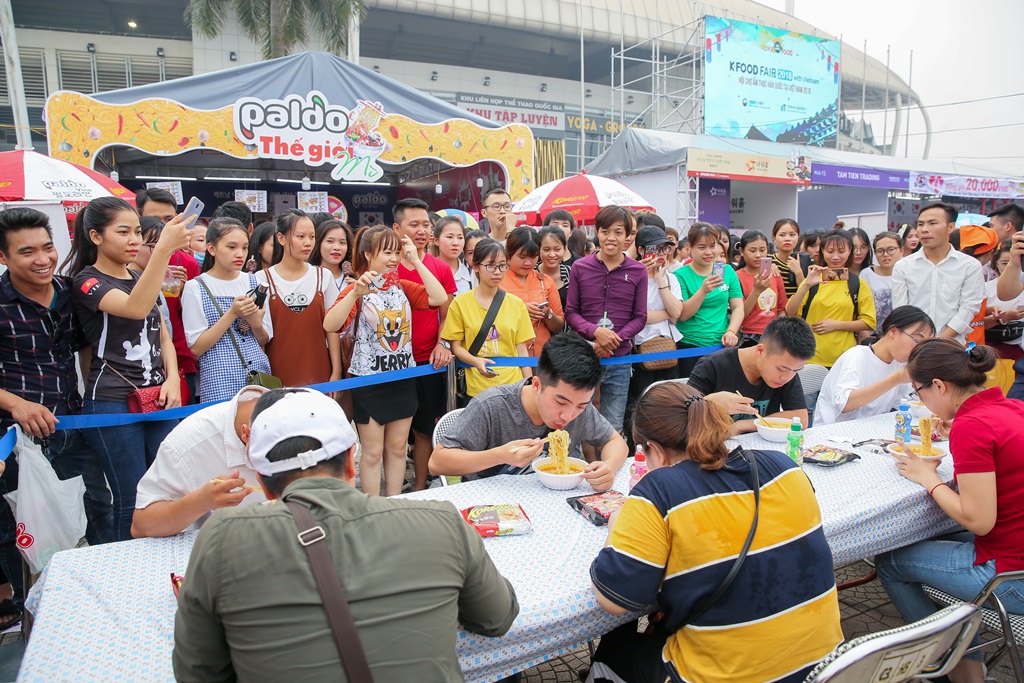 Vietnamese spectators taste Korean foods at the K-Food Fair 2018. (Photos: aT)

Nurturing of Integrated Entities to Ramp Up Export Competitiveness

A key to the successful exporting of agricultural produce depends on the organization of local exporting farmers. The government strives to organize farmers and companies to manage quality in an even fashion and prevent cutthroat competition among farmers. For instance, the "K-berry" is the sole brand making all-out efforts to explore overseas strawberry markets.

MAFTRA Deputy Minister Lee Presides Over Meeting to Review 2018 Export Support Projects

The Ministry of Agriculture, Food and Rural Affairs (MAFRA) held an agricultural produce and food export strategy meeting designed to take stock of outcomes of 2018 export support projects and establish 2019 export support policies on Dec. 2.

Deputy Minister for Food Industry Policy Lee Jae-wook presided over a meeting in which exporting companies and members of the Agrifood Frontier Leader Organization (AFLO) participated. The purpose of the meeting was to diagnose outcomes of export support policies for the year and discuss ways of overhauling export support projects for next year.

Participants of the meeting lent an ear to voices of companies and youth, which participated in eight support projects such as diversifying of export markets, integrating organizations, and "Miracle K-food" projects to explore ways to overhaul them and discuss the direction of next year's export policies.

The ministry said it plans to aggressively implement the establishment of 020 marketing channels via QR code, social network system publication via Chinese power bloggers, and other export support policies suiting one-line and mobile environment. In order to export fresh agricultural produce, the ministry will push for the nurturing of integrated bodies and the expanding of K-Fresh Zones.

Deputy Minister Lee said, "Exports plays a significant role in enhancing farming households' income."

Export support projects for the year 2019 will be implemented in a more substantial fashion by fully gathering and reviewing views of producers, exporting companies and youth participating in projects, he said.