Deputy Prime Minister-MOEF Minister Hong stresses economic teamwork at his inauguration ceremony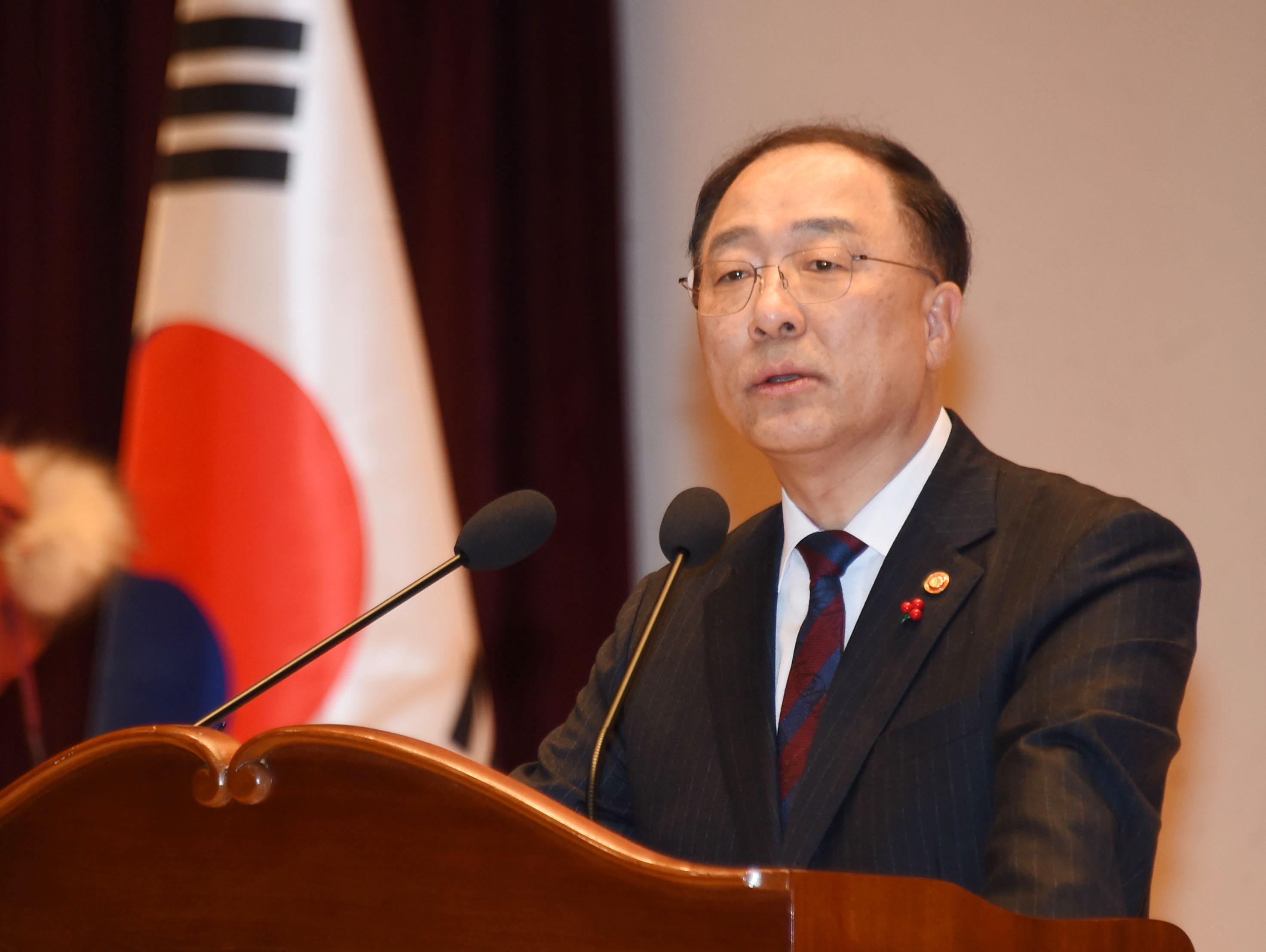 Deputy Prime Minister and Minister of Economy and Finance Hong Nam-ki delivers his inaugural speech at the Sejong Government Complex on Dec. 11. (Photo: MOEF)
Deputy Prime Minister and Minister of Economy and Finance Hong Nam-ki took office as the leader of the President Moon Jae-in government's second economic team, replacing his predecessor Kim Dong-yeon at the Sejong Government Complex on Dec. 11.

The public is playing keen attention to whether the 2nd top government economic line up – Deputy Prime Minister Hong, Presidential Policy Chief Kim Soo-hyun and Presidential Economic Chief Yoon Jong-won – can cope with economic implications caused by the pushing of income-led growth policies, including the worst employment situation and ever-worsening levels of income inequality.

A focus is on what course new Deputy Prime Minister Hong will take in the upcoming 2018 economic policy goals.

The policy is not only his first initiative on the job, but also it gives a look at his insight into the national economy and the direction of policy management. Several economic policy government officials said the government, aiming to set next year's growth rate at around 2.7 percent, is expected to concentrate its all capacities on innovative growth while looking to take steps to stem domestic demand decline in a short-term perspective.

Deputy Prime Minister-MOEF Minister Hong stressed economic teamwork at his inauguration ceremony, saying his decision to have regular meetings with Presidential Policy Chief Kim on Fridays. The outlook of the national economy is not rosy.

The Organization for Economic Cooperation and Development (OECD) gave the Korean economy an optimistic forecast with a 2.8 percent growth, while the international credit rating agency Moody's predicted a 2.8 percent growth rate for Korea next year, citing the probability that Korea would be hit hardest by international trade conflicts, and the shock of the minimum wage hike.

A survey of economists, conducted and released by the Korea Development Institute on Dec. 12, found that the nation's expected economic growth rate would stand at 2.5 percent. Despite these predictions, the Ministry of Economy and Finance (MOEF) is considering setting the growth target rate at something between 2.6 percent and 2.8 percent.

The reason is that the government's view must influence the economic sentiment of the private sector. In the same context, Deputy Prime Minister Hong stressed efforts to overall revitalize the national economy and overcome "economic misgivings and distrust barriers" in the course of the implementation of economic policies while delivering his inaugural speech.

The ministry is pondering diverse supplementary steps to combat the declining tendencies of the national economy in the short term, ministry officials said.
A cabinet meeting in which Deputy Prime Minister Hong participated for the first time since his inauguration on Dec. 11 approved a budgetary allocation plan, calling for front-loading 70 percent of next year's government budget next first half. The plan is part of efforts to take preemptive steps to stem a further decline of the national economy in the first and second quarter of 2019.

Deputy Prime Minister Hong's new economic team's efforts to spur innovative growth will likely gain ground, analysts said.

The MOEF had virtually failed to gain full support from the presidential office as his predecessor Kim Dong-yeon was at odds with former presidential policy chief Jang Ha-sung over the direction of economic policies.
Deputy Prime Minister Hong has indicated his plan to have unofficial meetings with presidential policy chief and economic policy officers as part of steps to prevent economic policy disharmony, unlike the one witnessed by President Moon's first economic team.

Hong is expected to reshuffle his ministry's lineups. Starting with vice minister replacements, Deputy Prime Minister Hong is likely to reshuffle MOEF's economic police line-up, including director general in charge of economic policy and director general of economic coordination.

The new economic team is expected to deliver the ministry's stronger call for innovative growth, giving more weight to the Innovative Growth Headquarters installed at the Korea Chamber of Commerce and Industry (KCCI), rather than reducing or disbanding it. Deputy Prime Minister Hong's stress to lend an ear to the voices of self-employed businessmen and the field of companies might signal his intention to expand the role of the Innovative Growth Headquarters.
Deputy Prime Minister Hong is on the same wavelength with his predecessor, an MOEF official said.
He is likely to be more determined to implement details of policies such as the competitiveness of the medical and other service industries as well as platform services such as Uber and Airbnb models with specified goals, the ministry official said.

Earlier, President Moon Jae-in called for Deputy Prime Minister to take dramatic steps to boost corporate investments at a ceremony to award a letter of appointment to the latter at Cheong Wa Dae on Nov. 10.