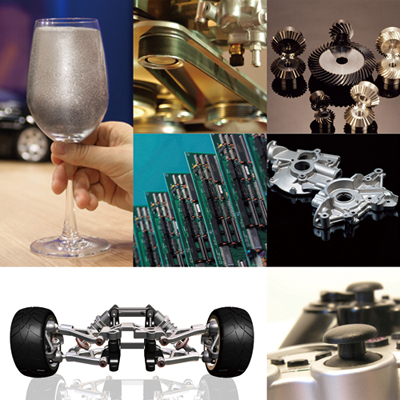 The Korean parts and materials industry is on a roll.
Here are some of the world-class parts and materials,
being exported abroad.
The Ministry of Trade, Industry and Energy (MOTIE) said Korea posted a $23.2 billion trade surplus for the parts and materials industry for the first quarter of 2013, marking the eighth consecutive quarter of trade surplus.
Figures, compiled and released by MOTIE on April 11, showed that the nation posted $63.6 billion worth of exports in the first quarter of the year, up 5.2 percent over the same period last year, and $40.4 billion worth of imports, a slim 1.2 percent increase over one year earlier.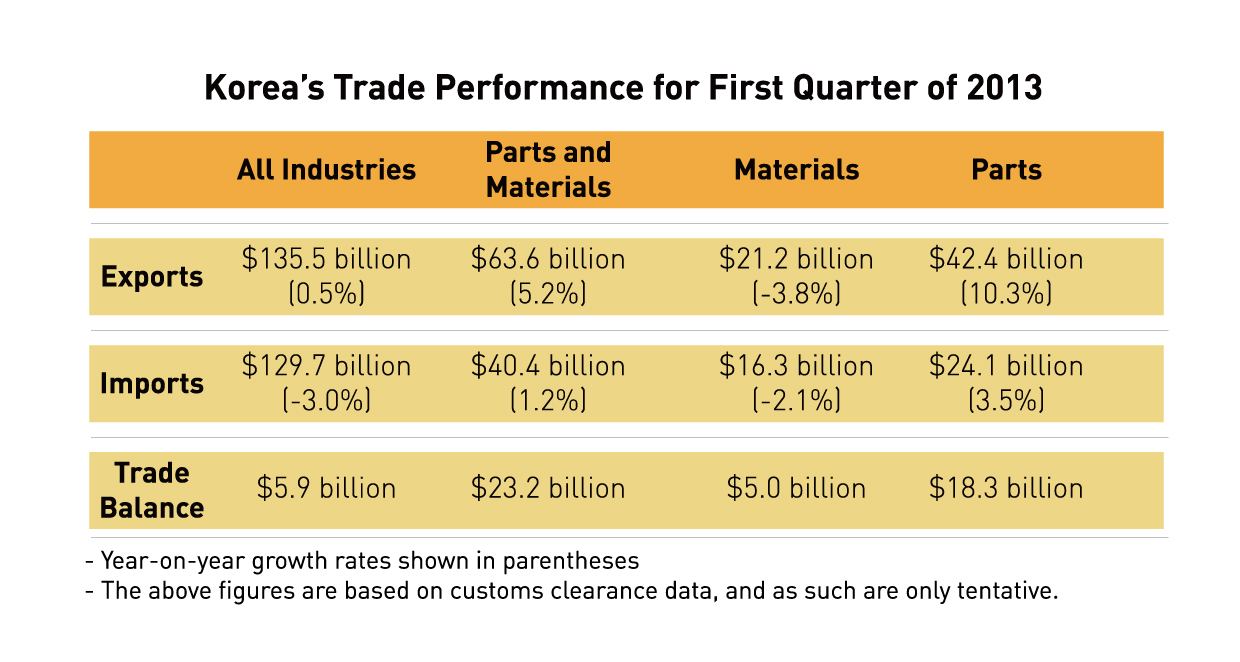 Kim Sun-min, director in charge of materials and parts policies at the MOTIE, said the parts and materials sector registered a $20.8 billion trade surplus for the January-April period in 2013 for an eighth consecutive quarter, more than 13 times as much as the corresponding figure for all industries combined. The ministry said it expects the sector to play a leading role in resurging exports in the months to come.
In particular, despite unfavorable economic conditions, including a weaker Japanese yen, the parts and materials sector has seen its exports grow by a brisk 5.2 percent on year. The recovery was led by solid performances in electronic components, electrical machine parts, and transportation machine parts. Exports of nonmetallic minerals were boosted by strong demand from LCD panel manufacturers. But due to weaker demand in the global market, outbound shipments fell in basic materials, rubber, plastic materials, and textiles. With most trading partners, the nation' s trade balance maintained a surplus.
In the first quarter of 2013, the parts segment took the lead in exports and has seen a rise in such regions as the Association of Southeast Asian Nations (ASEAN) and Central and South America. Specifically, the electronic parts segment saw its exports surge 13.1 percent; electric machinery parts exports jumped 15.4 percent, transportation machinery parts exports increased 6.1 percent, and nonmetallic minerals exports soared 57.4 percent. But primary metals and rubber exports plummeted 14.9 percent while plastics and textile exports declined 1.7 percent and 1.4 percent, respectively.
By area, materials and parts exports to China logged a $10.7 billion trade surplus in the first quarter of 2013, up $1.58 billion over the same period of last year. The figures to China also showed signs of easing as the concentration percentage to the nation declined from 36.3 percent in 2010 to 34.5 percent in 2011, 34.1 percent in 2012, and 33.4 percent in Q1 of 2013.
The parts and materials sector registered a $5.38 billion trade deficit to Japan in the first three months of the year, up $190 million over the same period of last year. The nation' s trade deficit to Japan somewhat improved due to a decline in import demand for the shipbuilding and automobile sectors, as Korea' s import dependence on Japan dropped from 27.1 percent to 25.2 percent in 2010, 23.0 percent in 2012, and 21.5 percent in Q1 of this year.