Holds ceremony to declare its new corporate vision, 'Build Together' in celebration of 45th anniversary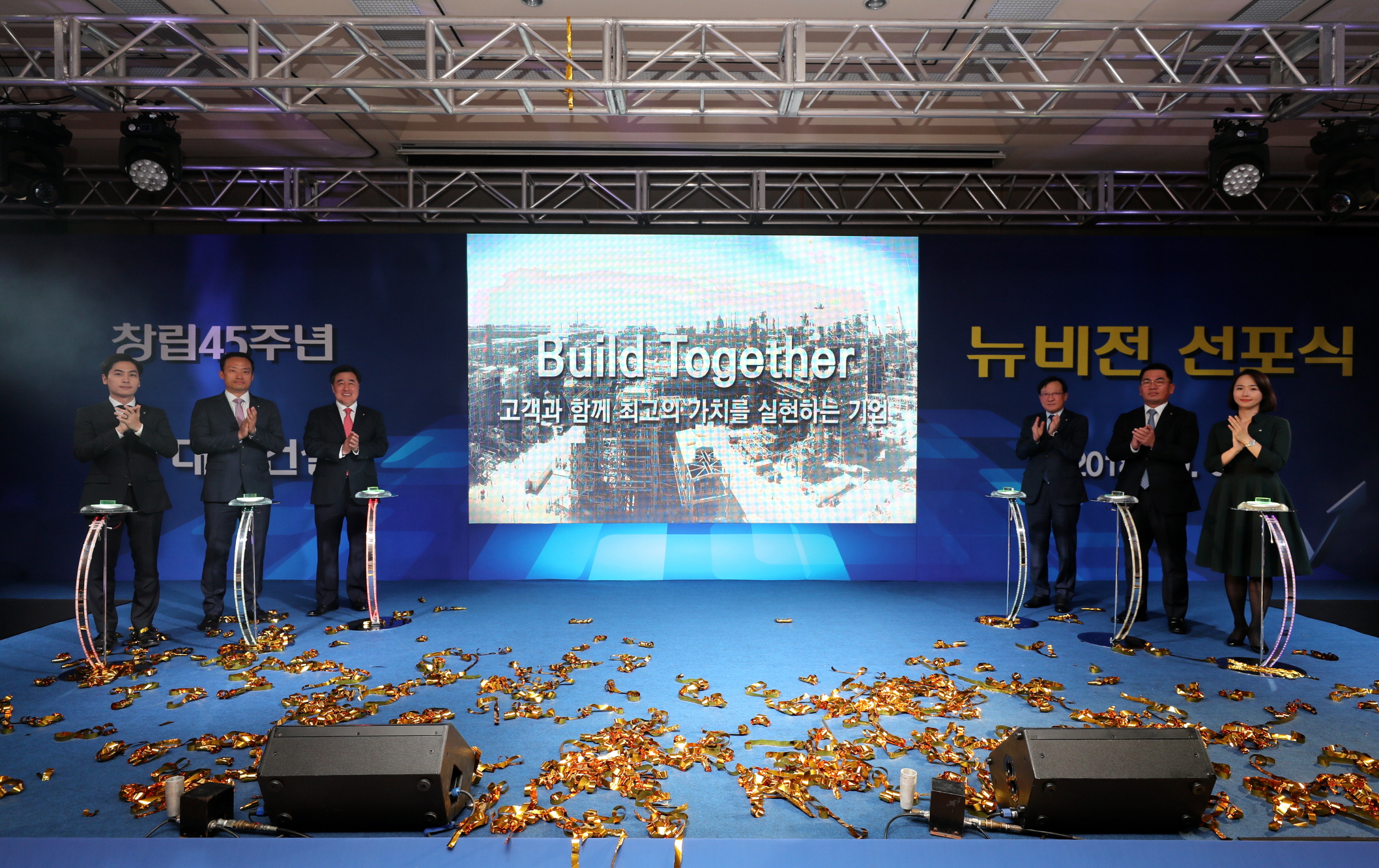 Daewoo E&C revealed its goal of raising annual sales to 17 trillion won by 2025 to become a global top 20 contractor.

Daewoo E&C held a ceremony to declare its new corporate vision, "Build Together," at the Daewoo Construction Technology Research Institute in Suwon, south of Seoul, on Dec. 31 prior to the 45th anniversary which fell on Nov. 1. The new vision alludes to the contractor's determination to grow into a company, a life partner, to customers and realize the best values.

Daewoo E&C suggested a strategic goal to become a global top 20 contractor by chalking up 17 trillion won in sales and 1.5 trillion won in operating profit by 2025. In order to realize the mid- and long-term strategic goal, Daewoo E&C revealed four core strategies – upgrading execution capabilities, ramping up marketing capabilities, securing new growth engines, and innovating management infrastructure.

The contractor plans to reinvent project execution capabilities such as safety and quality management by introducing advanced project management tactics, while strengthening product and market capabilities by diversifying and upgrading products with a competitive edge.

Daewoo E&C plans to max out synergetic effects of the existing businesses while developing and pushing new businesses so that stable profits can be created as well as expanding value chain by aggressively participating in investment and development project and operation business.

The contractor plans to stabilize sales and create profits by proactively participating in inter-Korean economic cooperation projects to brace for the unification of the Korean Peninsula. Daewoo E&C President Kim Hyung said, "(Daewoo E&C) will solidify its standing as a global company based on substantial management, future management and principle management to ensure sustainable growth and development."

About Daewoo E&C

Ever since its founding, Daewoo E&C has been contributing to South Korea's economic development by building such major infrastructures as roads, railways, and harbors.
"We became a seminal contributor to the "Miracle on the Hangang River" by building a series of major facilities in the 1970s," the company said. "We are also expanding from our traditional overseas bases into promising new markets in the Middle East, Asia, and South America."

Daewoo E&C is a leader in the construction of high-rise buildings and intelligent building systems, or IBS's. "We build safe, convenient, and efficient work spaces ranging from business facilities and hotels to exhibition, medical, and sports centers."

Daewoo E&C's plant construction projects have played a major role in the development of South Korea's economy. Beginning with the turnkey Ulsan Thermal Power Plant in 1977, they have included combined-cycle, thermal, and tidal power plants and LNG storage tanks.

"We have also built a large number of high-value-added plants overseas. We are now taking on even more plant, nuclear and oil & gas projects, and entering into the new and renewable energy sector."

Daewoo E&C is South Korea's market leader in terms of housing supply. This includes our prestigious PRUGIO residential complex brand.

"We are also enriching the lives of our customers in such areas as urban residential and commercial complexes, new business and urban development, remodeling and urban reengineering."
대우건설 뉴비전 'Build Together' 선포
고객과 함께 최고의 가치를 실현하는 기업, 뉴비전 'Build Together' 를 선포

대우건설이 창립 45주년(11월 1일)을 맞아 수원에 위치한 대우건설 기술연구원에서 뉴비전 'Build Together'를 발표하고 선포식을 개최했다.
대우건설의 새로운 비전인 "Build Together"는 '고객에게 풍요로운 삶을 제공하고 함께 최고의 가치를 실현하는 라이프 파트너가 되는 기업'으로 성장하겠다는 의미를 담고 있다.

이 날 대우건설은 2025년까지 매출 17조 원, 영업이익 1.5조 원의 목표를 달성하여 Global Top 20에 진입하겠다는 전략목표를 함께 제시했다.
이번에 발표된 비전과 중장기 전략목표 달성을 위해 대우건설은 수행역량 고도화, 마케팅역량 강화, 신성장 동력 확보, 경영인프라 혁신이라는 4대 핵심전략을 통해 지속성장이 가능한 기업으로 거듭나겠다는 계획이다.

첫 번째는 수행역량 고도화로 국내외 입찰 심의 절차 개선 및 플랫폼 기반의 프로젝트 Life Cycle1) 통합관리를 통해 리스크 관리의 효율성을 제고하고, 원가 비중이 높은 구매/조달 역량을 개선하며, 선진 공사 관리 기법을 도입해 공사 수행 역량을 혁신할 계획이다.

두 번째는 마케팅 역량 강화로 국내 건설시장의 저성장 기조가 고착화됨에 따라 경쟁력 있는 일류 상품의 다양화와 고도화, 사업 영역 확장 등을 통해 상품 및 시장 마케팅 역량을 강화하겠다는 것이다. 더불어 기진출한 시장에 대한 현지화를 강화하고 인접 국가로의 시장 확대 및 거점화를 추진할 예정이다.

세 번째로 대우건설은 기존 사업과의 시너지를 극대화 하면서도 안정적 수익을 창출해 낼 수 있는 신사업을 개발/추진하고, 투자개발사업 및 운영 사업 등에 적극 참여 하여 Value Chain 확대를 통해 지속가능한 성장 체계를 구축할 예정이다. 더불어 통일시대에 대비하여 남북경협사업에 적극적으로 참여해 안정적인 매출과 수익을 창출할 계획이다.

마지막으로 대우건설은 기술 변화에 대응하기 위한 경영시스템 효율화와 미래를 위한 전문가 육성/운영을 통한 경영인프라 혁신 작업에 나설 예정이다. 전 현장의 현안을 실시간으로 공유하여 문제 해결을 적극 지원하는 등 리스크 관리 시스템을 강화하고, BIM, Pre-Con 을 활용하는 시스템 기반의 공사관리를 확대하는 것은 물론 이를 지속적으로 추진할 중장기 인재를 육성할 예정이다. 특히 대우건설은 핵심전략을 수행하기 위해 민첩하고 유연한 조직을 운영하여 국내외 시장의 변화에 긴밀하게 대응할 예정이다.

이 날 뉴비전 선포식에서 대우건설 김형 사장은 "회사의 영속적인 성장과 발전을 위해 내실경영, 미래경영, 정도경영이라는 경영방침을 바탕으로 글로벌 회사로서의 위상을 공고히 해 나가는 성장의 역사를 임직원들과 함께 만들어나가겠다."고 밝혔다.