Group celebrates 61st anniversary on Oct. 1 with determination to leading global pharmaceutical concern turning out best products and services
A chorus of Boryung employees sing at a ceremony for the group's 61st anniversary celebrated in a ceremony on Oct. 1 at the Boryung building in Jongro, Seoul. (Photos: Boryung Group)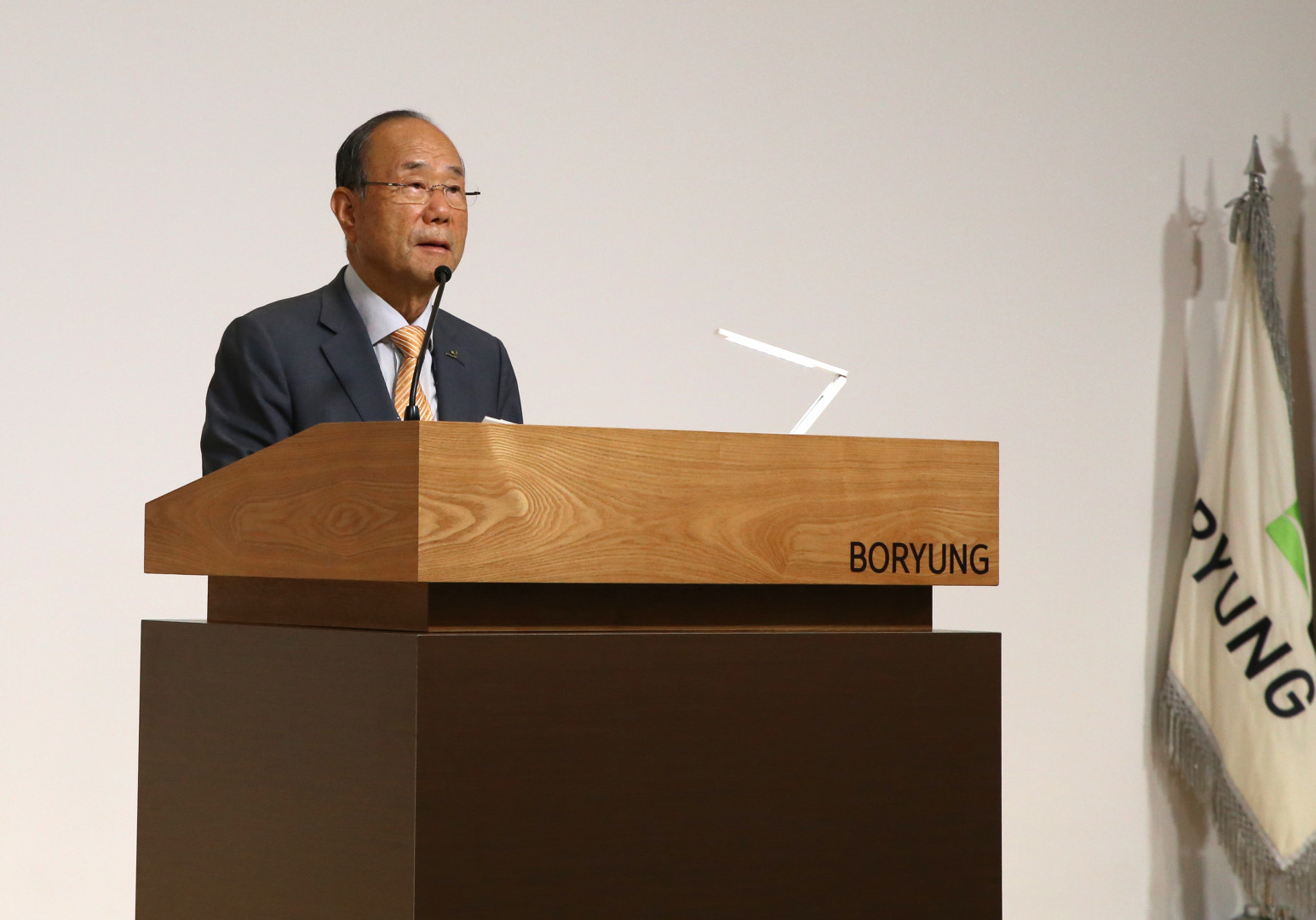 Chairman Kim Seung-ho of Boryung Group.
Boryung Group celebrated its 61st anniversary in a ceremony held on Oct. 1 at the Jungbo Hall of the Boryung Building in Jongro District, Seoul.

Chairman Kim Seung-ho, in his congratulatory speech, said the group will now go a step further and be a "Lifetime Care Company" to upgrade the value of life, which is a departure from a "Total Health Care Company."

He pledged to uphold change and reform and become a leader in the healthcare industry with clinical science as its premise.

Chairman Kim said that people have to come up with the best solution to problems that no one can emulate by doing his best by thinking about people (Heart), a creative challenge pursuing endless change (Ask) and the efforts to find answers (Science).

The chairman concluded his speech by urging the group to write the history of the new century today, as a global pioneer, turning out the best products and services, setting up a "global level" management system.

Citations were presented to recognize the meritorious, and long years of service, to 62 officers and staff who served for more than 10 years. Director Kim Ki-jong and two others earned citations for continuously working for the group and its affiliates for over 30 years.

Manager Park Chan-woo and three others earned citations for having been with the group and its affiliates for 20 years.

The BR Leader Award was presented to Manager Lee Mun-soo of Boryung Pharmaceutical Co. and two others while 27 other officers and staff got the New Frontier Award.

Boryung Pharmaceutical strives to be a company which will continue to "contribute to the health of mankind" by preparing for the future and taking on challenges with innovation, its executives have said.

"Through our best efforts, Boryung Pharmaceutical has been accomplishing our mission of practicing interdependence based on humanism' ever since we were founded in 1963," they said. " From the times when our people sweat and toiled in the economic fronts, we have made every effort to free everyone from the pains of disease through constant research and producing high-quality medicine, even making efforts to ensure accurate delivery.
As a result, the people of Korea have come to love our products such as Gelfos M, Yonggaksan, and Gu-sim, and we are proud that we have become the company that is now so familiar to all."

Boryung executives said the country's economy is at a crossroads to join the ranks of developed countries. Social and cultural aspects of South Korea already show signs of being in the advanced country stage. A few representative reflections of being in the advanced stage are low birth rates and a large increase in diseases due to aging population. Thus, the people of Korea are keen on enjoying healthy lives.

To keep pace with these changes, Boryung Pharmaceutical plans to continue the focus on research and development of new drugs and employing advanced marketing techniques, thereby producing superior pharmaceutical products that increase the quality of life, according to the company.

In order to accomplish this, Boryung Pharmaceutical will pursue continuous and intense innovation.

In 2017, we had proclaimed a new vision of 'Lifetime Care Company for better life quality by best clinical based science,' by this, we are implementing and planning specific plans for innovated products, ingenious reconstruction of process and manpower.

"Boryung Pharmaceutical contributes to the health of mankind through corporate philosophy on interdependence based on humanism and coexistence management. We are unceasingly implementing new research activity to uphold our corporate philosophy," they said.

"Above all, Boryung Pharmaceutical is focused on developing medicine that contributes to the improvement of a patient's quality of life, and it is on this foundation that we hope to develop into a global pharmaceutical company."

보령제약그룹 창업 61주년 기념식
"변화와 혁신, 그리고 임상의과학을 통해 삶의 가치를 높여주는 'Lifetime Care Company'로 도약"
보령제약그룹(회장 김승호)이 지난 10월 1일 창업 61년을 맞아 종로구 보령빌딩 중보홀에서 기념식을 진행했다. 또한 함께 창립일을 맞은 보령제약(창립 55주년), BR네트콤(창립 22주년), 보령중보재단 (설립 10주년)의 창립기념행사도 함께 진행됐다.
보령제약그룹 김승호회장은 기념사를 통해 "변화와 혁신, 그리고 임상의과학을 전제로 한 헬스케어 산업의 선도자가 되어, 아픈 사람을 치료해주는 '토탈 헬스케어 컴퍼니(Total Health Care Company)'에서 한걸음 더 나아가, 삶의 가치를 높여주는 '라이프타임 케어 컴퍼니(Lifetime Care Company)'로 도약 해 나가야 한다"고 말했다.
또한, "사람을 진심으로 생각하는 마음(Heart), 끊임없이 변화를 추구하는 창의적인 도전(Ask)과 과학적인 해답을 찾으려는 노력(Science)으로 아무도 흉내 낼 수 없는 최고의 결과(Answer)를 만들어 내야만 한다"며, "글로벌 수준의 경영체제를 수립하고, 끊임없는 도전과 실천으로 내실을 높여 세계 최고의 서비스와 제품으로, 국내 선도 제약 기업을 넘어서 글로벌 시장의 개척자로서 100년 보령의 새로운 역사를 만들어 나 갈 것"을 강조했다.
이날, 기념식에서는 장기근속자와 우수사원, 공로자에 대한 표창도 이루어졌다. 우선 장기근속자 표창에는 보령제약 김기정 상무, 김기환 부장, 김광현 수석기자 등 3명이 30년 근속 표창을, 보령제약 김향순 기능사1급, 정승영 수석기사, 박찬우 부장, 조재영 차장 4명이 20년 근속 표창, 보령메디앙스 민병희 매니져 등 62명이 10년 근속 표창을 수여 받았다.
또한 우수사원에 대한 표창으로 BR리더상은 보령제약 이문수 부장, 보령바이오파마 박용완 수석기사, 윤승현차장이 수상했고, 보령제약 김병수 주임 및 27명이 뉴프론티어상을, 보령제약 김기현 주임 및 10명이 일반공로상을 수상했다.
이와 함께, 보령제약그룹 임직원으로 구성된 보령엄지합창단이 창업기념 공연을 진행하며 그 의미를 더했다.
보령제약그룹은 1957년 서울 종로5가 약국에서 시작해 값싸고, 친절하고, 없는 약이 없는 약국이라는 경영방침으로 급성장했다. "종로5가를 지나는 사람 다섯 중 하나는 보령약국 손님"이라는 말이 나돌 정도였다. 이후 제약업에 진출해 용각산, 겔포스를 통해 성장해왔으며 육아생활문화기업 보령메디앙스, 첨단생명공학기업 보령바이오파마, 온라인몰 및 건강기능식품 전문기업 보령컨슈머, 의료기기전문기업 보령A&D메디칼 등의 제약그룹으로 발전했다.
보령제약은 지난 2011년에는 국내최초 고혈압신약 카나브(성분명 피마사르탄)를 개발 발매했으며, 현재 카나브는 전 세계 51개국과 4억 7,000만달러 규모의 라이선스아웃 계약을 체결하고 중남미, 동남아 등에서 성과를 내고 있다.
기업명인 '보령(保寧)은 앞 글자인 보는 무엇을 지킨다는 의미이고, 뒤 글자 령은 사람의 편안함을 뜻하는 것으로 바로 사람을 귀하게 여기고 그 귀함을 지킨다는 뜻을 담고 있다.