Signs deal to establish medical big data joint-venture with Kakao Investment and Seoul Asan Medical Center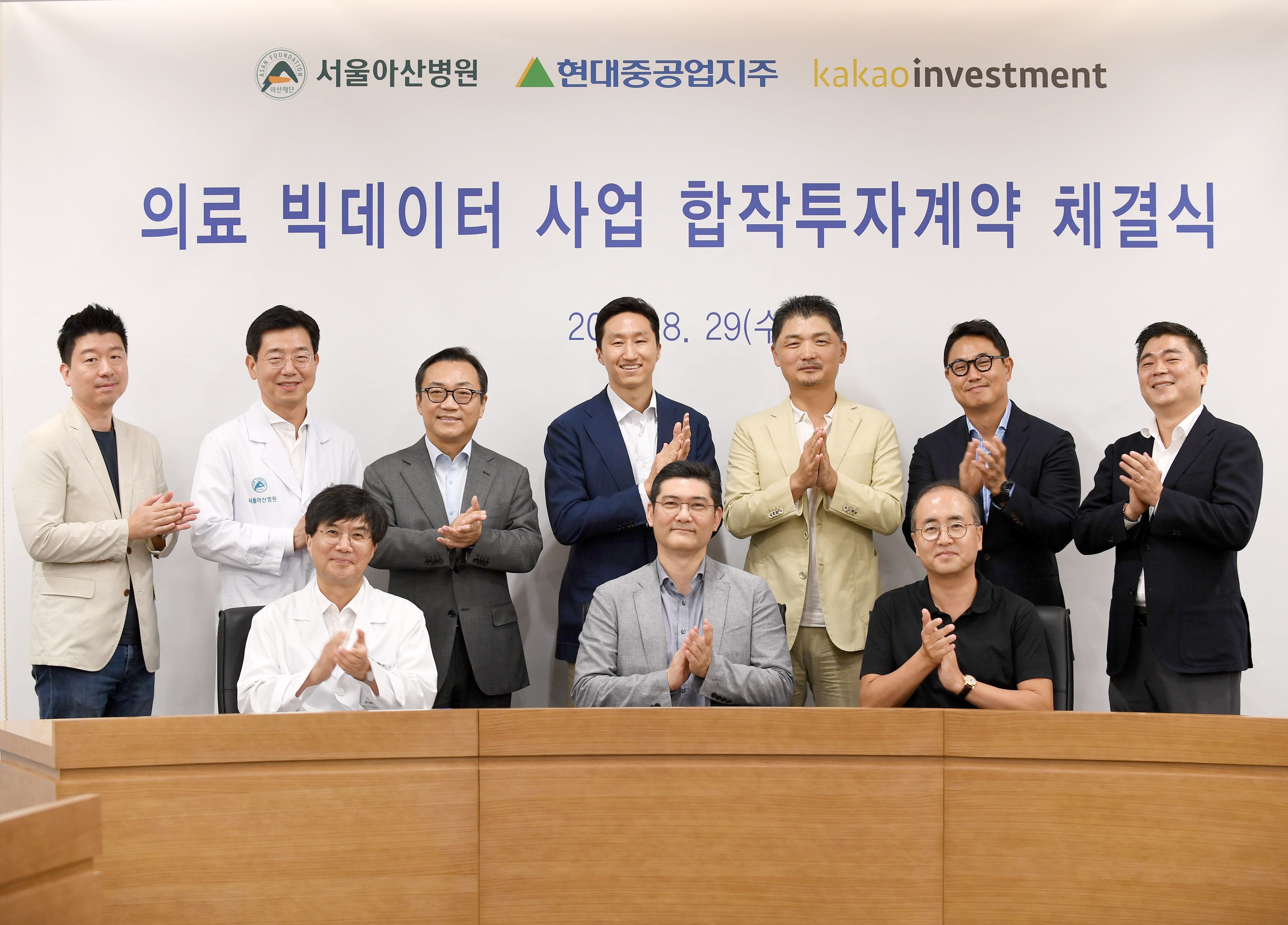 Senior Executive Vice President Chung Ki-sun in charge of management support at HHI Holdings, Kakao Chairman Kim Beom-soo of the Board of Directors, and President Lee Sang-do of Seoul Asan Medical Center participate in a ceremony to signed a deal to establish a medical big data joint-venture at Seoul Asan Medical Center on Aug. 29. (Photo: HHI)
Hyundai Heavy Industries (HHI) Holdings has teamed up with Kakao Investment and Seoul Asan Medical Center to enter the medical big data business.

HHI Holdings is the holding company of Hyundai Heavy Industries Group, inaugurated in a spin-off of the group in April 2017. Hyundai Robotics, specializing in robot business, adopted the current HHI Holdings in March in which Chairman Chung Mong-joon of the Asan Foundation has a 25.8 percent stake and is the largest shareholder.

HHI Holdings signed a deal to establish a medical big data joint-venture with Kakao Investment, an affiliate of the nation's top mobile messenger operator Kakao, and Seoul Asan Medical Center at the hospital on Aug. 29.

Among those on hand at the signing ceremony were Senior Executive Vice President Chung Ki-sun in charge of management support at HHI Holdings, Kakao Chairman Kim Beom-soo, and President Lee Sang-do of Seoul Asan Medical Center. Senior Executive Vice President Chung Ki-sun, the eldest son of Asan Foundation Chairman Chung, has a 5.1 percent stake in HHI Holdings. He also serves as CEO & President of Hyundai Global Service in which HHI Holdings has a 100 percent stake.

HHI Holdings and Kakao Investment will invest a combined 10 billion won in the establishment of the nation's first medical big data company, named tentatively "Asan Kakao Medical Center." The medical big data company is expected to play a leading role in the growth of the Korean medical big data market.

Figures released by the Ministry of Trade, Industry and Energy showed that the value of the Korean medical big data market is predicted to swell to 560 billion won in 2023, a 6.5-fold jump from 2013.

HHI Holdings will be in charge of strategies to diversify business models. Seoul Asan Medical Center will provide unspecified and anonymous medical information and medical advisory tips from medical professors. Kakao Investment will be charged with systemizing medical data and forming platforms by making the most of its diverse platform business success stories.

The operation expertise of Seoul Asan Medical Center, medical care records, and counsels of the nation's top-notched medical professionals are expected to form a key part of the big data. The hospital has a total of 2,704, the largest one in Korea, a daily average of 11,862 outpatients and 63,791 operations of high difficulty levels, being performed annually.

The medical big data, to be provided by Asan Kakao Medical Data, will include mandatory electronic medical record (EMR), diverse clinical testing information, appointment records, and medical equipment operation rates in an unidentified format. This information will be made available either for medical institutions wanting to improve the quality of medical services or for the development of new drugs to cure rare and incurable diseases.

If an integrated medical big data platform is completed around 2020, medical information service provider startups or prominent foreign IT companies are expected to boost businesses by making the most of quality-good medical big data, AI, and IT analytics technologies.

In a related development, the Ministry of Health and Welfare and the Ministry of Trade, Industry and Energy plan to establish a bio health big data platform by integrating medical information of about 50 million people by 2020.
The platform will standardize each hospital's different medical data and provide encrypted personal medical information allowed under the current law. A budget proposal for 2019, unveiled by the government on Aug. 28 calls for appropriating 356.7 billion won in the bio health business sector like the establishment of a precision medical data integration platform.

An HHI Holdings official said the establishment of the medical big data joint-venture is expected not only to lead the domestic smart medical market to brace for the advent of the 4th Industrial Revolution, but also to help Korea's representative medical information platform secure a global competitive edge.