Under Stewardship of Chmn. Chey, SK rises to 3rd among Korean Conglomerates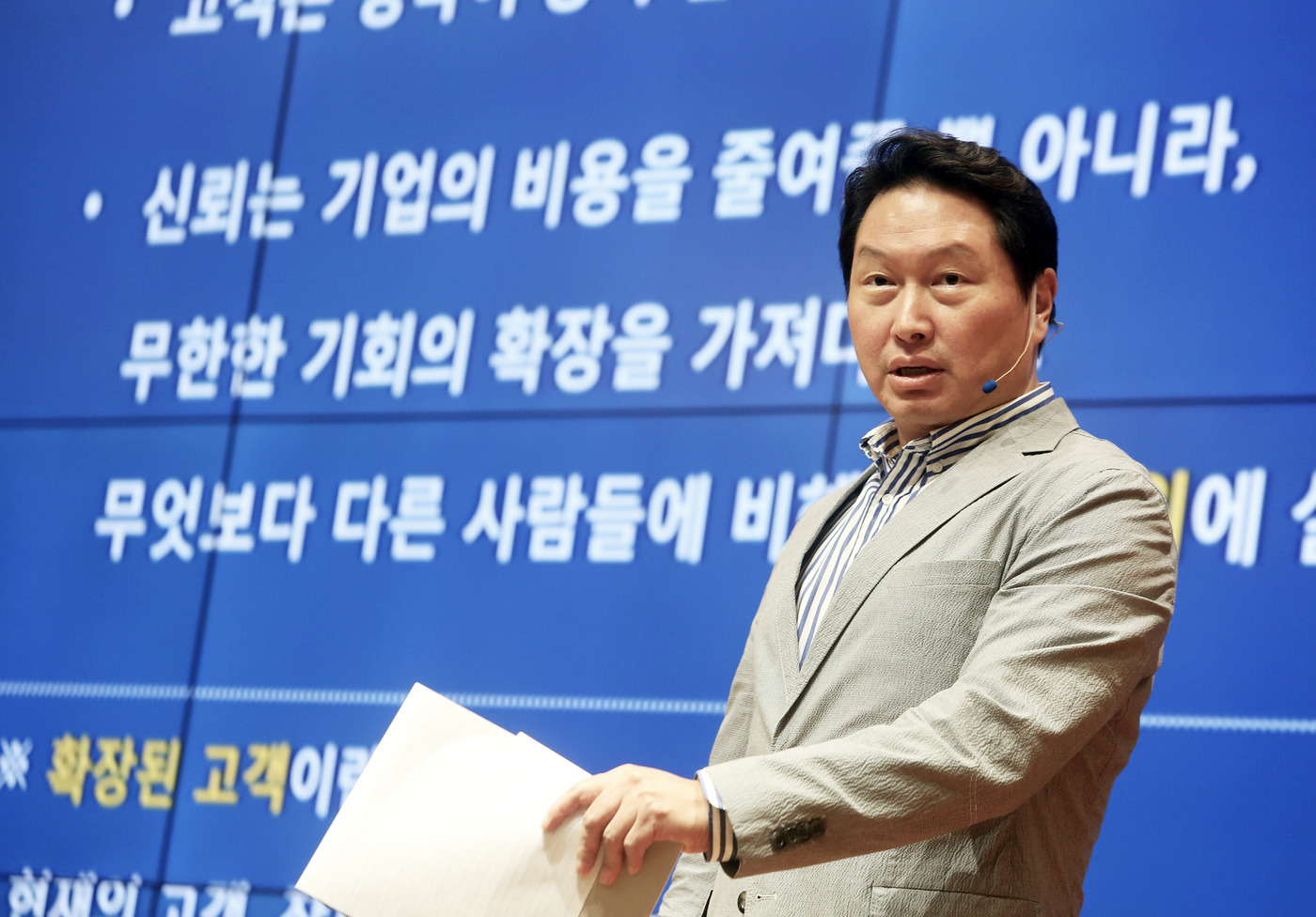 SK Group Chairman Chey Tae-won (Photo: SK)
SK Group Chairman Chey Tae-won marked his 20th year in office on Sept. 1. He took the job, succeeding his late father Chey Jong-hyun, who died suddenly at the young age of 38 in 1998. Under the stewardship of the junior Chey, the group has diversified its business portfolio focusing on energy, petrochemical and communications to semiconductors as well as bio, mobility and sharing infrastructure.

The group's management tactics have paid off: SK, overcoming the repercussions of the 1997 Asian financial crisis, has seen its ranking among Korean conglomerates jump from fifth to third.

Twenty years ago, SK Group had a business structure focusing on domestic demand. Since Chairman Chey took office, he launched an aggressive investment strategy to explore business opportunities on the global stage, including the United States and China. At that time, he thought overseas market exploration and export as the right direction to resurge the group.

Chairman Chey's efforts have come to fruition. The group saw its aggregate exports surge from 8.3 trillion won in late 1998 to 75.4 trillion won last year. The group's portion of exports out of total sales in 2017 accounted for 54 percent, the largest-ever.

SK's contribution to exports took a 13 percent share out of the nation's total exports standing 578 trillion won.

The group saw assets soar to 192.6 trillion in 2017, a 6.2-fold jump from 34.1 trillion won 20 years ago and sales surge four times from 37.4 trillion won to 158 trillion won during the same period. The group's aggregate capitalization surged to 124.973 trillion won as of the end of last year, ranking second among Korean conglomerates.

SK's quantitative and substantial growth is attributable to the group's diversifying of businesses. In late 2011, the group announced a surprising plan to acquire the semiconductor maker Hynix for 3.426 trillion won.
The acquisition was part of his strategy to make a take-off by adding the semiconductor business to the business structure focusing on energy, chemical and ICT. Despite inside and outside objections to the M&A, Chairman Chey, well aware of the semiconductor business through his steady study one year before the acquisition, gave it a try with a sense of conviction.

SK Group is striving to continue outside growth after successfully taking over Hynix. SK Hynix is part of the Bani Capital consortium, which became the successful bidder of a bid to acquire Toshiba Memory Corp. last September.

In August 2017, the group successfully completed the acquisition of the semiconductor wafer maker LG Siltron and officially renamed it as SK Siltron. In November 2015, the group made OCI Materials, a producer of specialty gas used for semiconductors and display panels, a subsidiary of the group.

SK Holdings., the holding company of the group, recently acquired a 100 percent stake in AMPAC, a leading contract development and manufacturing organization (CDMO). The acquisition, priced at between 700 billion won and 800 billion won, is a big-ticket M&A. SK Biotec, a subsidiary wholly owned by SK Holdings, took over drug maker Bristol-Myers Squibb's manufacturing plant in Ireland to enter the global market in June 2017.

Behind the rationale of the group's expansion of its business portfolios, Chairman Chey has stressed "deep change" to warn against resting on its laurels that could lead to "sudden death." He keeps pushing challenges and innovation. The group is expanding business scope of mobility and sharing economy in cooperation with Korean car sharing companies, Socar and Grab.

Chairman Chey follows his late father's lifelong management tenets and social values of nurturing gifted manpower. He believes in a virtuous cycle in which if a sustainable society is created through creation of social values, SK would grow again under respect and support of society.

In a New Year's group meeting in January, Chairman Chey declared the first year of the "New SK" pursuing both economical and social values.