Fair held under the theme "Draw Your Travel" hosted by SMG, Visit Korea Committee and KATA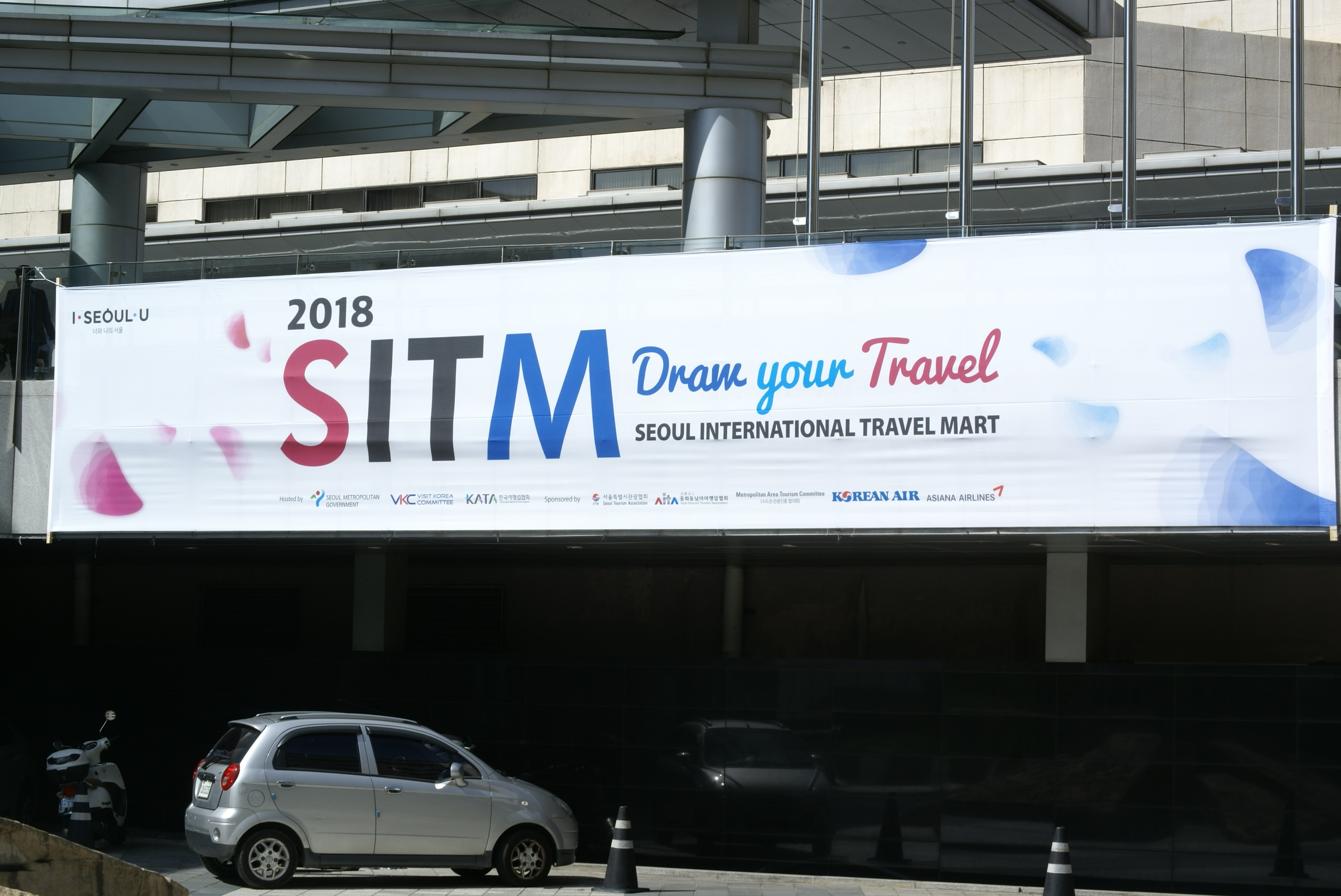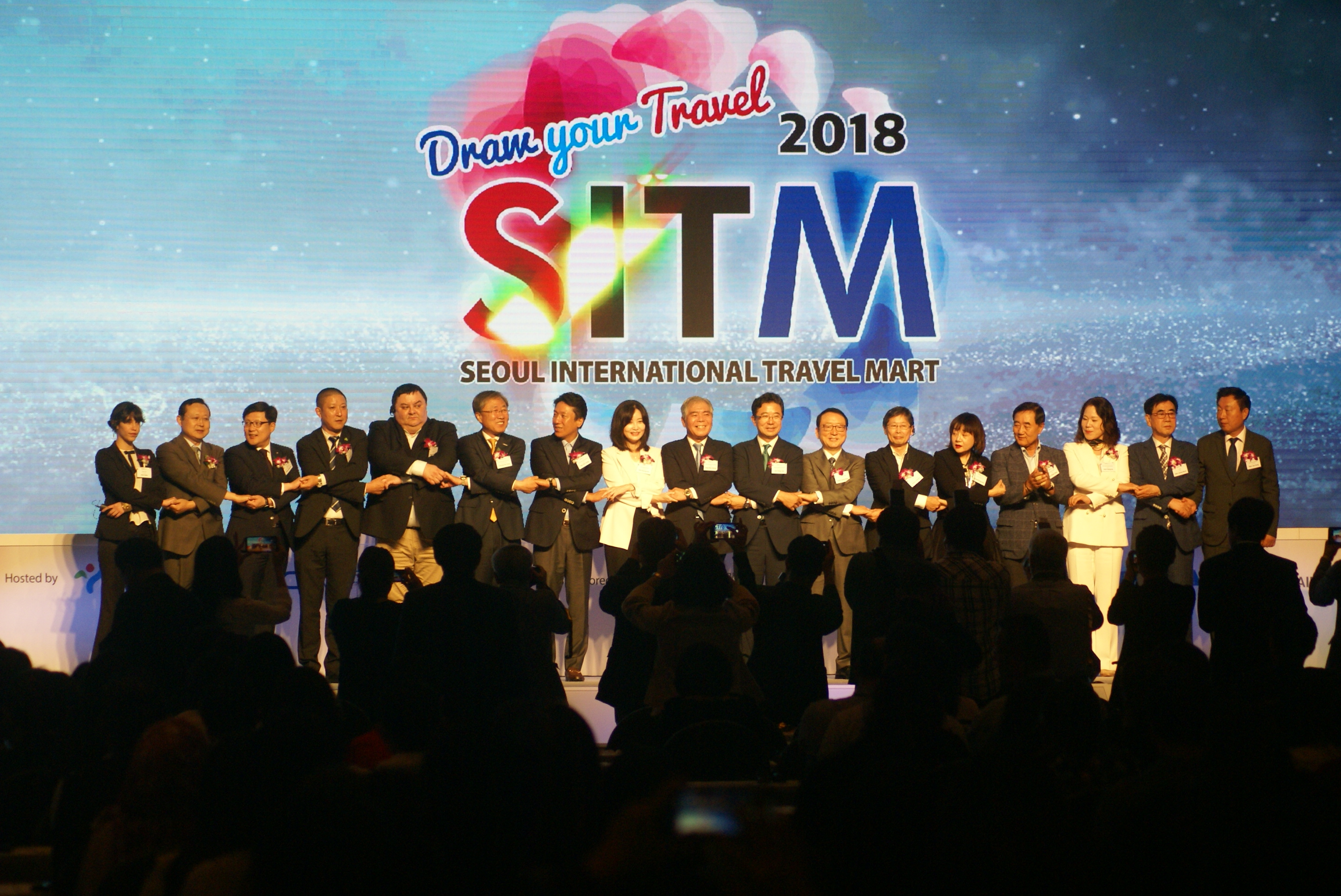 Dignitaries, including Director General Joo Yong-tae at the SGM, KATA Chairman Yang Moo-seung, Chairman Nam Sang-man of the Seoul Tourism Association, KTFA Chairman Shin Joong-mok and Secretary General Han Kyung-ah of the Visit Korea Committee, join hands for a gesture of collaboration at a ceremony to open the Seoul International Travel Mart 2018 (SITM 2018) at the Grand Hilton Hotel in Seoul on Sept. 11. (Photos: NewsWorld, MCST)
The Seoul International Travel Mart 2018 (SITM 2018) opened for a three-day run at the Grand Hilton Hotel in Seoul on Sep.11 with about 1,200 travel agencies from Korea and abroad in attendance. The SITM 2018, held under the theme "Draw Your Travel," was hosted by the Seoul Metropolitan Government, the Visit Korea Committee and the Korea Association of Travel Agents (KATA).

Among those on hand at a ceremony to open the festivities were Director General Joo Yong-tae at the SGM, KATA Chairman Yang Moo-seung, Chairman Nam Sang-man of the Seoul Tourism Association, KTFA Chairman Shin Joong-mok and Secretary General Han Kyung-ah of the Visit Korea Committee.

The SITM 2018 attracted 1,200 exhibitors from 46 countries, including China and Japan – 400 foreign companies and 800 Korean firms.

While delivering an opening message over video during the ceremony, Seoul Mayor Park Won-soon said, "2,000-year historical tradition and modernity coexist in Seoul."
A view of Korean and foreign travel agencies and travel-related organizations' booths at the SITM 2018.

More than 10 million people around the globe have selected Seoul to experience the capital's life every year since 2013, the mayor added. He expressed hope that Seoul would be known to more people so they could enjoy Seoul surrounded by mountains and bisected by a river in an exciting fashion while tired mind and body can be relaxed.

Dir.-Gen. Joo in charge of tourism and sports at the SMG said his government strives to develop the SITM into one of the world-class travel fairs. Seoul will have a competitive edge by jointly developing travel products to Seoul in cooperation with major travel agencies in such emerging markets as Russia, India and Mongolia, he added.

Foreign travel agencies had one-on-one B2B meetings with their Korean counterparts. In particular, smaller Korean travel agencies who could not afford to attend overseas fairs were given a chance to carry out marketing activities during the event. Smaller Korean travel agencies were given the chance to have one-on-one meetings with buyers from three African countries – South Africa, Nigeria and Egypt.

Buyers and sellers had networking meetings between 6 p.m. and 8 p.m. on Sept. 11 and 12. The SITM 2017 introduced a public presentation session in which firms and institutions from four sectors were allowed to publicize their products. They included Airport Railroad, Daemyung Resort and Hana Tour ITC.

The SITM also coincided with a tourism industry job fair. Fifty companies, including foreign firms from 12 countries, participated in the job fair.

Familiarization tours were arranged on 14 travel courses so that foreign tourists visiting Seoul may embark on tours to provincial tourist spots.
A view of the exhibition booth of Seoullo 7017.

Local governments and the Visit Korea Committee operated booths to publicize their tourist products. The committee introduced major projects, including shopping culture & tourism festivals, Korea Grand Sale, and Korea Tour Card, a tourism traffic card. The committee held negotiations on the development of special products to be offered during the 2019 Korea Grand Sale.

Secretary General Han of the Visit Korea Committee said the SITM 2018 was a global business venue special arranged to develop attractive Korean tourism products. Eight Seoul tour start-ups opened zones to experience tourist content combined with technologies of the 4th Industrial Revolution.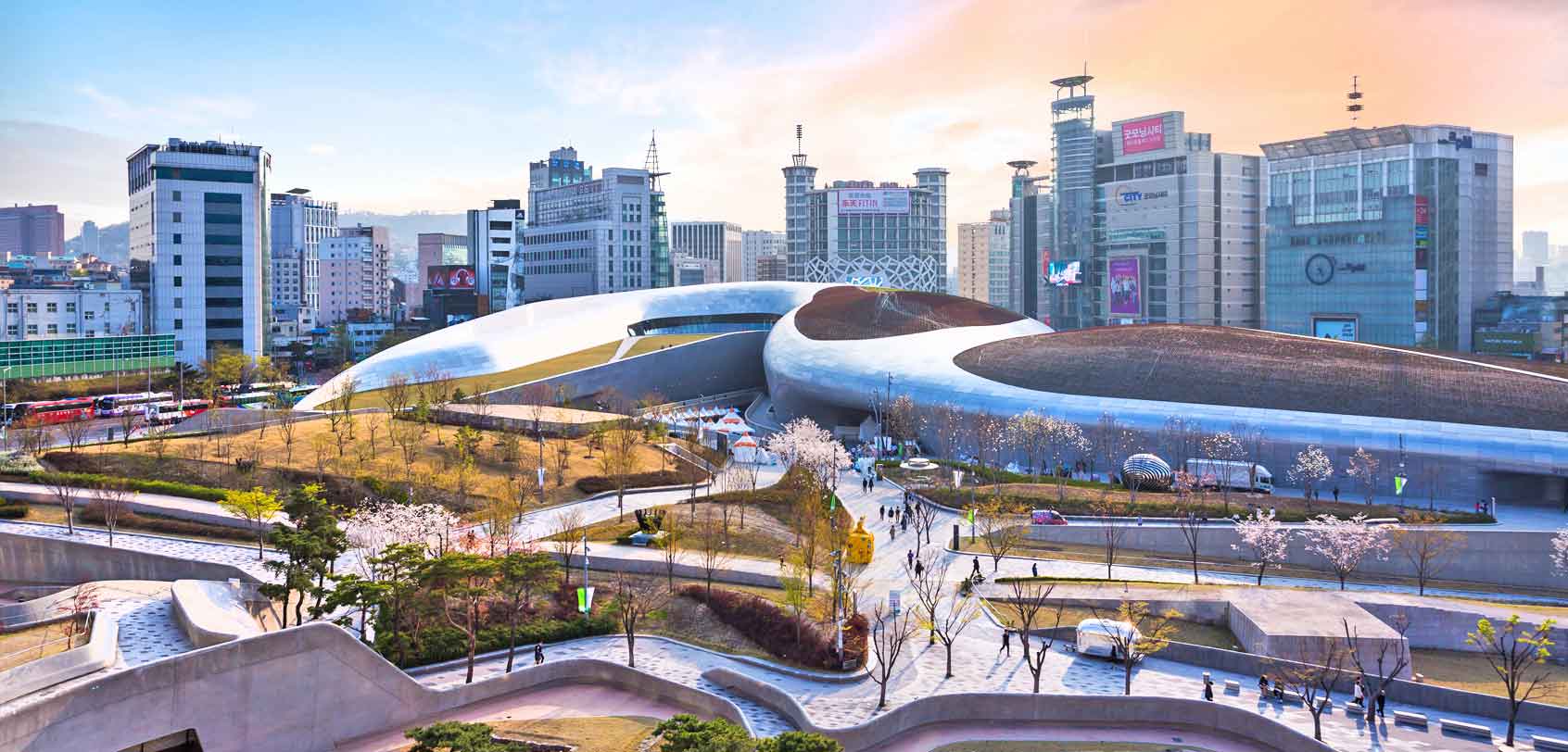 A view of Dongdaemun Design Plaza.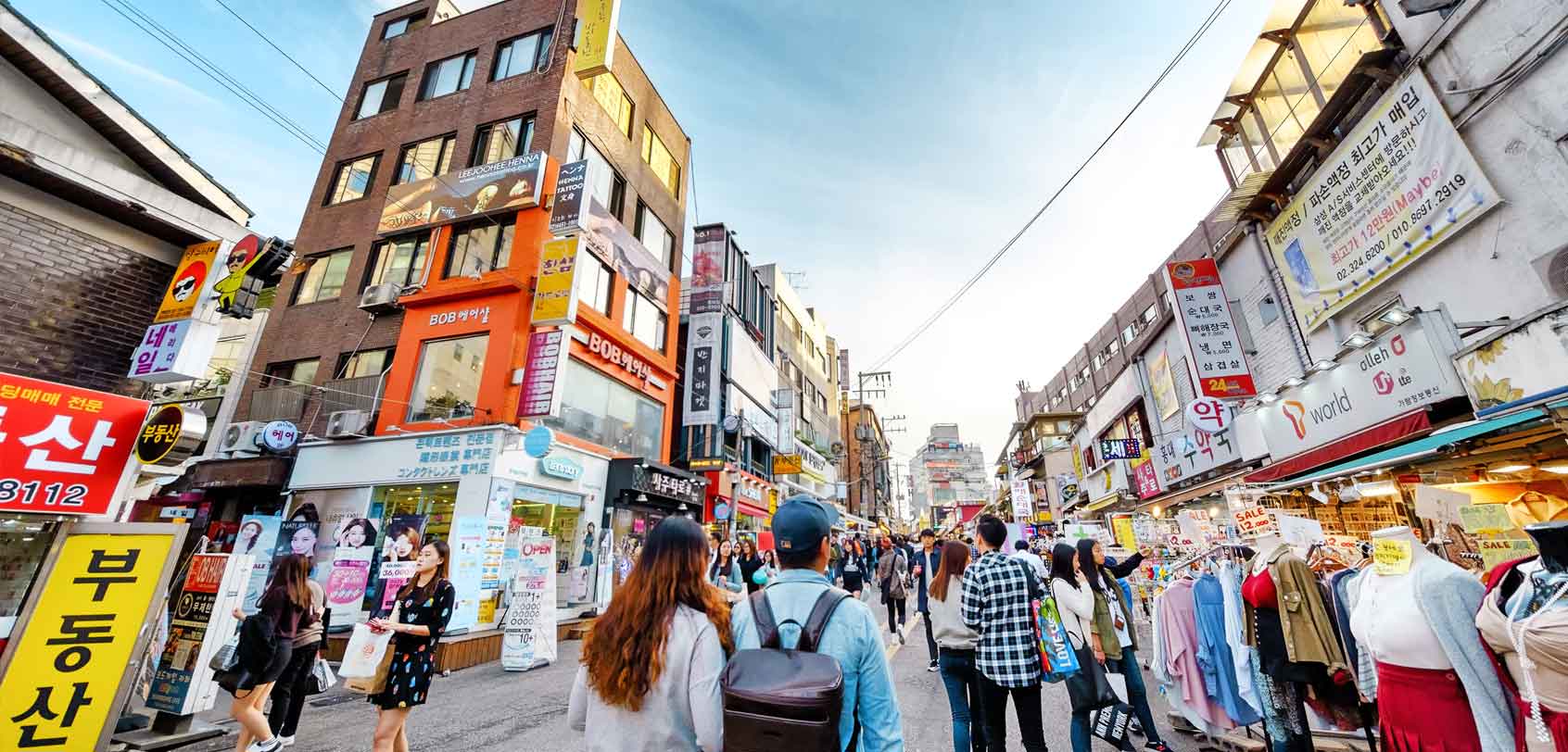 A view of a busy street near Hongik University, which is bustled by Chinese.
A nightview of Namsan Tower.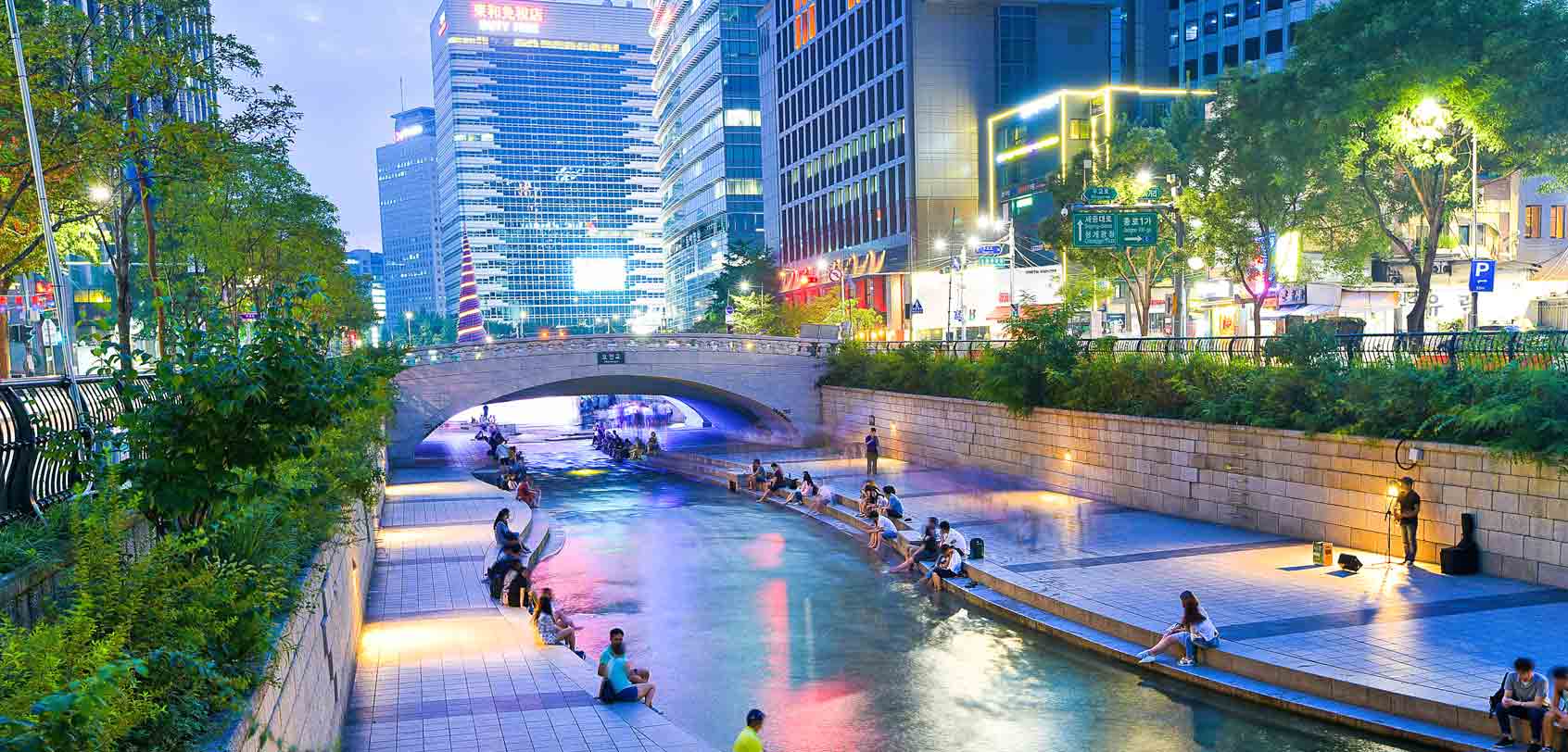 A view of Cheonggaecheon Stream.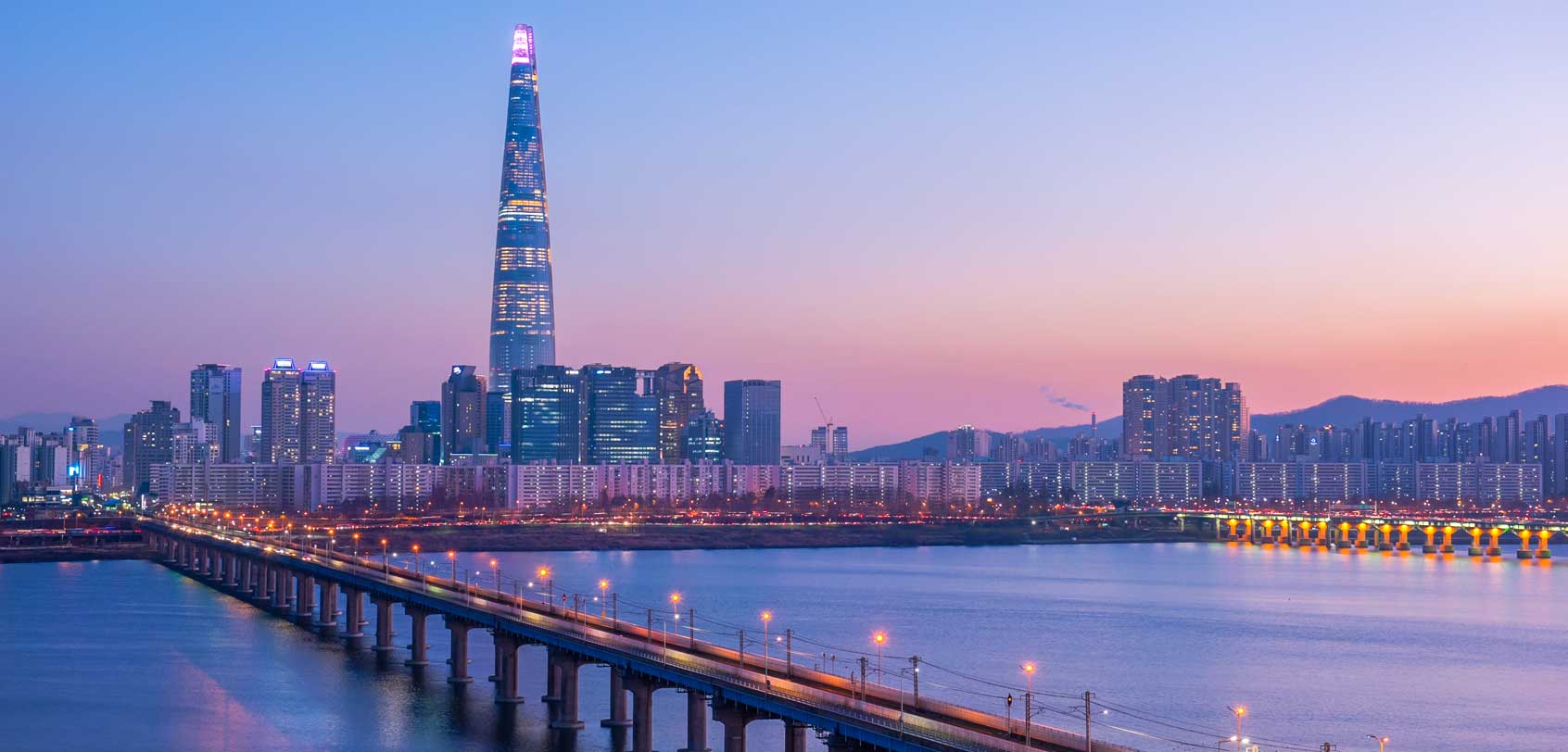 A view of the Han River with the Lotte World Tower seen in the background.
A view of a Myeongdong street in downtown Seoul, crowded by many shoppers.

7th UNWTO Global Summit on Urban Tourism

Approximately 900 people from 50 countries around the world assembled at Shilla Hotel in Seoul from Sept. 16 through Sept. 19 to attend the 7th UNWTO Global Summit on Urban Tourism.

Among the participants were Seoul Mayor Park Won-soon, UNWTO Secretary General Zurab Pololitashvili, economist Joseph Pine of the experience economy, ministers and vice ministers of such tourism destinations as Spain and Thailand, and tourism delegations from such prominent tourist cities as Paris, Macao, Kuala Lumpur, and Madrid, tourism scholars and tourism industry leaders.
A poster of the 7th Global Summit on Urban Tourism held in Seoul from Sept. 16 to 19.

The annual summit, which held its inaugural session in Istanbul, Turkey, in 2012, saw its 7th rendition in Korea.

Korea became the first Northeast Asian country to host the UNWTO Summit, held under the theme a "2030 Vision" for Urban Tourism. It was sponsored by the UNWTO and the Seoul Metropolitan Government.

The 7th UNWTO Summit served as a global event to share countries and cities' cases in such major issues of global concern, including the 4th Industrial Revolution and sustainable tourism development.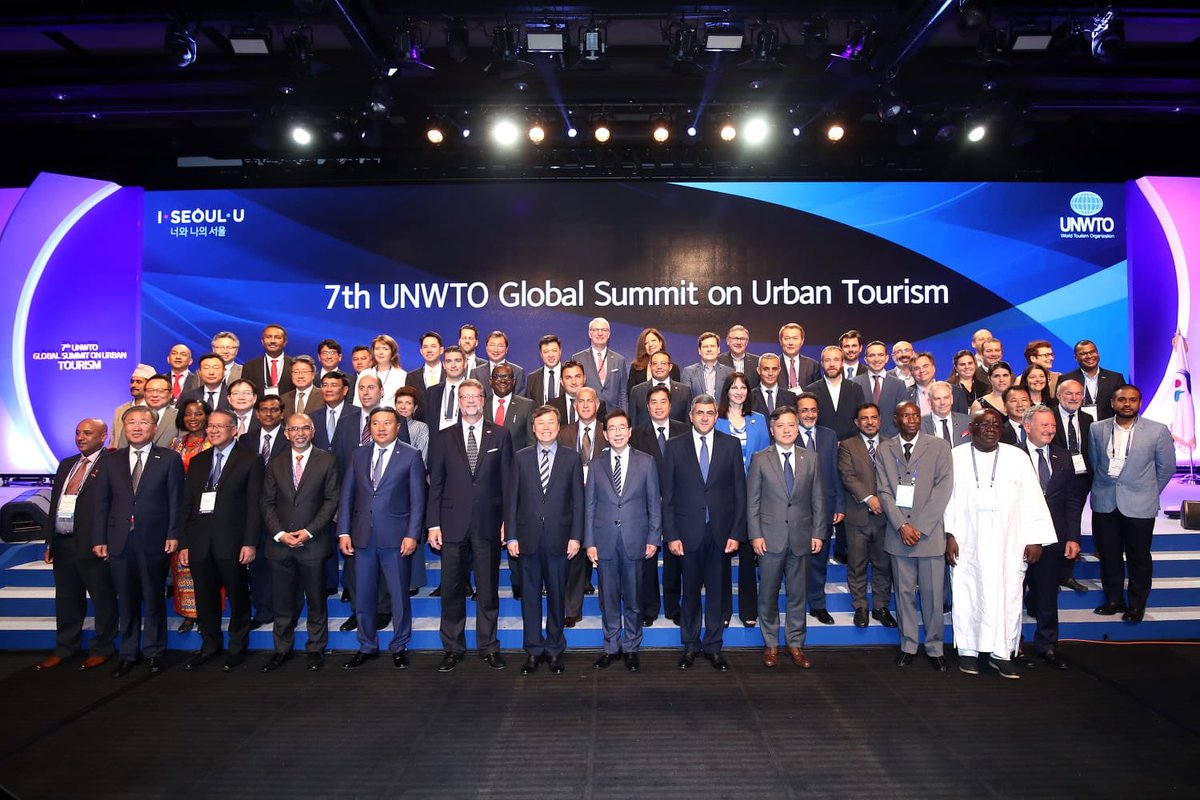 Dignitaries, including Seoul Mayor Park Won-soon, UNWTO Secretary General Zurab Pololitashvili, and Minister Do Jong-hwan of the Ministry of Culture, Sports and Tourism (MCST) attend the 7th UNWTO Global Summit on Urban Tourism at Shilla Hotel in Seoul from Sept. 17.
The summit was also an opportunity to publicize Seoul's attractive tourism gems by discussing the capital's strengths like the 4th Industrial Revolution and urban renewal projects, an SMG official said.
Seoul Mayor Park delivered an opening message on Sept. 17, which was followed by a keynote speech by Joseph Pine.

The 7th UNWTO Summit held a high-level round table, the first such meeting. Seoul Vice Mayor Yoon Joon-byung, mayors of major tourism cities as well as tourism ministers, vice ministers and global tourism leaders presented their views and visions on future urban tourism.

Policy decision-makers, including chiefs of Macao, San Sebastiano and Singapore tourism authorities, as well as ranking officials from such companies from Trip Adviser and Transparent spoke at the first session on the topic "Innovative Approach to Competitiveness of Future Urban Tourism."

Such experts as Dimitrios Bhhalis of the UK, Diana Robino of Spain, SVP at Mastercard, and Vice President & General Counsel Jackson Pek of APAC at Amadeus IT Group, spoke at the second session on the topic "Urban Tourism future, to be created by the 4th Industrial Revolution."

Seoul's award-winning case of urban renewal was shared and Osaka, Madrid and other advanced cities' strategies to invigorate urban tourism through urban renewal were discussed during the third session on the topic "Urban Tourism and Urban Renewal."

Eight Korean and foreign university teams discussed on the topic of "competitiveness of future urban tourism" and "urban tourism and sustainable development" during the UNWTO Youth Tourism Summit.

The SMG operated 13 diverse tour programs designed to publicize Seoul's tourism gems to the participants of the summit. Among the 13 programs were "networking tours," a combination of discussions of each session and related tours to Seoul, including tours to Seoullo 7017 and Mapo Oil Storage Culture Park, Seoul night tour course and JAS plus DMZ tours catering to foreign participants amid global interest in an inter-Korean detente.