U+ Pro Baseball Introduces 'AR Dimensional Relay Service' prior to 5G Telecom Commercialization
During September, U+ Pro Baseball offers such data and graphics as pitching, hitting, running and defending traces via the AR dimensional relay service along with live broadcasting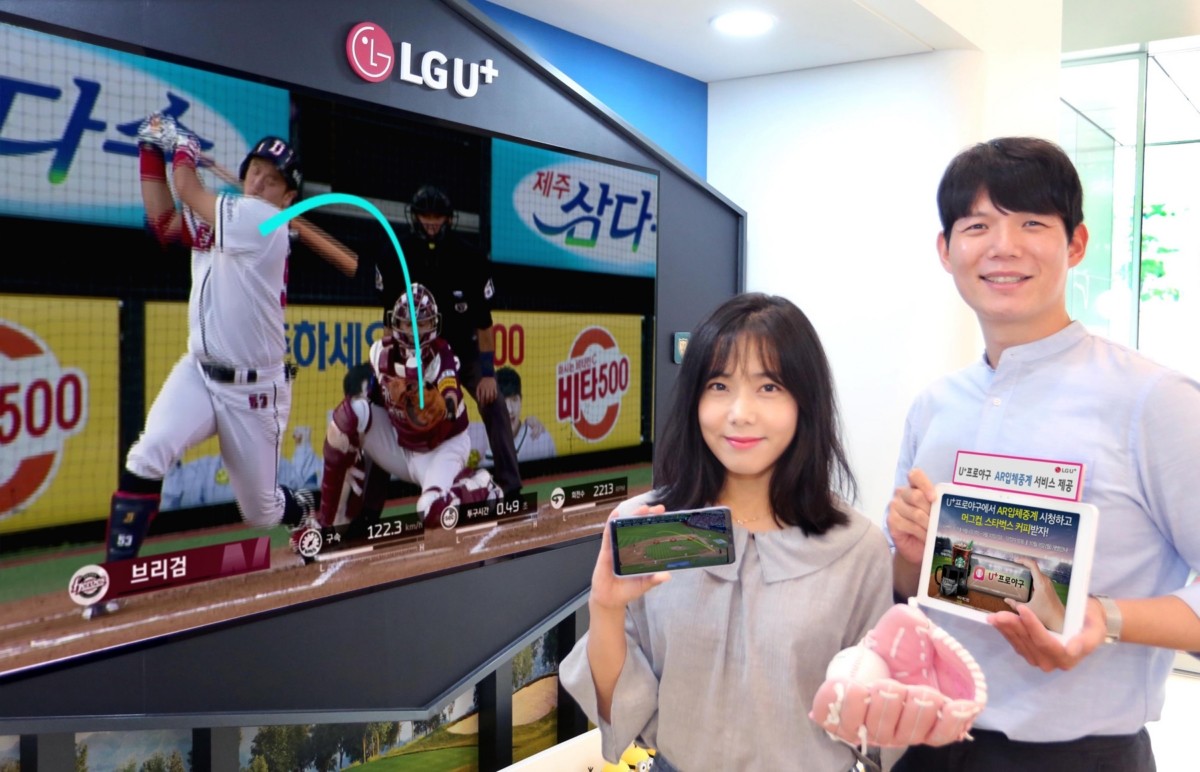 Models poses at a session of demonstrating the AR dimensional relay service, introduced by U+ Pro Baseball. (Photo: LG Uplus)
LG Uplus' U+ Baseball has launched an "AR dimensional relay service" combining data and graphics.

Unlike conventional pro baseball broadcastings, the AR dimensional relay service is a new televising service providing real-time graphics and data during baseball games. During the month of September, U+ Pro Baseball offers such data and graphics as pitching, hitting, running and defending traces via the AR dimensional relay service along with live broadcasting.

The AR dimensional relay service allows people to see at a glance such data and ball trace graphics like strikes, swings & misses, and strike-outs as well as pitching speed and others. Home runs and hits are seen along with such data as speed, launching angle, distance and more.

Stealing bases are accompanied by showing running distance, speed and other data. The AR dimensional relay service is expected to boost baseball fans' satisfaction.

LG Uplus plans to seize an upper hand in 5G telecom competition by offering differentiation 5G contents in the run-up to the commercialization of 5G telecom.
The AR dimensional relay service will apply to one of the two baseball broadcasts to be aired by SPOTV – for a total 24 games during the period between Sept. 4 and Sept. 30. The AR dimensional relay service can be experienced via U+ Pro Baseball app and mobile TV "U+ Video Portal" and U+tv "My Baseball" app.

Vice President Park Jong-wook of LG Uplus' Mobile Service Business said dynamic pro baseball broadcasts with pitching and hitting trace graphics can be experienced at U+ Pro Baseball during the month of September.
If 5G telecom is commercialized, sports broadcasting services coupled with souped-up definition, time slice, VR/AR and other 5G-oriented functions will be featured, he said.

In a related devilment, LG Uplus demonstrated a 5G technology, removing mines at the 2018 International Defense Industry Exhibition held in KINTEX in Goyang, north of Seoul.

LG Uplus Ramps up Collaboration on 5G with Korean, Foreign Partners
LG Uplus is accelerating efforts to brace for the advent of 5G telecom networks. The 5G Implementation Team, inaugurated early this year, is ramping up partnerships with Korean and foreign businesses on the development of services, core technologies and networks.

The telecom service provider is stepping on the gas to promote collaboration with telecom service providers in Japan, China, the United States and Europe. LG Uplus has agreed to collaborate on drone and intelligent CCTV businesses with KDDI Corp. of Japan while trying to cooperate on the IoT business with Verizon. LG Uplus is also seeking to cooperate with bodies working on the advent of 5G telecom network.

LG Uplus plans to expand a partnership with Verizon on virtual reality and augmentation reality. The telecom service provider is seeking to concentrate on cooperation in 5G services with Vodafone and China Mobile.
LG Uplus visited a Beijing-based innovation center of China Mobile and agreed to shore up collaboration on the exploration of 5G services with the Chinese telecom service provider. LG Uplus issued a request for proposals on the introduction of a 5G network in February.

LG Uplus successfully demonstrated a transmission based on the Non-Standalone technology in cooperation with the global equipment maker Nokia and device chipset maker Qualcomm at the Nokia headquarters in Finland. The Non-Standalone technology was approved by the 3rd Generation Partnership Project (3PP) last December.

During the demonstration, a dual connectivity technology designed to level up the transmission speed by combing 3.5GHz and 28GHz, the most possible frequency band for the introduction of 5G network services for the first time in Korea.