At the cost of 5 tln won, the oil refinery plans to build 1.5 mln ton/year mixed feed cracker and oilefin plant to expand its petrochemical sector of operation in Korea; CEO Al-Ghamdi declares "Vision 2025" aiming for 3 tln won in operating profit and 25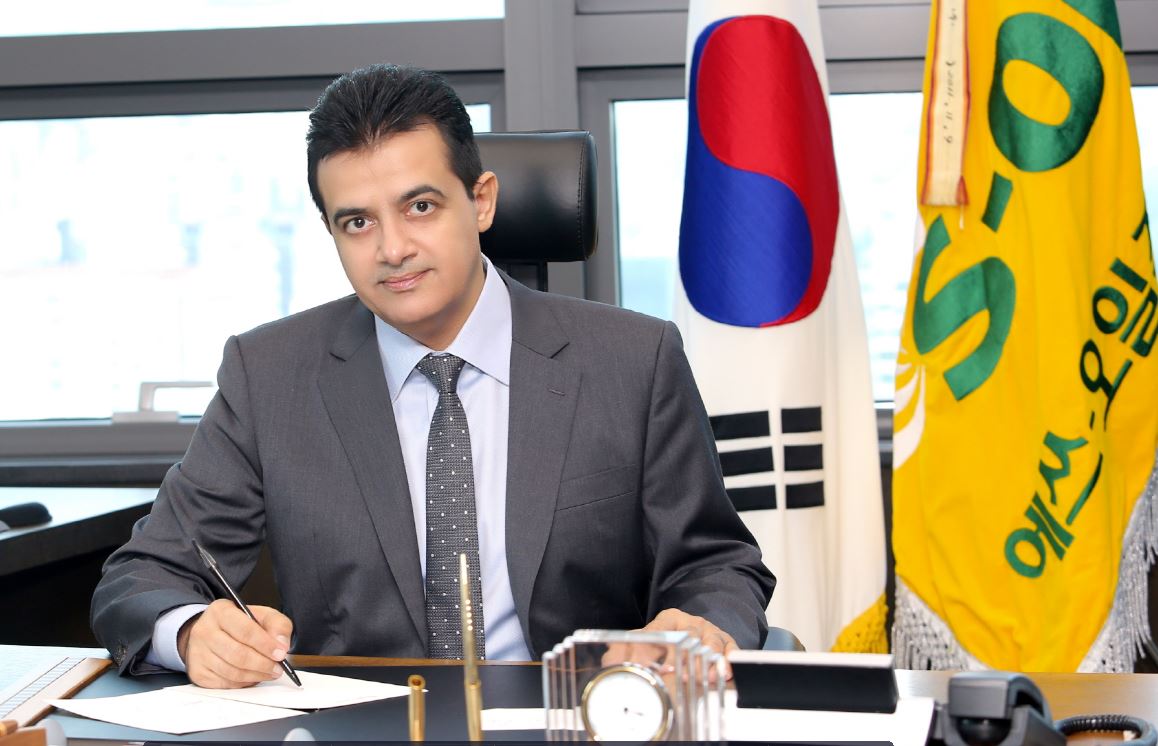 CEO Othman Al-Ghamdi of S-Oil. (Photo: S-Oil)
S-Oil Corp. is carrying out a feasibility study for the proposed construction of a 1.5 million-tonne/year mixed-feed cracker and downstream olefins project as part of its Phase 2 investment plan to expand its petrochemical business portfolio at its integrated refining and petrochemical operations in Ulsan, South Korea.

The steam cracker would produce ethylene and other basic petrochemicals from naphtha and off-gas burned as fuel in the 669,000-b/d Onsan refinery in Ulsan, giving the company an added advantage over feedstock sourcing and cost competitiveness, S-Oil said. Olefin downstream facilities will produce an increased volume of high value petrochemical products including polyethylene and polypropylene.

The new project, if realized, would be built on 400,000 sq m of land S-Oil purchased from Hyundai Heavy Industries Co. Ltd. near the Onsan refinery to possibly create a megascale, single-location plant and secure higher economics and operational efficiency, according to the operator.

The company said it expects to invest more than 5 trillion won into the project until 2023. The Phase 2 project, once approved, would serve as a new growth engine for S-Oil following completion of the company's new 4.8-trillion won residue upgrading complex (RUC) and olefin downstream complex (ODC) in Ulsan.

The operator, however, did not disclose a timeline for when it would take final investment decision on the Phase 2 investment project. The RUC-ODC projects come as part of the South Korean operator's overall program to modernize and expand its integrated refining and petrochemical operations as well as improve profitability and secure long-term competitiveness at Ulsan–which includes the Onsan refinery–by enabling increased conversion of low-cost heavier hydrocarbons into high-value olefins and fuels largest construction project in Korea, the companies said recently.

The two companies formed a consortium to win the deal to construct the residue enhancement and olefin production facilities in the Onsan Industrial Complex for Korea's third-largest refiner by revenue. Saudi Aramco, the world's largest crude exporter, has a 63.4 percent stake in S-Oil.

The planned facilities will convert bunker C oil and other heavy fuel oils into gasoline, propylene and other high-value products.

S-Oil is expected to spend about 1 trillion won to finance the facility design and other preparatory works, while the remaining 3.5 trillion won will be spent on construction.

CEO Al-Ghamdi proclaims 'Vision 2025' and execution strategies on his first anniversary at S-OIL

- Vision "The most competitive and admired energy & chemical company in Asia Pacific"

- Three strategic directions △strengthen refining business △ expand chemical business △ secure new future growth engine

- Resolve to deliver the five core values … Excellence, Passion, Integrity, Collaboration, Sharing

On Aug. 30th, S-OIL made the resolution to grow into the most competitive and admired energy & chemical company in Asia Pacific during the 'Vision 2025' Proclamation Ceremony held at the auditorium of its head office in Mapo.

CEO Othman Al-Ghamdi who joined S-OIL last September explained the background behind the New Vision by saying "we need to secure a clear competitive edge that allows us – to sustain ourselves under whatever business environment we are in if we want to prepare ourselves against environmental uncertainties 10, 20 years from now".

"S-OIL's key capabilities are passionate and creative human talents. Let us achieve the new vision with the best operational efficiency and differentiated investment strategies. Our goal is 3 trillion won in operating income and 25 trillion won in market capitalization by 2025, and these will significantly enhance our business value and shareholder value" said CEO Al- Ghamdi.

This represents growth by double. Last year, S-OIL recorded 1.6169 trillion won in operating income and market capitalization was 13.4536 trillion won (based on Aug. 29th closing price).

CEO Al-Ghamdi asked all employees to load themselves with "Excellence, Passion, Integrity, Collaboration and Sharing" based on which to achieve New Vision and complete S- OIL's EPIC for corporate culture innovation.

To achieve 'Vision 2025', S-OIL presented three strategic directions towards △ strengthen refining business △ expand chemical business △ secure new future growth engines. S-OIL built the new strategic framework based on considerations into future business environmental scenarios and evaluation of the company's internal capabilities as well as corporate culture.
In doing so, it also surveyed employees' aspirations for a new vision and reflected the findings in 'Vision 2025'.

S-OIL's competitive edge in core business and next-generation growth engines will only – get stronger after the 4.8 trillion won RUC & ODC Project is completed in the first half of 2018. On top of this, it will also identify and nurture new business areas to explore future growth opportunities from all facets.