The event held at Busan Int't Financial Center as part of World Bank program to provide know-how on managing debts in default to emerging nations, Vietnam among them, as the S.E. country is about to build system to take care of debts in default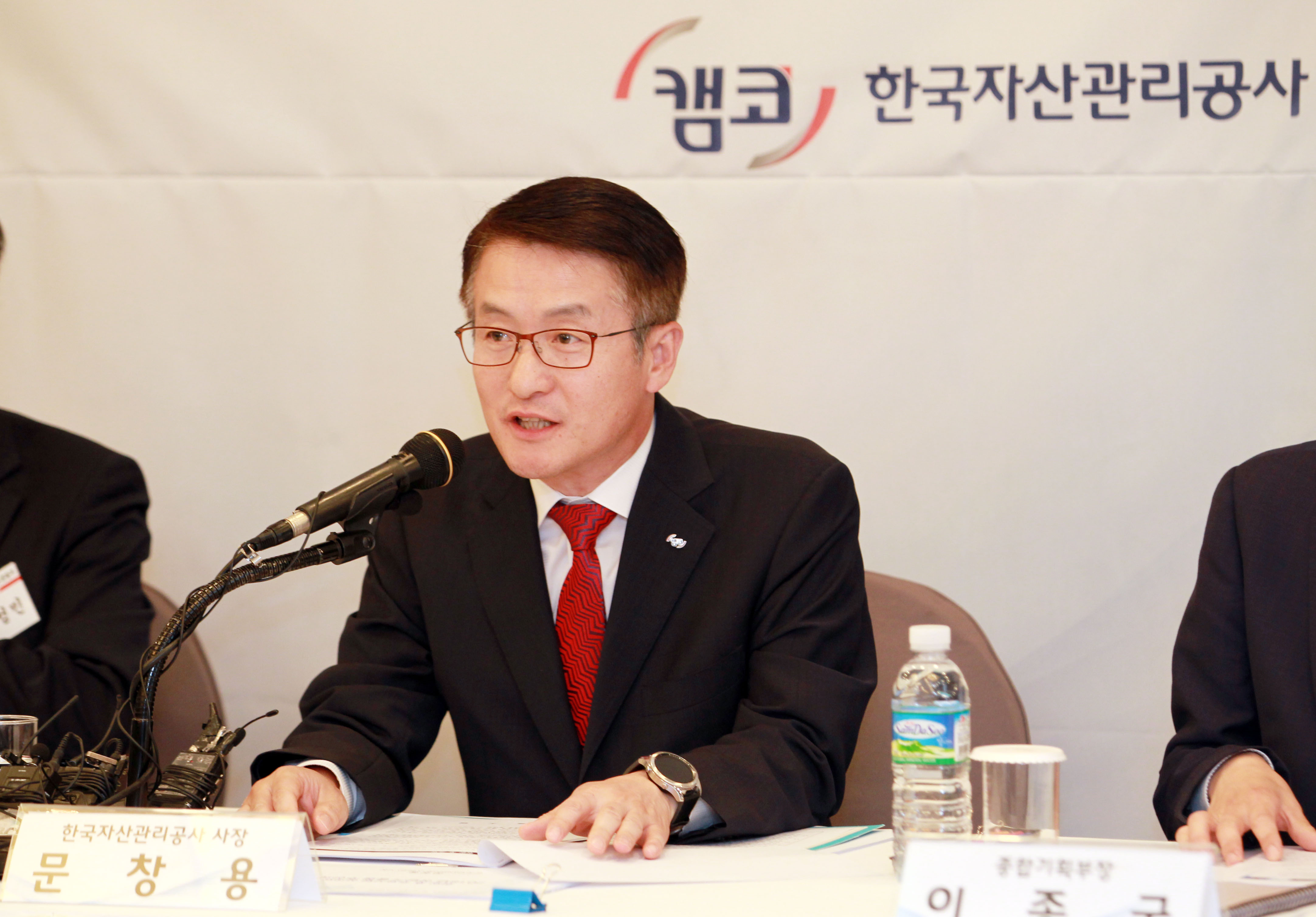 President Moon Chang-yong of Korea Asset Management Corp.(KAMCO).
Korea Asset Management Corp. (KAMCO) held a meeting with a group of 11 Vietnamese officials including Chief Pham Thanh Tam of the Financial Market of the Finance Ministry of Vietnam on the 47th floor of the Busan International Financial Center on Aug. 23.

KAMCO officials held a session to show the Vietnamese officials how they take care of debts in cases of default from their experiences as part of the World Bank's advisory program to assist the financial authorities in Vietnam in developing a debt market.

The World Bank asked KAMCO to provide its experience in handling debts in default as part of a contract signed with KAMCO in April. KAMCO signed the MOU with the World Bank whereby KAMCO agreed to help strengthen emerging market countries' capacity to handle debts in default for the stability of the financial markets in those countries.

At the session, KAMCO showed the Vietnamese officials its know-how to handle the defaulted debts, introducing diverse business models that KAMCO has, the need for building a base to take care of the Vietnamese debts and KAMCO's roles and the directions of its operation in Vietnam, among others.

President Moon Chang-yong said KAMCO's experience in taking care of the debts in default during the process of overcoming the foreign exchange crisis has been well recognized all over the world as a national asset. He said he hopes KAMCO's know-how and experience would be of great help to Vietnam as it moves to build a system to take care of debts in default. The S.E. Asian country is a key nation under Korea's New Southern Policy.

KAMCO so far provided its policy advice to DATC (Debt and Asset Trading Corp.) four times under the Knowledge Sharing Program helping DATC to increase its capital, and adding the online asset sales to the asset bidding sales in Vietnam among the results that KAMCO's advises achieved.

South Korean financial companies' investments in Vietnam have grown by more than 500 percent over the past 10 years, in particular marking an uptick since last year, on the back of President Moon Jae-in's Southeast Asia-friendly initiative, data showed.

The volume of investments made by domestic financial companies to the Southeast Asian state stood at $123 million last year, up 509.88 percent from 10 years prior, according to statistics from the Overseas Economic Research Institute of state-run Export-Import Bank of Korea.

The total investment volume accumulated since 1993 totaled $799.8 million.
Currently, Seoul's top four banking players - Shinhan, KB Kookmin Bank, Woori Bank and Hana KEB Bank - are operating in Vietnam, along with other major securities companies such as Mirae Asset Daewoo, Korea Investment & Securities, NH Investment & Securities and Shinhan Investment.

Lotte Card, the credit card operator of retail giant Lotte, recently confirmed its 100 percent equity acquisition of Vietnamese consumer financing company Techcom Finance, becoming the first South Korean player to obtain a credit card business license there.
Business expansion gestures in the Southeast Asian region came in step with President Moon's signal to strengthen ties with the Association of Southeast Asian Nations under the New South Policy initiative. The state chief is slated to embark this week on a trip to Vietnam and then to the United Arab Emirates to meet his respective counterparts.

In the run-up to the visit, the Financial Services Commission announced a revision of regulations to ease the notification requirement in case of financial companies' direct investment in an overseas market.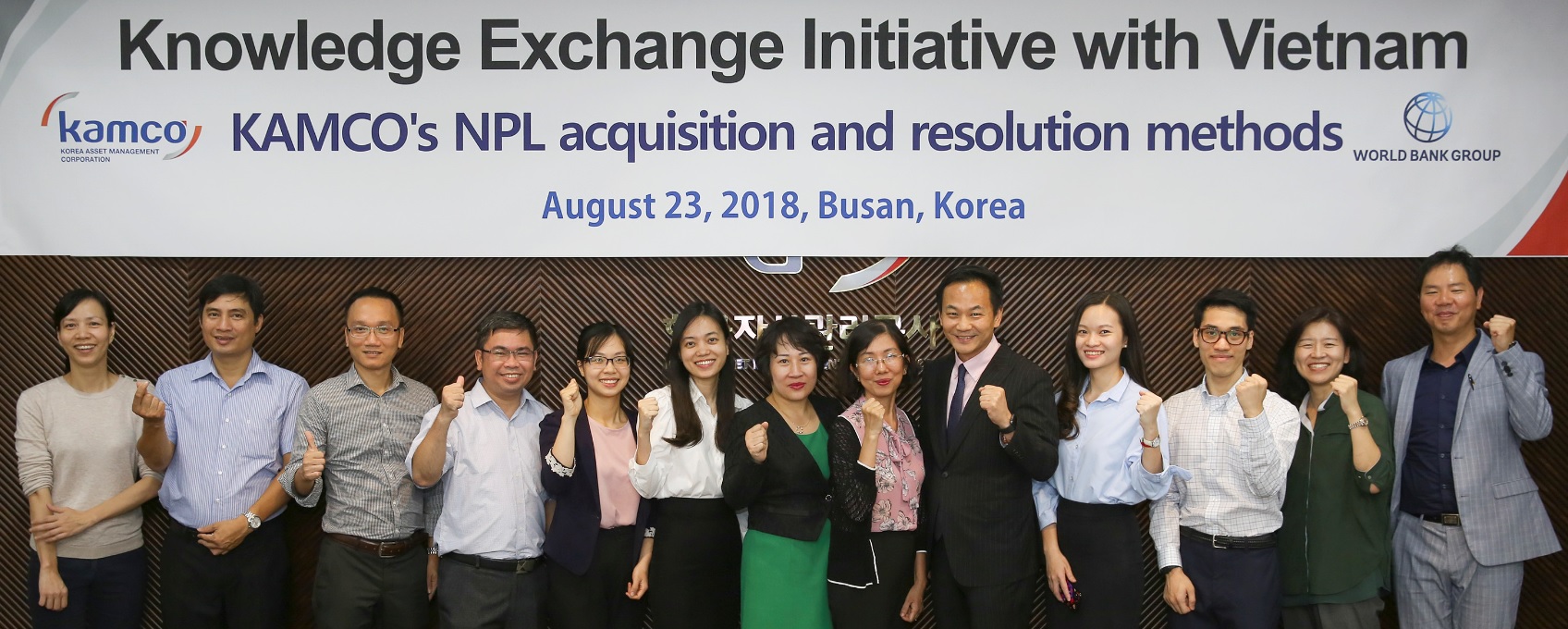 A group of 11 Vietnamese officials led by Chief Pham Than Tam of the Financial Market Dep't of the Finance Ministry of Vietnam is shown at the Busan Int'l Financial Center where they held a session on the management of defaulted debts with KAMCO officials. (Photos: KAMCO)