Bank's H1 net profit posts 17.2 pct improvement YoY with affiliates, including IBK Capital, chipping in to have a big H1 for the group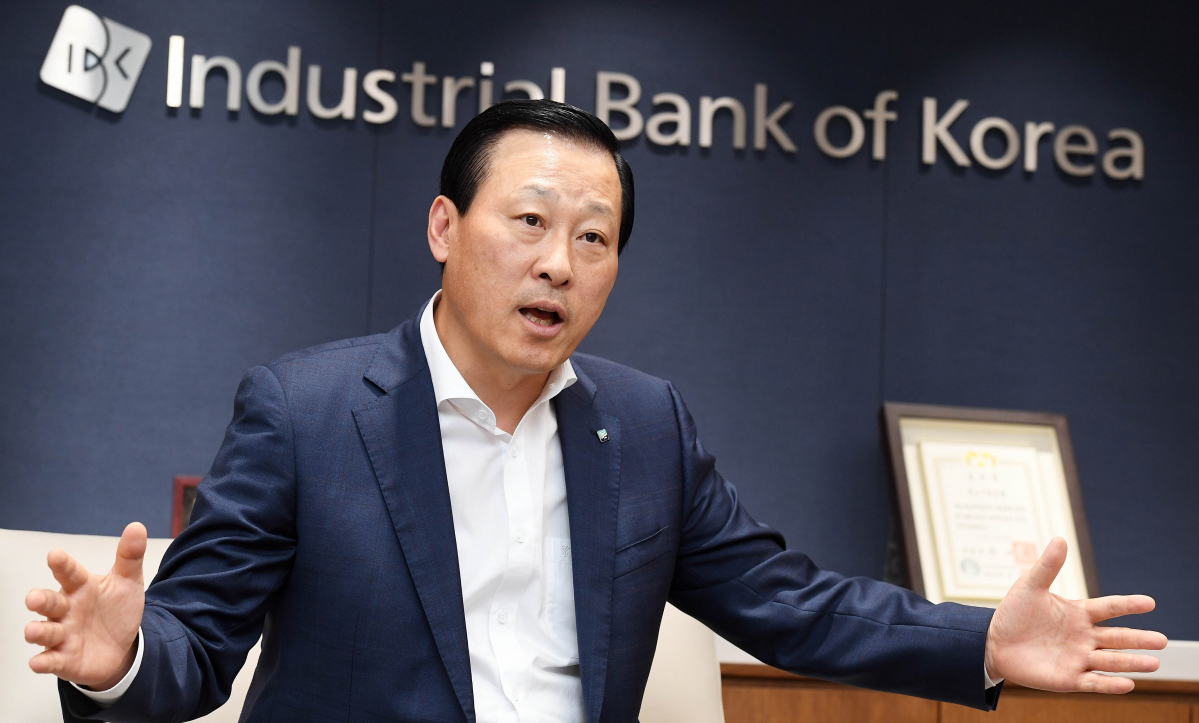 President Kim Do-jin of the Industrial Bank of Korea(IBK). (Photo: IBK)
The Industrial Bank of Korea (IBK) logged the largest first half net profit since 2011 at 937.2 billion won, up 17.2 percent year-on-year, the bank announced on July 26. The net profit in the first half of 2011 amounted to 993.1 billion won.

IBK officials said the outstanding results have been attributed to the soundness of its asset management plan, and operating sectors, including the non-banking sector, securing healthy earnings.

IBK and its affiliates earned higher incomes compared to the previous year, making huge contributions to the group's H1 results, with IBK in particular powered by the higher NIM for Q2, this year standing at 1.96 percent, 0.02 percent higher than in the Q2 in the previous year. The bank also got help from the improved loan management, the expanded low restructuring costs and the lowest loan loss provision in the past three years.

The bank's first half loans outstanding to SMEs, its major customers, stood at 148.7 trillion won, up 4.4 percent year-on-year, the largest since the first half in 2009, which was helped by the bank sustaining its lead in providing loans to SMEs, taking up 22.7 percent of the loans provided to those customers in hot competition with rival commercial banks.

IBK Capital, one of the affiliates, netted 64.4 billion won in first half profit, up 53.1 percent year-on-year. IBK Investment and Securities and IBK Retirement Fund Insurance, other affiliates, also saw their net profits edge up 34.9 percent and 26.5 percent in first half respectively at 29.4 billion won and 29.1 billion won each.

IBK will continue to go global and expand our business internationally under the vision of emerging as Asia's No.1 bank in SME financing. Our plan is to build a foundation to lead the market by expanding our global network up to 70 branches in 13 countries. In particular, we will focus on Asia to create the "IBK Asia Financial Belt." To do so, we will diversify the methods of our overseas expansion and actively pursue M&A and establish local entities.

In Indonesia, we will acquire local banks with strengths in corporate banking and foreign exchange. In Vietnam, we are in the process of converting our branch into a subsidiary and opening additional networks to better support the many Korean SMEs located in industrial complexes. Over in Cambodia, our plan to convert the representative office in Phnom Penh to a branch by the latter half of 2018 is proceeding on schedule.

"Outside Asia, we are seeking to enter regions that are emerging as next strategic bases. We plan to open an office in Eastern Europe to prepare for increased presence of Korean companies and to secure an EU outpost after Brexit.

Anticipating increased trade between Korea and Russia in line with the government's new Northern Policy, we will pursue plans to enter Russia's Primorsky Krai (Vladivostok) region. Our mid- to longterm strategy will involve securing bases in Mexico and UAE," the company stated.

In countries where we already operate, IBK has said it will push for different strategies in developed markets and emerging markets. In the global financial centers such as Hong Kong and London, IBK will beef up our future profit base by enhancing investment banking, syndicated credit and capital operations. In regions where global firms are actively seeking market entrance like New Delhi and Manila, IBK is focusing resources on local partners.
Building a healthy and transparent organizational culture is also high on the agenda.

"In 2018, we will set up an overseas compliance department and integrated money laundering prevention mechanism to establish an internal control and compliance system that meet the high standards of advanced financial markets," the company said.