Deputy Prime Minister Kim leads Korean delegation to 2018 Annual Meetings of IMF & WBG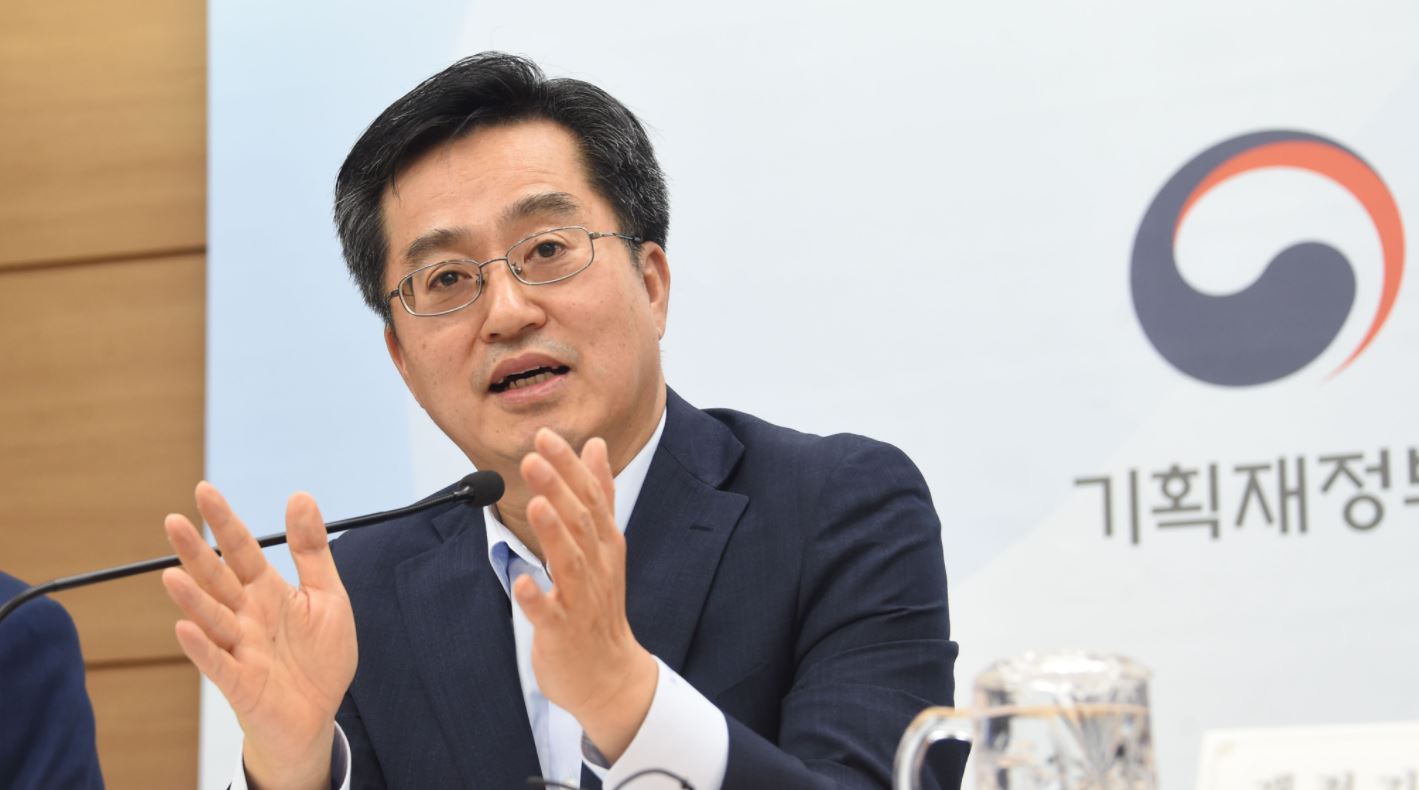 Deputy Prime Minister and Minister Kim Dong-yeon of the Ministry of Economy and Finance (MOEF) (Photos: MOEF)
Deputy Prime Minister and Minister Kim Dong-yeon of the Ministry of Economy and Finance (MOEF) will participate in the 2018 Annual Meetings of the International Monetary Fund (IMF) and the World Bank Group (WBG) slated for Oct. 12-14 in Bali, Indonesia.

Deputy Prime Minister Kim will head a Korean delegation to the annual meetings. The delegation includes the governor of the Bank of Korea and heads and representatives of commercial banks, including Shinhan Financial Group, Kookmin Financial Group, Hana Financial Group, NH Financial Group, Woori Bank, Korea Development Bank, IBK, and Korea Eximbank as well as representatives of other financial institutions and the financial industry, including the Korea Financial Investment Association.

The annual meetings bring together central bankers, ministers of finance and development, private sector executives, and academics to discuss progress on the work of the IMF and the World Bank Group.

The Annual Meetings include meetings of the International Monetary and Financial Committee, the Development Committee, the Group of 10, the Group of 24, and various other constituencies.

At the conclusion of their meetings, the Development Committee and the International Monetary and Financial Committee, as well as several other groups, issue communiqués.

The Annual Meetings will include a plenary session, at which governors take up matters of business. At the Annual Meetings, the Boards of Governors make decisions on how current international monetary issues should be addressed and approve corresponding resolutions.
The Annual Meetings are chaired by a Governor of the IMF and the WBG, with the chairmanship rotating among the membership each year. Every two years it elects Executive Directors. Each year any new members are welcomed into the IMF the WBG.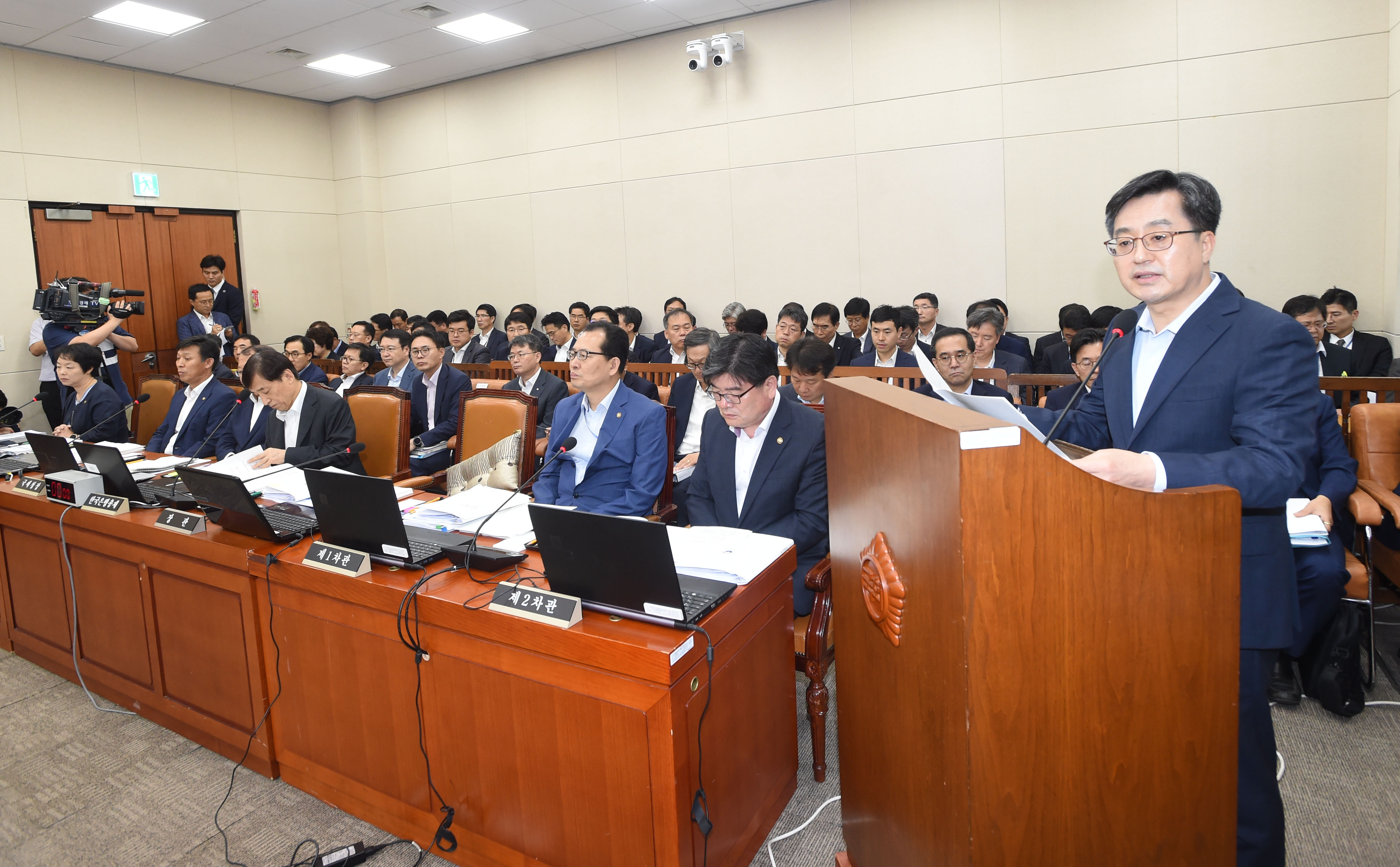 Deputy Prime Minister and Minister Kim Dong-yeon of the Ministry of Economy and Finance speaks at a session of the National Assembly Economy and Finance Committee.

Korean Economic Paradigm Shift

The government has pursued the shifting of a paradigm shift since the start of the administration, focusing on consumption, in addition to working on macroeconomic stability. According to the new growth paradigm, polices have been focused on wage-led growth and 'growth through innovation.'

The plan includes raising the minimum wage and seeking ways to strengthen the social safety net; creating jobs for young adults; promoting 'growth through innovation'; improving corporate governance and getting rid of unfair business practices; and increasing macroeconomic stability and real estate market stability; as well as pursuing corporate restructuring and properly responding to external risks, including renegotiating the Korea-US FTA.

However, it takes time for the new paradigm to work properly, and there is much to be addressed: 'Growth through innovation' has been suspended due to conflicts of interest, the economy has been dependent on semiconductors, and low-income households are struggling.
Economic Situation

Although exports, consumption and other indicators have shown positive trends, exports are dependent on semiconductors enjoying strong demand due to recovering global economies and domestic markets are slowing down.

Uncertainties are expanding amid a slowdown in construction investment and facilities investment, while the leading composite index is falling, and consumer confidence becomes volatile.

Externally, although the global economy is expected to be on a recovery path, there are risks arising from the trade conflict between the U.S. and China, as well as from high oil prices and financial market instability in some emerging economies affected by Fed's rate hikes.

Jobs and income

Job markets have been sluggish since last February, and are expected to be weak given a slowdown in major industries and a decline in the working age population. Employment is expected to improve as the supplementary budget will properly be implemented in the second half, but slowing construction is a negative factor.
It is unlikely that income gaps will improve quickly as temporary and daily jobs are decreasing in line with rising internet use and automation, as well as due to ageing population. In addition, self-employed small merchants are struggling.

Growth through innovation

The country needs to find future growth engines as conventional industries that have led growth, such as shipbuilding and automobiles, are waning except semiconductors. However, the administration's 'growth through innovation' has been halted as there are obstacles to regulatory reform. Accordingly, even if the number of startups is on the rise recently, high value-added ones are scarce. Given these and demographic challenges we will face in the future, we need to work intensively to support 'growth through innovation' as it is essential for the Korean economy to grow sustainably and increase productivity.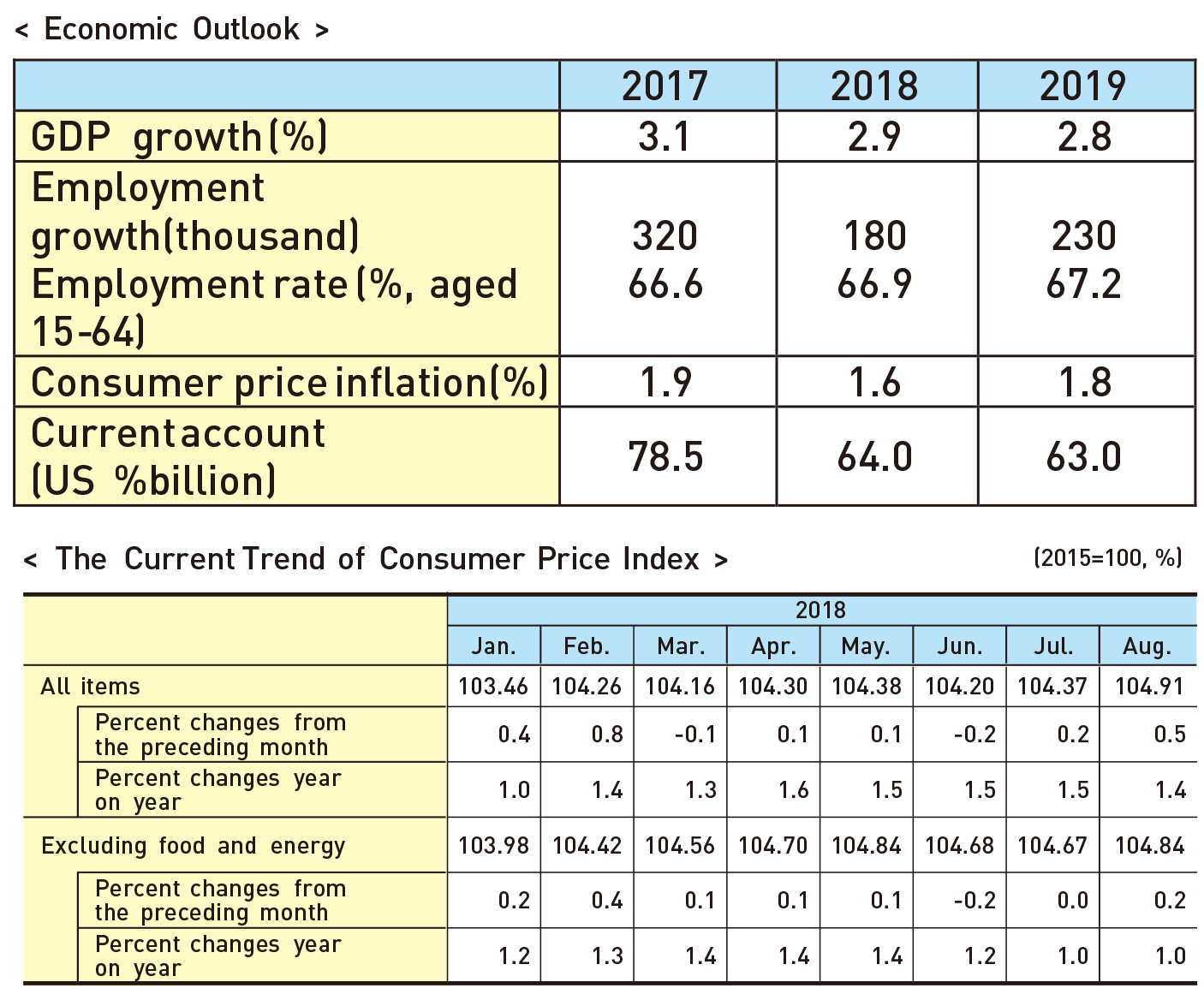 Economic outlook

Annual growth of 2.9 percent is expected, a slowdown from the previous year. The slowdown is due to weak exports and consumption amid global trade conflicts and high oil prices. A total of 180,000 jobs are expected to be created, a slowdown from the previous year partly due to industrial restructuring and falling working age population. The employment rate is expected to improve from 66.6 percent to 66.9 percent.

The annual consumer price inflation is projected to be 1.6 percent, despite high oil prices, as fresh food prices will remain stable. The current account surplus is expected to decline to US $64 billion, as high oil prices will boost commodities exports.

Economic Policies, H2 2018

Second half policies focus on creating jobs and strengthening social safety nets; accelerating 'growth through innovation'; sharing the outcomes of growth; and maintaining expansionary fiscal management.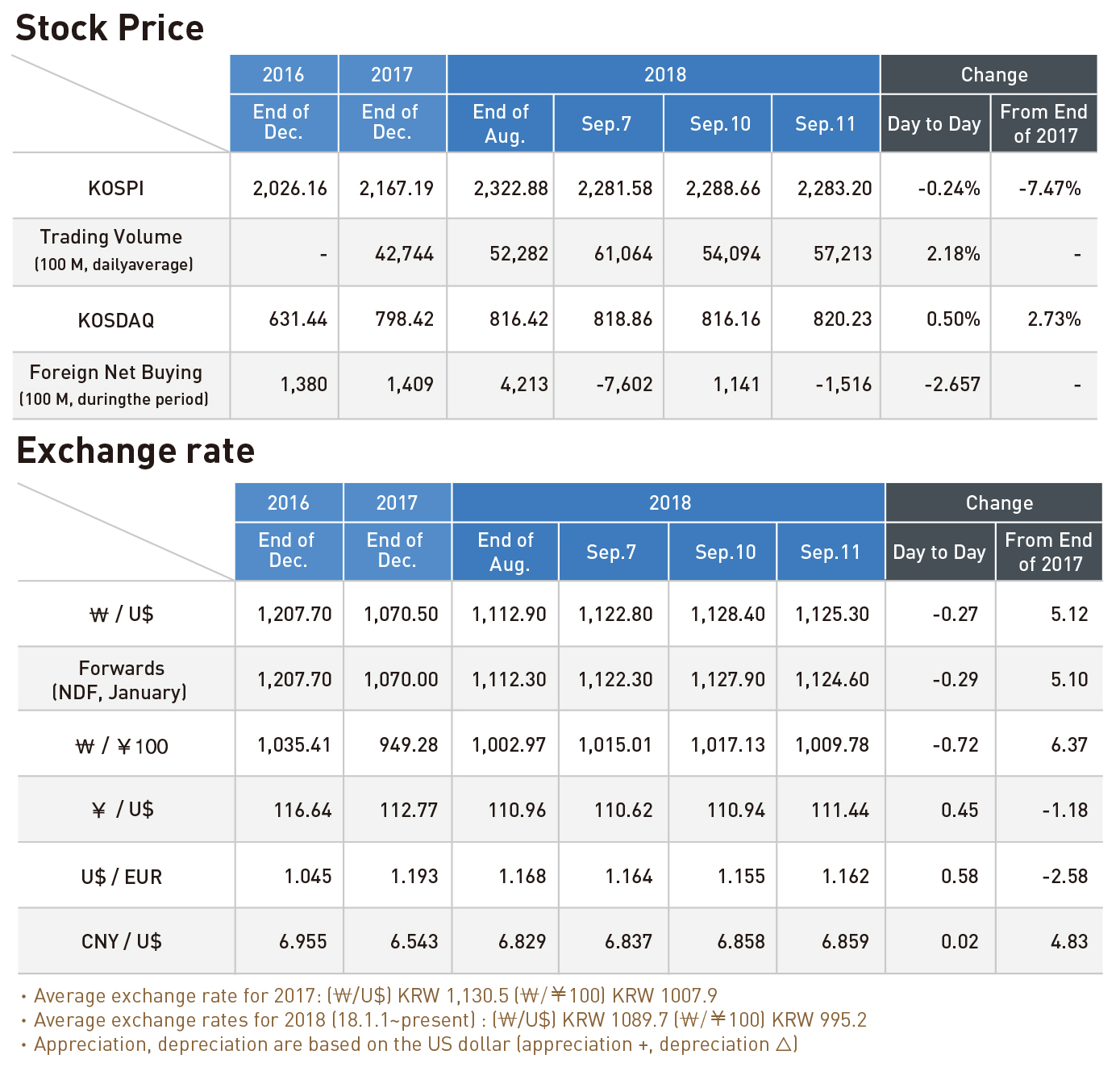 Create jobs and strengthen social safety nets
The government will both promote employment and strengthen social safety nets.

Accelerate 'growth through innovation'
The government will work to improve regulations and promote investment.

Share the outcomes of growth
The government will work for the outcomes of growth to be felt by all involved.
- Work to allow multiple derivative actions and mandate electronic shareholder voting.
- Regulate contracts between large conglomerates and their subsidiaries, as well as transactions between their financial subsidiaries and non-financial subsidiaries.
- Carefully watch unfair practices, such as those with suppliers and franchisees, as well as those involving intellectual property rights.
- Work on 'inclusive finance', such as by revising current financial products for low-income households to be more customer-friendly, improving delinquency work-out programs and regulating misselling.
- Promote profit-sharing with suppliers, as well as encourage large conglomerates to assume corporate responsibility, such as by cooperating with SMEs, creating jobs and serving the public good.

Maintain expansionary fiscal management

The government will increase spending by around 4 trillion won to help the economy maintain growth momentum, and will strengthen its risk management.

The Green Book: Current Economic Trends

The Korean economy has stayed on its recovery path backed by strong exports, but production and investment are slowing down, and uncertainties are increasing amid trade conflicts between the US and China.

The economy added 106,000 jobs year-on-year in June led by the service sector. Job markets remained weak due to the struggling manufacturing sector. However, young adult unemployment fell (10.4% → 9.0%, down 1.4%p, y-o-y).

Consumer prices rose 1.5 percent year-on-year in July. Consumer prices have been stable (up 1.5% → up 1.5%, y-o-y, compared with a month ago) due to low service prices although meat prices and natural gas prices rose.

All industry production declined in June (up 0.2% → down 0.7%, m-o-m) as mining and manufacturing production fell (up 1.2% → down 0.6, m-o-m) due to weak automobiles and chemical products. However, service output improved (down 0.2% → up 0.2%, m-o-m) backed by strong wholesale & retail and healthcare & social welfare services.

Retail sales rose in June (down 1.1% → up 0.6%, m-o-m) as the sales of semi-durable goods and nondurable goods improved. Durable goods sales declined.

Facility investment continued to fall in June (down 3.0% → down 5.9%, m-o-m) as machinery investment declined. Construction completed went down (down 2.7% → down 4.8%, m-o-m), both building construction and civil engineering works being weak.

In June, the cyclical indicator of the coincident composite index fell 0.2 points to 99.4, and the cyclical indicator of the leading composite index fell 0.1 points to 100.0.

Exports rose 6.2 percent year-on-year in July, exceeding US $50 billion for the fifth month in a row, backed by strong petroleum products, steel and semiconductors.

In July KOSPI fell amid increasing worries over trade conflicts between the US and China, despite BOK's decision to hold interest rates steady and expectations for strong US corporate earnings. The dollar-won exchange rate rose due to a strong dollar, and government bond yields on short- and mid-term debts went up.

Housing prices continued to fall in July (down 0.02% → down 0.02%, m-o-m) due to the houses outside the Seoul metropolitan area, and Jeonse (lump-sum deposits with no monthly payments) prices remained stable across the country (down 0.25% → down 0.21%, m-o-m). The economy is expected to continue to recover given improving global economies, strong exports and the government's supplementary budget spending, but job markets are weak and external risks linger, such as US-China trade conflicts, Fed's rate hikes and high oil prices.

The government will strengthen its risk management, and will work to help boost the economy through increased fiscal spending and individual consumption tax cuts, as well as help create jobs by promoting 'growth through innovation'.