The B-777F takes off Incheon on Tuesdays, Thursdays and Saturdays to touch down in New Delhi next day after stops in Hanoi, with next-generation freighter flying 9,000-km non-stop with 100 tons of cargoes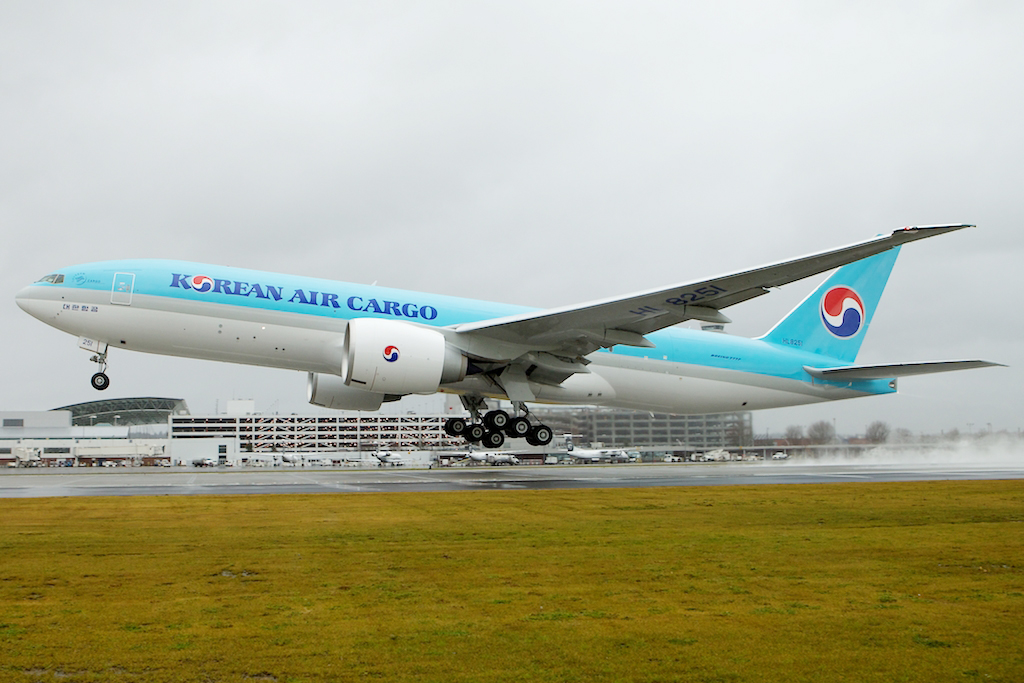 A B-777F next-generation cargo plane which has been assigned to fly the new cargo air route from Incheon to New Delhi, India, for three times weekly. (Photo: Korean Air)
Korean Air is operating direct passenger flights from Incheon to Mumbai and Delhi, three and five times a week, respectively. The decision to introduce a cargo flight accompanies the South Korean government's new diplomatic strategy to strengthen partnership with India, and the contribute to the rapid growth of the Indian market. After the launch, Korean Air operates its Boeing 777F freighter three times a week (Tuesday/Thursday/Saturday).

The first flight departed at 11:10 p.m. from Incheon, made a stop at Hanoi and arrived at Delhi at 6:15 a.m. the next day. From Delhi to Incheon, there were two stops at Vienna, Austria and Milan, Italy.
The Boeing 777F is a next-generation lightweight freighter with a maximum payload of over 1
00 tons. Once filled with fuel, it can travel over 9,000 kilometers. Its fuel efficiency allows the aircraft to be used in long-haul cargo routes such as Europe.

"Demand for air cargo from Asia to India has shown a sharp boost recently; an average of 6.5% annual increase in the last three years," a Korean Air spokesperson said. "We are anticipating new demand and improved profitability through optimized cargo routes."

Meanwhile, Korean Air is preparing to take a new leap forward in the air cargo business, celebrating its 50th anniversary next year. The airline will be using its next-generation freighters such as Boeing 777F and Boeing 747-8F, as well as its new air cargo system "iCargo" to improve customer service.

Korean Air launched non-stop direct flight to Delhi from its Seoul Incheon hub in December 2016. Delhi features prominently among the new routes the carrier is mulling as part of its long-haul international network revamp.
Average seat capacity on the Delhi-Seoul route has largely remained stagnant in the last few years although passenger demand has substantially increased in leisure as well as business category given the large presence of South Korean majors like Samsung Electronics, LG Electronics, Hyundai Motor, Doosan Heavy Industries in the national capital region of India.

U.S. carrier Delta Air Lines Cargo and Asian carrier Korean Air Cargo have expanded their Venture partnership to include cargo services for the trans-Pacific market. This comes after the recent implementation of the trans-Pacific Joint Venture partnership between the two airlines.

The joint venture routes, on which Delta and Korean Air carried 268 million tons of belly cargo in 2017, will allow customers to work with either carrier to transport shipments across a broad network of flights. The expansive combined network formed by this partnership gives Delta and Korean Air's shared customers access to more than 290 destinations in the Americas and more than 80 in Asia.

From the U.S., semi-conductor production facilities, perishables and e-commerce shipments are some of the key products shipped to Seoul and throughout Asia. In the reverse direction mobile phones, automobile parts and other electronics are carried.

"The Delta and Korean Air JV means increased joint belly cargo capacity across the trans-Pacific as well as future co-location of key facilities, world-class reliability and the industry's best customer service," said Shawn Cole, Delta's vice president – Cargo. "The partnership also means a host of new destinations with commercial and logistics solutions across Asia and North America for these important markets."

"We are excited to partner with Delta to create an unrivalled air cargo network across North America and Asia. This is bolstered by Korean Air's leading trans-Pacific air freight network, as well as Delta's nationwide schedule and sales network within the US," said Samsug Noh, SVP, head of Cargo Business Division, Korean Air. Earlier this year, Delta and Korean Air co-located into the new, state-of-the-art Terminal 2 at Seoul's Incheon International Airport.