Samsung C&T's Engineering & Construction Group, 1st in Construction Performance Evaluation for 5th Consecutive Year
Sees construction performance evaluation amounts for 2018 surge to 17.37 trillion won, followed by Hyundai E&C, Daelim Industrial and Daewoo E&C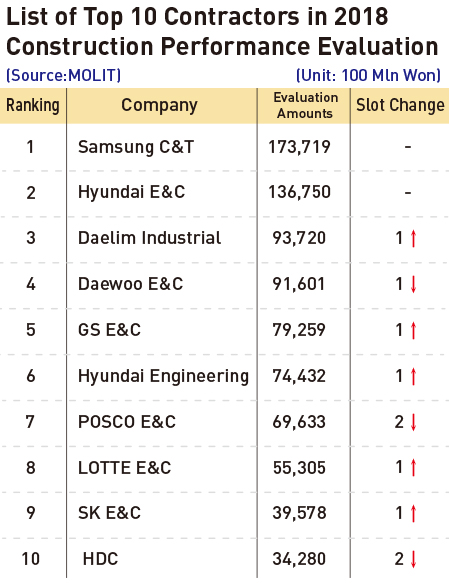 Samsung C&T's Engineering & Construction Group topped the 2018 construction performance evaluation for Korean contractors for the fifth consecutive year. Samsung C&T's Engineering & Construction Group was followed by Hyundai E&C, Daelim Industrial and Daewoo E&C in the latest evaluation.

An electronic filing submitted by the Ministry of Land, Infrastructure and Transport (MOLIT) showed that based on the 2018 construction performance evaluation for contractors in the civil engineering and construction sectors, Samsung C&T's Engineering & Construction Group saw its construction performance evaluation amounts for 2018 surge to 17.37 trillion won, up 783 billion won from 2017. Samsung C&T's Engineering & Construction Group ranked 1st for the fifth year in a row.

First runner-up was Hyundai E&C, which declined 643.1 trillion won to 13.71 trillion won. The difference between Samsung C&T's Engineering & Construction Group and Hyundai E&C increased to 4.304 trillion won.
Second and third runners-up changed places. Daelim Industrial, which posted 9.372 trillion won, ranked 3rd, beating Daewoo E&C's 9.16 trillion won.

The construction performance evaluation is an annual comprehensive index released by the MOLIT every July based on each contractor's construction project execution records, management conditions, technology power, and reliability so that would-be project owners can select contractors suitable for their upcoming projects.

Construction performance evaluation amounts are determined based on a combination of the reflection of 70 percent of a weighted average of annual project execution amounts for three years, management evaluation amounts, technology ability evaluation amounts, and reliability evaluation amounts.

The construction performance evaluation has an impact on contractors' winning construction project orders. Would-be project owners use the annual construction performance evaluation to restrict qualifiers of each project. The Public Procurement Service (PPS) utilizes the evaluation to exclude large-sized contractors from bidding for small-sized work projects.

By construction sector, GS E&C topped the apartment construction field with 4.36 trillion won, surpassing Daewoo E&C, which logged 200 billion won less to 4.163 trillion won. Second runner-up was Daelim Industrial, who posted 4.102 trillion won in the field.

In the road sector of civil engineering, Hyundai E&C was No. 1 with 1.1 trillion won, followed by Samsung C&T's Engineering & Construction Group's 905.1 trillion won and Daewoo E&C with 783.1 trillion won, following the same order as the previous year.

Among mid-size construction companies, Bando Engineering and Construction saw construction performance evaluation amounts soar to 2.22 trillion won, more than 1 trillion won from 1.212 trillion won in 2017 to rank 12th, up 15 slots from the previous year. The construction company, which saw its ranking jump by 17 slots in 2017, has emerge as a dark horse threatening to make it onto the list of the top 10 contractors.

IS Dongseo posted 1.523 trillion won in 2018 to rank 21st, up seven slots from 2017, while Jungheung Construction chalked up 1.494 trillion won to place 22th, up 13 spots.
The number of construction companies subject to the construction performance evaluation stood at 58,252, accounting for 88 percent of the nation's total construction companies standing at 67,436.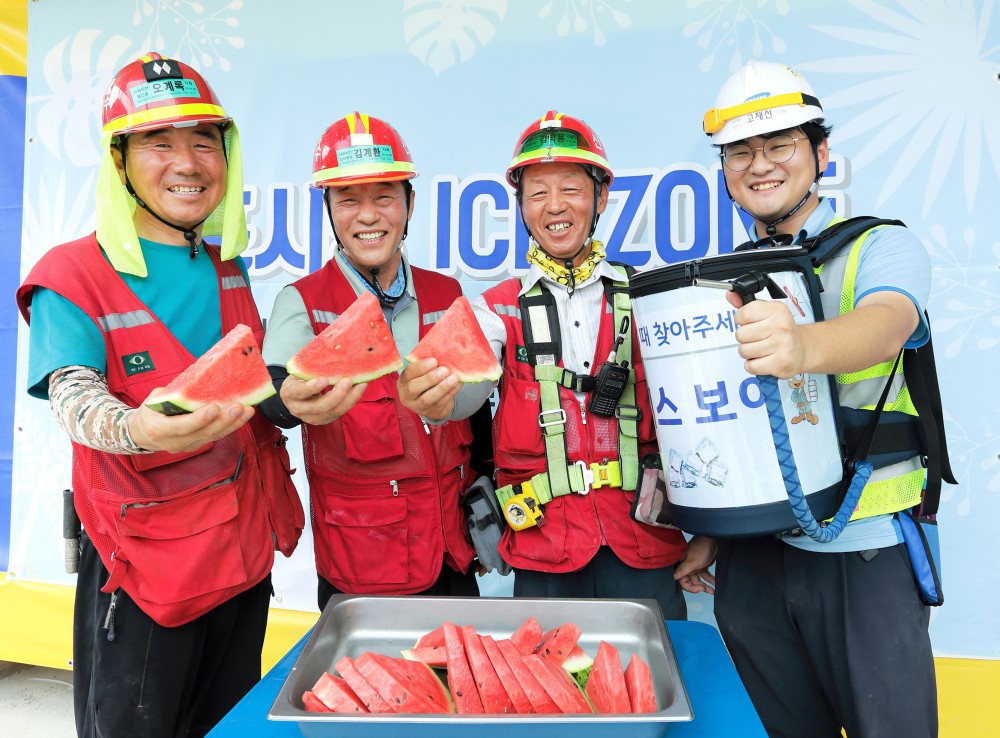 Samsung C&T's Engineering & Construction Group is committed of ensuring safe working conditions at construction sites. Cool water and watermelons are served to workers with the contractor to help them beat the sweltering heat. (Photo: Samsung C&T's Engineering & Construction Group)