Exemption from military service and tax exemption among the incentives; development of technologies urged to expand Korea's overseas construction projects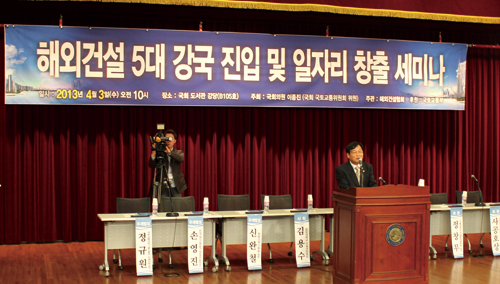 A panel of the seminar on the Creation of Jobs, and Korea Becoming
One of the Five Largest Countries in Overseas Construction held on April 3 at the
auditorium of the National Assembly Library in Yeouido, Seoul.
A seminar on the subject of "The Creation of Jobs and Korea Becoming One of the Five Largest Countries in Overseas Construction" took place on April 3 at the auditorium of the National Assembly Library in Yeouido, Seoul. The event was hosted jointly by Rep. Lee Jong-jin of the ruling Saenuri Party, who is a member of the National Assembly Land, Infrastructure and Transport Committee, and the Overseas Construction Association of Korea.
The key purpose of the seminar was to develop strategies to help the overseas construction industry continue to grow and to push Korea to among the top five construction countries overseas as a new growth engine amidst the current situation in which the industry is suffering from a decrease in the number of overseas construction projects won and a lack of job growth at home, especially among youths.
Rep. Lee, in his opening speech at the event, said the new government led by President Park will push the Creative Economy as one of its national policies to create jobs and make Korea among the top five countries in overseas construction in the world by strengthening its support to the construction industry to perk up its competitive strength. "What we need are diverse support policies so that both large and small construction firms might be able to secure projects overseas," he said.
Lee said that the government should provide positive support to construction firms in such areas as finance, manpower, and technology so that they can enhance their competitive strength in the overseas construction markets.
The presenters of theme papers included Chung Kyu-won, manager of the Future Strategies at the Land, Transport and Science Technology Institute, who spoke on "Strategies for Korea to be among the top five overseas construction countries;" Professor Sohn Young-jin who spoke on "Measures to expand the domestic manpower in order to go overseas;" and Director Shin Wan-chul of Hanwha Construction who spoke on "Examples of job creation at new city construction projects in Iraq."
Manager Chung said in his presentation, "We need to build an international network, the development of target-type construction technologies for the overseas construction markets, and reform the overseas construction system with the target of winning $130 billion worth of overseas construction projects for this year."
Professor Sohn Young-jin of Hanyang University, who is in charge of nurturing overseas construction professionals, said some 4,000 new personnel are needed in the overseas construction market for Korean firms every year until 2020. This does not only mean youths, but also older experts who have been shunning the overseas construction market due to poor working conditions and, therefore, need incentives to go abroad such as exemption from military service and an expansion of tax exemptions with a special professional organization to take care of the manpower for overseas construction in Korea.
Director Shin Wan-chul of Hanwha Construction said about 1,500 Korean workers have been put into the Bismaya New City Construction Project in Iraq and 2,000 additional workers may be needed if the company wins the additional projects worth $10 billion, which includes the construction of schools, hotels, hospitals, and power plants.
About 300 people in various areas participated in the seminar including construction firms, government agencies related to overseas construction, financial institutions, universities and high schools, and others, to show the critical importance of overseas construction in Korea, organizers said.