The award boosts the builder's reputation further for introducing Lotte Castle brand apartments and building Lotte World, the tallest in Korea and 5th tallest in world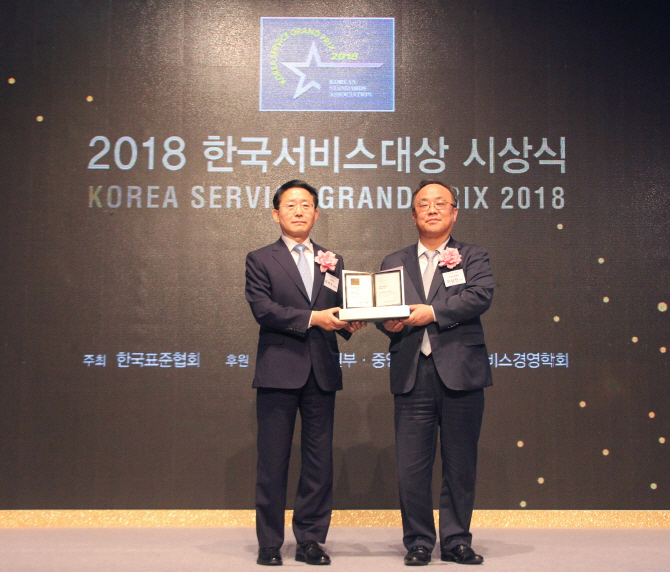 President Hah Seok-ju of Lotte Construction, (Left) receives the 2018 Korea Service Grand Award in the Apartment Sector from Chairman Lee Sang-jin of Korea Standard Association in a ceremony held recently in Seoul.(Photos: Lotte E&C)
Lotte Engineering and Construction Co. captured the 2018 Korea Service Grand Award in the apartment sector, to add to its already high reputation as the builder of the Lotte Castle brand of apartments and the Lotte World, the fifth-tallest building in the world and the tallest in Korea.
Lotte E&C leads the technology in various areas of construction including project planning, and construction both at home and overseas. Lotte E&C was Korea's first company to "brand" its apartments. The award-winning designs in the Lotte Castle brand are setting the standard for luxurious living.
The Lotte Castle brand Has won "the Best Apartment Brand Voted by Women Consumers" award for five consecutive years on the strength of its classy interior designs and beautiful landscaping.
Lotte Castle Has been consistently ranked the highest in after-sale value, reflecting strong appreciation of home value, not just in metropolitan Seoul, Busan but throughout Korea. Owning a Lotte Castle home is sound wealth management.
Lotte E&C construction operations span Japan, Russia, Vietnam, China, Australia, Mongolia, and the rapidly growing business in the Middle East and Africa. Our operational organization is divided into Overseas Business Group 1, 2, Overseas Development Team, Overseas Planning. Our global reach has expanded from the Saudi Arabia projects in the mid-1970s to Vietnam, Russia, Indonesia, and China. Recent overseas contracts include an infrastructure construction project in Al-Ajaylat, Libya and a commercial complex construction project that includes a hotel, department store, and Lotte business center in Russia.
A number of commercial facility construction projects have been completed in Vietnam and a large-scale commercial facility project in China. We are building a hotel in Mongolia and an embassy compound and other projects in Japan.Continued expansion of expertise and market reach ensure that we reach our goal of becoming a truly global construction contractor.
Interview exhibiting confidence in the company/technology/quality:Russia is known in the construction industry as a wasteland. Lotte E&C set out to build a large-scale office and department store complex (New Arbat building) and a five-star hotel (Lotte Hotel) in the middle of Moscow where construction regulations are the world's worst.
This project raised the visibility of Korean construction contractors in Russia. In addition, Lotte E&C is building the Lotte Business Center (formerly the Russian-Korean Cultural Center), achieving important milestones in terms of construction, quality control, safety, and environmental protection.
This project symbolizes the pride of the Han People and is expected to improve the status of Korean-Russian residents.
Lotte E&C won the top commodity award in the apartment section, chosen by women's groups designed by the Women Daily since 1999 for its Lotte Castle apartment brand for 13 years in a row. Shown in this photo are officials of Lotte E&C and representatives of women's groups to show their appreciation for the awards on May 25.