FSS Gov. for Tough Inspection to Protect Customers
FSS to take on financial institutions charging exorbitant interest rates with harsh measures, even if it means going to war against them to ensure stable financial market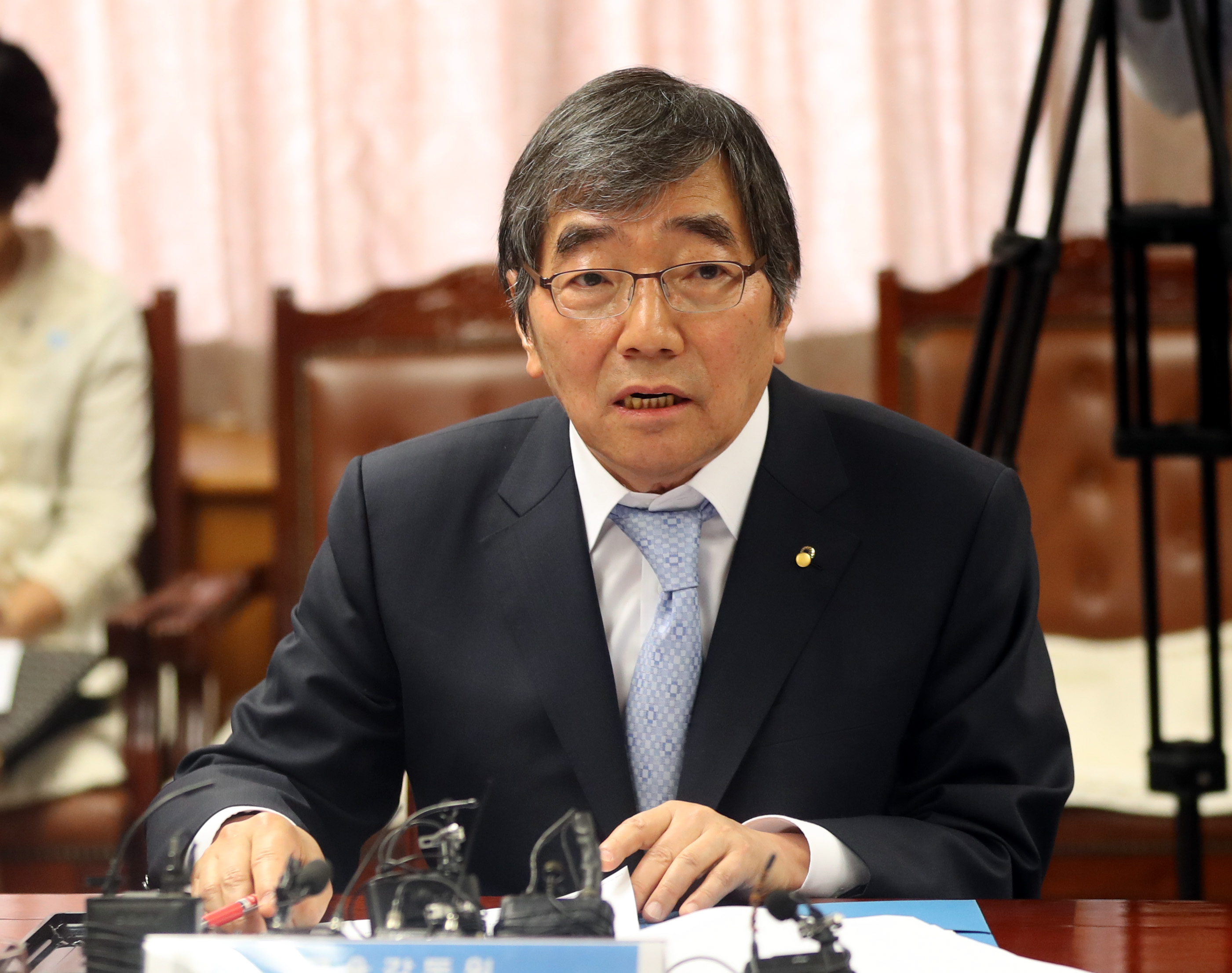 Gov. Yoon Suk-heun of Financial Supervisory Service(FSS) (Photo: FSS)
Gov. Yoon Suk-heun of the Financial Supervisory Service (FSS) said he won't shy away from fighting a war with financial institutions if it has to come to that as he unveils the toughest moves yet by the FSS to protect consumers from the financial institutions. The plans call for stepped up supervision, inspection and sanctions if necessary.
But financial sources feared that the unilateral protective measures for financial customers could backfire, undermining the growth of the financial market and thus make it unstable.
At a media briefing, the FSS governor said a number of financial fiascos surfaced lately, including Samsung Securities "Ghost Dividend Payment," triggering cases of incomplete sales by the financial institutions to rise. "From now on, we have to fight a war against financial institutions if it has to come to that to fully protect financial customers," said Gov. Yoon Suk-heun.
The FSS governor declared the FSS will bring back overall audits of financial institutions from Q4. They had been suspended during the Park Geun-hae administration in 2015. The overall audits includes inspections of a financial institution's operation, personnel matters, and the execution of expenses and others to see if management has done its job fully and not in violation of any financial regulations and pertinent laws.
Gov. Yoon swore that any financial institution found to have violated financial regulations willfully can get maximum penalties, which includes the suspension of operations or dismissal of management-level executives.
The investigations may expand to exorbitant interest rates charged on loans by banks and other institutions as part of the activities designed to protect the customer rights.
The FSS will moreover seek better communication with the market, while boasting efforts to protect financial consumers, Yoon said. Yoon, who was appointed to the post earlier this month, had served as a visiting professor of business administration at Seoul National University and the head of a government commission that maps out measures to reform financial administration affairs.
As the chairman of the Financial Administration Innovation Committee, the reform-minded professor recommended that financial authorities should impose a fine on Samsung Group Chairman Lee Kun-hee for allegedly evading taxes with borrowed-name accounts.
Financial authorities and Samsung BioLogics Co. held a session reviewing a regulatory probe into the biotechnology firm over suspected accounting breaches.
In a recent regulatory filing, Samsung BioLogics said its U.S. partner, Biogen Inc., proposed boosting its stake in their joint venture, Samsung Bioepis.
The proposal cleared one of key questions about Samsung BioLogics' sudden profit in 2015. Founded in 2011 as a new growth engine of Samsung Group, Samsung BioLogics posted losses until 2014.
In 2015, however, the company posted a net profit of 1.9 trillion won ($1.76 billion) after it changed the method used to calculate the value of Samsung Bioepis.
Samsung BioLogics has claimed that the change was in line with international accounting standards.
Asked about the regulatory filing by Samsung BioLogics, Yoon replied that the FSS will "cope with the matter."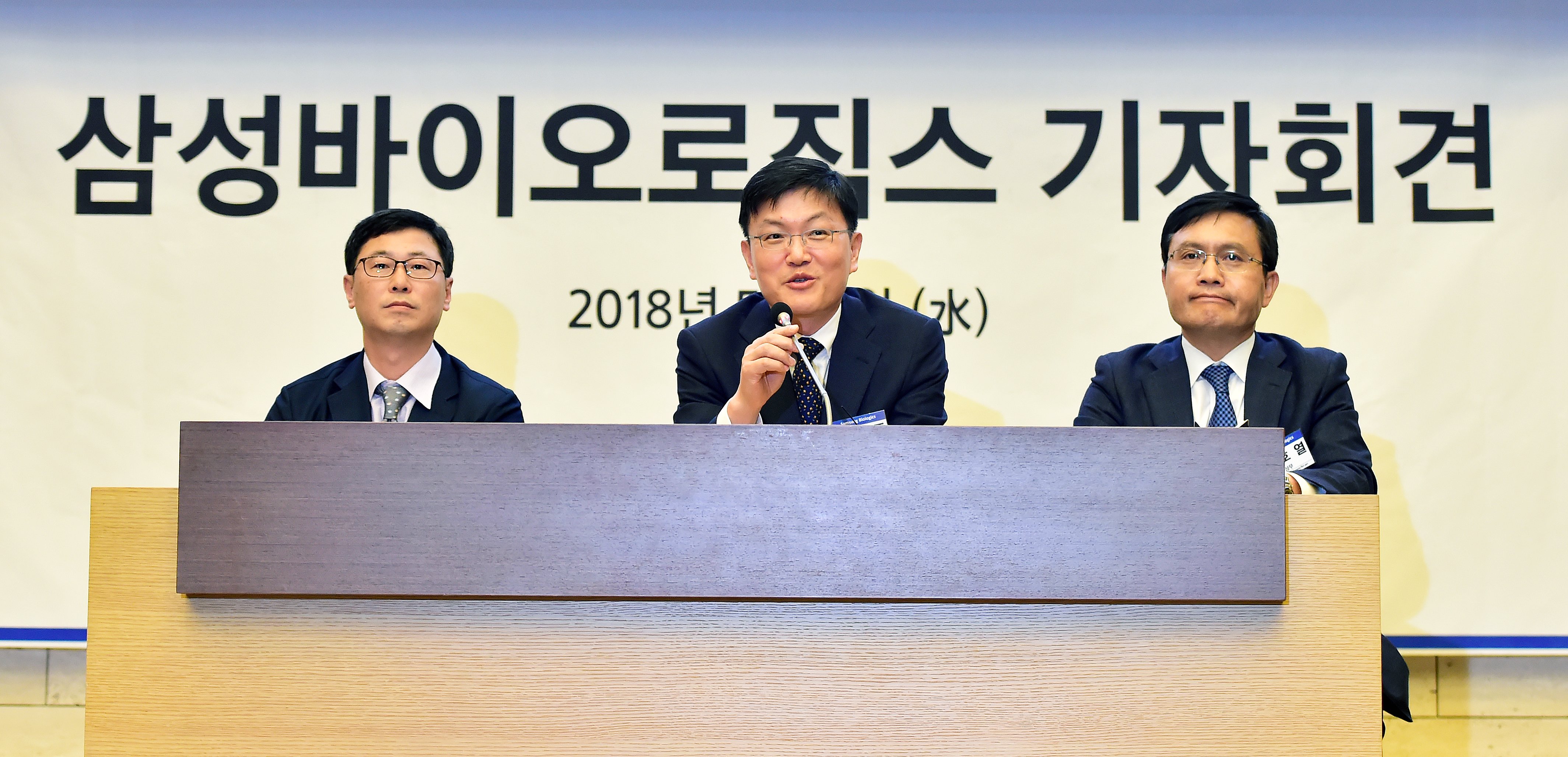 Three key officials of Samsung BioLogics including Director Shim Byung-wha, left, Managing Director Kim Dong-joong, center, and Director Yoon Ho-yeol, hold a press conference on May 2 at a KCCI conference room in Seoul. (Photo: Samsung BioLogics)