Korea Investment & Securities launches KIS Indonesia in j.v. with Korando Group in Indonesia with the support of Vice Chmn. Kim Nam-koo of KIS Holdings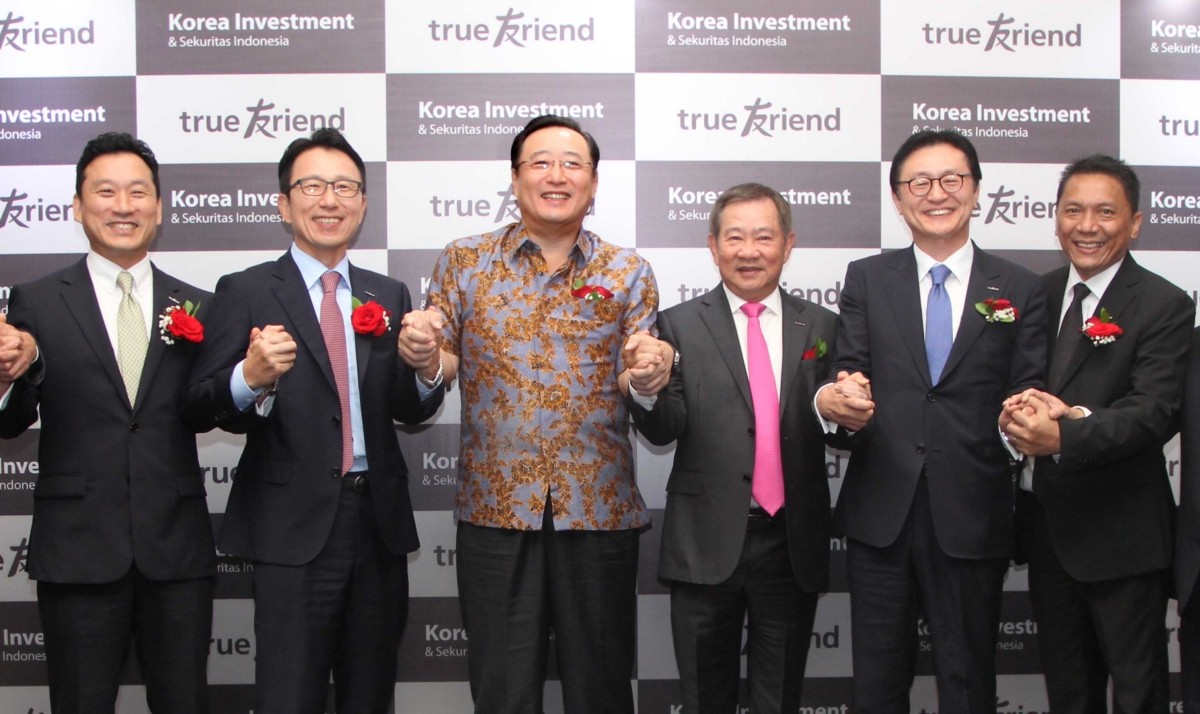 A happy group of top executives of Korea Investment and Securities(KIS) and native Indonesian officials hold hands in celebration of the successful launch of KIS Indonesia, a j.v. of KIS and Korando Group in Jakarta, Indonesia on July 9. They are Vice Chairman Kim Nam-koo of KIS Holdings, 3rd L, President Ryu Sang-ho of KIS,.2nd R, Monang Silalashi, a shareholder of the new j.v. company, 1st R, and President Song Sang-hyup of KIS Indonesia, 2nd L, among others. (Photo: KIS)
President Ryu Sang-ho of Korea Investment and Securities Co. (KIS) realized his dream of 30 years to enter Indonesia and launch a securities firm there as the base for the company's global operation. He and other executives of KIS led by Vice Chairman Kim Nam-koo of Korea Investment and Securities Holding Co., attended a ceremony to officially launch KIS Indonesia in Jakarta, on July 9.
When he was working for Daewoo Securities Co. back in the 1980s, the 29-year-old ambitious employee was sent to travel to Jakarta, Indonesia to size up the securities industry in the S.E. Asian country to determine the company's decision to take over a securities firm in there as requested by a brokerage firm in Hong Kong.
At the end of his stay in Jakarta, and meeting a number of people in the securities industry, including the securities firm up for sale, the young staff of the securities firm said in his report that the country has great potential for growth with a total population of 160 million and abundant natural resources. But the country was not yet ready for foreign investment with unsettled political and social conditions and a lack of infrastructure to tap the natural resources, he concluded.
Daewoo Securities decided not to pursue its idea to set up an operation in Indonesia by taking over a local securities firm.
But President Ryu could not get Indonesia out of his mind, even though he no longer worked for Daewoo Securities. He wanted to set up a Korean securities firm in the S.E. Asian country when the conditions were right, as the country's potential for economic development continue to remain very good.
President Ryu was right when he reported that Indonesia still had some years to go to have its financial market grow enough for foreign financial firms to do business there. Eight years after the first visited the S.E. Asian nation, the Asian financial crisis swept the region with Indonesia's economic growth falling to -13.8 percent in 1998.
When he got another offer to bid for an Indonesian securities firm in 2008, he was president of KIS already and his conclusion that Indonesia was not yet ripe for such opportunities had not changed.
Now times have changed. Woori Investment and Securities Co. became the first Korean securities firm to enter Indonesia by jointly setting up a local securities firm, NH Korando Securities, holding an 80 percent stake. Woori Securities was taken over and merged with NH Securities since then.
Vice Chairman Kim Nam-koo of Korea Investment and Securities Holding Co. played a big role by supporting President Ryu's move to enter the Indonesian securities market. The CEO last year decided that time was ripe for KIS to enter Indonesia for a number of reasons.
The country had become the 4th largest nation in the world in population, totaling 260 million with the annual economy growing 5 percent on average in recent years and it had only 750,000 accounts held by customers for the securities market, coming only to 0.3 percent of total population. Ryu felt that the retailing section of Korea's well-developed marketing system would have a very good possibility for growth.
Vice Chairman Kim also visited Indonesia a number of times himself to lend his hand to Ryu's moves to open up the S.E. Asian country for Korea's securities firms and in the process, make KIS a top investment banking firm in the southeast Asian region.