KHNP Considers Name Change In Line With Govt. Energy Paradigm Shift
Strives to dramatically change business portfolio, with intention to change adopt integrated energy company strategy in future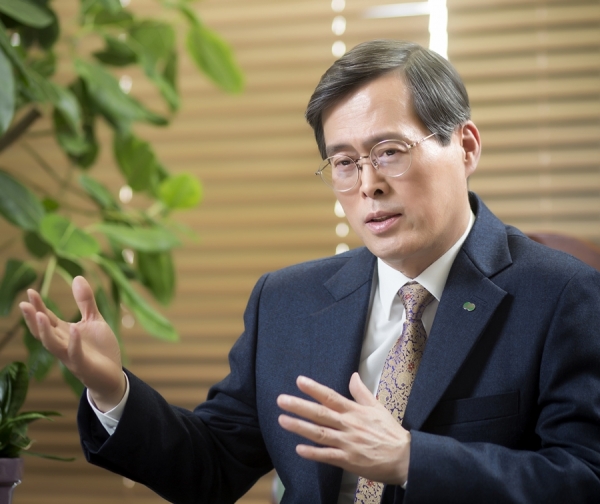 President Chung Jae-hoon of Korea Hydro & Nuclear Power (KHNP). (Photos: KHNP)
Korea Hydro & Nuclear Power (KHNP), the nation's sole nuclear power operator, is considering changing its name in keeping with the government's energy paradigm shift to wane the nation off nuclear power and raise the portion of new and renewable energy resources. The power company is most likely to go as far as to omit "nuclear power" from the name.
There is no reason for KHNP, a public entity, to carry nuclear power in its name now that the government implements a state task of winding down nuclear energy production, a KHNP official said. KHNP management will likely unveil a new corporate identity, he added. It would be KHNP's first name change since it was spun off from KEPCO in March 2001.
KHNP President Chung Jae-hoon, former deputy minister of the Ministry of Trade, Industry and Energy (MOTIE), has been taking the initiative in the implementation of the energy paradigm shift since he took office in February. KHNP convened a board of directors' meeting on June 15, which approved the dismantling of Wolsong Nuclear Power Unit 1 earlier than scheduled.
He reportedly opened his heart to outside people that KHNP is no longer a nuclear power operator, and it needs to be transformed into an integrated energy company. In this context, President Chung inaugurated a task force on change and growth under his direct control.
Envisaging KHNP 10 years or 20 years later, he said, KHNP should dramatically change is business portfolio.
Another reason for considering a name change is that the portion of hydro power has greatly declined. Statics on national power grid showed that the hydro power sector accounted for 1.3 percent of the nation's total power generation. In accordance with the readjusting of functions among public entities in 2016, the operation of 10 dams for hydro power generation has transferred from KHNP to K-water. KHNP is grouping for a name suiting an integrated energy company.
KHNP is striving to find new growth engines as the company finds it inevitable to see the nuclear energy business sector decline in the wake of the government's energy paradigm shift. To this end, KHNP commissioned a project on exploring new businesses to Deloitte Consulting last month. The power company plans to let the task force on change and growth and Deloitte Consulting jointly work out on a new portfolio with a focus on new businesses. Among the new businesses under study are new energy industries crafting the technologies of the 4th Industrial Revolution, and a package of hydro and new and renewable energy exports.
KHNP's recent reorganization is in line with a policy of reducing nuclear power and expanding new and renewable energy resources. The conventional New Energy Business Department has been expanded to the New & Renewable Business Division to increase manpower in the new and renewable energy business by about 40 percent. KHNP analyzes that the company cannot reduce nuclear power without increasing photovoltaic power and wind power businesses.
KHNP's scheme to build a 100MW-class waterfront photovoltaic power plant, the largest-ever in Korea, in Hwaseong, Gyeonggi-do, or seek a patent on a photovoltaic power system compatible with farming are part of the company's plan to diversify its business portfolio. The company plans to build large-scale wind power complexes near nuclear power plants, including ones in Yeongdeok, Gyeongsangbuk-do, and Yeonggwang, Jeollanam-do. The projects are designed not only to make the most of the nuclear power plants, but also to brace for their decommissioning in the future.
KHNP executives and staffers are reoriented so that they can conform to the changing business environment, and such unprecedented steps as hiring outside career experts are taken to use shock tactics.
Some experts are worrying about KHNP's abrupt changes, saying that they were wondering whether the company, the exclusive operator of 24 nuclear power units, might see its expertise in the nuclear power sector lose ground. They pointed out that KHNP's massive investments into new and renewable energy resources may worsen its financial conditions. The company's debt swelled to 29.825 trillion won as of the end of March, than 2.8 trillion won higher than a year ago.
A view of the Wolsong Nuclear Power Unit 1, which is to be decommissioned.