President Kim signs MOC with PGCIL of India to enter India' s energy market on the whims of President Moon Jae-in's recent state visit to India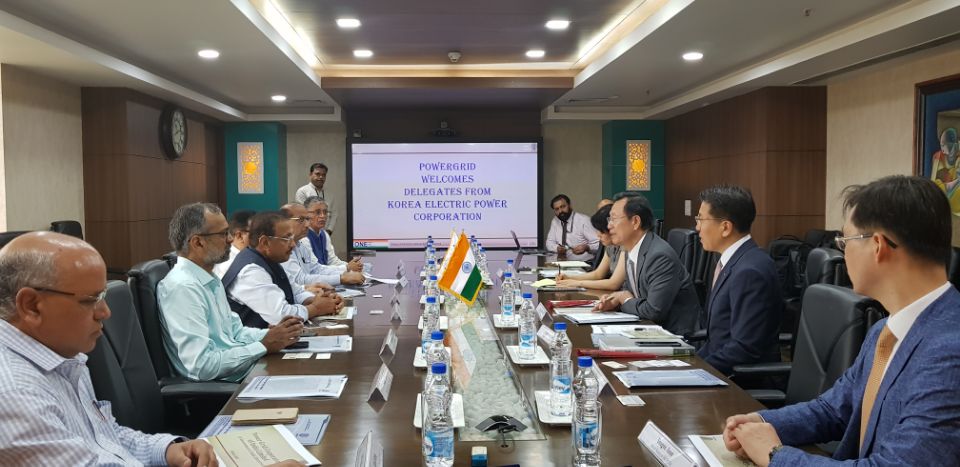 Key officials of Korea Electric Power Corp.(Kepco) led by President Kim Jong-kap, 3rd R, sit across their counterparts for PGCIL of India for a meeting before signing an MOC to allow Kepco to enter India's energy market at the Indian power company's office In New Delhi, India, on July 10.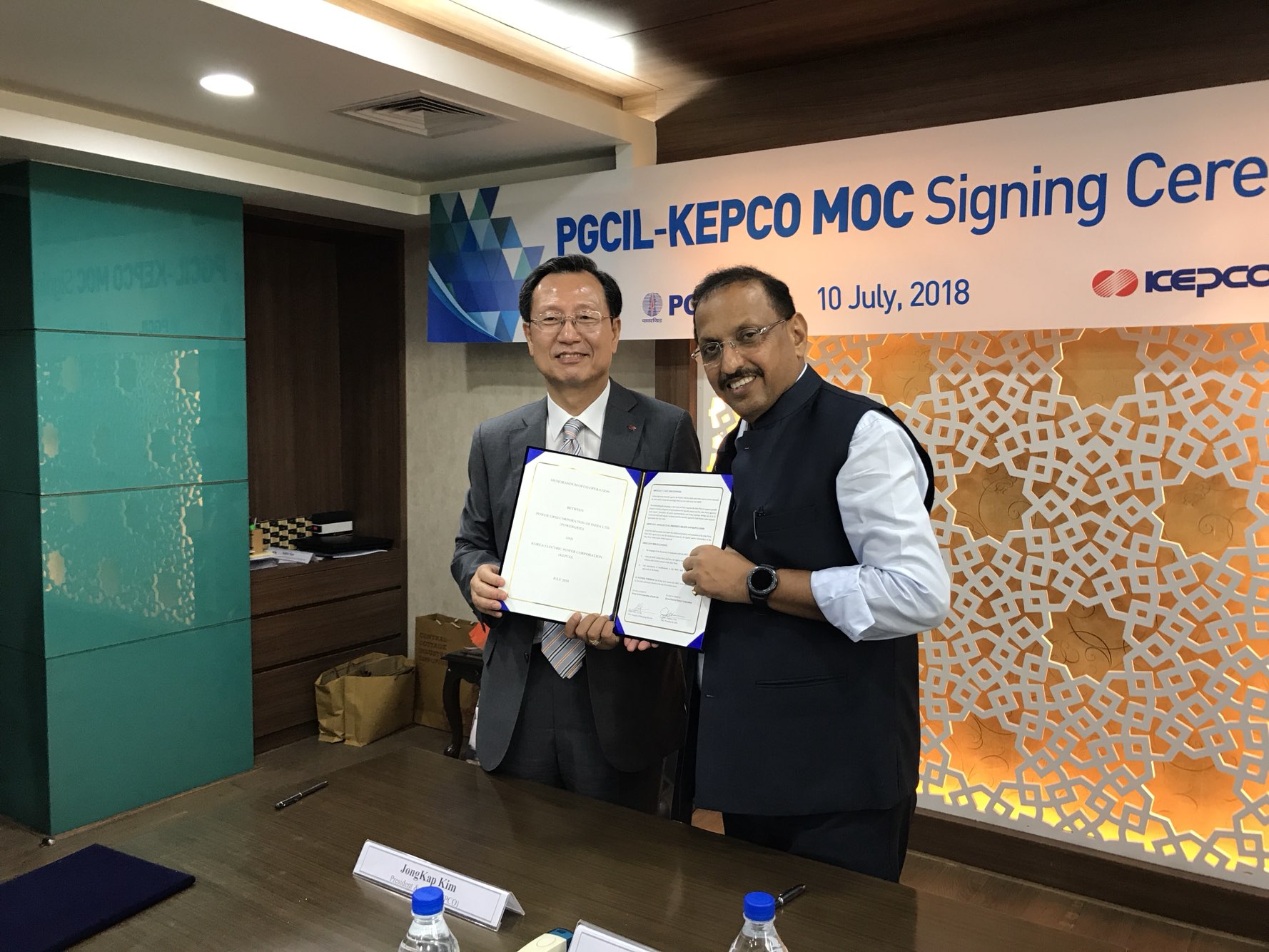 KEPCO President Kim Jong-kap, left, holds an copy of MOC with his counterpart for PGCIL of India after signing it on July 10 at the Korea-India Forum held on the occasion of President Moon Jae-in's state visit in New Delhi, India. (Photos: KEPCO)
Korea Electric Power Corp. (KEPCO) is slated to enter India's energy market as President Kim Jong-kap signs an agreement with PGCIL of India on July 10 to take up the construction of power lines and technological cooperation on new energy projects in India. The deal was made at the Korea-India Business Forum in New Delhi on the occasion of President Moon Jae-in's state visit to the subcontinent country.
PGCIL, set up in 1989, is a state-run power distribution company in charge of sending 45 percent of power all over the country, which may have its business territory expanding with Prime Minister Modi boosting India's power infrastructure and building huge power distribution facilities across the country.
KEPCO officials projected that huge expansion of power grids and "smart" grids in particular are likely to take place with the Indian top government official announcing a plan to boost India's power infrastructure.
Modi's government announced a $1.2 billion investment in smart cities over the next year, with more funding coming from private investors and abroad.
In an ambitious plan to upgrade urban India, Prime Minister Narendra Modi says he will build 100 "smart cities" - cities outfitted with high-tech communication capabilities – across the country.
"Cities in the past were built on riverbanks," Modi said in a June speech. "They are now built along highways. But in the future, they will be built based on availability of optical fiber networks and next-generation infrastructure."
Prime Minister Narendra Modi recently called for less-risky finances for raising the share of solar electricity in the energy mix and pledged to generate 175 gigawatts (GW) of electricity in India from renewable energy sources by 2022.
Speaking at the founding conference of the International Solar Alliance (ISA), Modi presented a 10-point action plan that includes making affordable solar technology available to all nations, raising the share of electricity generated from photovoltaic cells in the energy mix, framing regulations and standards, consultancy support for bankable solar projects and creating a network of centers for excellence. "We all have to think about the road ahead and I have a 10-point action plan that I would like to share with you.
"First of all, we should ensure cheap and easy availability of solar technology. The solar ratio in the energy mix should be increased and innovation should be encouraged so that solutions for our various needs can be provided," he said.
KEPCO and PGCIL jointly plan to take up the ESS, smart grids, and EV projects, in particular, new recycled energy projects in India, which have high growth potential by building cooperative systems. They will also take up the projects for reducing the loss of energy on the power transmission systems taking advantage of KEPCO's remote energy control technology.
KEPCO officials met with the officials of the three eastern coastal states and explained KEPCO's power technologies in a number of key areas of the power industry, securing a base to jointly undertake projects for new energy projects with those states.