KIC to Work to Build N.E. Asia Financial Hub in Seoul
President Choi Hee-nam declares KIC grown big enough to challenge any global national investment funds and make huge contribution to the economy on occasion of 13th anniversary of state-run sovereign wealth fund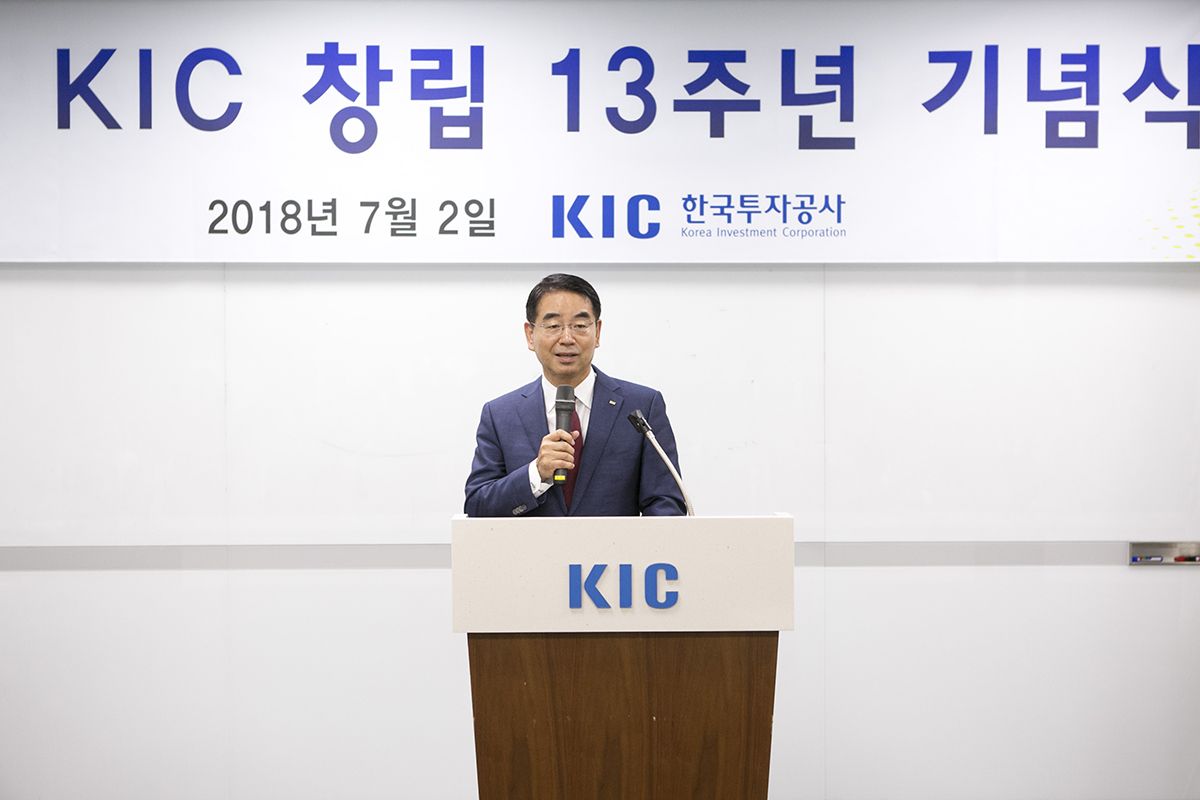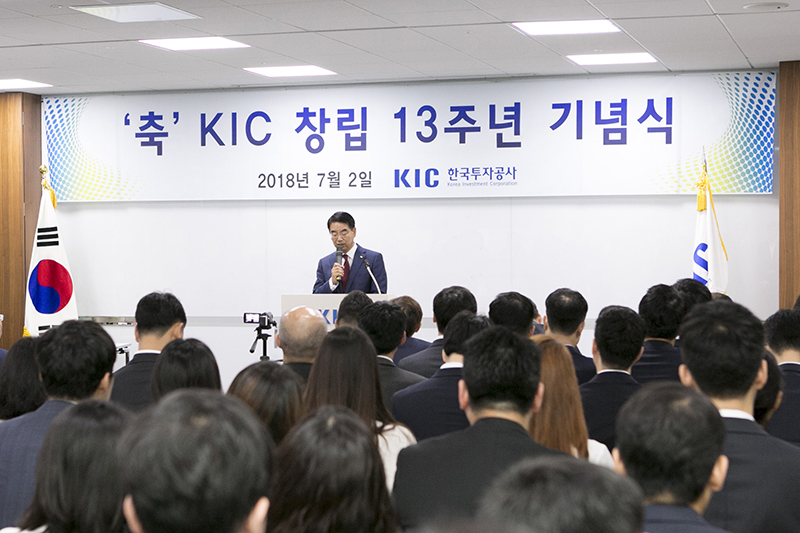 President Choi Hee-nam delivers his congratulatory speech a ceremony for KIC's 13th anniversary on July 2 at Korea Investment Corp.'s head office in central Seoul. (Photos:KIC)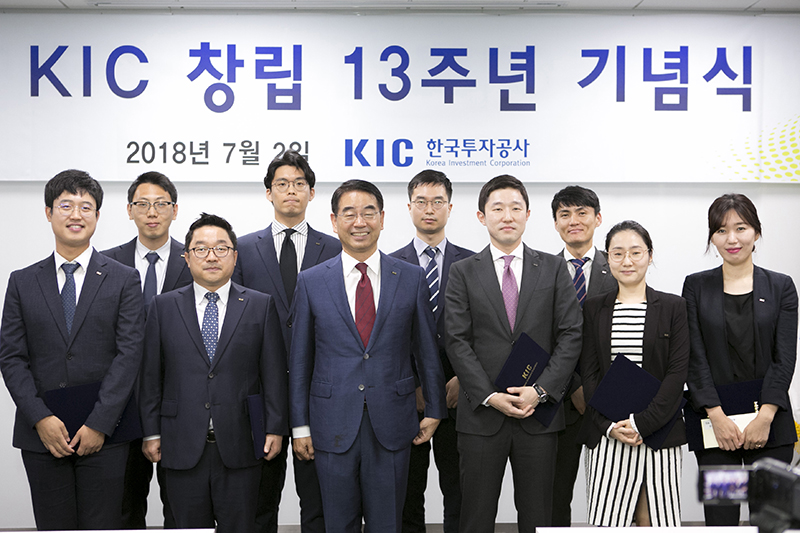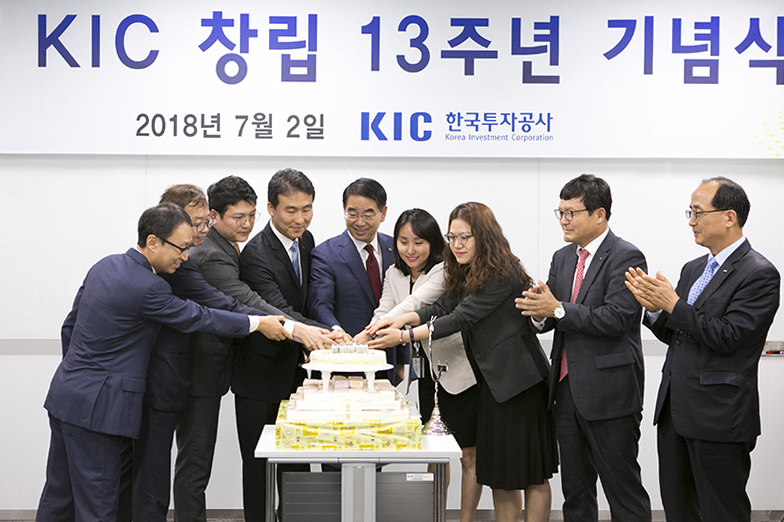 President Choi Hee-nam of Korea Investment Corp. (KIC) in his congratulatory speech on the 13th founding anniversary of KIC, said the state-run sovereign wealth fund should once again strengthen its roles now that it is big enough to challenge any international top-level national wealth fund.
At a ceremony held at the KIC's head office in Seoul on July 2, he said that the state fund has grown big enough to go shoulder-to-shoulder with any top-level national wealth fund in the world and should respond to the demands of the people and make contributions to the growth of the national economy.
He said they should never forget the original ideas that went into the creation of the state wealth fund 13 years ago, which was to be a boon to the creation of a financial hub in Northeast Asia in Korea. The goal then, as it is now, is to make asset management a leading industry. "We should never forget those ideas that went into setting up our company," insisted the president.
Choi said the KIC should be able to extend help to Korean investment firms. at the same time, it should ooperate with them, making use of its vast experience and global cooperative network. He said without the attraction of new trust funds, the KIC won't be able to grow further with its future operation becoming unpredictable.
He said the KIC should be able to attract new funds by strengthening its ability to attract them by itself so it can stand alone, taking on any kinds of new and tough challenges ahead. Any employee should get rid of their ineffective habits and impractical office practices so that they can handle new challenges and make reforms ahead, he said.
Choi Hee-nam has been recommended by Kim Dong Yeon, Korea's deputy prime minister and minister of strategy and finance, to assume the role of CEO of the Korea Investment Corp., a spokesman for the strategy and finance ministry confirmed on March 28. Mr. Choi will officially become CEO after South Korean President Moon Jae-in approves the recommendation, which should take place soon, said the spokesman in an email.
Choi will take over that role from Sung-soo Eun, who left in September, last year to become CEO of the Export-Import Bank of Korea. Choi comes to KIC from the International Monetary Fund, where he served as an executive director.
The sovereign wealth fund's investment portfolio was valued at $110.8 billion at the end of 2016. Korea Investment Corporation (KIC) has opened an office in Singapore, as the $122 billion sovereign wealth fund continues to expand its alternative investments beyond its east Asian home base.
KIC will manage assets locally through the Singapore office, while building a network for deal sourcing in southeast Asia, India and Oceania, the Seoul-based fund manager announced. The company held the opening ceremony for the new office in Asia Square Tower 1 last Friday.
The Korean fund is opening in Singapore to enhance its ability to hunt for opportunities in the region, conduct feasibility studies for each investment and perform on-site inspections. "The new branch is expected to not only improve KIC's overall returns through local asset management, but also facilitate co-investment with major institutional investors and global asset managers," the firm said in its statement.