Kolon Chmn. Lee's Passion to Develop New Drug Pays Off
If approved as DMOAD in U.S., Korea's first cell gene drug 'Invossa' is forecast to post $5.5 billion in annual sale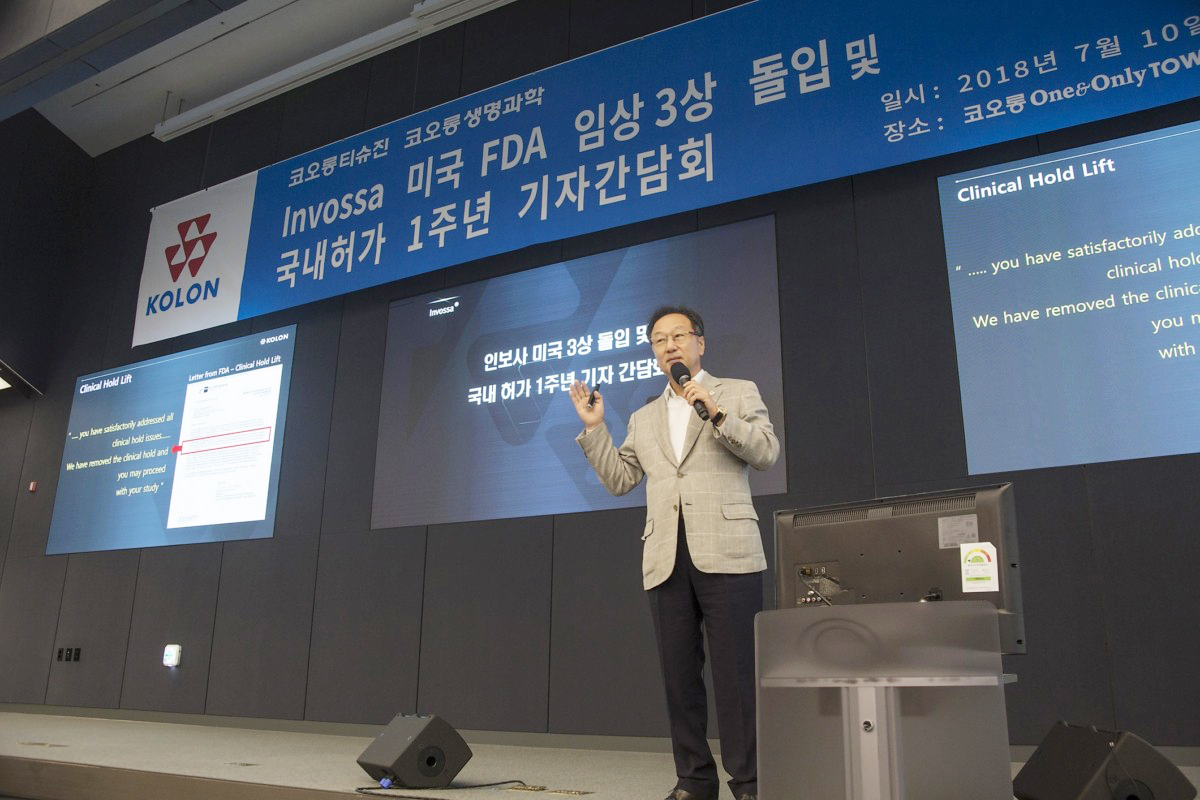 President Lee Woo-suk of Kolon Tissue Gene speaks at a news conference at the Kolon One & Only Tower in Magok-dong, western Seoul, on July 10 to celebrate the nation's approval of "Invossa," Korea's first gene-therapy drug for treating osteoarthritis. (Photos: Kolon Group)
"If Invossa, Korea's first gene-therapy drug for treating osteoarthritis (OA), is approved as a disease-modifying OA drug (DMOAD) in the United States, it is expected to rake in $5.5 billion in annual sales," said President Lee Woo-suk of Kolon Tissue Gene, a U.S. based, wholly-owned subsidiary of Kolon Group.
President Lee made the remarks at a news conference at the Kolon One & Only Tower in Magok-dong, western Seoul, on July 10 to celebrate the nation's approval of the new drug. Invossa is Korea's sole new drug that catapult among the top global drug makers.
Under the stewardship of Kolon Group Chairman Lee Woong-yeul, the group established Kolon Tissue Gene in 1999 with an eye on entering the U.S. market, when the Korean bio industry was dawning.
It plunked down 110 billion won on the development of the drug. Chairman Lee's challenging spirit has paid off. While touring a bio new drug laboratory of Kolon Life Science in Magok recently, Chairman Lee expressed high hopes for the success of Invossa, saying, "Bio new drugs are powerful weapons to strengthen competitiveness without being swayed by global trade wars."
Lee, a father of three daughters, has showed deep attachment to Invossa, calling it as his fourth "daughter."
Kolon Tissue Gene plans to enter Invossa into a phase three clinical test in September to obtain approval in the United States. The Korean Ministry of Food and Drug Safety gave the green light to Invoss-K Ing., an injectable cell gene therapy for osteoarthritis as the nation's 29th new drug.
Invossa has proven to be effective in easing pain and improving functions.
If Invossa is approved as DMOAD in the United States as is has been in Korea, Kolon Tissue Gene is forecast to post $2.2 billion in additional revenues for a combined $5.5 billion in annual sales.
Kolon Tissue Gene is going to give Invossa injections to the first patents between September and December. Starting with Invossa injections to 1,020 inpatients at 60 major hospitals across the United States, the company is to complete the clinical analysis by 2021 before submitting a biologics license application (BLA). President Lee said his company will prove Invossa's value – not only being effective in pain relief and improvements in joint structure but also DMOAD – in the upcoming clinical test.
The phase 3 clinical test on Invossa was done on 159 patients in Korea for one year. The upcoming test in the United States will be conducted on double the number of inpatients, with the goal of proving a wide range of effects of Invossa, including slightly- and medium-level (pre-operation stage) ailing ones.
In Korea, Kolon Tissue Gene will carry out a clinical test on 146 patients at 16 hospitals by 2020 to prove the effects of treating slightly- and medium-level (pre-operation stage) ailing ones. Currently, there are about 2.7 million people suffering from OA in Korea. Out of the total, some 1.8 million people are estimated to be slightly- and medium-level (pre-operation stage) ailing stages.
The number of patients who received Invossa injections topped 1,500 in nine months since last December as the new drug was released here. Invossa's efforts to tap the Asian market has gained ground.
In July, Kolon Tissue Gene agreed to export Invossa injections worth 17 billion won and 10 billion won to Hong Kong & Macao and Mongolia, respectively. The company signed similar contracts with Saudi Arabia and the United Arab Emirates in succession.
In 2014, Kolon Tissue Gene dedicated a plant capable of producing 10,000 injection doses, and the company plans to expand its capacity to 100,000 doses by 2021.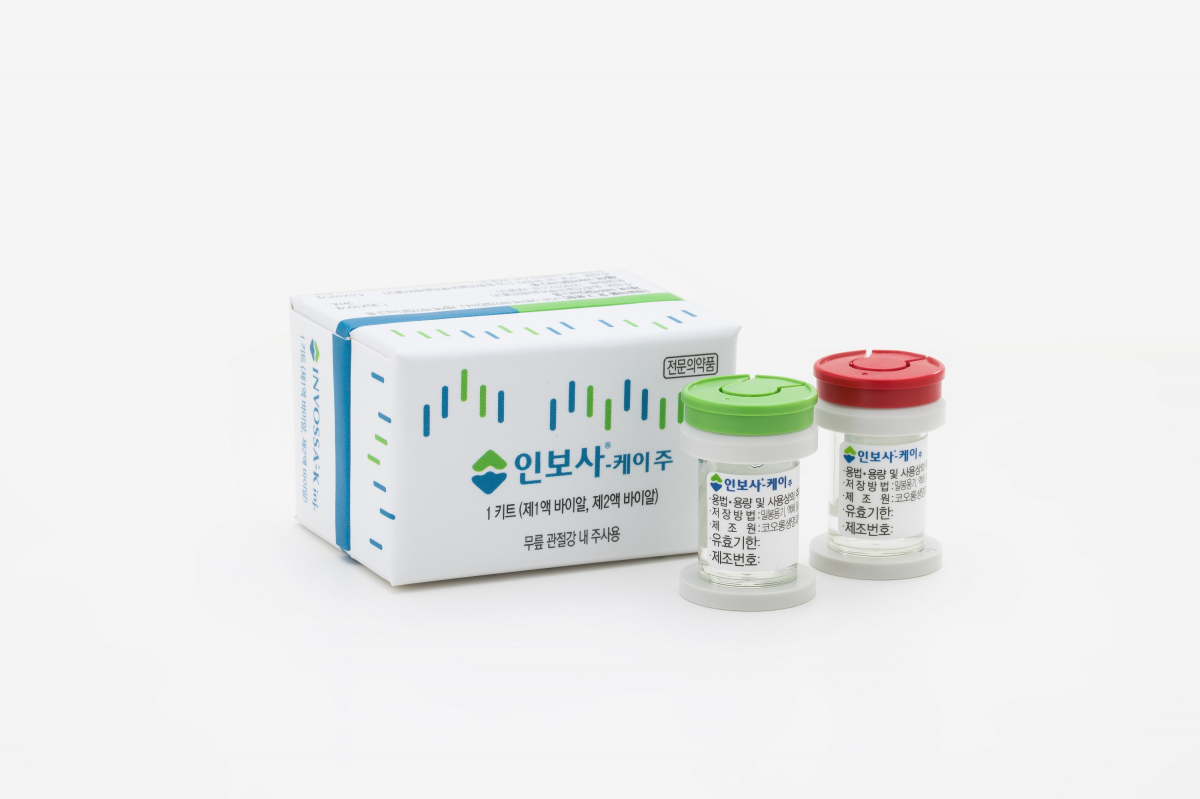 Invossa injections released by the company.