Proposes public contest of collecting opinions on exploring of future state tasks whose outcomes will be used to work out his innovation plan, to be unveiled within his 100 days in office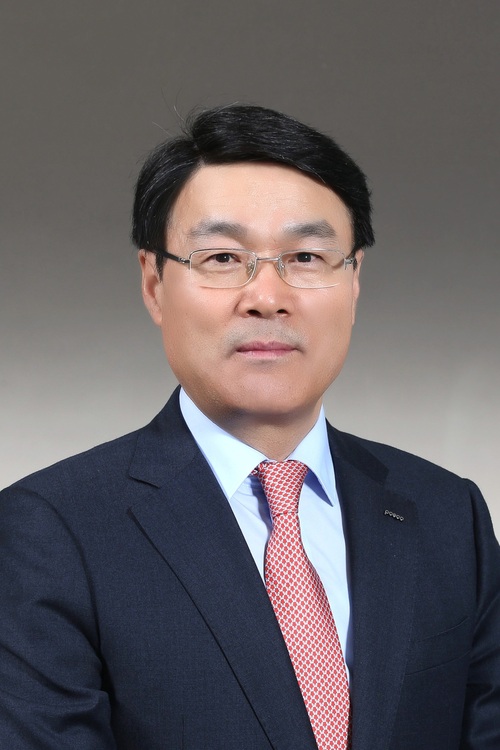 POSCO Chairman-elect Choi Jeong-woo.
Public attention is on the path POSCO takes under the stewardship of Chairman-elect Choi Jeong-woo. If approved by an extraordinary shareholders' meeting slated for July 26, he will be the first POSCO CFO-turned chairman & CEO of the nation's sixth largest conglomerate.
Chairman-elect Choi is forecast to attach top priority to ensuring financial stability to expand business portfolios to such new businesses as materials and bio. The prediction is based on the fact that Choi, who entered POSCO in 1983, had stints in such areas as financing and auditing for most of his career.
In a related development, Chairman-elect Choi on July 11 issued a news release in which he proposed a public contest of collecting opinions from several walks of life on the exploring of future state tasks via the website of POSCO and its subsidiaries. He said he will unveil a plan to innovate POSCO, based on the outcomes of the public contest, within his 100 days in office.
He went to work at the head office of POSCO Chemtech in Pohang, not POSCO Center in Seoul, the control tower of POSCO, on June 15. The move is interpreted as his bid to take a low profile with the status of chairman-elect until his choice is approved by the upcoming shareholder's meeting and board of directors' meeting. He has been serving as CEO of POSCO Chemtech specializing in producing lithium-ion fuel cell materials since February.
Chairman-elect Choi is expected to shuffle between Seoul and Pohang for the time being to present his management plans. Upon being tapped as POSCO chairman-elect, Choi said he will come up with detailed management plans at the earliest possible date after lending an ear to the voices of POSCO executives and staff members as well as outside POSCO stakeholders.
Choi, a CFO-turned Chairman, is most likely to dispose of non-essential assets and restructure business portfolios, according to business experts. He took massive restructuring steps to dispose of such non-essential businesses as the lighting company POSCO Led and nuclear service firm Ponutech while serving as heading the Value Management Center in 2015.
Instead, Chairman-elect Choi will likely be more aggressive in conducing M&As in materials (lithium) and bio, emerging as POSCO's new growth engines. In May, POSCO struck an MOU to acquire a salt lake mine in Salardel Hombre Muerto, Argentina, from the Australian resources developer Galaxy Resources.
POSCO Chemtech, a negative electrode maker, is seeking to expand eighth and ninth negative electrode production lines and to build a second plant. Some inside and outside experts have expressed worry about aggressive M&As in which former POSCO Chairman Chung Joon-yang inaugurated the Strategy Planning Office and changed into an expansionary mode by splurging on 7 trillion won in non-steel sectors, including investments into foreign resources developers.
Chairman-elect Choi has on his shoulders lots of pending issues to be addressed immediately. He will have to explore solutions in the steel business, which is struggling with the U.S.-launched tariff hikes and the repercussions caused by China's glut.
POSCO will convene an extraordinary shareholders' meeting to select Chairman-elect Choi as an inside director of the steelmaker in July 27. His election needs to acquire yes votes from stockholders of more than one-fourth of the shares issued and a majority from the participating stockholders who hold voting rights. Data released as of the end of 2017 showed that the National Pension Service (NPS) owns a 11.08 percent stake in POSCO to become the biggest stockholder, followed by Citi with a 10.56 percent share.
Minority shareholders, including foreigners, own a 64.26 percent share. The market expects the transition to be successful. POSCO shared closed at 354,000 won on June 25, up 3.06 percent or an increase of 10,500 won over the previous day.
A view of POSCO Center in Samseong-dong, Seoul. (Photos: POSCO)