MOTIE Vice Minister Lee says 'a reliable safety management regime should be established so that people can use energy without misgivings'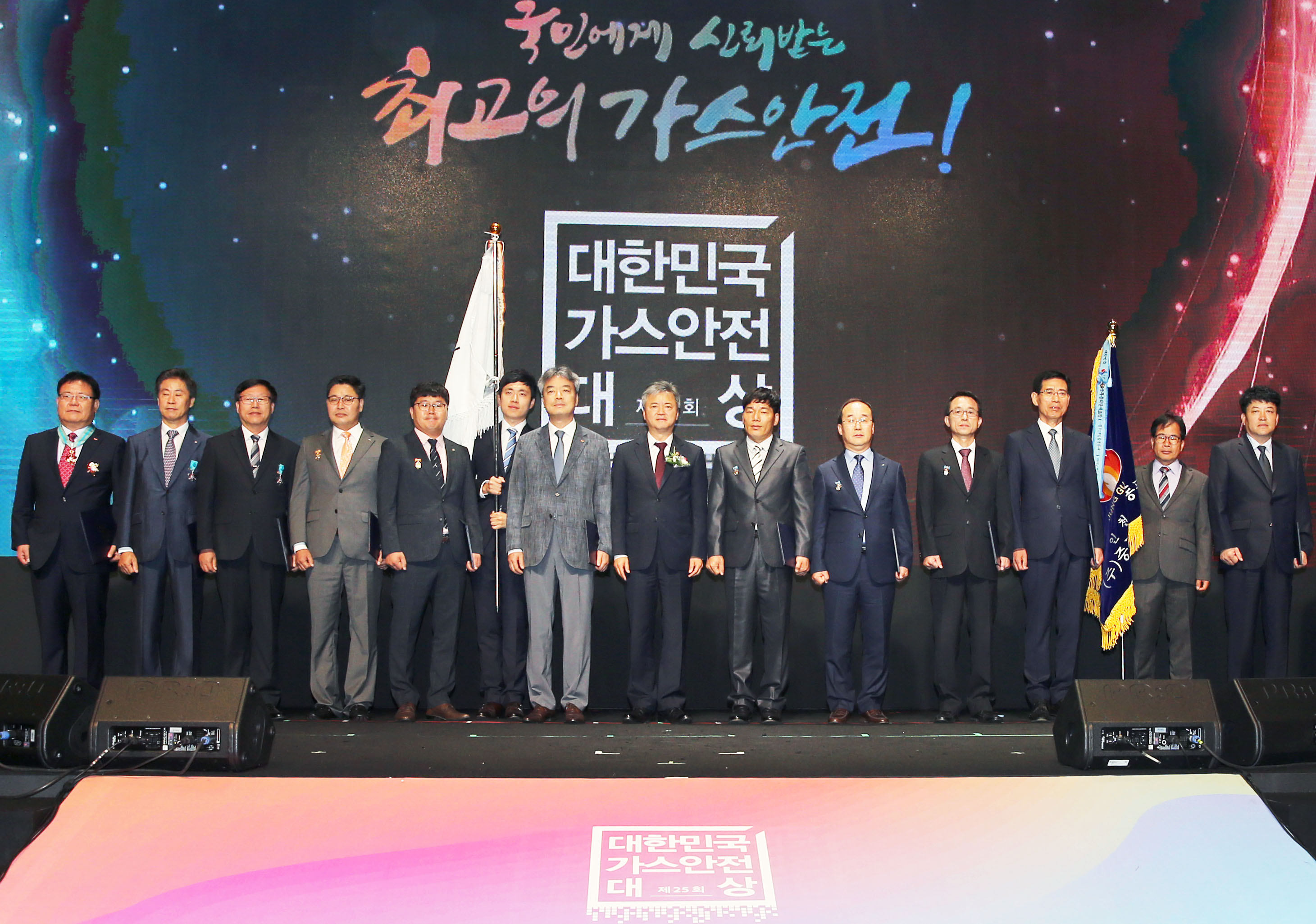 Dignitaries and award winners participate in the 25th Korea Gas Safety Grand Prix ceremony at the 63 Square in Yeouido on July 6. (Photos: KGS)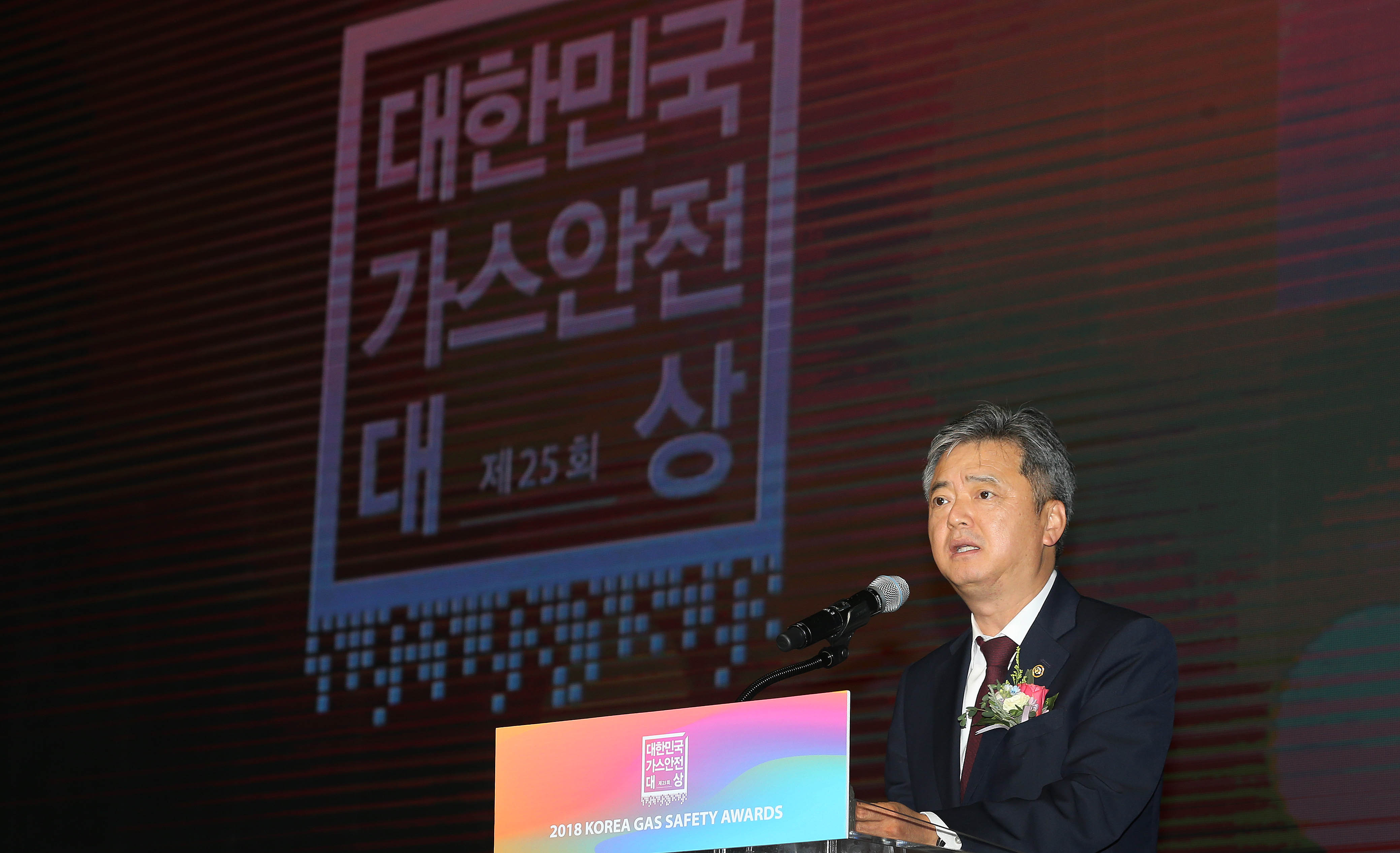 MOTIE Vice Minister Lee In-ho delivers a speech at the 25th Korea Gas Safety Grand Prix ceremony.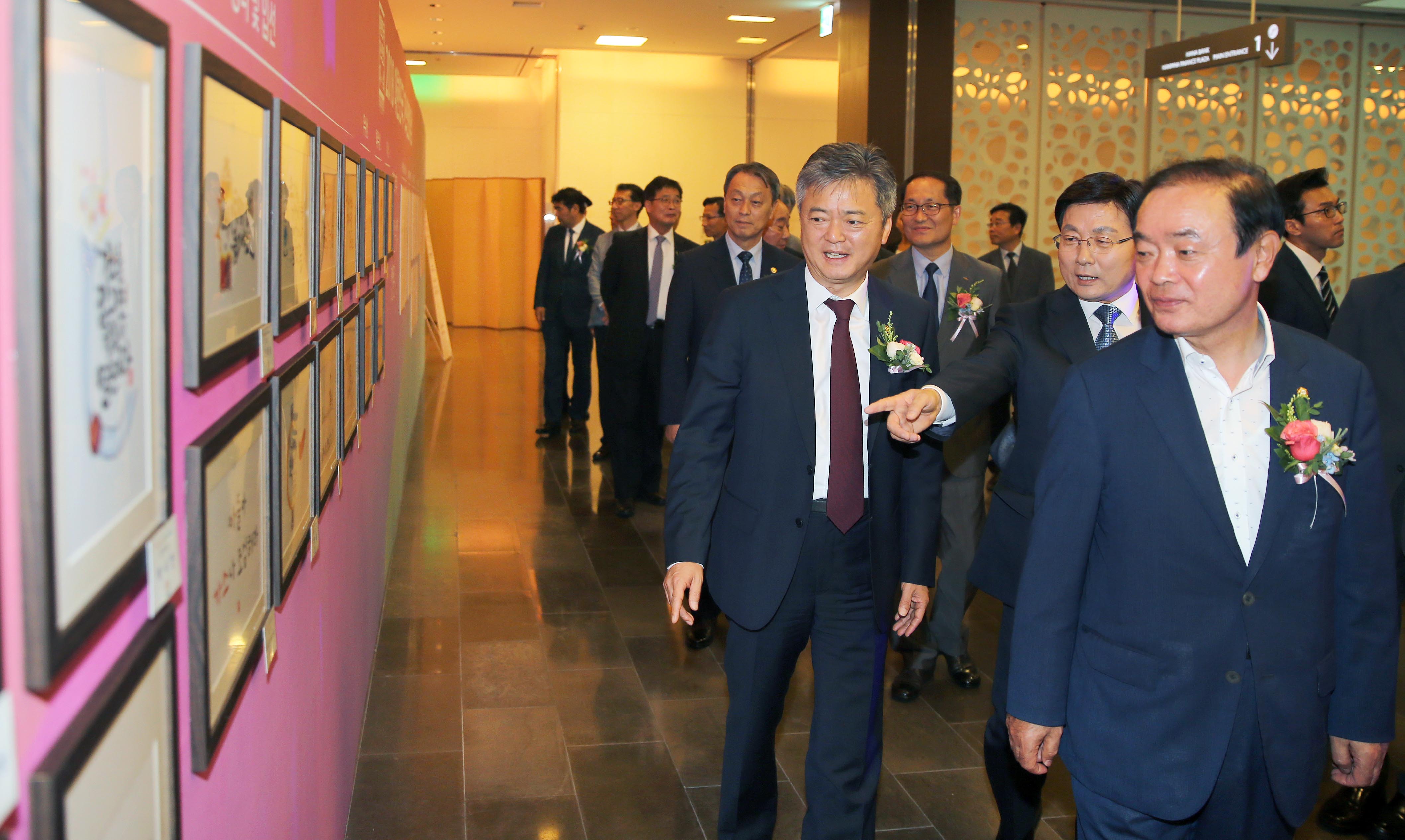 A ceremony to award the 25th Korea Gas Safety Grand Prix took place at the 63 Square in Yeouido, Seoul, on July 6 to spread awareness of gas safety.
The Korea Gas Safety Grand Prix awards ceremony, which made its debut in 1994, was designed to decorate those who contribute to the public safety and the development of the national industry by preventing gas disasters, spread awareness toward gas safety and pledge to put it into practice.
Among about 500 people on hand at the event were Vice Minister Lee In-ho of the Ministry of Trade, Industry and Energy (MOTIE), President Kim Hyung-keun of Korea Gas Safety Corp. (KGS), Rep. Jang Byung-wan of the Party for Democracy and Peace, and Rep. Lee Hoon of the Democratic Party of Korea as well as gas industry people and businessmen.
Thirty-six government orders and other prizes were presented during the ceremony. The coveted Order of Industrial Service Merit, Silver Tower went to Executive Vice President Lim Sung-bae of SK Innovation. Inwoon Engineering President Lee Doo-hyung and Poly Mirae Managing Director Yoon Ki-youp each were honored with the Industrial Service Medal. The Presidential Award went each to Yeongnam Energy Service in the group category, President Bae Jung-keun of City Energy and President Jang In-suk of Air Tec in the individual category.
In a commemorative speech, MOTIE Vice Minister Lee said, "An energy paradigm shift and full-blown hydrogen society will get gas roles bigger, so a reliable safety management regime should be established so that people can use energy without misgivings." He called for the development of technologies using IoT and big data and making aggressive efforts toward investments to ensure efficient safety management of gas facilities.
In a speech, KGS President Kim said, "If all gas industry people across the nation make efforts and preparations to ensure gas safety, our people will be able to live a safer life and make joint efforts toward gas safety."
제25회 대한민국 가스안전대상」 개최
가스안전사고 예방에 이바지한 유공자 등 36명 포상 및 상장 수여
산업통상자원부(장관 백운규)는 7월 6일(금), 서울 여의도 63빌딩(그랜드볼룸)에서 「제25회 대한민국 가스안전대상」을 개최했다.
「대한민국 가스안전대상」은 `94년부터 가스재해 예방을 통해 국민의 안전과 국가 산업발전에 기여한 유공자를 포상하고, 안전문화의 확산과 실천을 다짐하는 가스안전 분야의 최대 행사다.

이날 행사에는 산업통상자원부 이인호 차관과 민주평화당 장병완 국회의원, 더불어민주당 이훈 국회의원 등 각계 인사와 가스업계 종사자, 기업인 등 500여명이 참석했다.
올해 가스안전대상 행사에서는 그간 가스안전관리에 공헌한 분들에 대해 정부포상 10점(SK이노베이션 임성택 전무, 은탑산업훈장 1점 등)과 산업부 장관표창 및 상장 26점 등 36점이 개인과 단체에 주어졌다.
산업훈장(은탑)에는 SK이노베이션㈜ 임성배 전무가, 산업포장에 인우공영㈜ 이두형 대표이사, 폴리미래㈜ 윤기엽 상무가,
이인호 산업부 차관은 축하 인사에서 "에너지 전환과 수소사회가 본격화하면 가스의 역할이 커지는 만큼, 국민들이 안심하고 에너지를 사용할 수 있도록 신뢰받는 안전관리 체계를 구축해야 한다."라고 강조하면서,
"가스 설비의 효율적 안전관리를 위해 사물인터넷, 빅데이터 등을 활용한 기술개발과 안전투자에 적극 노력해달라."라고 당부했다.
<출처:산업통상자원부>