Challenging Sprit Gives LG Chem's Vice Chmn. Park Credit He Deserves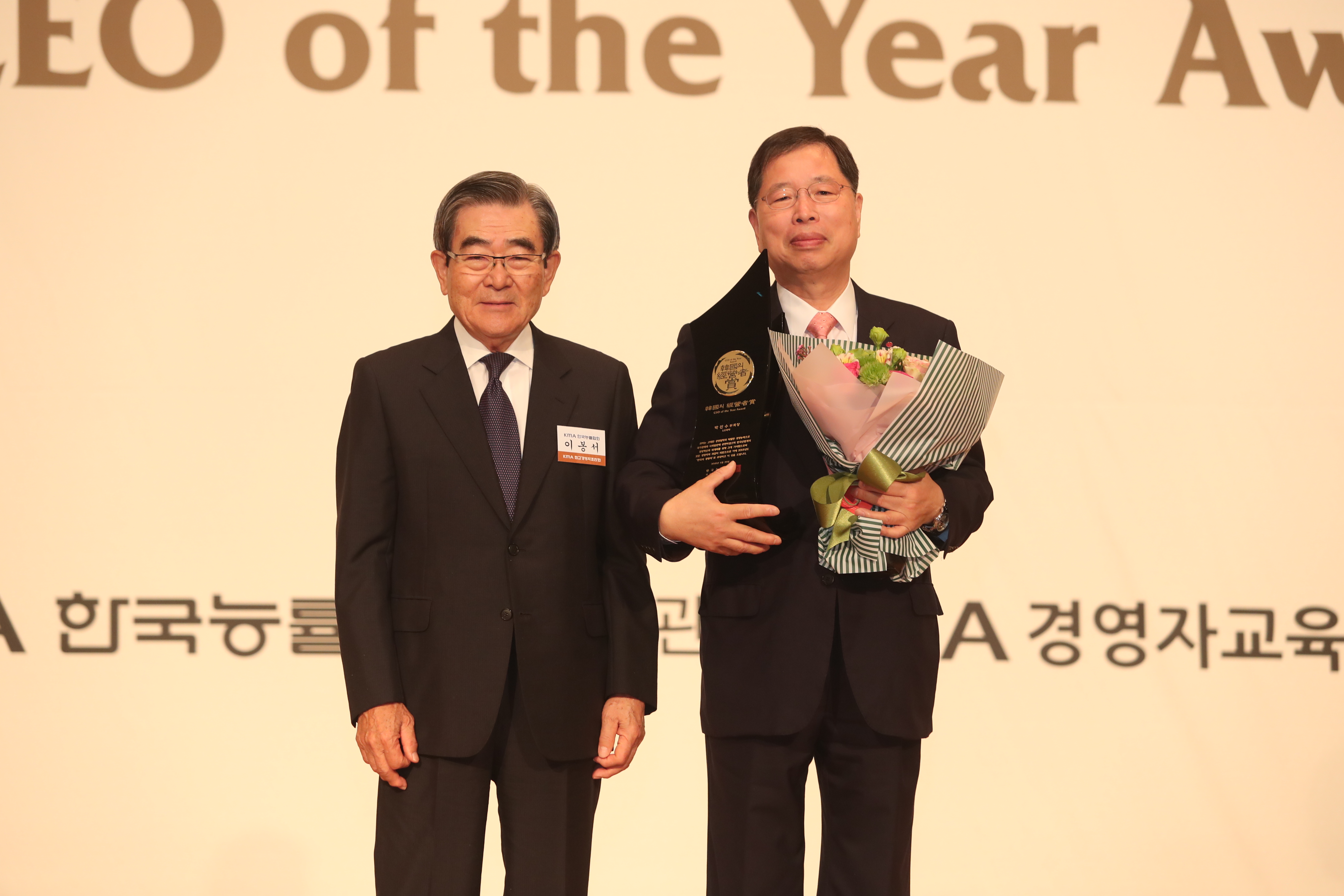 LG Chem Vice Chairman Park Jin-soo poses with Chairman Lee Bong-suh of the Korea Management Association (KMA) after receiving the Manager of the Year prize in the 2018 Management Grand Awards presented by the Korea KMA on May 25.
Vice Chairman Park Jin-soo of LG Chem has been cited for going out of his way to localize products and technologies during his tenure at chemical and material business companies over his 41-year career. Previously Korea had depended on foreign countries to import the technologies via proprietary development.
He has been also credited with contributing to LG Chem's rise as a global market leader and material fast-follower by expanding first mover products.
LG Chem Vice Chairman Park made it onto the list of the Manager of the Year in the 2018 Management Grand Awards presented by the Korea Management Association (KMA) on May 25.
Since late 2012 when he was appointed CEO, Chairman Park has catapulted such new businesses as the ITand electronic material and lithium-ion secondary battery to ones of global standards with challenging spirit, innovation and differentiation R&D development, greatly contributing to expanding national growth engines.
In the secondary battery sector, LG Chem has contributed to establishing the business as one of Korea's future growth engines by securing the world's first proprietary technologies. Battery R&D has made outstanding achievements in applications for mobile, xEV, and energy storage systems with superiority in technology since 1996.
For mobile applications LG Chem R&D has fully developed the following products since 2013: Stepped batteries with increased energy capacity achieved by space optimization specifically for IT gadgets; 2) curved batteries specially designed for curved IT devices; and 3) wire batteries that may be bent or twisted without a loss in performance uniquely developed for wearable devices.
For xEVs, R&D has continuously focused on establishing an expertise in product development especially in materials, cells, packs, and BMSs. As a result, LG Chem was endorsed as a provider of batteries for GM Volt in 2009 and signed contracts with 20 global auto makers including Renault, Hyundai-Kia Motors. in 2014. Presently, the technology for xEV applications of LG Chem battery R&D is definitely recognized as the best in the market. In reality, LG Chem is leading the global secondary batter market with outstanding orders worth 42 trillion won from 30-odd global automakers as the end of last year.
In the IT and electronic material business sectors, LG Chem has been praised for developing the Face Seal Adhesive film and leading role in massing producing a 55-inch OLED TV set for the first time in the world to create the untapped TV market.
True to its vision of creating value to improve people's quality of life, not only a corporate commitment to profit-making, Vice Chairman Park said LG Chem has been devoting itself to creating future solutions to make humans healthy and life affluent by designating energy, water, bio and materials, which are essential for human survival, as future growth engines.
LG Tower in Yeouido, Seoul, in which LG Chem headquarters is located. (Photos: LG Chem)