BOK Gov. Lee Warns U.S. Interest Rate Hike Can Bring Uncertainty To Financial Market
Lee issues warning at BOK Int'l Conference held in Seoul June 4-5 on the role of monetary policy with distinguished scholars and policy makers attending the annual global affair held since 2005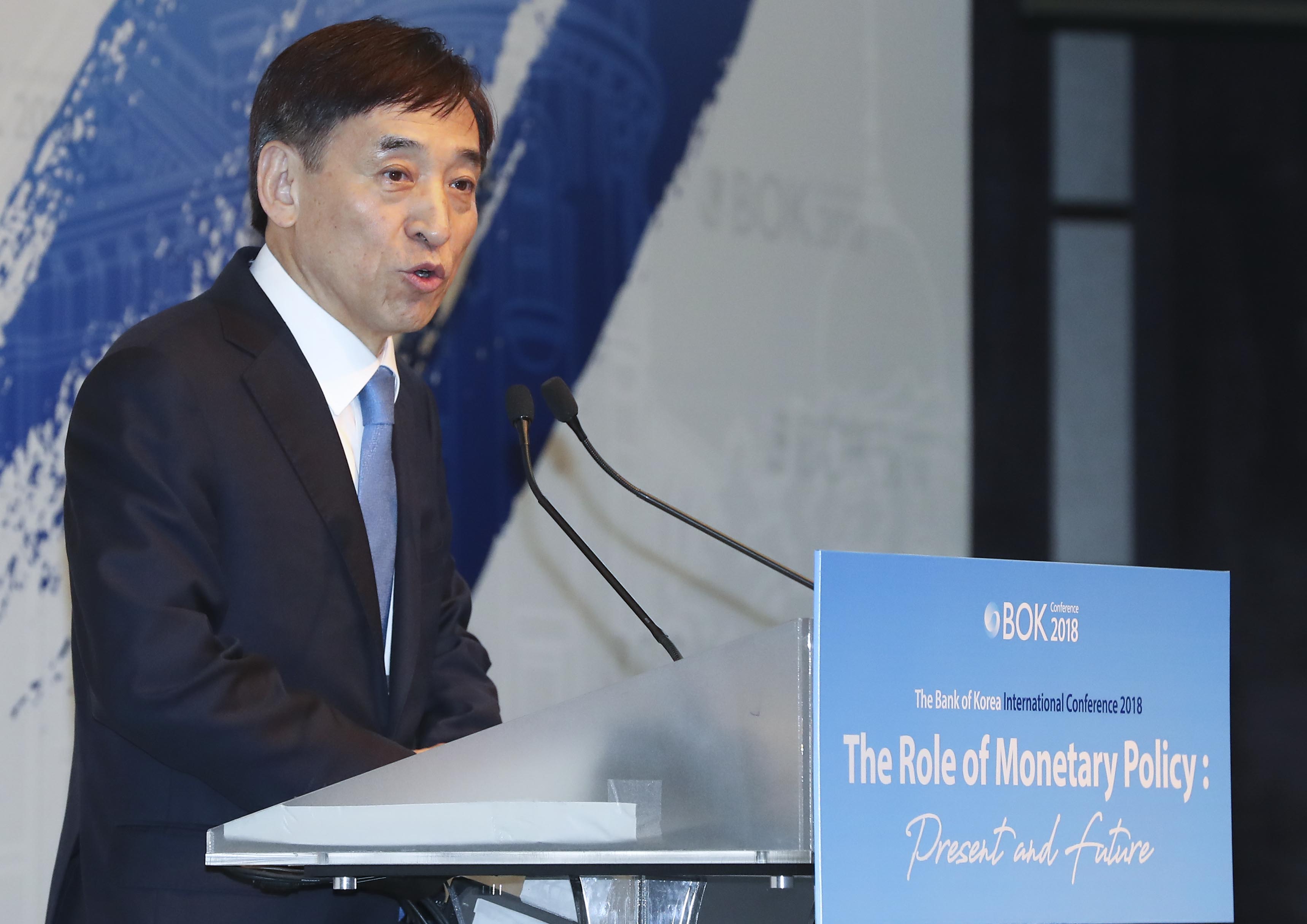 Gov. Lee Ju-yeol of the Bank of Korea delivers his opening speech at the 2018 Bank of Korea International Conference held June 4-5 in Seoul.(Photo: BOK)
It is a pleasure for me to bid a warm welcome to you all, to the 2018 Bank of Korea International Conference.
This year marks a decade since the Global Financial Crisis upon the failure of Lehman Brothers. The global economy suffered the worst crisis since the Great Depression of the 1930s, and was long unable to recover from the recession that followed. Fortunately, the global economy is now reemerging from the aftermaths of the crisis: growth has gained momentum, and the markets have stabilized.
This is a result of many countries' work in cooperation to make their financial systems more stable. It is also due to their unprecedentedly bold and active monetary policies to support the recovery.
Central banks are now working to normalize the post-crisis policies. The environment for monetary policy has also changed significantly from the one prior to the crisis. In this differing environment, therefore, we have inevitably come to a position to consider how to perform our existing roles, as well as whether there are any new roles demanded to us. I think that this year's conference is particularly meaningful, in that it brings together eminent scholars and policy makers from around the world to share their ideas on salient issues of monetary policy including targets and instruments, reputation and communication, policy coordination, and the future of central banking.
The unconventional monetary policies implemented since the global financial crisis have given rise to critical questions about the targets and instruments of monetary policy. Does the conventional relationship between nominal interest rates, inflation and the monetary aggregates still hold when we face the zero lower bound? When the inflation rate has been below target for a long time, should nominal interests be raised or lowered? This session will re-examine the traditional theory of monetary economics and attempt to propose some new guidelines for targets and instruments in an environment of low inflation and low interest rates.

Moderator Thomas Sargent Professor, New York University Senior Fellow, Hoover Institution, Stanford University

Should central bankers consider the distributional effects of monetary policy?
How important are such effects for the macro economy? What could be the optimal monetary policy when we concern income and wealth distribution in the economy?
With the global financial markets becoming more and more integrated, how might the individual central bank be protected from financial turmoil or crisis?
What can be done when it faces monetary policy spillover effects? This session will try to answer those questions while discussing the roles and properties of central bank swap lines, and the effects of microeconomic household heterogeneity on business cycle analysis. The answers we reach through these discussions could have important implications for the future of central banking. Moderator Kyuil Chung.

Deputy Gov. of Bank of Korea

Effective policy coordination is more than important when monetary policy is constrained by the zero lower bound or when it pursues multiple targets. How active can the scal policy be in a world of low interest rates? What are the estimated impacts of tax policy changes on the sweat equity valuations and other key macroeconomic aggregates? In attempting to answer these questions, this session hopes to provide clues for desirable policy coordination in the future. Moderator Christopher J. Waller Executive Vice President, FRB of St. Louis.
The Bank of Korea has been hosting the BOK International Conference each year since 2005, on topical issues related to economic stability, growth and monetary policy. Distinguished academics and policymakers exchange views here on current economic challenges and seek appropriate policies in response.