Delivers inauguration speech in which he expressed determination to focus on substantiality rather than outside quantitative growth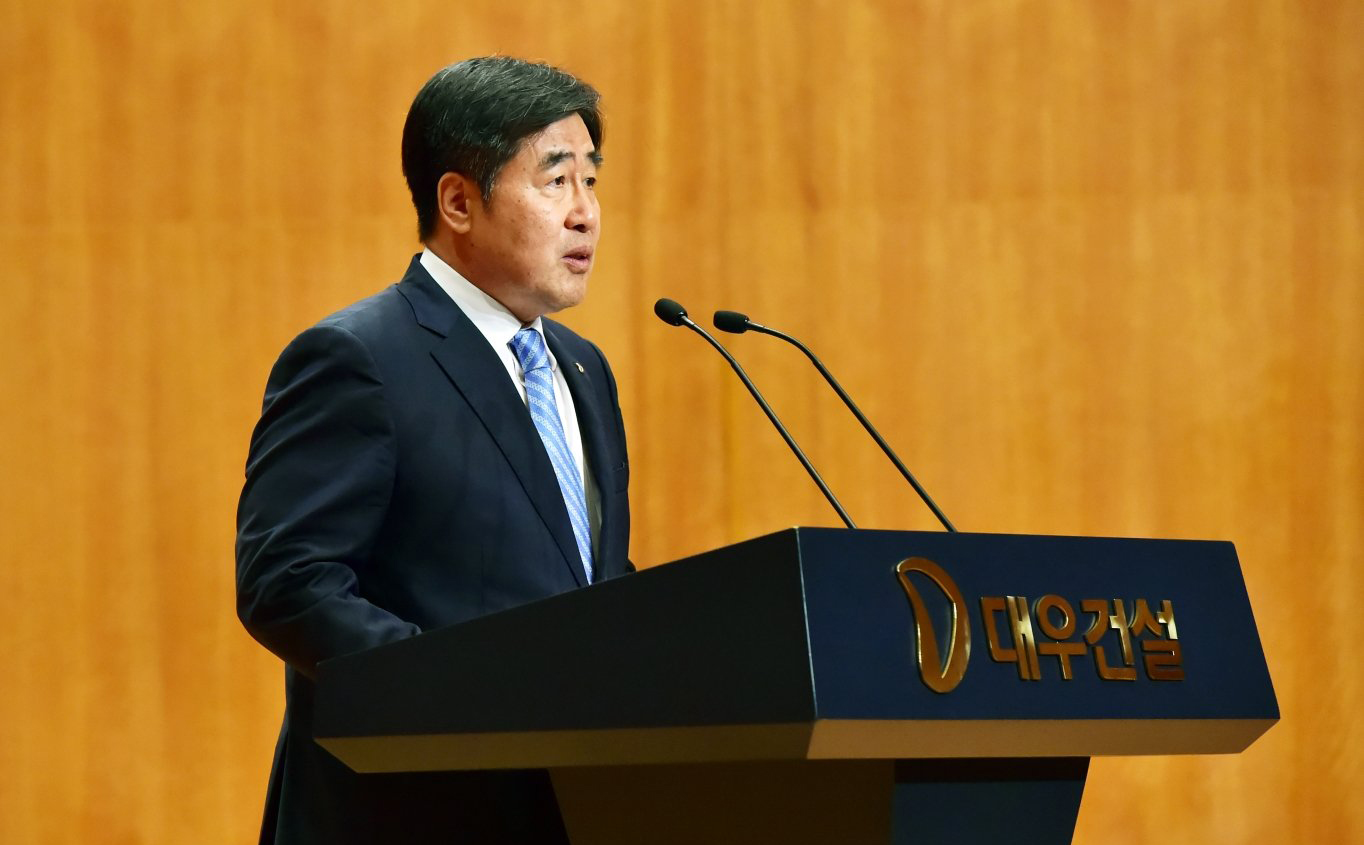 Daewoo E&C President Kim Hyung gives his inaugural speech as he took office at Daewoo E&C Headquarters in Seoul on June 11.
"Market reliability will be turned around if institutional regimes of high caliber of advanced countries are established and continuous improvement efforts are made." That was part of Daewoo E&C President and CEO Kim Hyung's inauguration message when he took office at Daewoo E&C headquarters in downtown Seoul on June 11.
"Our all-out efforts to explore future growth engines will not only restore market reliability, but also further enhance our corporate value," he said.
President Kim was selected as an inside director of the Board of Directors of the contractor at an extraordinary shareholders' meeting on June 8. He will be in charge of the contractor for the next three years.
Kim revealed a willingness to develop business models that can create added values, departing from the conventional dependence on construction based on contracts.
Looking at the environment surrounding the construction industry, he concluded that the industry is in a touch situation.
"Influenced by the government's regulations on real estate, interest rate hikes and budgetary constraints in social overhead capital, orders of the Korean construction industry are forecast to plunge 11.6 percent this year over the previous year," President Kim said.
The overseas market is predicted to be characterized by a slow growth trend, caused by sagging demand, declining supply, crude oil price uncertainties and each country's protectionist moves.
Kim evaluated the stark reality of Daewoo E&C in a cool-headed fashion: sagging investment for future growth, caused by ever-worsening profitability and declining morale of its executives and staff members. In particular, losses stemming from a combined cycle power project in Safi, Morocco in early this year disrupted Hoban Construction's bid to take over Daewoo E&C, which has dealt a blow to its overseas fame and reliability, he said.
President Kim attached top priority to securing financial fundamentals through the improving of profitability. He expressed his determination to focus on substantiality rather outside quantitative growth. Daewoo E&C is in need of emergency steps to cope with financial soundness coming short of market expectations and unstable liquidity, he said.
Kim called for the strengthening of risk management at stages of bidding and execution, and procurement and execution processes need to be overhauled to cut down on unit prices and ramp up its capabilities. Daewpp E&C will also explore additional options to improve profitability, he added.
Kim stressed a "choice & focus" strategy in its overseas business to concentrate its capabilities to specialist work in which Daewoo E&C has a competitive edge in countries in which the contractor has a presence.
Daewoo E&C will aggressively explore planning-inspired investment development projects like the Starlake Project of Vietnam and develop new business platforms by making the most of collaboration with other industries, he said. Kim stressed creation of content proposed by Daewoo E&C.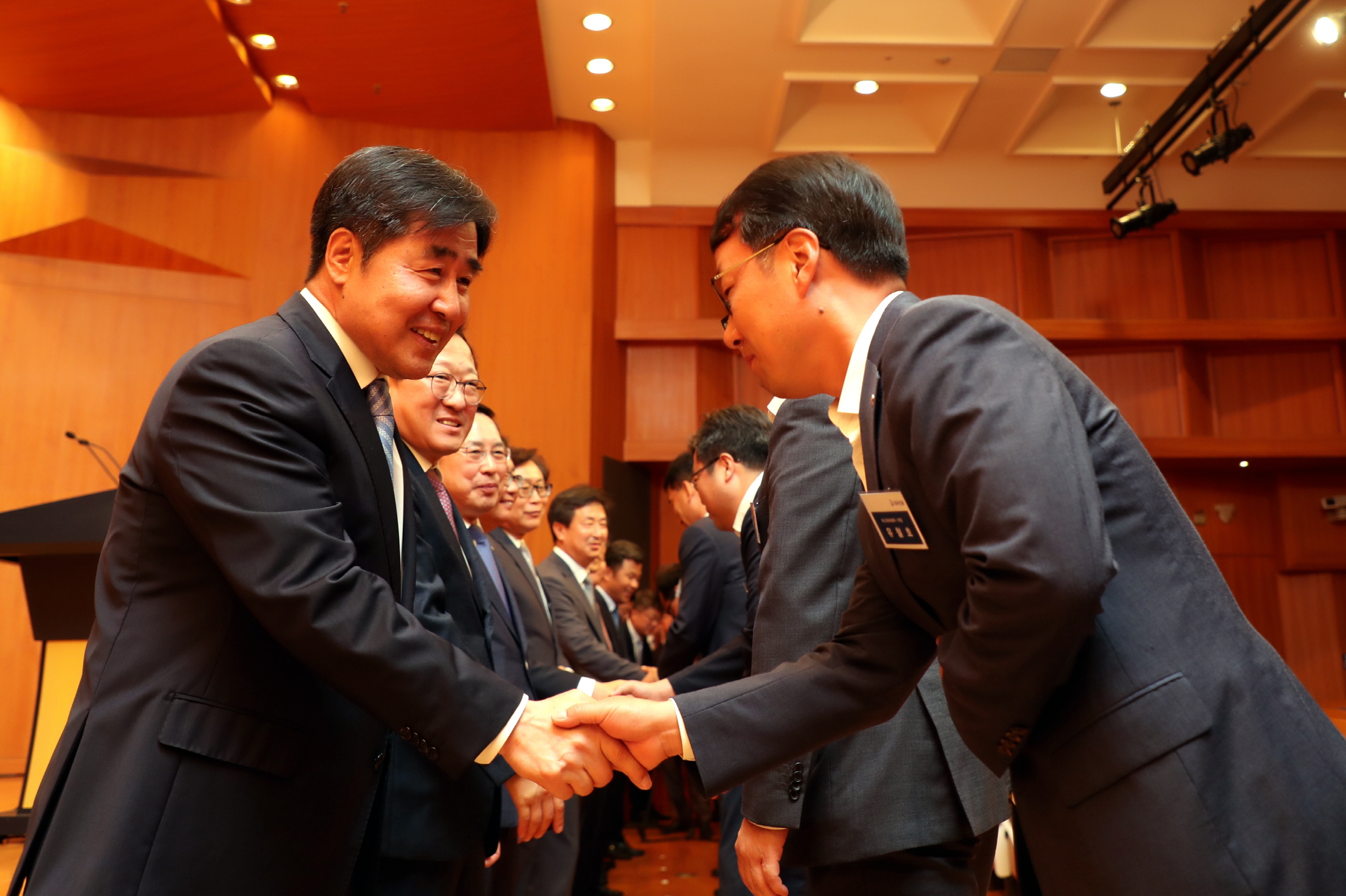 Daewoo E&C President Kim exchange greetings with his executives and staff members after he took office as CEO of the contractor. (Photos: Daewoo E&C)