LS Chmn. Koo Aims to 'Transform LS into Digital-Intensive Group thru Smart R&D'
Participates in group's technology consultative committee meeting with CTOs of major subsidiaries in attendance at Jeonju operation site of LS Mtron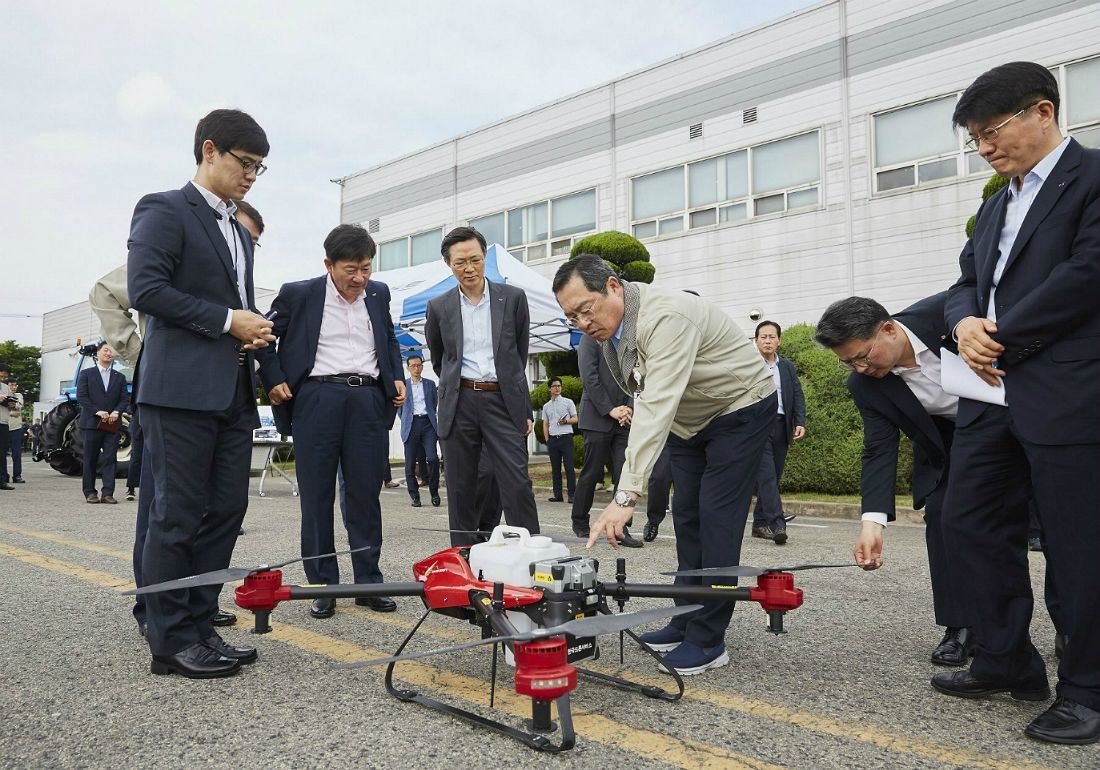 LS Group Christopher Koo test-operates a drone at the Jeonju operation of LS Mtron on June 5. (Photo: LS Group)
LS Group Chairman Christopher Koo called for a focus on smart R&D through outside strategic partnership or open innovation.
He made the remarks during the group's technology consultative committee meeting with CTOs of major subsidiaries in attendance at the Jeonju operation site of LS Mtron on June 5.
Chairman Koo toured the site of LS Mtron along with LS Corp. President Lee Hak-sung, LS Mtron President Kim Yeon-soo and CTOs of other major LG group subsidiaries. He gave words of encouragement to executives and staff members of the site after observing a self-driving tractor demonstration and drone technologies, as well as tractor and engine production lines, the company's mainstay businesses.
LS Mtron is working on the development of tractors based on eco-friendly and self-driving technologies.
The United States and Europe's new environmental regulations since 2016 have required engines capable of reducing greenhouse gas emissions. In particular, tractors are considered to be entering an area in which the commercialization of self-driving is more probable that automobiles.
The aging of rural populations has required quicker commercialization of unmanned automation technologies than cars. Lower-level self-driving technologies can be introduced earlier in farming areas in which fewer vehicles and people are seen.
LS Group Chairman Koo received a briefing on plans to produce, develop and apply virtual reality, 3D printing and remotely controlled diagnosis services, and the progress to brace for the advent of the 4th Industrial Revolution.
Chiarman Koo said, "I could see a possibility of realizing R&D start-ups and digital transformation through organic collaboration between R&D and production sectors in a near future as I look at the business site of LS Mtron and the announcing of CTO strategies." He urged CTOs to play leading roles in transforming LS into a digitalization-savvy group.
Koo delivered his New Year's message in which he called for the accelerating of efforts to explore new technologies and new businesses as driving forces of the group's future to brace for the advent of the 4th Industrial Revolution. At that time, he said, lifestyle patterns are changing fundamentally in line with the advent of the 4th Industrial Revolution, and companies mark a watershed of prosperity and collapse.
At the behest of Chairman Koo recognizing the significance of field management, the group has held technology consultative committee meetings designed to tour major business sites since last year. Koo has been participating in technology consultative committee meetings at business sites of major subsidiaries, including LSIS's Cheongju plant and E1's Yeosu complex, without fail since last year until recently.
YESCO Introduces Holding Company System
Plan is part of LS Group's plan to introduce triangle holding company system connecting LS Corp., YESCO Holdings and E1
LS Group is accelerating a plan to restructure its corporate governance by introducing a triangle holding company system to strengthen responsibility management. YESCO, the city gas business unit of the group, decided to divide the company into YESCO Holdings, a separate holding company, and YESCO.
This is part of a plan to introduce a "triangle" holding company system connecting LS Corp., YESCO Holdings and E1.
YESCO convened an extraordinary shareholders' meeting on March 20 to approve the division of the company and change its articles of association. Kukdong City Gas, established in 1981, changed its name to YESCO in 2006. The company specializes in such businesses as city gas, waste collection and treatment. YESCO now supplies gas to six ward areas of Seoul, including Jung-gu, Gwangjin-gu, and Seongdong-gu, as well as three Gyeonggi areas, including Guri.
YESCO has also been engaged in businesses unrelated to city gas. Each business of YESCO will ramp up "responsibility management" under the soon-to-be holding company, YESCO Holdings.