Marks 71st anniversary of Construction Day; 153 people win orders and other government prizes for their contribution to development of industry
A view of a ceremony to celebrate the 71st anniversary of Construction Day at the Construction Hall in Nonyeong-dong, Seoul on June 21.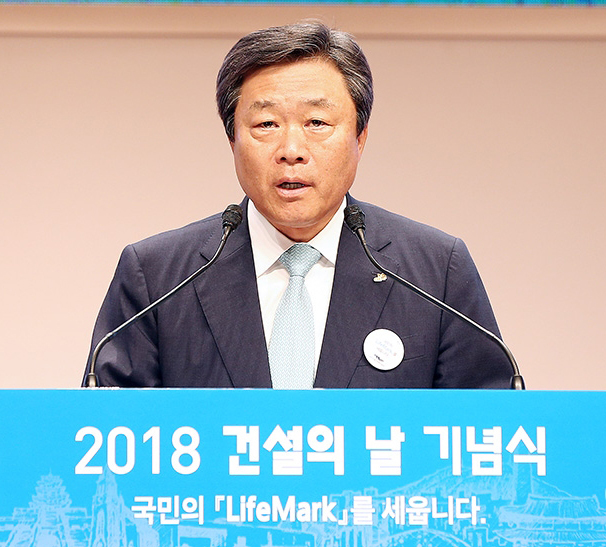 Prime Minister Lee Nak-yeon and Minister of Land, Infrastructure and Transport Kim Hyun-mi look on, while Chairman Yoo Joo-hyun of the Federation of Construction Associations delivers a commemorative speech at the event. (Photos: FCA)
The Korean construction industry celebrated the 71st anniversary of Construction Day at the Construction Hall in Nonhyeon-dong, Seoul, on June 21.
The industry is now struggling to cope with stark business conditions.
Some 1,000 people, including Prime Minister Lee Nak-yeon and Chairman Yoo Joo-hyun of the Federation of Construction Associations (FCA), participated in the anniversary event, held und the theme of "Setting a Life Mark in People." The FCA suggested such future visions as "Construction to Lighten up Space" and "Construction to Lighten up Our Lives."
In his commemorative speech, FCA Chairman Yoo said the construction industry will join forces in making efforts to enhance competitiveness through convergence among industries and improve people's safety and welfare.
"A construction environment, dramatically different from that of the past, is unfurling in the wake of recent rapid changes in inside and outside economic paradigm," he noted.
In his speech, Prime Minister Lee praised achievements the construction industry has made for the past 70 years. He called for the construction industry to be reborn as one committed to the enhancing the quality of life. Representatives on behalf of some 2 million people with the industry declared a commitment to fulfill social responsibility and realize integrity society.
Orders and other government prizes were presented to 153 people who were awarded for contributing to the development of the construction industry.
The Order of Industrial Service Merit, Gold Tower went to CEO Kim Young-gu of Sejing Construction and CEO Kim Joo Man of Bauhous. Kwon Soon-ho, head of a division at Hyundai Development Company, was honored with the Order of Industrial Service Merit, Silver Tower.
In the past, fashion and beauty companies favored the production of dramas designed to portray a new corporate culture of breaking the mold. The trend has begun to spread to the construction industry. For instance, a web drama, portraying pleasant and comic behaviors of a freshman employee from Hyundai E&C went on viral on June 11. The episode, designed to shed old-fashioned images of the contractor, hit 36,000 clicks as of June 20.
More and more contractors are willing to opt for changes to turn around the sagging industry as they experience hard times due to uncertainties of the domestic construction market and budgetary constraints of social overhead cost.
Hyundai Development Company, spun from its holding company, has reshaped its organization as a developer. The company inaugurated the Development and Operation Business Division and appointed Park Hee-youn of Mori Urban Planning Corp. Seoul Branch to be head of the division. He has been credited with developing such renowned buildings as Roppong Hills in Tokyo.
Hyundai E&C, Daelim Industrial and SK E&C are trying to transform themselves into developers specializing in areas ranging from project exploration & planning to financial funding, construction, operation and management beyond simple construction.
Contractors are experimenting dramatic steps to break the conventional mold. GS E&C built the data centers of KEB Hana Bank and Daegu Bank by making the most of the so-called "Pre-Construction" method also known as CM at risk. CM at risk presents a cost-effective alternative to the traditional design-bid-build process.