Pres. Lee said he plans to speed up the bank's overseas operation starting from Indonesia, Cambodia, Myanmar and Vietnam, stepping up exploration of financial markets in advanced nations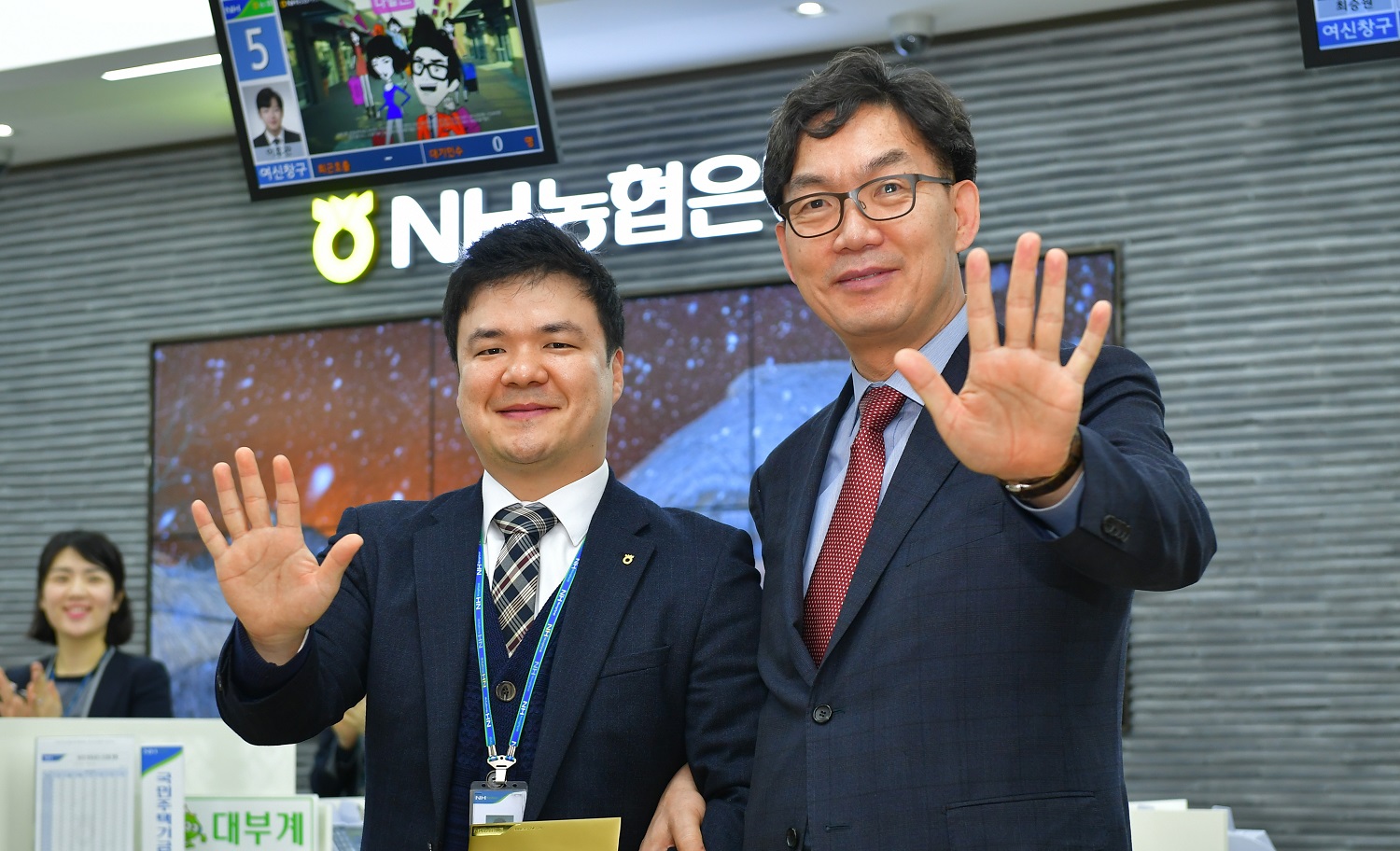 President Lee Dae-houn (Right) is on a visit to a branch of NH Bank in Seoul to inspect its operation as part of his plan to size up the bank outlets operations around the country.(Photo: NH Bank)
President Lee Dae-houn of NH Bank said he has been considering taking over a bank in Indonesia as part of a move to speed up the expansion of its overseas operation.
During a meeting with media on June 10, he said he would like to speed up the expansion of the bank's overseas operation in the second half. He said the bank has been moving fast to expand its operation in Southeast Asia, including in Indonesia, Cambodia, Vietnam and Myanmar.
The bank will take a look at its plan in Indonesia first, he said. He said the bank has the NH Financial Group's experiences as a reference and is ready to explore the nations with high potential for financial activities.
In China, the bank will not set up wholly-owned subsidiaries and branches like rival Korean banks have, but will explore the Chinese financial market through joint ventures with a powerful Chinese partner, the Gonseo Group, which has extensive operations in China. The bank and the Chinese financial group will set up a joint-venture financial company to launch the banking business.
Domestically, he said the bank will tighten its watch on the interest rates charged on loans in default, which are still not that high, but needs preemptive measures due to the uncertainty in the global financial marekt trends.
The bank loans to individuals increased 1.5 percent in less than a year and half, from 24.730 trillion won at the end of 2016, to 27.982 trillion won at the end of May 2018.
The default rate of the individual loans increased to 0.33 percent at the end of 2017 from 0.3 percent at the end of 2016. It rose slightly to 0.37 percent at the end of March.
President Lee said he will strengthen risk management on outstanding loans as well as on new loans, with the sectors with the higher default loans to have loan limits slashed as precautionary measures.
He said he will order all branches around the country to boost corporate loans. From the second half, an audit will be conducted on corporate loans, especially at branch outlets of the around the country. Nonghyup Financial Group Inc., South Korea's fourth-largest banking group by assets, is considering buying banks in Indonesia and Myanmar in a bid to expand its overseas business and diversify its portfolio.
Nonghyup Financial is the biggest state-run agricultural cooperative whose stakeholders include farms and other agricultural businesses. It is expanding its business from commercial banking to brokerages, insurance and asset managing. Its flagship Nonghyup Bank ranks fourth in terms of assets after Woori Bank, Shinhan Bank and Kookmin Bank.
"We have a wide network involving farming, livestock and financial businesses in South Korea. We will try to develop these strong points and advance to the overseas market," Nonghyup Financial Chairman Kim Yong-hwan said.
"In the second half, I will focus more on overseas expansion to help Nonghyup Financial diversify its business portfolio and strengthen non-interest income."
He said the company is mulling making equity investments in banks or leasing companies in Asian countries.
It has formed a panel of leaders from its banking, insurance and brokerage affiliates to map out a plan for overseas investment. The panel is carrying out feasibility studies on its entry into the financial markets of Myanmar, Indonesia, Vietnam, China and Cambodia. Kim said banks in Indonesia and Myanmar are on the company's top wish list, but refused to disclose the names of target institutions.