KB Financial Group to provide 27 tln won in loans, 750 bln won in direct investment and 1.6 tln won in indirect investment thru the support center, along with consultations for setting up startups at branches in five major cities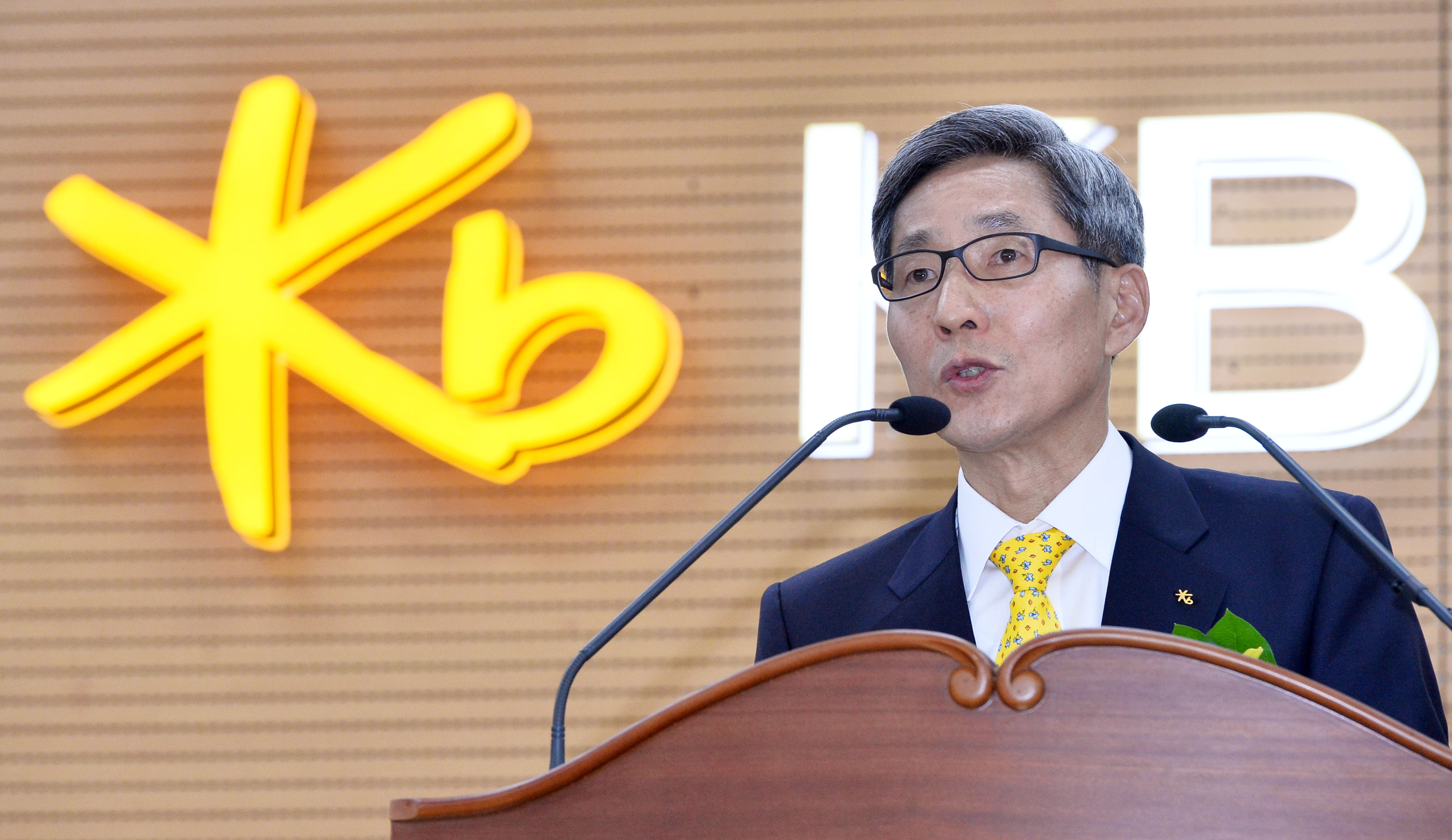 Chairman Yoon Jong-kyoo of KB Financial Group.
KB Financial Group will provide 29 trillion won in loans and credits, in addition to direct investments to reform businesses through 2023, the financial group said. The group said 27 trillion won will provided be in loans, 750 billion won set aside for direct investment and 1.6 trillion won in indirect investment over the next five years.
The financial group will begin by giving consultations to those who want to set up startups through the KB SoHo Startup Support Center, which is ready to provide consultations at branches in major cities around the country from the second half of the year. The cities include Busan, Incheon, Daegu, Daejeon and Gwangju.
The financial group will also launch the KB Youth Hope Dream Preferential Loan this month with an interest rate of 0.5 percent for the initial year of the loan and 1.5 percent interest for the following 2 to 3 years. The loans will be available from a special loan account totaling 200 billion won.
The group will set up a venture capital led by reform enterprises (CVC) to help them grow to the tune of 50 billion won over the next five years.
The CVC Fund will be provided to the reform business firms that introduce technologies through investment activities or strategic tie-ups and set up new businesses.
The group will also set up a 10 billion won fund to help those firms apply technologies related to the 4th Industrial Revolution, such as AI and Big Data in their facilities. The group explained that such a move to form an ecological base for reform startups is the 3rd theme for the KB Dream Coming Project.
Chairman Yoon Jong-kyu directly runs the project as a volunteer social service, whose first project will be to help improve the educational environment for children around the country under the Dolbom Classroom Project. The second project is strengthening the exhibition for job seekers to help youths find jobs.
KB Financial Group Inc. reported preliminary consolidated earnings results for the first quarter ended March 2018. For the quarter, net profit attributable to shareholders of the parent company was 968.2 billion won, up 98.1 billion won, which is 11.3% rise from 870,101 million won for the same period a year ago, driven by the bank's net interest income and nonbanking subsidiaries commissions income growth and consolidation impact of KB Insurance. Net interest income was 2,143,800,000,000 won, up 15.9% year-over-year.
KB Financial Group, Inc. is a holding company that engages in providing financial services through its subsidiaries. It operates through the following segments: Corporate Banking, Retail Banking, Other Banking Services, Credit Card, Life Insurance, Investment and Securities business.
The Corporate Banking business segment provides services such as loans, overdrafts, deposits, credit facilities and other foreign currency activities. The Retail Banking business segment offers services such as private customer current accounts, savings, deposits, consumer loans and mortgage loans.
The Other Banking business segment provides services relating to banking business besides corporate banking and retail banking services. The Credit Card business segment offers services such as domestic as well as overseas credit and debit card operations.
The Investment and Securities business segment provides services such as investment banking and brokerage. The Life Insurance business segment provides products such as life insurance and wealth management. The company was founded on September 29, 2008 and is headquartered in Seoul, South Korea.