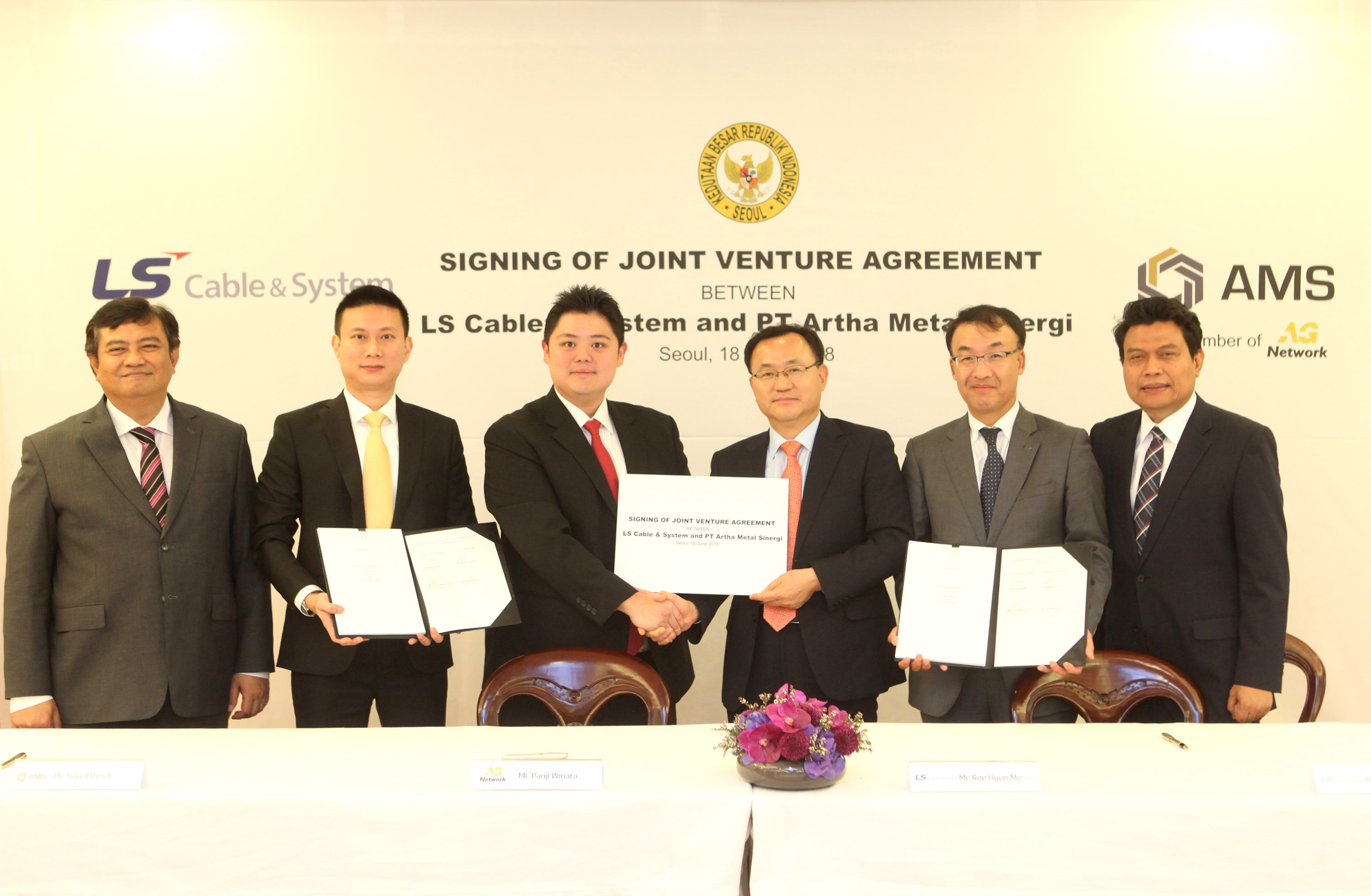 LS C&S CEO Myung Roe-hyun and AG Group Chairman Panji Winata hold a copy of an agreement in which LS C&S and PT Artha Metal Synergy signed to set up a joint venture plant in Indonesia in Seoul on June 18. (Photo: LS C&S)
LS Cable & System (LS C&S) has joined forces with PT Artha Metal Sinergi (AMS) from Indonesia, a member of Artha Graha Network (AGN), to set up a joint venture electric cable plant in the country.
The joint venture agreement was signed on June 18 at the Embassy of the Republic of Indonesia in Seoul, in which the main objective is to construct an electric cable manufacturing factory in Indonesia. The event was attended by LS C&S CEO Myung Roe-Hyun Myung, Ju Wan-seob, Panji Winata (AGN), AMS CEO Felix Effendi, Indonesian Ambassador to Korea Umar Hadi Indonesia Ambassador to South Korea, and Imam Soejoedi, head of Indonesia's Investment Coordinating Board (BKPM) in Seoul.
LS C&S and AMS will invest $40 million for the factory.
It will be built on a 64,000 m² land area and be ready by late 2019. The joint venture is expected to reach about $100 million in sales in 2025. Indonesia's government will provide support on the project as it is in accordance to Indonesian President's vision for Indonesia to achieve adequate electric power distribution across the archipelago.
LS C&S was established in 1962. Over the past 56 years it has grown into one of the largest cable producers in the world by capitalizing on innovative technology.
LS C&S is continuously pushes for a global hub strategy that will secure competitiveness. With the establishment of an Indonesian production corporation, the company has seven production corporations in Asia, including in China, India, Myanmar, and LS Cable Asia, which has the top market share in Vietnam.
Artha Graha Network's business scope expands across a wide range of industries throughout Indonesia, such as Property, Finance, Agro Industry and Hospitality. Indonesia itself has the largest electric cable market in ASEAN due to its robust power infrastructure and construction businesses with more than 8 percent growth annually. Together, the joint venture will thrive in Indonesia's electric cable market.
Indonesia Ambassador to South Korea, Umar Hadi, welcomed the cooperation between LS C&S and AMS while reassuring the South Korean counterpart that the decision to establish the factory in Indonesia is right on target. During his speech, he emphasized that Indonesia is one of the best place to develop businesses. "Indonesia has a 3 + 2 formula. There are three main things that made Indonesia become the most favorable country to develop any businesses which are, having a large middle class market, high availability and accessibility of natural resources, as well as abundant available skilled workforce.
Moreover, there are two driving elements, such as the highly supportive attitude from Indonesia government towards business investment and the greatly improved safety level in Indonesia," he added while quoting a Gallup Report, an international polling company based in Switzerland, which placed Indonesia within the top ten of the safest country in the world.
LS C&S CEO Myung, said, "Because Indonesia, one of the fastest-growing countries, becomes an attractive market, we have sought to advance to Indonesia for the last few years." He continued, "Since Moon Jae-in, the President of South Korea, announced 'New Southern Policy' at a South Korea – Indonesia business forum in last November, it has gained momentum."
"Our joint venture today signifies not only the collaboration of the two companies, but also to strengthen the bond between the two countries," said CEO Felix Effendi of PT Artha Metal Sinergi in his speech.
"The joint venture company will tap the expertise and experience of the respective shareholders, to provide significant transfer of technology from one of the best cable producers in the world, and to act as a gateway to penetrate further into the ASEAN biggest market," he added.
"We are here to serve our nation through our contribution to the infrastructure development by improving electric power distribution for the people throughout Indonesia," said Effendi.
Both companies have agreed to build their first electric cable manufacturing factory in Artha Industrial Hill, a renowned industrial estate located at West Karawang, West Java, Indonesia. "The decision made by LS Cable & System and their local partner in Indonesia, PT Artha Metal Sinergi, to establish their first factory in Artha Industrial Hill, is a good judgement, as Artha Industrial Hill is located at a strategic location and has integrated facilities and infrastructure within the industrial estate," said Mr. Umar Hadi. "Artha Industrial Hill implements KLIK program from BKPM which is the 'Ease of Direct Construction Investment Services,'" he added.