Consortium also includes two local builders to build 66 km-long highway in 4 yrs and run it for 16 yrs by collecting tolls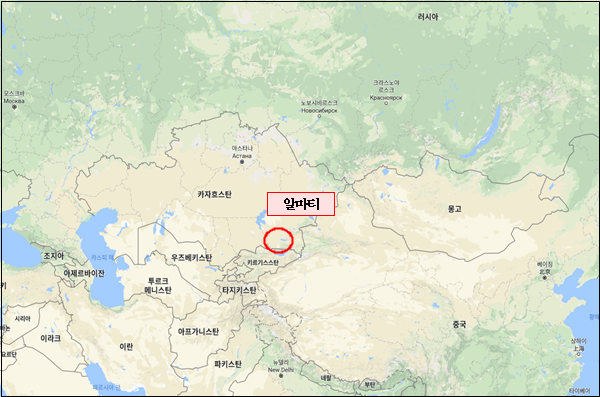 카자흐스탄 알마티 위치도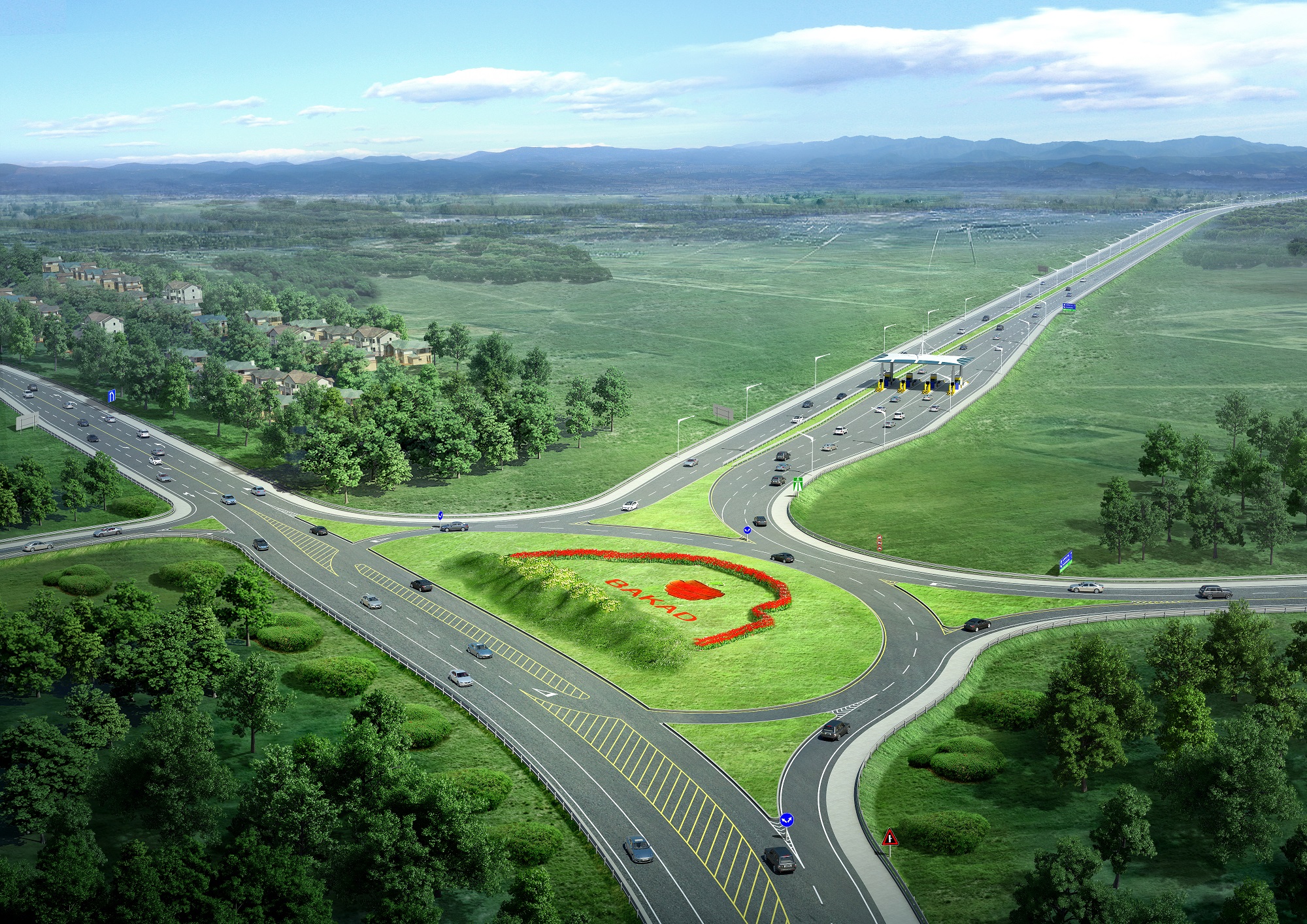 A birdeye view of the Almaty Circular Highway extending for 66 km around Almaty, the capital of Kazakhstan. (Photos: KEC)
알마티 순환도로 조감도
알마티 순환도로 노선도
Korea Expressway Corp. (KEC) and a consortium including SK Engineering and Construction kicked off construction of circular roads around Almaty, the capital of Kazakhstan, on June 1.
A ceremony was attended by some 300 guests, including high-level local government officials led by First Deputy Prime-Minister Mamin Askar of Kazakhstan, Vice Gov. Bhushan Gagrani of Maharashtra State and Mayor of Almaty city Bauyrzhan Baibek and Korean officials led by President Lee Kang-rae of KEC, among others.
The circular highway with four to six lanes extends for 66 km to ease traffic jams on roads around the capital. Maximum speeds of 150 km per hour will be allowed.
The consortium, which also include two local construction firms, Alarko and Makyol, won the project valued at $737 million, or 847.7 billion won, on Feb. 7 when they signed the contract with the Kazakhstani government. The construction period will be four years and the consortium will also operate the circular highway for 16 years and then return it to the Kazakhstani government under the contract.
SK Construction will take care of the financing end of the project, on top of the construction of the highway, along with the Kazakhstani construction firms while Korea Express will take charge of its operation and maintenance.
An official of Korea Expressway said Kazakhstan is located in the heart of the highways crisscrossing Eurasia, with Russia located in the north, China in the east, and the CIS in the southeast, playing the role of a bridge to Eurasian continent.
Korea Expressway will try to be a locomotive for Korean firms to make advances into Eurasia to take on infrastructural projects after its capacity has been recognized by showing off its technological capacity to the local authorities by successfully completing the circular highway and managing it well.
Additionally, it offers intelligent transport systems, such as expressway traffic management systems, toll collection systems, and tunnel traffic management systems; disaster, traffic, pavement, and structure management services; and bridge load rating/testing technology for determining a bridge's real load carrying capacity. The company also leases service areas and gas stations; offers research services; and provides services to the government, including supervision of government construction projects along various locations adjacent to the expressways.
Korea Expressway Corporation was founded in 1969 and is headquartered in Gimcheon, South Korea
Korea Expressway Corp. constructs and operates an expressway network in the Republic of Korea and internationally.
The company operates through four segments: Toll Business, Incidental Business, Supporting Business, and Construction Business. It constructs expressways, tunnels, and bridges; provides expressway maintenance services, such as routine and periodic maintenance, and emergency response, as well as road, facility, and structure rehabilitation; and real-time and three-dimensional road management services.
The company also offers various traffic management services, such as traffic information; congested area management services, such as shoulder lane system, bus-only lane system, and ramp metering system services; and traffic safety management services, including safety patrol services.
SK E&C Co. Ltd. provides construction services for power plants, civil infrastructure, architecture, and housing industries in South Korea and internationally. The company engages in the construction of civil infrastructures, such as railways, roads, harbors, underground spaces, housing/industrial complexes, and water and environmental facilities.
It construction portfolio also includes refining, petrochemicals, LNG storage tanks, oil sands, and petroleum refining facilities, as well as petrochemical plants to produce chemical products; power plants, including coal-fired power, combined-cycle power, cogeneration, nuclear power, and renewable power plants; and other industrial plants.
한국도로공사, SK건설과 카자흐스탄 알마티 순환도로 건설 '첫 삽'
민관협력투자방식으로 수주한 국내 최초의 중앙아시아지역 도로사업
한국도로공사(사장 이강래)는 지난 달 31일 카자흐스탄 舊수도 알마티의 순환도로 착공식을 개최했다고 6월 1일 밝혔다. 착공식에는 마민 아스카르 우작바예비치 카자흐스탄 부총리를 포함해 투자개발부 장관, 알마티 주지사 등 현지 정부 관계자와 컨소시엄社 CEO 등 약 300명이 참석했다.
'카자흐스탄 알마티 순환도로'는 사업비 7억3천7백만불(한화 8,477억 원)규모로 알마티시 인구증가에 따른 교통 혼잡을 해소하기 위해 건설되며, 설계속도 150km/h, 길이 66km의 왕복 4~6차로 도로다.
한국도로공사, SK건설, 터키 건설업체 2곳(Alarko, Makyol)으로 이루어진 컨소시엄은 지난 2월 7일 사업 수주에 성공해 카자흐스탄 정부와 실시협약을 체결했으며, 앞으로 4년간 이 도로를 건설해 16년간 운영 및 유지관리를 맡게 된다. SK건설은 투자자로서 건설공사를 맡고, 한국도로공사는 도로 운영 유지관리와 이에 대한 자문을 하게 된다.
한국도로공사 관계자는 "카자흐스탄은 유라시아 국가 중에서 북쪽으로는 러시아, 동쪽으로는 중국과 몽골을 접하고, 서남쪽으로는 독립 국가연합과 마주해 지리적으로 유라시아 교통 물류의 심장부에 자리를 잡고 있어 앞으로 유라시아 대륙 진출의 교두보가 될 것으로 기대되는 곳이다"며 "이번 사업을 성공적으로 완수해 국내기업의 해외 인프라 투자사업과 유라시아 대륙 진출 확대에 견인차 역할을 할 수 있도록 노력 하겠다"고 말했다.
[카자흐스탄 알마티 순환도로 투자사업]
o 사업규모 : 연장 66km 신설(4, 6차로, 150km/hr)
o 사업기간 : 20년 (공사 4년 2개월, O&M 15년 10개월)
o 총투자비 : 7.4억불 (약 8,477억원)
o 참여사 : (한국) 도공, SK건설 (터키) Alarko, Makyol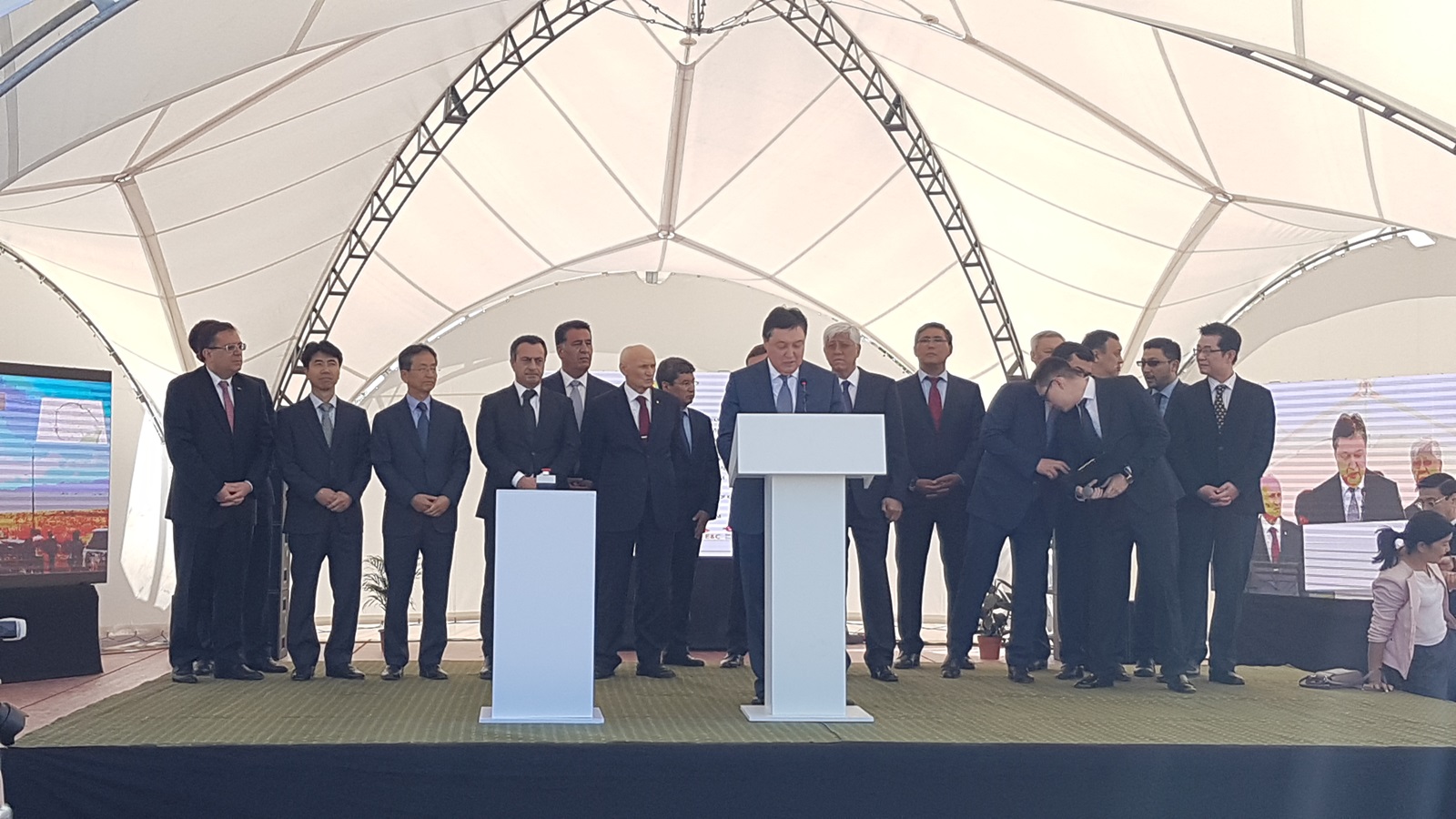 Key officials of both Korea Expressway Corp., SK E&C and two local construction companies push the bottons to kick off the work on the Almaty Circular Highway to be built around Almaty, the capital of Kazakhstan on June 1.
마민 아스카르 우작바예비치 카자흐스탄 부총리가 31일 카자흐스탄 알마티 순환도로 투자사업 착공식에서 개회사를 하고 있다.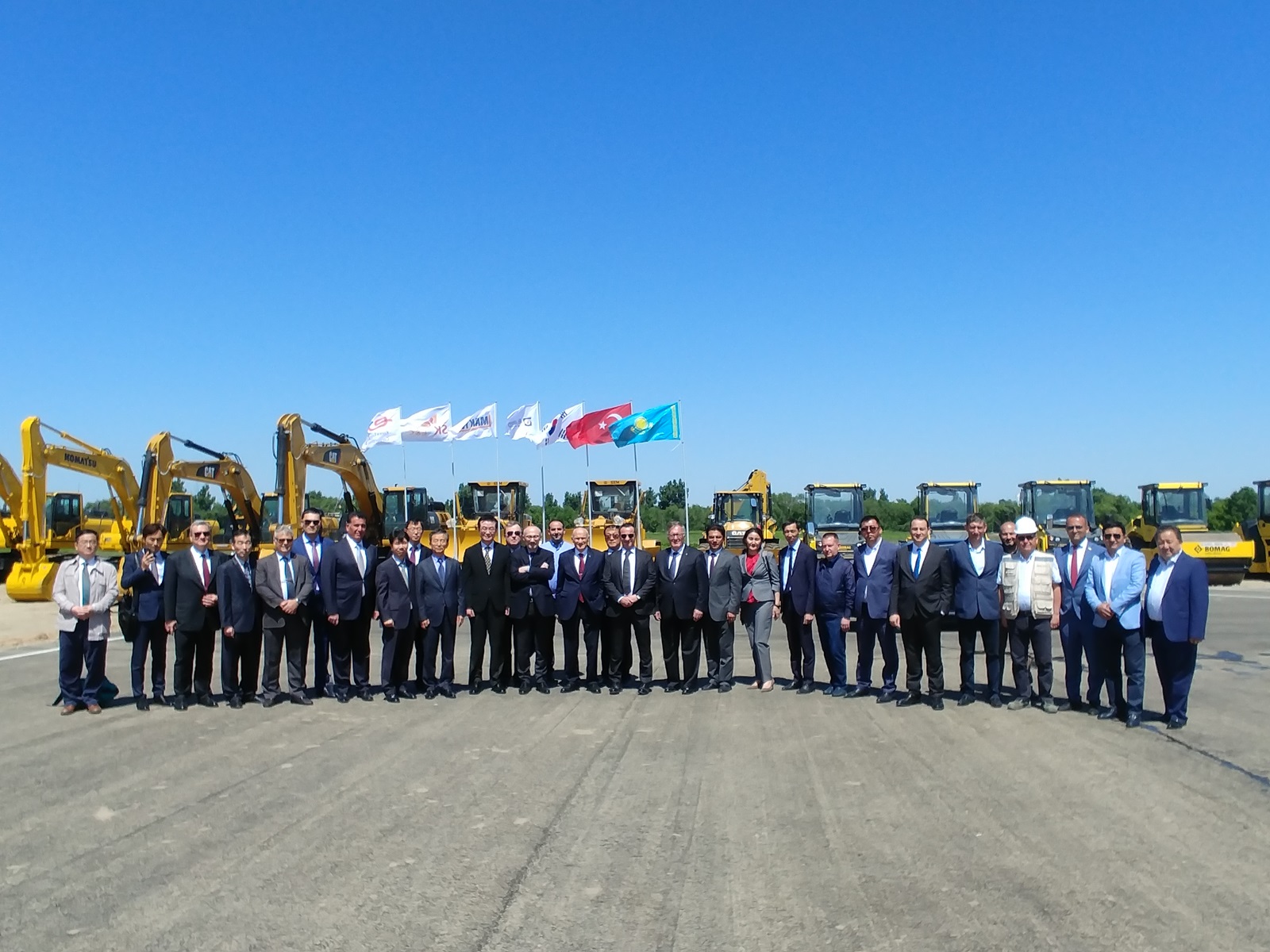 설운호 한국도로공사 해외사업처장(왼쪽에서 여덟 번 째)이 31일 카자흐스탄 알마티 순환도로 투자사업 착공식에서 컨소시엄社 및 알마티 정부관계자들과 기념촬영을 하고 있다.