U.S. President Trump holds historic summit with North Korea leader Kim in Singapore on June 12, but deal lacks detailed substance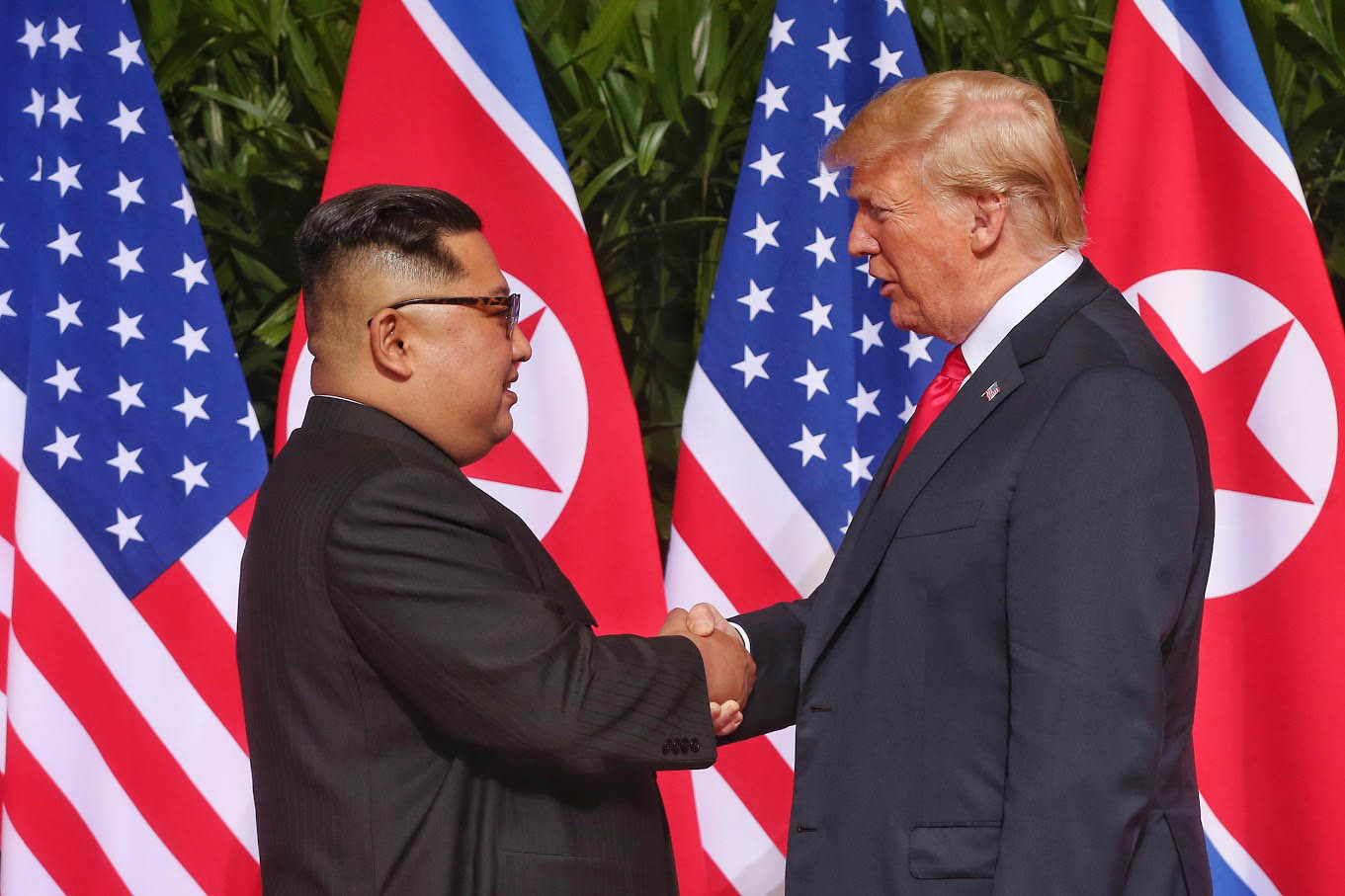 U.S. President Donald Trump shakes hands with North Korean leader Kim Jong-un during their historic talks in Singapore on June 12.
U.S. President Donald Trump had his historic talks with North Korean leader Kim Jong-un at the Capella Hotel on Sentosa Island in Singapore on June 12. It is the first time an American president and his North Korean counterpart have met. The two leaders issued a statement following the US-NK summit in which President Trump committed to providing security guarantees to North Korea, and NK Chairman Kim reaffirmed his firm and unwavering commitment to complete denuclearization of the Korean Peninsula. Contrary to earlier expectations, the statement lacked details on how to implement North Korea's denuclearization, a failure to reflect the U.S. previous position on "complete, verifiable and irreversible denuclearization" (CVID).
"The devil is in the detail," experts said. Asked when the statement omitted CVID, US President Trump said it contained the phrase "denuclearization of the Korean Peninsula" and it included verification. But President Trump's remarks appeared to signal that he was unaware of the history and details surrounding the United States' negotiations on nuclear issues with North Korea, experts said. They noted that North Korea is very sensitive to verification as the past six-party multilateral agreement and the Sept. 19, 2005 deal on NK nuclear issues were nullified as NK's refusal to make inspections for verification.
The US-NK summit was supposed to be a watershed for denuclearizing North Korea, but it might have unexpected subsequences unfavorable to South Korea: a crack in the strong alliance between South Korea and the United States. At a news conference following the summit, President Trump cited the halting of SK-US joint military exercises rather than the CVID. He called SK-US joint military exercises as expensive war games, downplaying SK-US efforts to deter a war on the Northeast Asian region. The New York Times reported that it not only amounted to crucial concessions to North Korea, but also it was a risky gambit. To the businessman-turned president, who also hinted at the eventual withdrawing of U.S. forces in Korea, the SK-US alliance could be degenerated in his scheme to cut down on costs.
Looking at the US-NK summit statement and President Trump's news conference, NK leader Kim has been evaluated to emerge as the victor over President Trump. In their dual, Kim gained invaluable points in seven categories – guaranty of his regime security and the halting of SK-US joint military exercises. On the other hand, President Trump ended up obtaining concessions from NK in three categories of lesser value – the dismantling of ballistic missile testing site, the return of prisoners of war and the retrieval of the remains of the American soldiers missing in action.
The US-NK summit statement stipulated that the two countries commit to hold follow-up negotiations, led by US State Secretary Mike Pompeo and a relevant ranking NK official to implement their commitment in a fully and expeditiously fashion. It remains to be seen how NK will agreed to details on how to take denuclearization path and how long will it take.
Speaking at his meeting with SK Foreign Minister Kang Kyung-wha and Japanese counterpart Taro Kono in Seoul on June 14, US State Secretary Pompeo said economic sanctions against North Korea will not be lifted until NK completely denuclearizes.
The US-NK summit talks served as a platform for NK leader Kim to be catapulted to fame on the world stage, shedding his image of a dictator despite his numerous human rights abuses and violations.
At an initial stage of preparing the summit, significant in and of itself, NK leader Kim employed his calculated scheme of wining more rewards from the U.S.
North Korea abruptly put on hold scheduled high-level inter-Korean talks and threatened to pull out of the upcoming NK-US summit. This move was part of his strategy of brinkmanship (as if he is mastering the "art of deal"), experts on North Korea said. But President Trump, a maverick president who prides himself for his negotiating prowess, used his "gut instincts" to make preparations for the summit.
The so-called "China factor" has played a part in NK's preparation for the NK-U.S. summit talks. NK-China ties had fallen to the lowest levels ever after the North's testing of numerous nuclear and long-range missiles. China, NK's closest ally and economic guardian, joined the U.S.-led economic sanctions, banning NK's major imports and restricting petroleum imports from China, which has delivered a serious blow to NK. NK-China relations have been recovering in a fast pace recently, as North Korean leader Kim made a visit to China and met with Chinese President Xi Jin-ping in March and May.
SK President Moon and NK leader Kim issued a statement, dubbed the "Panmunjom Declaration," calling for an end to the decades-long war and complete denuclearization on the Korean Peninsula, following their historic summit talks at Panmumjom on April 27. South Korea also promised to implement massive inter-Korean economic projects. The inter-Korean summit, in which President Moon also had his first one-on-one meeting with his NK counterpart, was hyped globally with much expectation as it was televised live.
The first inter-Korean summit took place in 2000 and the second was held in 2007.
But on May 16, North Korea delivered a message on its decision to postpone high-level inter-Korean talks hours before the scheduled meetings. The message, issued in the name of Ri Son-gwon, chairman of NK's Committee for the Peaceful Unification of the Country, took issue with the ongoing SK-US joint military excise, dubbed "Max Thunder" and America's "unfair" demands on denuclearization.
In a statement issued by the North's Korean Central News Agency later in the same day, NK Foreign Vice Minister Kim Gye-gwan said, "If the U.S. is trying to drive up into a corner to force our unilateral nuclear abandonment, we will no longer be interested in such dialogue and cannot but reconsider our proceeding to the DPRK-US summit."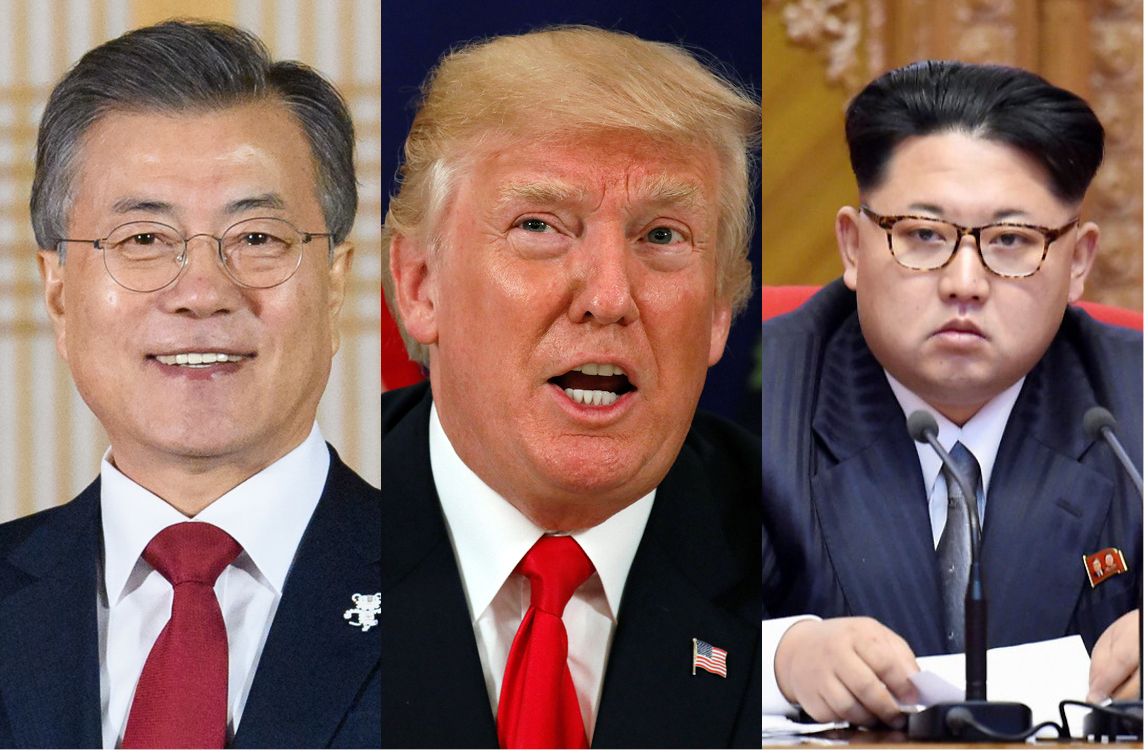 (from left) South Korean President Moon Jae-in, U.S. President Donald Trump, and North Korean leader Kim Jong-un.

Expressing displeasure with the U.S. raising previous methods of denuclearization as benchmarks, including the Libyan model, Kim said it's absurd to compare NK to Libya, which had only been in an initial stage of nuclear development, because NK is already in possession of a nuclear arsenal. NK was referring to remarks by U.S. National Security Adviser John Bolton, who had been insisting on the Libyan model. Libya was forced to hand over all nuclear facilities to the U.S. in return for the easing of economic sanctions against.
NK's step to indefinitely cancel inter-Korean high-level talks was partly related to remarks made by an ex-NK envoy-turned defector to SK, who claimed that NK would not agree on a complete, verifiable and irreversible denuclearization (CVID). Thae Yong-ho defected to SK in 2016 while serving as former NK deputy ambassador to the UK. He said NK's latest overtures are designed to loosen the rope around NK, being imposed by the international community's economic sanctions.
The Kim Jong-un regime would never seek to follow Vietnam or China's economic development models, and instead it is seeking to promote a "closed model" for economic development, like the case of the Kaesong Industrial Complex model, which mostly blocked any contact between SK and other parts of NK, he added.
Thae made the remarks at the National Assembly on May 14 during a press conference to publicize his new book, titled "The Password from the Third Floor." He was quoted saying that NK leader Kim will never give up his nuclear weapons to secure his regime's security, but will instead abandon them substantially — which he dubbed as "sufficient denuclearization to improve the economy and obtain support from the international community." He insisted that NK leader Kim will not allow the US to make surprise inspections to find NK's nuclear arsenal, which would undermine NK's sacred rule idolizing Kim.
Thae expressed worry on whether the U.S. and NK have the same understanding of denuclearization or not and how to achieve it. He said the stark reality of the North Korean economy, strangled by U.S.-led sanctions, forced NK leader Kim to turn to dialogue and offer an olive branch to SK, in an apparent move to take advantage of inter-Korean economic cooperation.
The latest development happened as NK was to invite outside reporters to an event to mark the official dismantling of its nuclear test site at Punggaeri, North Korea. Earlier, North Korea released three Americans detained in NK, and President Trump attended a ceremony welcoming the returnees in person.