About 62,000 executives and staff members with POSCO Group in 53 countries, including Thailand, participate in volunteer activities on occasion of POSCO Global Volunteer Week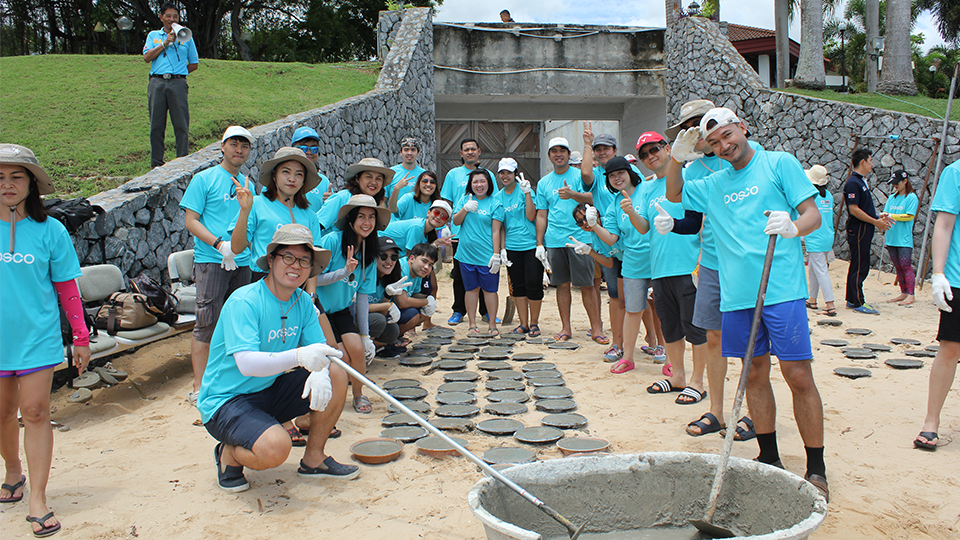 Some 100 executives and staff members with POSCO's operations in Thailand POSCO-SouthAsia, POSCO-TBPC, POSCO-Thainox, POSCO-TCS and POSCO Daewoo participate in a volunteer drive to plant coral reefs at a coastal area near Pattaya, Thailand, on the occasion of POSCO Global Volunteer Week on May 25. (Photos: POSCO)
태국지역 포스코그룹 법인 직원 100명 글로벌 볼런티어 위크 맞아 봉사활동을 했다.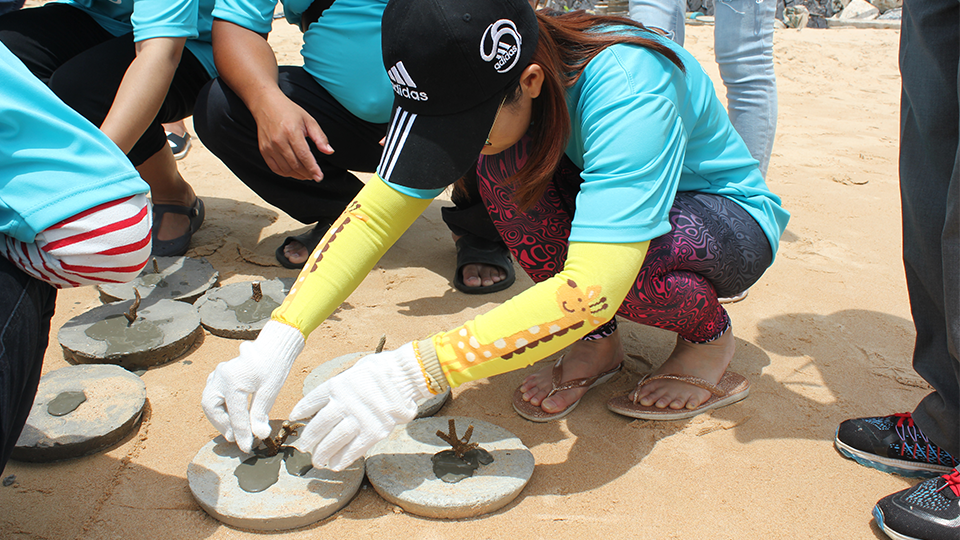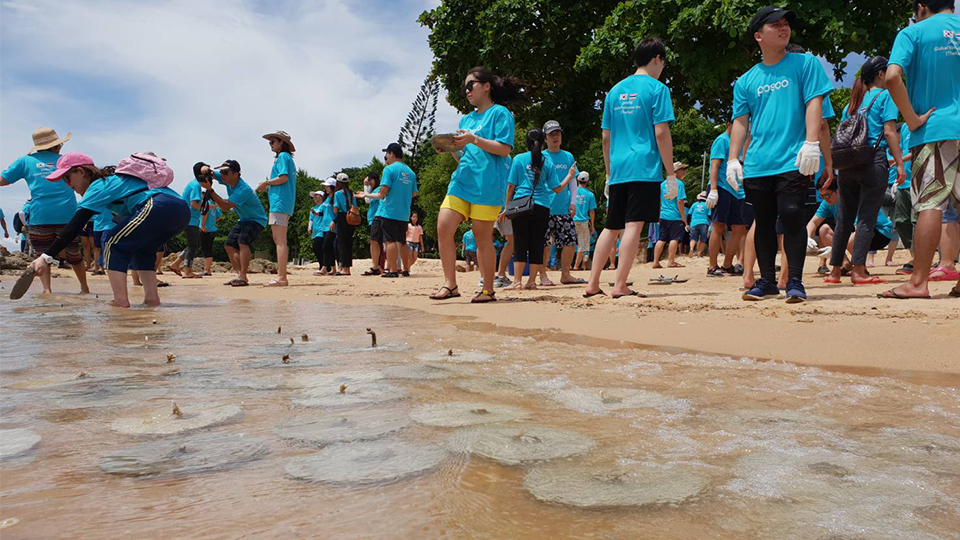 인도네시아ㆍ인도ㆍ터키 등 53개국에서 참여한 글로벌 볼런티어 위크 맞아 실시한 봉사활동 모습
"It's not easy doing something for the first time ever, but joining volunteer activities on the occasion of the POSCO Global Volunteer Week was a rewarding experience," said one female employee with POSCO-SouthAsia. She was seen sweating while attempting to make an artificial rock for the benefit of coral. Explaining how to make coral reefs, the woman said she took made an artificial rock by mixing cement products, sand and water before making a hole in the rock where he coral will grow.
She was one of 100 executives and staff members with POSCO's operations in Thailand POSCO-SouthAsia, POSCO-TBPC, POSCO-Thainox, POSCO-TCS and POSCO Daewoo who participated in a volunteering drive to plant coral at a coastal area near Pattaya, Thailand, on the occasion of POSCO Global Volunteer Week on May 25.
POSCO employees joined the Thai navy in making and planting 315 staghorn coral to restore coral reefs in the Thai sea, which are disappearing due to global warming and environmental pollution. Every year since 2010, POSCO celebrates POSCO Global Volunteer Week POSCO designated before and after May 29, the day of the establishment of POSCO Volunteer Team, to spread the value of sharing, an initiative developed from steelworks in Pohang and Gwangyang, to all parts of the world. During week, POSCO's operations in Korea and abroad carry out diverse volunteer activities. About 62,000 executives and staff members with POSCO Group in 53 countries, including Thailand, conducted "shared growth" activities to put into practice their social responsibility as global corporate citizens.
Starting with its signing of sisterhood ties with Hagwang Village in Gwangyang in 1988, POSCO now maintains relationships with a combined 203 sister villages. POSCO has a system of "sharing on Saturday" once each month in place. The event, being held for the 15th consecutive year, involves sharing of gifts designed to utilize their own capabilities on such areas as mechanical maintenance, scuba diving, wall papering and medical technology.
In 2013, POSCO established POSCO 1% Sharing Foundation whose fund is raised with POSCO, its investment company, cooperative partner executives and staff members' donating 1 percent of their pay. Some 20,000 employees donate a combined 38 billion won each year. The fund is used to implement such projects as POSCO Steel Village.
포스코 태국 산호초 살리기 동참, '코쿤캅 포스코'
태국지역 포스코그룹 법인 직원 100명이 글로벌 볼런티어 위크 맞아 봉사활동
"처음 해보는 일이라 쉽지는 않았지만 우리나라 바다 살리기에 동참한다는 생각에 보람을 느낍니다." 따갑게 내리쬐는 햇빛 아래에서 산호를 인공암초에 고정시키기 위해 붙잡고 있던 POSCO-SouthAsia 여자직원의 이마에 어느새 땀방울이 송글송글 맺혔다.
그녀는 완성된 산호초를 옮기며 "시멘트혼합제와 모래, 물을 섞어 인공암초를 만들고, 여기에 구멍을 뚫어 산호초를 꽂아 1~2분 잡고 있으면 완전히 고정됩니다"라며 산호초 만드는 법을 소개했다.
지난 25일 POSCO-SouthAsia, POSCO-TBPC, POSCO-Thainox, POSCO-TCS, 포스코대우로 구성된 태국지역 포스코그룹 임직원 100명이POSCO Global Volunteer Week를 맞아 파타야 인근 해안가에서 산호초 심기 봉사활동을 펼쳤다.
이날 포스코그룹 임직원들은 지구온난화와 환경오염으로 인해 사라져가고 있는 태국 바다의 산호초를 복원하기 위해 태국 해군과 함께 사슴뿔같은 석산호 315개를 만들어 바다에 심는 작업을 진행했다.
포스코는 제철소가 있는 한국 포항∙광양에서 발전한 나눔문화를 전세계로 확산시키기 위해 지난 2010년부터 매년 포스코봉사단 창단일인 5월 29일 전후를 '포스코 글로벌 볼런티어 위크'로 지정해 포스코그룹 법인이있는 국내외지역에서 다양한 봉사활동을 전개하고 있다.
올해에도 태국뿐만 아니라 포스코그룹이 진출한 53개국 6만 2천여 명의 임직원들이 글로벌 기업시민으로서 사회적 책임을 실천하기 위한 지역사회 상생활동을 펼쳤다.
국내에서도 포스코는 1988년 광양 하광마을과의 자매결연을 시작으로 현재 203개의 자매마을과 인연을 오고 있으며 매월 1회 봉사활동에 참여하는 '나눔의 토요일' 제도를 15년째 운영하고 있다. 또한 기계정비, 스쿠버다이빙, 도배, 의료기술 등 자신의 역량을 활용한 '재능나눔'도 적극적으로 펼치고 있다.
한편, 포스코 임직원의 따뜻한 나눔은 2013년 포스코와 출자사, 외주파트너사 임직원들이 매월 급여 1%를 기부하는 '포스코1%나눔재단'을 설립, 연평균 2만여 명이 총 380억 원 상당을 기부하여 POSCO Steel Village 조성 등에 사용했다.
<출처:포스코>