Group to build an olefin production plant with 2 tln won investment in the Yeosu GS Oil Refinery Complex; GS Power builds power plant and GS Retail making inroads into Vietnam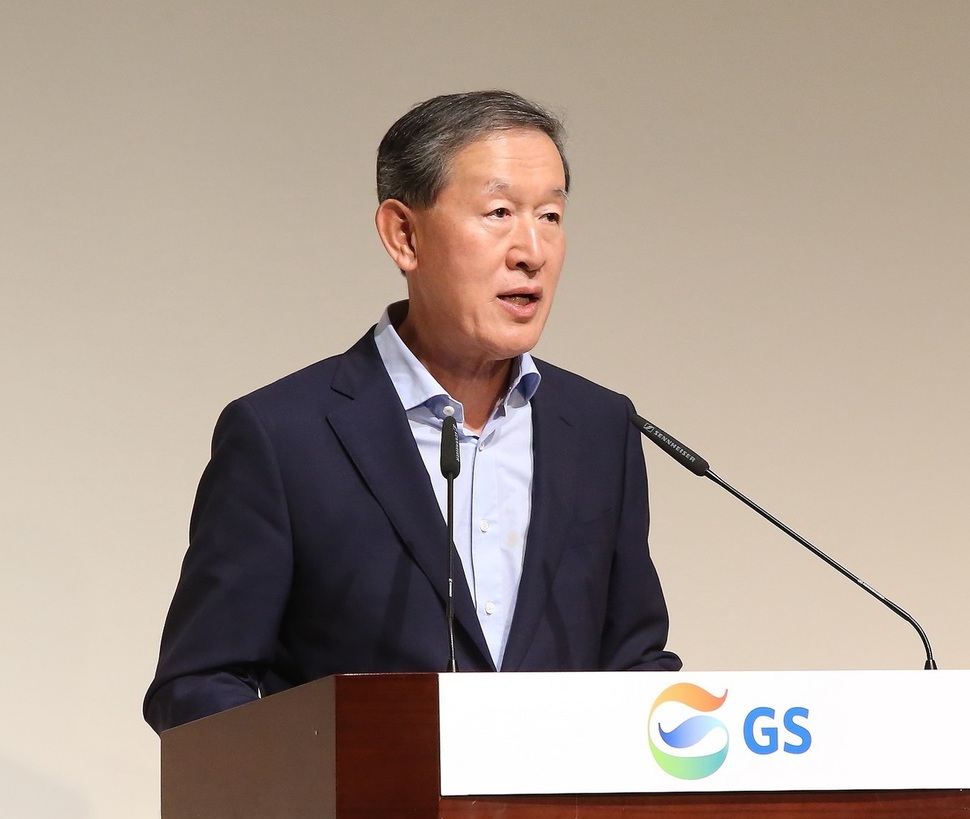 Chairman Huh Chang-soo of GS Group
GS Group has promised to create more quality jobs by making investments in a bid to prepare for future changes to the economic landscape.
During the group's in-house meeting at GS Tower in Seoul, where about 150 executives participated, GS Group Chairman Huh Chang-soo said the group will expand its investments to create more jobs while doing its utmost to nurture a fair and cooperative economic environment in Korea.
"The nation's geopolitics engulfing the Korean Peninsula have rapidly shifted along with the 2018 PyeongChang Winter Olympic Games and the possible inter-Korea summit. And market uncertainty is growing with the U.S. interest rate hike, volatile oil prices and the possible trade war between the U.S. and China. Domestically, youth unemployment, labor and chaebol reform have become important issues," Huh said. "We are marching forward to ensure success in such a rapidly changing market environment."
He said GS Caltex has started investing in the olefin business to induce balanced growth between its petrochemical and refinery department. Also, GS Power is scheduled to complete a power plant project next month in Anyang, Gyeonggi Province, while improving its LNG operation to expand the company's competitiveness. And GS Retail is making inroads into developing economies such as Vietnam. GS Caltex is eyeing the Olefin industry for future business, the oil refiner announced April 18. The company is set to build an olefin production plant on 43,000 square meters of land in Yeosu, South Jeolla Province.
Olefin is a petrochemical class that includes ethylene, propylene and butadiene. Ethylene and propylene are necessary materials for industrial chemicals and plastics.
The company has invested 2 trillion won ($1.8 billion) in building the olefin production facility, also called Mixed Feed Cracker (MFC), which is capable of producing 700,000 tons of ethylene and 500,000 tons of polyethylene annually. Construction is to be started in 2019, and the plant is expected to be operational by 2022.
Ethylene is the main product of the MFC, which is converted into polyethylene through polymerization. It is then processed or formed into vinyl, plastic or other disposable products used in daily life.
The global polyethylene market has been growing steadily with worldwide demand steadily growing by 4.2 percent each year, according to IHS, a London-based industry information provider.
The aggressive investment came with the company's strategy of pursuing sustainable growth in the long term. The company has decided to build an MFC as the olefin industry grows and increases its potential to branch out into diverse businesses.
"The recent investment decision can diversify our business model that currently relies heavily on the refinery business," the company said. "This decision is thereby expected to manage volatility in our business and bolster stability through diversifying the business models."
"We will create balanced and stable growth in the future through diversification of our business portfolio," GS Caltex CEO Huh Jin-soo said, speaking about the company's future strategy in his new year's speech. Meanwhile, the company's new business is also expected to contribute to the nation's economy by promoting regional development along with job creation. The oil refiner is expecting to generate 2 million jobs and expand the local economy by about 1 trillion won.
GS Caltex, the group's refinery affiliate, invested 2 trillion won ($1.87 billion) in February to build an olefin production plant on a 430,000-square-meter piece of land in Yeosu, South Jeolla Province, to be completed by 2022. The olefin plant is expected to annually produce 700,000 tons of ethylene and 500,000 tons of polyethylene while contributing to the local economy through hiring.
GS Group said it expects to create 300 jobs once the plant becomes operational, while bringing 1 trillion won worth of economic stimulus to the local community of Yeosu.