Takes helm of corporation as 25th president at KEPCO KPS headquarters in Naju, Jeollanam-do, on May 25; new KEPCO KPS Auditor Moon Tae-rong takes office as 16th auditor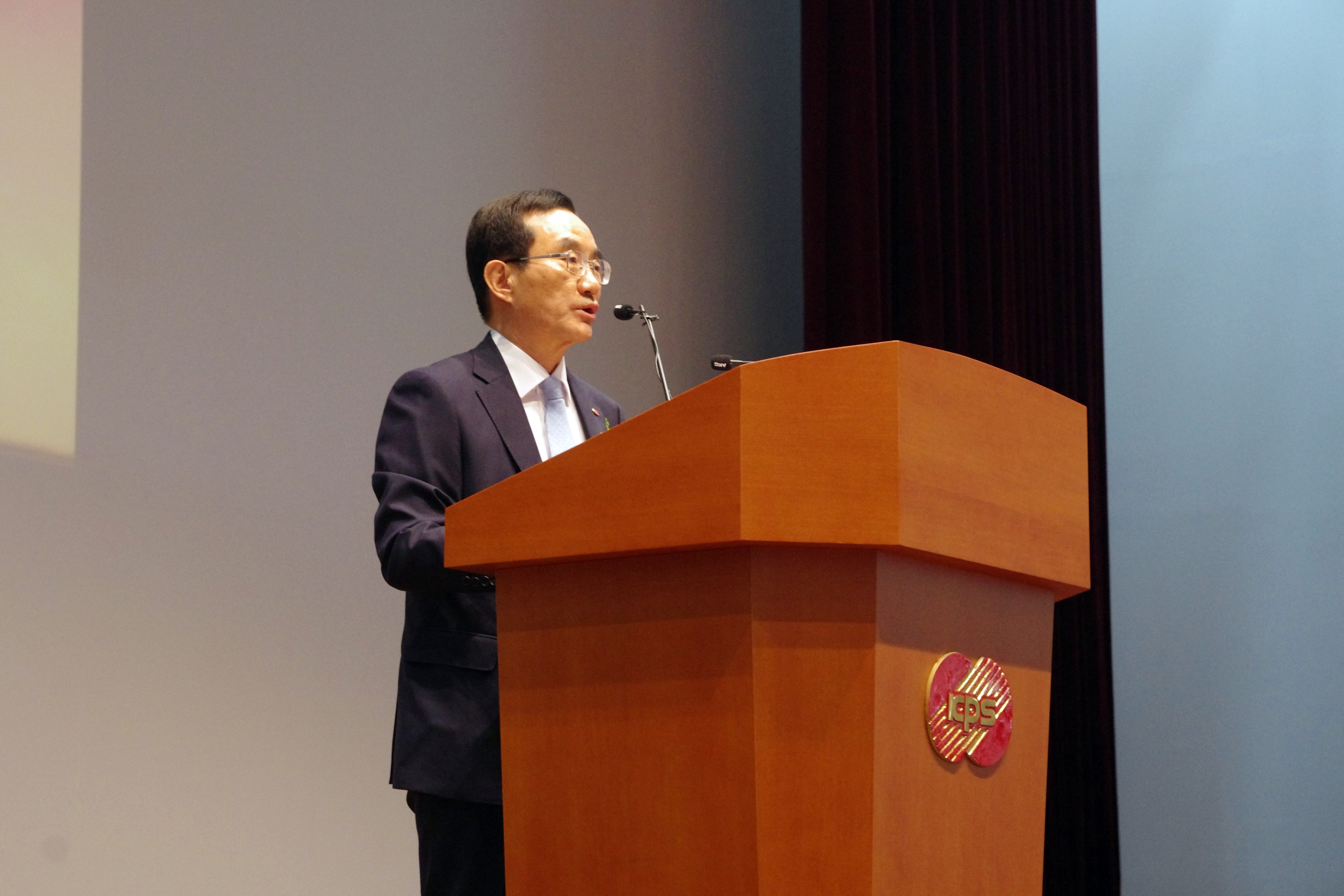 President Kim Bum-nyun of KEPCO KPS delivers his inaugural speech as he took office as the 25th president of the power company at KEPCO KPS in Naju, Jeollanam-do, on May 25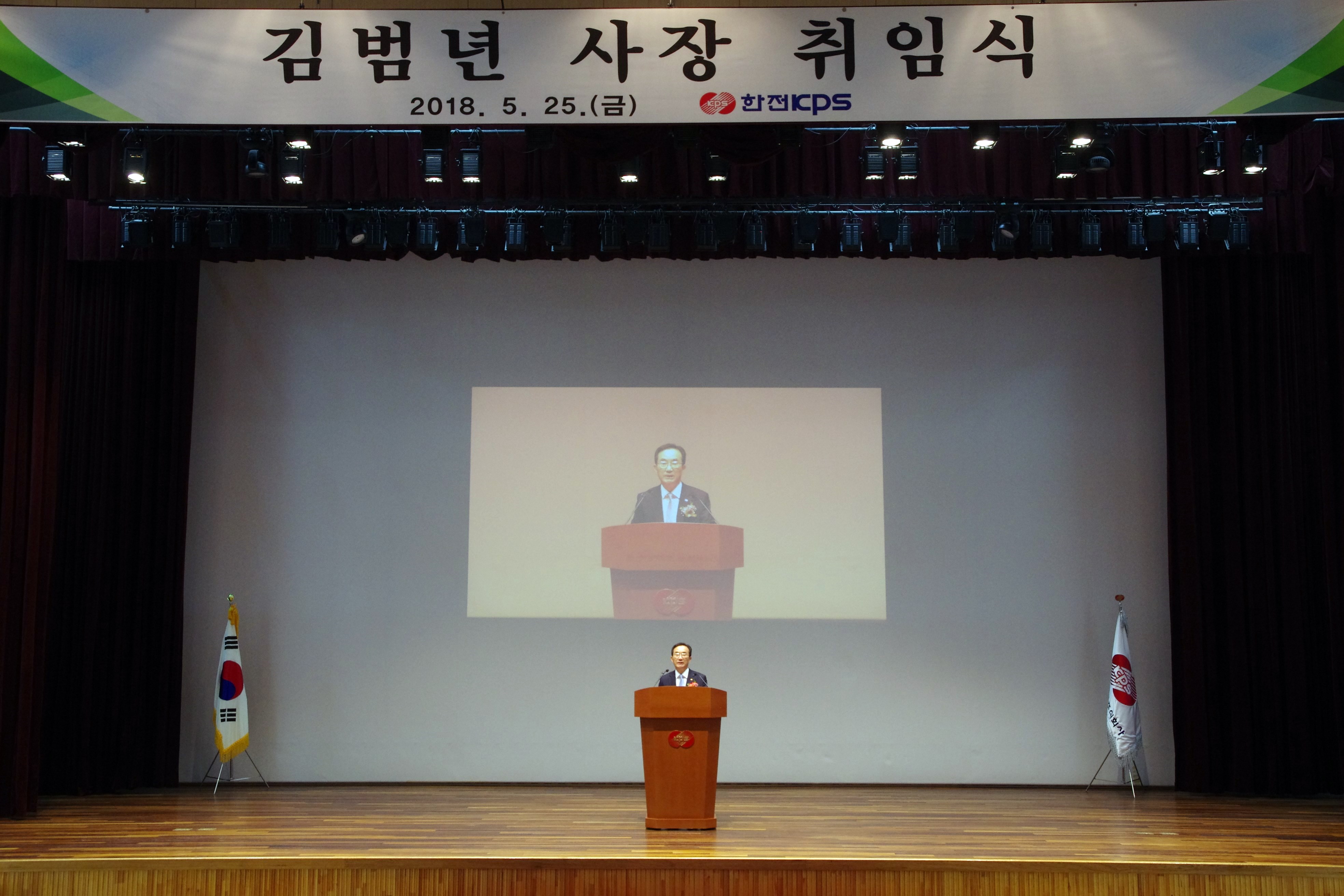 한전KPS 김범년 신임사장이 취임사를 통해 "세계 최고의 정비기술기업으로 나아가자"고 강조하고 있다.
New President Kim Bum-nyun of KEPCO KPS took office as the 25th president of the corporation at KEPCO KPS headquarters in Naju, Jeollanam-do, on May 25.
President Kim delivered his inaugural speech in which he urged his executives and staff members to brace themselves with a challenging spirit for the future of company and state amid huge waves of change.
"Now is the time when KEPCO KPS must rise to the challenger with a determined mindset amid huge waves of changes by making the most of the outcomes it has so far achieved," the new president said.
Kim called for his executives and staff members to make KEPCO KPS a company that grows along with customers, demonstrates guts and affection, and boasts of the world's best maintenance technology levels.
In particular, KEPCO KPS must own perfect professional technology for facility functions, and KEPCO KPS members must be armed with a spirit of becoming masters at their trades, President Kim said. He then stressed that KEPCO KPS will rise to become a renowned power facility technology company by pursing the DNA "perfect & pride."
President Kim, who entered KEPCO in 1979, held such positions as president in charge of nuclear power research at the KEPCO Power Research Institute, head of KHNP's engineering division, and senior executive vice president in charge of power generation at Korea Hydro & Nuclear Power Co. (KHNP). He also served as president of Gwangyang Green Energy.
New KEPCO KPS Auditor Moon Tae-rong, also elected at an extraordinary shareholders' meeting on May 15, took office as the 16th auditor of the corporation. He gave his inaugural speech in which he promised to help the corporation maintain integrity without wrongdoings and malpractices. He said he would do his best to make KEPCO KPS a public entity trusted by the people and one that carries out fair and just auditing.

About KEPCO KPS

KEPCO KPS is a public corporation providing "total plant" solutions, including plant facility diagnosis and performance improvement, O&M at home and abroad, industrial facilities, and power transmission and substations.
Established for the efficient maintenance of electric power facilities as the core of national economic development, KEPCO KPS has grown into a leading company in domestic power facility maintenance thanks to continuous technology development and human resource development for the past 30 years. It is also renowned for its technology in the global markets.
In particular, KEPCO KPS is making its effort to leap forward to become a stainable company by executing growth businesses, such as plant O&M, Retrofit and ROMM, which improves performance interpreting and diagnosing plant facilities, decommissioning, and renewable energy businesses based on abundant know-how, technological data, professional manpower, and state-of-the-art equipment.
KEPCO KPS has achieved a great feat and subsequently received the Korea Quality Award, the first public company to be selected as an Excellent Quality Competitiveness Enterprise for the 19th consecutive year, recognized by Dow Jones Sustainability Indices for the 9th consecutive year, selected by the Best Human Resources Developer, received the Korea Social Contribution Award, the Management Grand Awards for the 4th consecutive year, and received the Ethical Management Award by engaging in constant activities to improve customer service and making product innovation.
"All executives and employees, including myself, are firmly committed to providing the very best customer service based on top-notch technologies and our abundant experience so as to contribute not only to the national economy but to humanity overall," the president said. We will be continually committed to confidently taking on new challenges. KEPCO KPS will make a great leap forward to become a provider of global power plant solutions in the global market.
발전설비 정비 전문회사인 한전KPS(주) 제14대 사장으로 선출된 김범년 사장의 취임식이 5월 25일 광주전남혁신도시(나주시 소재)에 위치한 본사 빛가람홀에서 개최됐다.
이날 김범년 사장은 취임사를 통해 "지금까지 한전KPS가 창출해 낸 성과를 바탕으로 거대한 변화의 물결 속에서 회사와 국가의 미래를 위해 비장한 각오로 도전의 깃발을 올릴 때"라고 말했다.
또한 김범년 사장은 임직원들에게 한전KPS가 고객과 함께 성장하는 기업, 혼과 정이 있는 기업, 그리고 세계 최고의 정비기술 기업이 되어야 한다고 당부했다.
특히, 한전KPS는 전력설비 기술회사로서 설비성능에 대한 완벽한 전문가적 기술과 직원 모두가 마이스터라는 혼이 있어야 한다며, 'Perfect & Pride'라는 DNA를 추구해 전력설비기술의 명문기업을 만들어 나갈 것이라고 강조했다.
한전KPS 김범년 신임 사장은 1979년 한국전력공사에 입사해 한전 전력연구원 원자력발전연구소장, 한수원 엔지니어링본부장, 한수원 발전부사장(발전본부장 겸임), 광양그린에너지(주) 대표이사 등을 역임한 바 있다.
한편, 지난 5월 15일 열린 임시 주주총회에서 선출된 한전KPS 제16대 문태룡 신임감사의 취임식도 이날 함께 개최됐다.
한전KPS 문태룡 신임감사는 취임사를 통해 부정부패가 없는 청렴한 조직문화를 이어가는 한편, 공명정대한 감사업무 수행을 통해 국민으로부터 신뢰받는 공기업이 될 수 있도록 최선을 다할 것이라고 강조했다.
문태룡 신임감사는 자치분권전국연대 공동대표 및 감사, 한국농수산식품유통공사 비상임이사 등을 역임한 바 있다.