Records 20.6 billion won in operating profit for first quarter of 2018, according to consolidated statement under the K-IFRS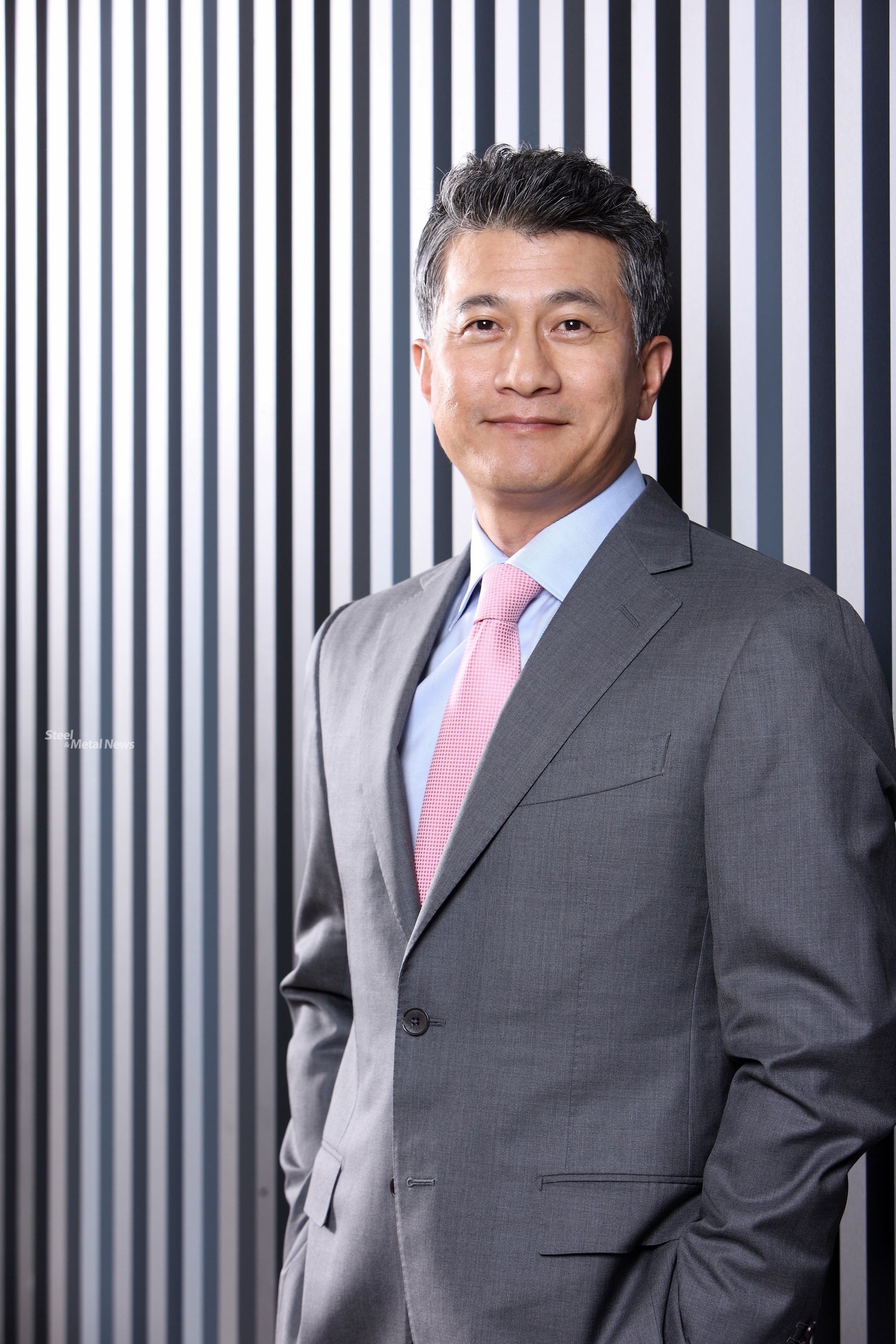 Dongkuk Steel Vice Chairman Jang Se-wook.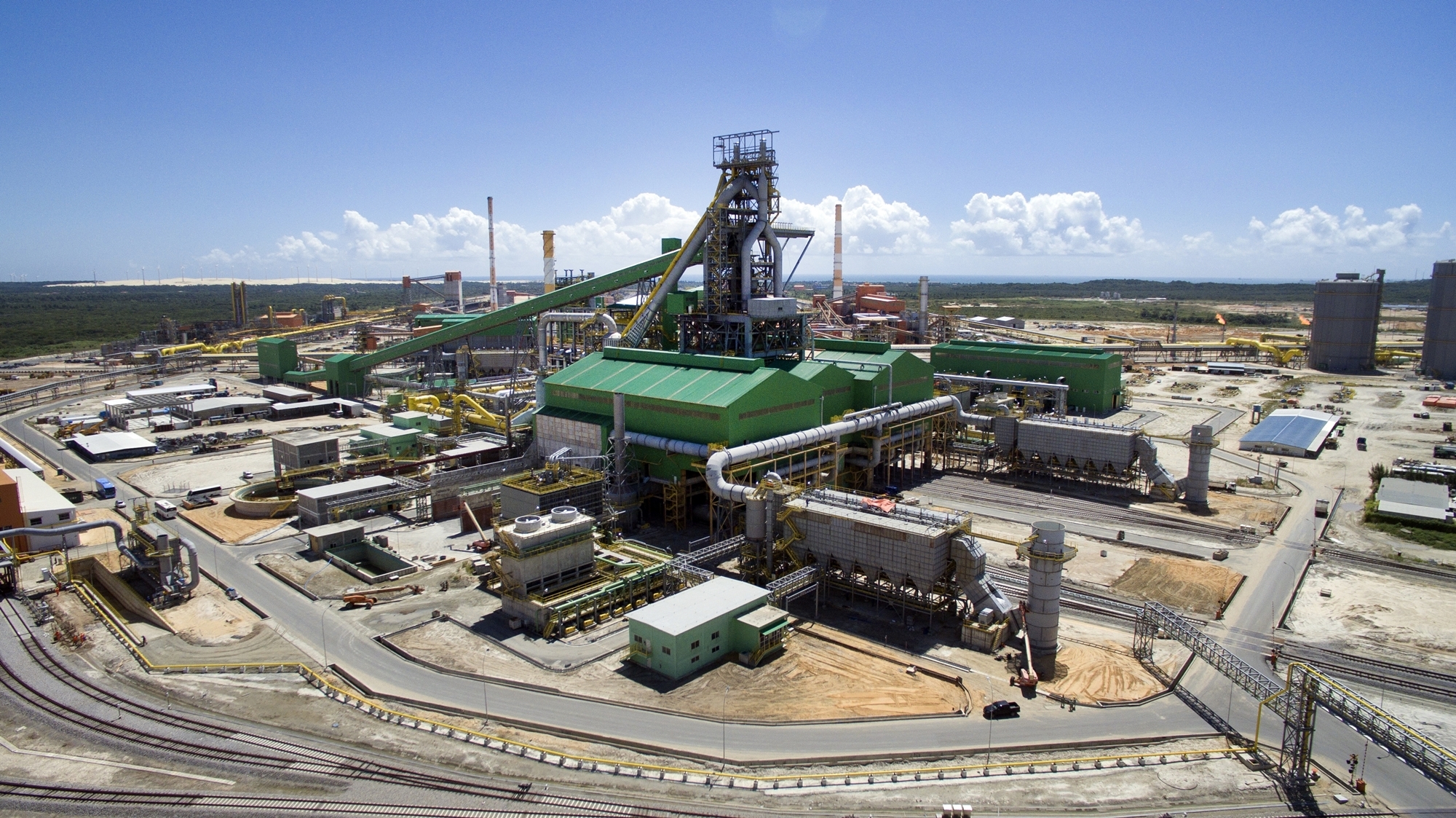 A view of Dongkuk Steel 's Brazilian CSP steel mill. (Photos: Dongkuk Steel)
Dongkuk Steel posted 20.6 billion won in operating profit for the first quarter of 2018, recording a profit streak for the 12th consecutive quarter, according to a consolidated statement under the K-IFRS. The steelmaker saw a sales decline 4.8 percent to 1,401.3 billion won in sales over the previous quarter. The net profit for the first three months of this year changed to a loss, influenced by losses by an actual value method invovling Dongkuk Steel's Companhia Siderúrgica do Pecém (CSP) joint venture in Brazil.
A separate statement under the K-IFRS showed that Dongkuk Steel chalked up 10.7 billion won in operating profit, logging a profit streak for the 12th consecutive quarter, and the company posted saw sales drop 3 percent to 263.9 billion won and net profit turn into a loss.
Declining profitability for the first quarter of the year was buffeted by a delay in construction projects due to cold weather and raw material unit price hikes. The steelmaker is forecast to see its profitability improve as product demand is on the rise in the second quarter, and raw material prices are expected to stabilize.
The Brazilian CSP steel mill, which went into operation in June 2016, is expected to be in top shape by producing 700,000 tons of slabs in the first quarter of the year, a 25 percent surge over the same period of last year. The steel mill plans to enhance profitability by accelerating retrenching efforts to reduce unit prices amid favorable market conditions such as the peaking of slab prices.
Yuanta Securities Co. revised target share prices for Dongkuk Steel to 14,500 won, citing an improving of profitability for the second quarter of the year.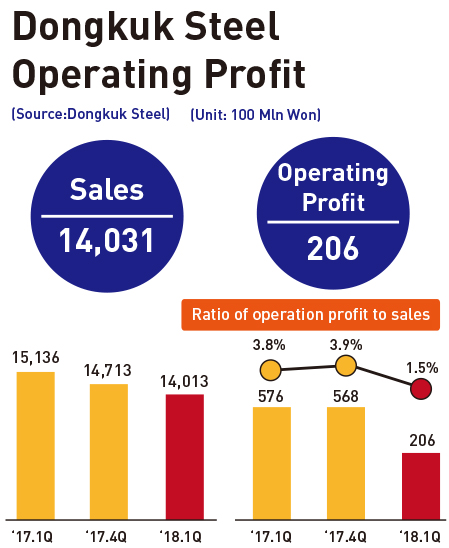 Dongkuk Steel's Blast Furnace Dream Comes True After 3 Generations
The founder of Dongkuk Steel's dream of making steel with its own blast furnace came true after 63 years thanks to efforts of the third-generation leadership.
Dongkuk Steel was Korea's first private steel-maker, established with private capital by the late founder Jang Gyeong-ho.
Dongkuk has begun to produce thick plates with stabs manufactured by its own blast furnace in Brazil and brought to a plant in Dangjin, Chungcheongnam-do in 1973. The company had depended on an electric furnace, which reuses scrap iron, instead of a blast furnace, which produces higher quality liquid iron. In Korea, POSCO and Hyundai Steel operate blast furnaces.
On March 17, 58,751 tons of slabs produced by the joint-venture CSP Steel Mill in Brazil were delivered at Dangjin Port after a 49-day, 19,378 km journey. Dongkuk Steel, which has depended on outside steel makers to import slabs, held a ceremony to celebrate the historic delivery from its own steel mill in Brazil on March 22.
Director Jang Sun-ik, the eldest son of Dongkuk Steel Chairman Jang Se-joo, said, "We've so far imported slabs from such countries as Japan (due to no blast furnaces), but we've experienced the difficulties in acquiring quality ones."
Dongkuk Steel's ambition to make steel using its own blast furnace dates back to 1962. At that time, the company wanted to build a mid-size blast furnace, but failed to materialize its dream as the government opted to build a large-size furnace, giving POSCO the go-ahead. In 1978, Dongkuk Steel made a second bid in the privatization of Incheon Steel, but the company failed to acquire it again as Hyundai Steel had become the successful bidder.