The move aimed at securing a spring board to launch its operation in Europe, the 2nd largest reinsurance market in world, which will be the second b base for Korean Re in Europe after one at Lloyds' of London, Korean Re Underwriting Ltd to operate at Lloy
President Won Jong-kyu of Korea Reinsurance Co.(Korean Re)
Korean Reinsurance Co. (Korean Re) is about to set up a local subsidiary in Zurich, Switzerland, as a springboard for its operation in Europe, the second largest reinsurance market in the world after North America, Korean Re said on April l4.
Korean Re announced its plans to establish a subsidiary in Switzerland by June 2019 with the aim of growing its business in the European market. The company expects the volume of its European business to increase from the current $200 million to over $300 million by 2025.
Europe is the second largest insurance market in the world, after North America, with a global market share of around 30 percent. Switzerland is at the center of the European reinsurance industry, with 59 reinsurers from across the world operating in the country. The new entity in Switzerland will be Korean Re's second base in Europe following the one established at Lloyd's of London in the United Kingdom in 2015. The company entered the Lloyd's market by establishing Korean Re Underwriting Ltd.
Given the uncertainty surrounding Brexit and a potential decline of the London insurance market as the international insurance hub, Korean Re will rely on the Swiss entity to continue with its business expansion strategy in Europe and to ensure continuity for its EU business after Brexit. Korean Re has focused on global business expansion to explore new market opportunities. It recently opened two branches on the Malaysian federal territory of Labuan and in Dubai, the UAE, which started operation in July 2017 and January 2018 respectively. In China, Korean Re is awaiting license approval for its Shanghai branch from the China Insurance Regulatory Commission.
Korean Re delivered strong underwriting results for 2017 despite a series of large loss events in the second half of the year. Its underwriting income surged by 59 percent to 82 billion won, the second highest in record, on the back of strict underwriting discipline and portfolio readjustment. The combined ratio improved to 98.3 percent from 98.8 percent.
Domestic commercial lines posted a particularly robust combined ratio of 90.6 percent compared to the previous year's 93.1 percent. In the overseas market, Korean Re increased its business in profitable markets and reduced participation in poorly performing treaties such as U.S. liability and Chinese property to improve overall profitability. Net income for the year, however, decreased by 2 percent to 133 billion won due to weaker investment results. A strong won also had a negative impact on the company's bottom-line.
Large natural catastrophes such as Hurricanes Harvey, Irma and Maria (HIM) eroded net income by 48.6 billion won. The company sustained 47.6 billion won in losses from HIM, and 16.5 billion won in losses from Typhoon Hato in Hong Kong. In terms of gross written premiums, Korean Re reported a 7.9 percent increase to 7,185.5 billion won for 2017 compared to the prior year's 4.7 percent growth.
Domestic business continued to perform robustly, with premiums from domestic personal lines rising by 9.5 percent year over year due to the effect of a rise in primary long-term insurance rates and increased writings of profitable life business. Domestic commercial business grew by 2 percent, and the main drivers of growth were the expansion of the mobile phone insurance market and new business of satellite and offshore wind power risks. Overseas business also showed an improvement in growth to 12.9 percent in 2017 from 6.9 percent in 2016, as the company increased its facultative business and focused on profitable business in the developed market.
Korean Re held an annual event to celebrate the new year in downtown Seoul on Jan. 18. All the employees and their families were invited to a dinner party, followed by the New Year's Concert at the Sejong Center for the Performing Arts. CEO Won expressed his appreciation for the hard work and support they had shown over the past year and welcomed newcomers who joined the company recently.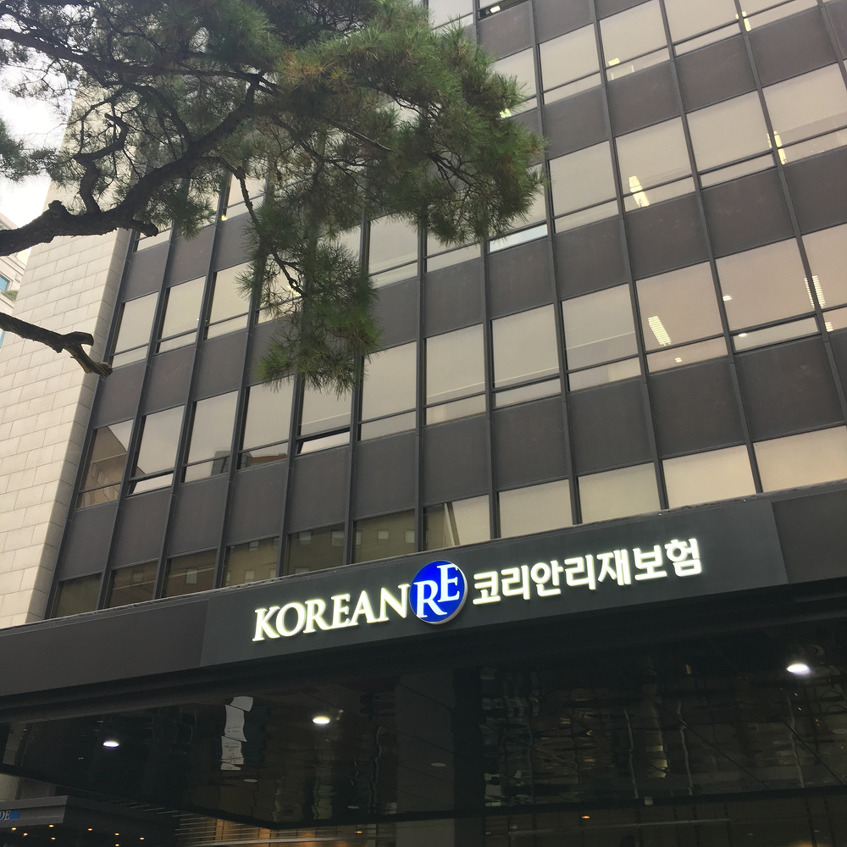 A view of the building in Susong-dong, Seoul, where Korean Re is located. (Photos:Korean Re)