Vietnamese subsidiary, NH Securities Vietnam, obtains license to operate on Vietnamese stock exchange from Chairman Tran Van Dung of the Vietnamese State Securities Commission, who visited Seoul to deliver the license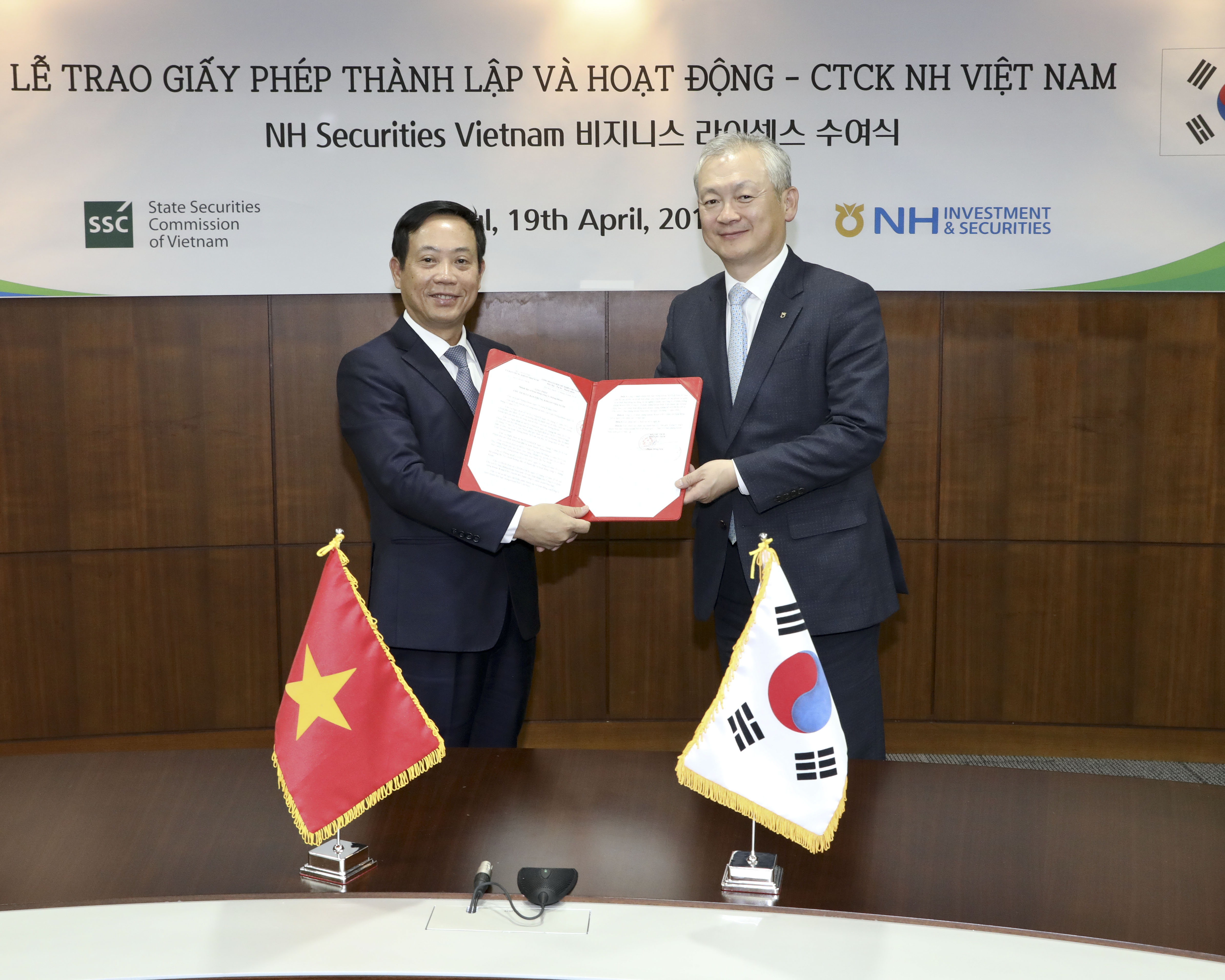 President Chung Young-chae of NH Investment and Securities Co.(NHIS). R, holds a copy of the license given to NH Securities Vietnam, a local subsidiary of the Korean securities firm in Vietnam, with Chairman Tran Van Dung of the Vietnamese State Securities Commission who brought the license to Seoul at the head office of NHIS on April 19.(Photo: NHIS)
NH Investment and Securities Co kicked off its exploration of the securities market in Vietnam now that its local subsidiary, NH Securities Vietnam got a license to operate from local financial authorities. The securities firm held a ceremony on the occasion of its Vietnamese subsidiary winning the license with key officials from the Vietnamese Securities Committee and other securities-related organizations at its head office in Yeouido, Seoul.
Present at the event were President Chung Young-chae of NH I & S, Chairman Tran Van Dung of the Vietnamese State Securities Commission, Long Nguyen, president of the Ho Chi Minh City Stock Exchange and other Vietnamese officials.
The company announced on April 19 that Tran Van Dung, chairman of the State Securities Commission of Vietnam, personally visited its head office in Yeouido, Seoul, to award the license.
NH Investment & Securities advanced into the Vietnamese market after establishing a joint venture with Vietnam's CBV Securities in the past. In January, the investment bank increased its stake in CBV Securities to establish an independent entity, dubbed NH Securities Vietnam (NHSV). The latest permit allows the company to run business in Vietnam under a new wholly-owned identity bearing the NH name.
An official from the State Securities Commission of Vietnam said, "We hope that NH Investment & Securities takes a leading role in developing the Vietnamese capital market. We also hope more South Korean capital flows into Vietnam."
South Korean financial companies' investments in Vietnam have grown by more than 500 percent over the past 10 years. In particular, they have marked an uptick since last year on the back of President Moon Jae-in's Southeast Asia-friendly initiative, data showed recently.
The volume of investments made by domestic financial companies to the Southeast Asian state stood at $123 million last year, up 509.88 percent from 10 years prior, according to statistics from the Overseas Economic Research Institute of state-run Export-Import Bank of Korea.
The total investment volume accumulated since 1993 totaled $799.8 million.
Currently, Seoul's top four banking players ― Shinhan, KB Kookmin Bank, Woori Bank and Hana KEB Bank ― are operating in Vietnam, along with other major securities companies such as Mirae Asset Daewoo, Korea Investment & Securities, NH Investment & Securities and Shinhan Investment. Lotte Card, the credit card operator of retail giant Lotte, recently confirmed its 100 percent equity acquisition of Vietnamese consumer financing company Techcom Finance, becoming the first South Korean player to obtain a credit card business license there.
Business expansion in the Southeast Asian region came in step with President Moon's signal to strengthen ties with the Association of Southeast Asian Nations under the New South Policy initiative.
The state chief is slated to embark this week on a trip to Vietnam and then to the United Arab Emirates to meet his respective counterparts. In the run-up to the visit, the Financial Services Commission announced a revision of regulations to ease the notification requirement in case of financial companies' direct investment in an overseas market. Formerly, financial companies were obligated to give prior notice when making a direct investment or changing an earlier-reported investment. Under revised rules, they are only required to do so within three months from investment.
Also, FSC Chairman Choi Jong-ku, who accompanied the president on the trip, attended a bilateral financial cooperation forum and signed a memorandum of understanding on financial technology operations with Vietnam's central bank, officials said.