Bank boasts retirement fund trust accounts totaling 1.419,1 tln won, exceeding rivals Kookmin Bank's 527 bln won and 261.1 bln won for Shinhan Bank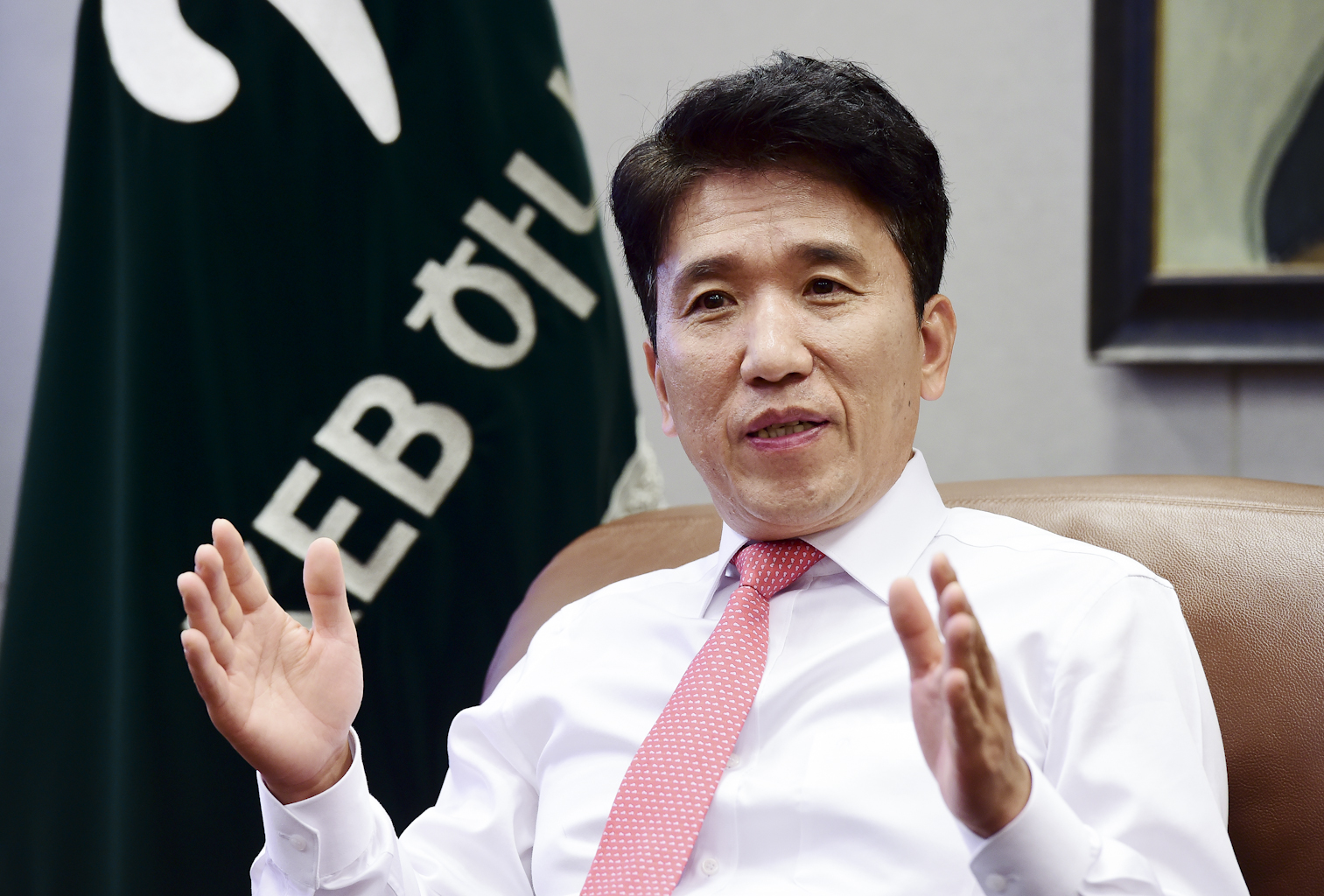 President Ham Young-joo of KEB Hana Bank. (Photo: KEB Hana Bank)
KEB Hana Bank has been leading the retirement fund market, led by its Target Date Fund (TDF) that was launched two years ago. It's said to be selling well among customers, which is helping KEB Hana Bank strengthen its position as a retirement fund management bank.
Samsung Asset Management first began handling such funds in 2016. The bank's retirement fund deposit accounts amounted to 1.419,1 trillion won, accounting for 53.7 percent of all retirement fund trust accounts in Korea. The next best was KB Kookmin Bank (527 billion won) and Shinhan Bank (261.1 billion won). The bank's superb results came through its early efforts to expand its share of the retirement fund market some two years by launching the Target Date Fund, financial sources said.
Officials of the bank said they tried to boost the bank's market share by offering diverse products, and the TDF has become a benchmark fund for rival banks. TDF is already a popular retirement fund product.
When the holders are young, the product is mainly invested in stocks, and as they near retirement, the money is moved to bonds.
KEB Hana Bank, a leading South Korean lender, has arranged $300 million lease financing for an aircraft portfolio of Avolon, in the first financing arrangement by a South Korean bank for the Irish aircraft leasing firm, according to local newspaper reports.
The financing was raised to buy seven airplanes, including new Boeing 787-9 and Airbus A320, which would be leased to LATAM Airlines, a South American airline, and budget airlines in Southeast Asia, Yonhap News Agency reported, citing KEB Hana Bank.
KEB Hana also provided $45 million in loans to participate in the financing, while pooling the remainder from unidentified financial services companies in other countries. No further details about the financing conditions were immediately available.
Since arranging $100 million financing for the Netherlands-based aircraft leasing company AerCap last year, the South Korean lender has been trying hard to secure a deal from Avolon.
"This is the first transaction between Avolon and a South Korean bank. We made every effort to clinch the deal by proposing attractive products and doing market research for about one year," a KEB Hana Bank source told a local media.
Hana Financial Group (HFG) is one of the largest bank holding companies in Korea.
The company was established in 1971 as Korea Investment & Finance, the nation's first financial company established, financed solely by private fund.
Hana Bank, Hana Financial Group's primary banking subsidiary, was converted into a commercial bank in 1991. Hana Bank went through P&A with Chungchong Bank and M&A with Boram Bank in 1998, and acquired Seoul Bank in 2002.
Then it continued its expansion by acquiring Daehan Investment and Securities, Korea's second-largest asset management company, in May 2005. The most recent expansion was made in 2012, when it decided to purchase Korea Exchange Bank.
Hana Financial Group is in charge of setting up group-level business strategies and providing management resources to subsidiaries, including Hana Bank, Korea Exchange Bank, Hana Daetoo Securities, Hana SK Card, Hana Life Insurance, Hana Capital, Hana Asset Trust, Hana I&S, Hana Institute of Finance, and Hana Savings Bank.