The group to keep its hard-won spot as top profit maker with new Southern Strategy to boost operations in southeast Asia, synergy among affiliates and sharpen handling of digital facilities among officers and staff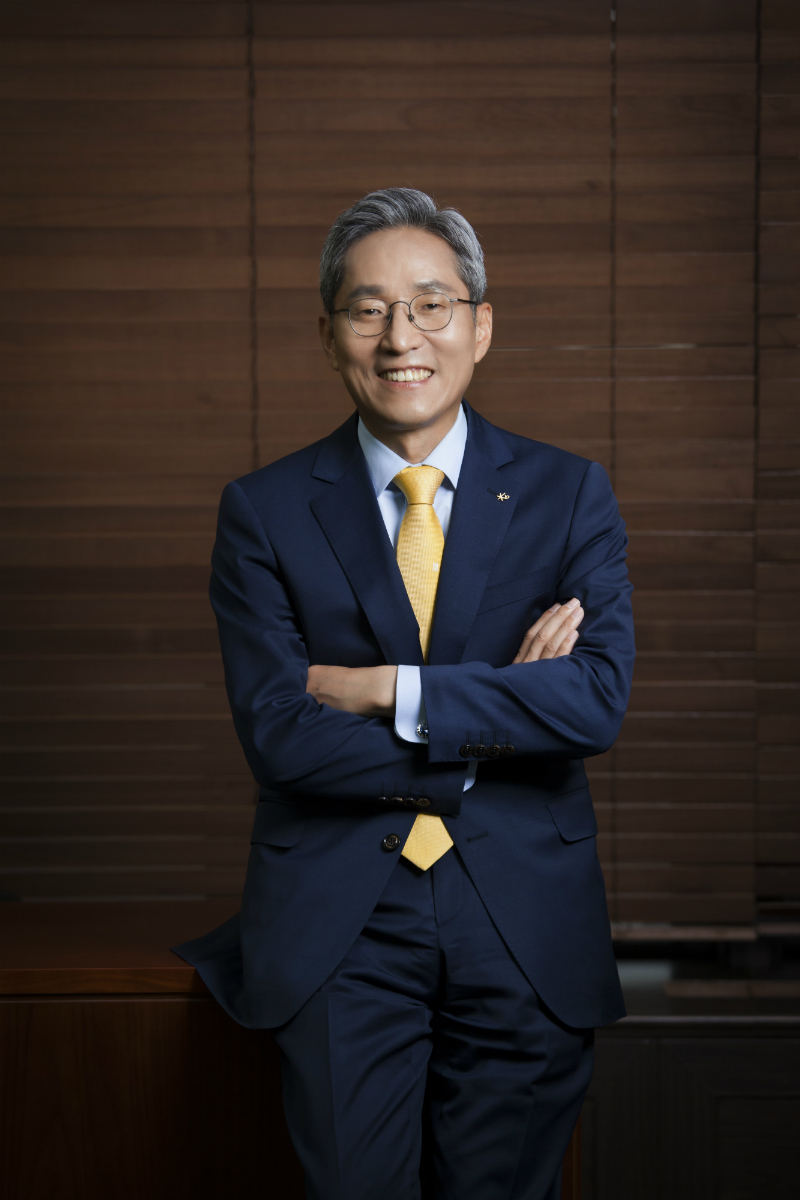 Chairman Yoon Jong-kyoo of KB Financial Group.
KB Financial Group plans to continue to retain its position as a leading financial group in Korea as the first financial group to join the envious 3 Trillion Club in net profit.
The group set out to strengthen its hard-won position thru the New Southern Strategy to continue to expand into Southeast Asian countries, boost synergy among affiliates and the use of digital and SMART capacities among the officers and staff. KB Financial Holding on April 11 outlined a strategy to make its international capacity as solid as its domestic operational network. Manpower will be the base in its plan to explore financial markets in S.E. Asian countries. The group will also seek further progress in growth engines with strengthened digitalization.
President Hur Yin of KB Kookmin Bank said the organization will continue to strive to stay ahead of rival banks in the days ahead as it captured the top position last year.
Hur He also warned early in the month that competition without national boundaries among the global digital banks will soon be a reality. "We should supplement our weak points while further strengthening the strong areas," he urged.
The financial group again marked a profitable result in Q1. Net profit for the group was a respectable 928.5 billion won, up 4.6 percent YoY, easily making it No. 1 among rivals. Shinhan Financial Holding came in the second with 848.8 billion won, down 15.7 percent YoY. Hana Financial Group was next i with 613.2 billion won, up 19.4 percent YoY.
In response to the accelerated globalization in the financial industry, lower profits in the traditional banking operations, expansion of the capital market with the adoption of the Capital Market Integration Act and a higher need for comprehensive financial services, KB Financial Group came into being with the establishment of KB Financial Holding Incorporated on Sept. 29, 2008, made possible by the comprehensive transfer of the stocks of major subsidiaries.
As of December-end, 2015, KB Financial Group's total asset stood at 329 trillion won, establishing itself as a comprehensive financial group with the largest number of customers and branches.
Aspiring toward becoming "Asia Top 10, Global Top 50" under the vision of "global financial group leading the Asian financial industry," KB Financial Group has launched a phase-by-phase strategy goal.
First, until 2017, the Group will continue to consolidate the basis for becoming a global leader of finance by securing a distinctive competitive edge, and recover its leadership in the domestic financial market by 2020 with profit expansion through stable asset growth and improved portfolios. Consequently, the Group is committed to gathering its competencies to predominate the Asian financial market by 2023.
Following the takeover of LIG Insurance in June 2015, KB Financial Holding's subsidiaries are KB Kookmin Bank, KB Insurance, KB Kookmin Card, KB Investment & Securities, KB Life Insurance, KB Asset Management, KB Capital, KB Savings Bank, KB Real Estate Trust, KB Investment, KB Credit Information, and KB Data Systems. KB Financial Group provides wide-ranging financial services for customers including banking, loan, financial investment and insurance, thus beefing up global competitiveness through cross-subsidiary synergies.
KB Financial Group holds Korea's largest branch network. The Group strengthens product and service capacities for customers to get more convenient services through over 1,500 business channels nationwide.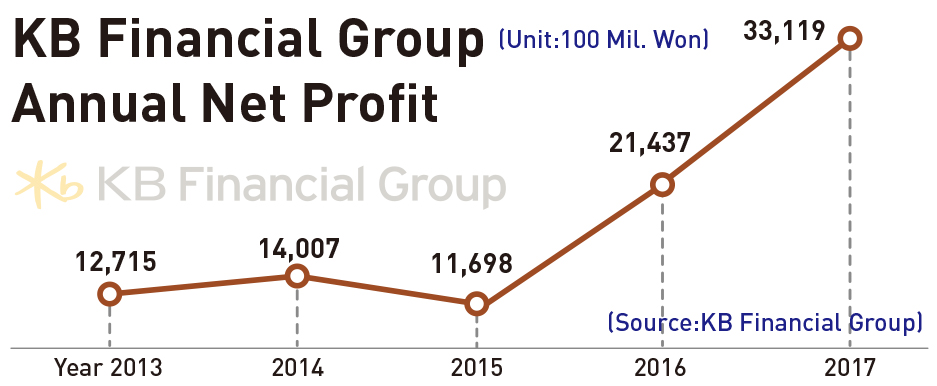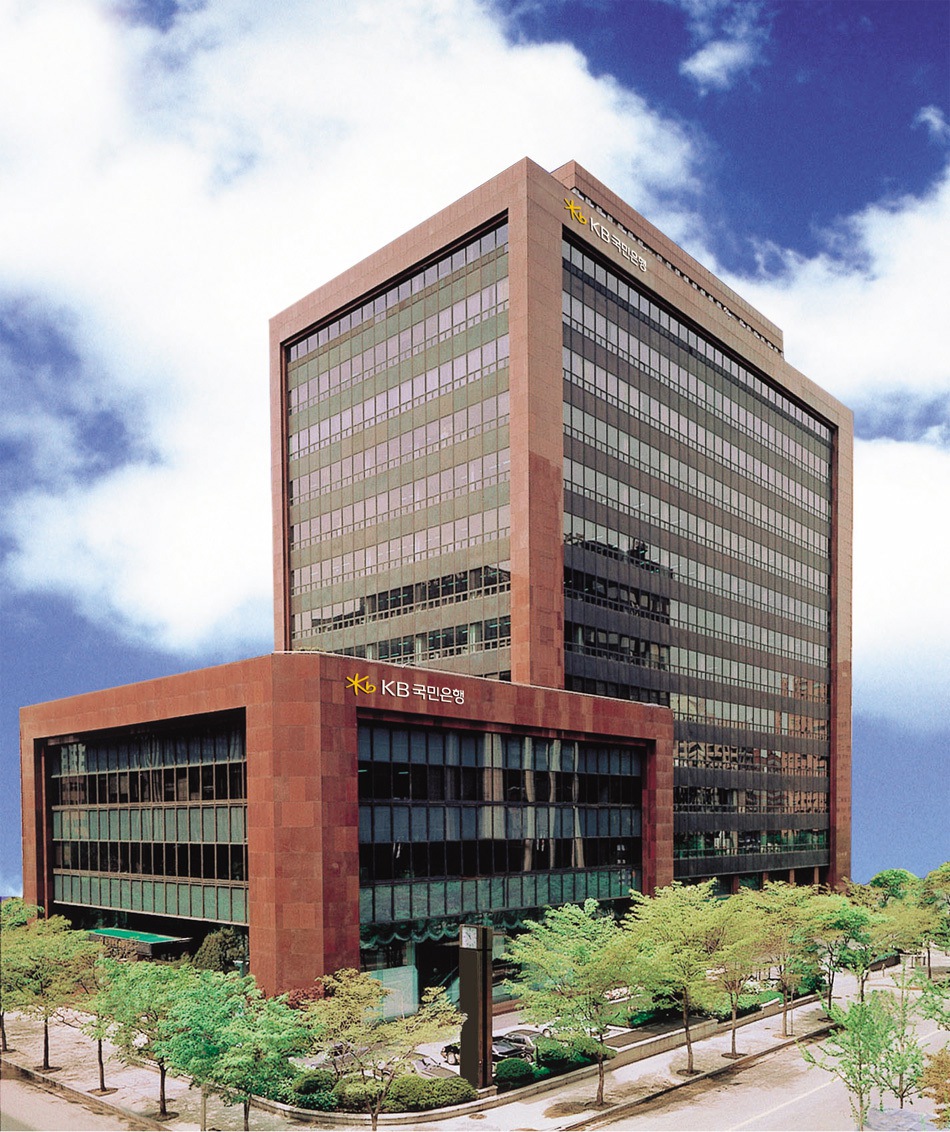 A view of the KB Financial Group headquarters building in Yeouido, Seoul. (Photos: KB Financial Group)