Saudi Aramco wants to have S-Oil, its subsidiary based in Korea, strengthen and diversify its petrochemical side of operation with the addition of the residue upgrading facilities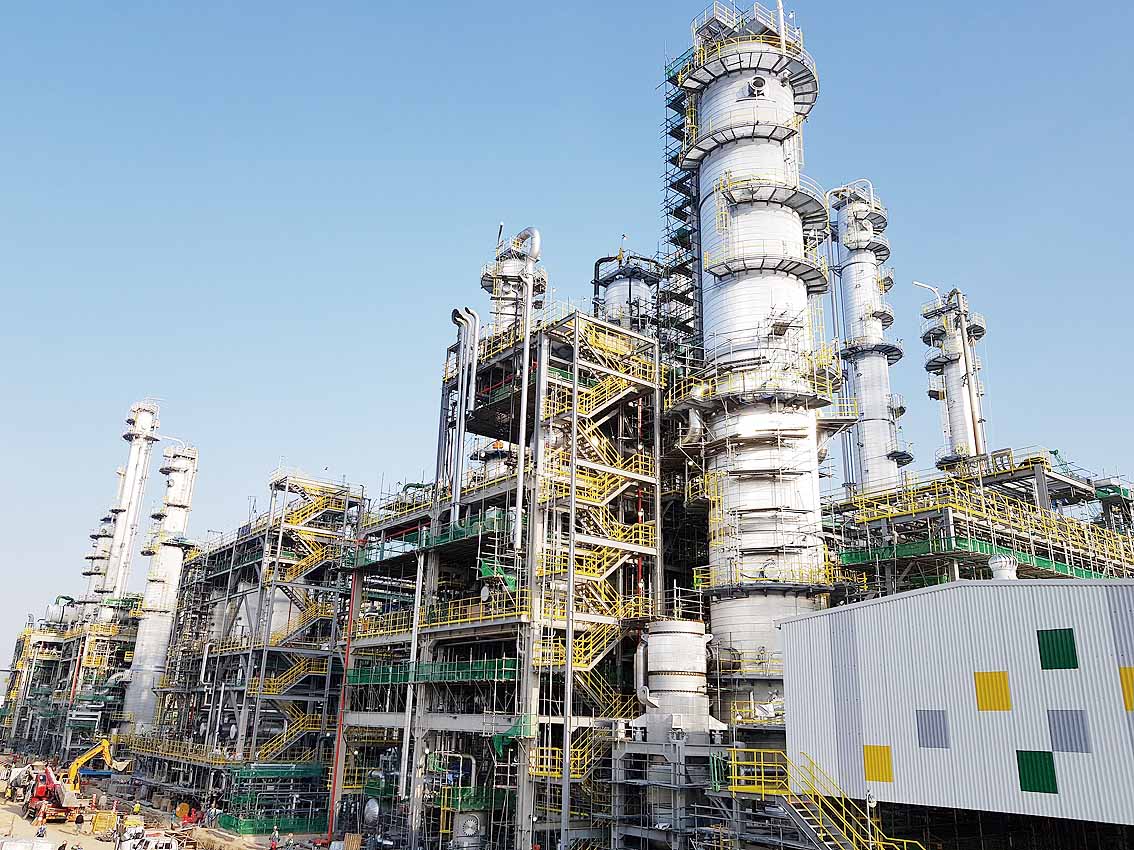 A view of ODC and RUC facilities being built at S-Oil's Oil Refinery Complex in the Onsan Industrial Complex in Ulju County, South Gyeongsang Province.(Photo: S-Oil)
S-Oil is about to complete the construction of a 110-meter-tall iron module at the Oil Refinery Complex in the Onsan Industrial Complex in Ulju County, South Gyeongsang Province.
Looking like a 16-storey apartment building without walls, it is actually cracking tower costing some 4.8 trillion won. S-Oil is building the cracking facilities as part of its plan to diversify its operation by adding ODC (Olefin Downstream Complex) and RUC (Residue Upgrading Complex) to strengthen the petrochemical side of its operations. At the time of its announcement, the plant would be the largest in Korea, going back to the Dankun Period some 2,300 years ago. The plant occupies land space of some 1.1 million square meters, with the weight of the steel products used alone so far coming to 110,000 tons, enough to build 11 Eiffel Towers.
Lee Young-sok, in charge of the Design and Management for the consortium led by Daewoo Construction and Daelim Industrial, said the project is about 99.5 percent complete. It's now at the cleaning stage.
South Korea-based S-Oil Corp., wholly owned by Saudi Aramco, will complete construction of its residue-upgrading complex (RUC) and olefin downstream complex (ODC) in April, which will help enhance its competitiveness by producing more high value-added products, reported GV with reference to the company's chief executive statement.
Othman Al-Ghamdi, chief executive of S-Oil, said that the company will focus this year on successfully completing its residue upgrading and capacity expansion project that is underway at its Onsan refinery complex in Ulsan in southern coast.
The 4.8 trillion won ($4.46 billion) RUC/ODC project involves building a facility that produces high-valued chemical products such as propylene and gasoline using residues left after refining crude oil, and then using propylene to product polypropylene and propylene oxide.
S-Oil broke ground for the RUC/ODC project in May 2016, with an aim to complete construction by April, this year. When it is completed, the company expects to recoup its initial investment within six years. While everyone looked skeptical, S-OIL opened a new gateway. S-OIL expanded the domestic refining industry as an exportation industry but also led change of the industry into high value-added business by introducing BCC facility. Furthermore, the company became a competitive market supplier in petrochemical business area through the successful operation of its No.2 Aromatics complex. S-OIL is making history again.
Since the company's establishment the largest project is in progress. The project consists of the construction of RUC (Residue Upgrading Complex), in which the latest refinery technology will be applied and ODC (Olefin Downstream Complex), which will utilize the competitive raw material produced in RUC. Through this project, S-OIL is expected to significantly improve profitability and also secure industry-leading competitiveness by converting low-value residue to high-value products: gasoline and olefine downstream product.
ODC is a facility that produces olefin downstream products, propylene oxide (PO) and polypropylene (PP), from residue. Propylene oxide is the basic raw material of polyurethane that goes in the interior material of automobiles, electronic products, and insulators. Polypropylene is used for various purposes, including automobile bumpers as a type of plastic.
S-OIL can possess high-tech material production ability, making it applicable for applications in cars, appliances, information technology (IT) and bio-technology (BT) by expanding business based on ODC. Further, the raw material, with high importation reliability such as propylene oxide is to be produced in Korea to replace importation and also create stable income. Furthermore, the company will actively develop efficiency and competition of local polyurethane industry and other related industries.