Chmn. Lee discusses ways of fleshing out a plan to develop Saemangeum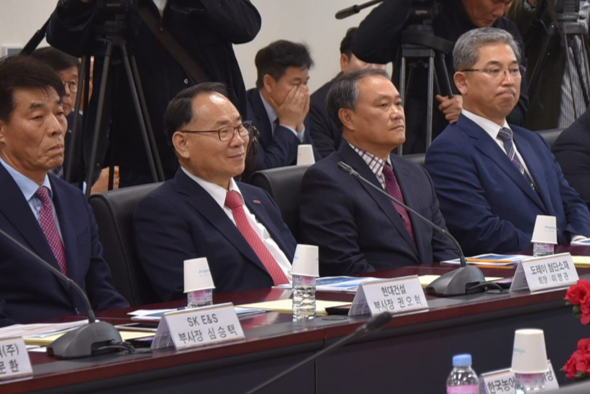 Toray Advanced Materials Korea (TAK) Chairman Lee Young-kwan attends a meeting on the development of Saemangeum in which the Ministry of Land, Infrastructure and Transport (MOLIT) presided over at the Saemangeum Public Relations Center on March 16. (Photo: MOLIT)
Toray Advanced Materials Korea (TAK) Chairman Lee Young-kwan discussed ways of fleshing out a plan to develop Saemangeum in Jeollabuk-do, a vast reclaimed area along the West Sea, while attending a meeting in which the Ministry of Land, Infrastructure and Transport (MOLIT) presided over at the Saemangeum Public Relations Center on March 16.
The meeting brought together MOLIT Minister Kim Hyun-mi, Jeollabuk-do Gov. Song Ha-jing, President Choi Kyu-sung of Korea Rural Community Corp., and heads of Saemangeum's tenant companies and firms with an interest in investments three. The participants shared information on the establishment of the tentatively known Saemangeum Development Corp., a vision, and a plan on investments and discussed ways of developing the Saemangeum area.
KAT Chairman Lee stressed the establishment of a polyphenylene sulfide (PPS) resin and compound plant with a global competitive edge by investing a combined 300 billion won on a 181,500 sq. meter area of the Saemangeum in Industrial Complex by 2022. Lee said his company would make its utmost efforts to develop the Saemangeum area.
MOLIT Minister Kim urged the participating company presidents to proactively participate so that new investments and job creation can be made. The government will not spare efforts to provide policy support to reinvigorate the Jeollabuk-do area, struggling with the sagging economy, she added.
TAk has grown into Asia's No. 1 spunbond nonwoven maker. TAK has conducted spunbond nonwoven businesses for the first time in Korea. The company created a new nonwoven market by for the first time, supplying SMS, SMMS, and Bi-component spunbond in Asia, and established a cooperative network for consistent information exchanges with customers.
"LIVSEN," a High-quality spunbond nonwoven, is widely used in various sectors, including hygiene materials, medical, industrial, agricultural materials, etc. It is equipped with the sophisticated product structure for light-weight, soft and ecofriendly materials.
TAK expanded its reach abroad together with Toray Group, and established Toray Polytech Nantong in China in 2006. The company launched Toray Polytech Jakarta in Indonesia, and released high quality nonwovens in Indonesia and surrounding countries. The company has strong partnerships in developing new products through strategic cooperation with Korea and the world's major makers based on superior competitiveness and service.
TAK's product development capability, knowhow and Toray Group's high-tech technological power are contributing to creating synergy effects, and building up capabilities of producing PP nonwovens.
TAK is building the 4th Gumi plant in the Gumi Industrial Complex. The company will have 62,000 tons of nonwoven in Korea annually. If and when its overseas plants in China and Indonesia are counted, the company's production capacity will rise to a range of 170,000 tons, likely making it the world's No. 1 nonwoven maker beyond Asia.

'TAK, an Exemplary Case of Korean-Japanese Economic Cooperation & Exchanges'
TAK President Chun Hae-sang gave a lecture on Toray Group's entry into Korea and TAK's success story at the 19th Korea-Japan New Industry Trade Meeting in Tokyo on March 29.
The meeting, which took place from March 28 to March 29, attracted about 90 businessmen from both countries. The Korea-Japan New Industry Trade Meeting came prior to the annual Korean-Japanese Businessmen's Meeting in May.
It was designed to submit agenda for the solutions of common tasks of the two countries, in areas such as industry, trade and investment and recommend them to the Korean-Japanese Businessmen's Meeting.
TAK President Chun spoke on the expansion of Korean-Japanese economic cooperation and exchanges via TAK's success story at the first session on the microscopic and macroscopic perspective of Korean-Japanese economic cooperation and exchanges on March 29.
Toray Group's decision to enter Korea and do business was designed to contribute to promoting Korea's industry, expanding trade and improving its technology levels in a long-term perspective. TAK celebrates the 55th anniversary of its entry into Korea this year. TAK is a representative private sector, joint venture between the two countries, he added. Chun stressed that TAK, making the most of the world' top unit price and technology competitiveness, expands its business portfolios ranging from basic substances to advanced materials.
이영관 회장은 16일 전북 새만금 홍보관에서 열린 국토교통부 주최 간담회에 참석하여 새만금개발 가시화 방안을 논의했다.
이날 간담회에서는 김현미 국토교통부 장관을 비롯해 전북도지사, 입주기업 및 투자의향기업 대표, 농어촌공사 사장 등 관계자 20여 명이 참석한 가운데 새만금개발공사 설립 계획과 비전, 투자계획을 공유하고 새만금 지역 발전방안을 논의했다.
이 회장은 2022년까지 새만금산업단지 6만5,000평에 총 3,000억 원을 투자해 세계 최고의 경쟁력을 갖춘 PPS 군산공장을 구축해나가고 있음을 강조하며, "새만금 지역 개발과 발전을 위해 최대한의 노력을 기울이겠다"고 밝혔다.
김 장관은 "신규 투자와 일자리가 창출될 수 있도록 기업들이 적극 참여해 줄 것"을 기업 대표들에게 당부하며, "경기 침체로 어려움을 겪고 있는 전북지역에 활력을 불어넣을 수 있도록 정책적인 지원을 아끼지 않겠다"고 말했다.
<출처:도레이첨단소재>