Mexican media artist Rafael Lozano-Hemmer's exhibition, titled "Decision Forest" takes place in celebration of museum opening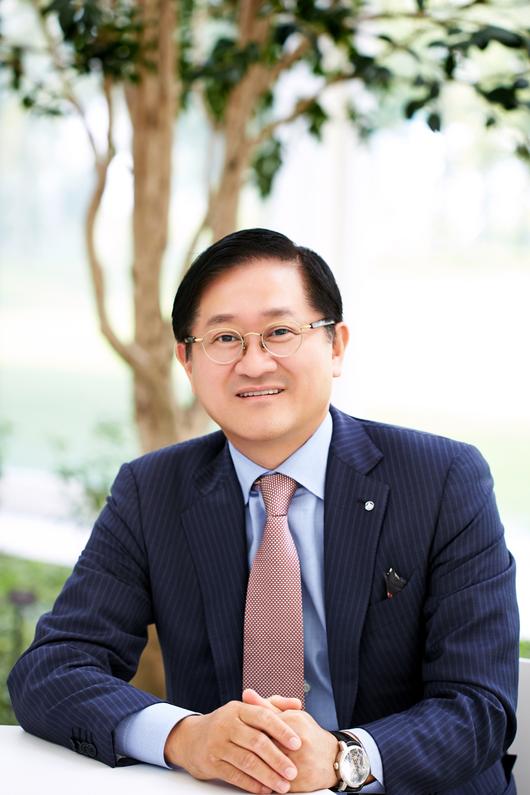 AmorePacific Chairman Suh Kyung-bae.
AmorePacific opened an art museum at its new headquarters building in Yongsan, Seoul, on May 3. The opening of the AmorePacific Museum of Art takes on significance to AmorePacific Chairman Suh Kyung-bae, who had once dreamed of becoming an art critic.
Chairman Suh looked around the art museum on May 2 one day prior to the official opening of the museum. Mexican media artist Rafael Lozano-Hemmer was scheduled to hold a solo exhibition, titled "Decision Forest" from May 2 to Aug. 26 in celebration of the opening of the museum.
Works by Lozano-Hemmer, a technologically innovative, international renowned artist, are made with the latest advanced technologies, including life measurement gadgets, virtual reality, nano technology, and sound systems, and are complemented with public participation. Chairman Suh appeared to be in good spirits as he measured and scanned his heart beat and fingerprints, respecively and he saw their changes onto images and lights.
In place at the entrance of the museum is a moon jar-shaped 3D installation "Blue Sun" that illuminates 25,580 LED lights into the surface of the sun, which vary according to 11 seasons. Lozano-Hemmer's work is based on the U.S. National Aeronautics and Space Administration's observations during a 10-year study of the sun. Lozano-Hemmer said in a meeting with reporters on May 3 that the hottest color is blue. The installation was produced early this year under a joint support by the AmorePacific Museum of Art and the Quebec Museum of Modern Art.
Upon entering the museum, spectators can find a sand field. The work in which spectators mingle in a leisurely fashion is made with 70 tons of sand, infrared ray surveillance cameras, infrared ray illuminators, computers and projects. Touching a camera with a hand morphs images onto sand.
Spectators play a game of making shadow pictures on the walls of the exhibition venue in which a variety of current news are televised live. It is an "Airborne Newscast," produced by Lozano-Hemmer in 2013. They are able to throw silhouettes by blocking the light of the projector. The traces, being chased by a surveillance camera, could morph into fog-blossoming images. Curator Kim Kyung-ran said, "It is a work that sublimates violence means ― control and surveillance in art."
"Pulse Index" is a work produced in 2010, which coverts 10,000 spectators' fingerprints onto images. Putting a hand into a sensor outfitted with an electron microscope and a beat measurement system can make a fingerprint vibrate according to heart beat. A newcomer's participation can move the previous participant's to other place.
"Purse Room" in 2006 is an expression of heart beat voices with 240 transparent incandescent lamps. "Pareidolium" in 2018 was an artwork that converted visitors' portraits into steam via a face recognition system. Lozano-Hemmer said he has produced works for 26 years, but they did not contain new things since existing technologies were utilized. He has been greatly influenced by media art pioneer Baek Nam-joon and Argentine artist Marta Minujin.
President Chun Seung-chang of the AmorePacific Museum of Art said that Lozano-Hemmer's works have been chosen to make it a museum capable of communicating with the general public. AmorePacific Chairman Suh had a deep interest in selecting the artist on the occasion of the opening of the museum.
The AmorePacific Museum of Art plans to hold three exhibitions annually. An event to display folding screens of Joseon Dynasty is slated for October there. The museum possesses about 5,000 art pieces, including norigae and ornaments worn by women. The Pacific Museum of Art was opened in 1979 with art works collected by the late former AmorePacfic chairman Suh Sung-hwan, father of the current chairman. Its name changed to the current one in 2009.
AmorePacific Chairman Suh is known well as an art aficionado and is among the global top 200 art collectors, a list that also includes Samsung Group Chairman Lee Kun-hee and his wife, designated by the U.S. renowned art magazine ArtNews in 2016. In 2008, Chairman Suh donated $300,000 for the construction of a Korean women's hall at the Los Angeles County Museum of Art.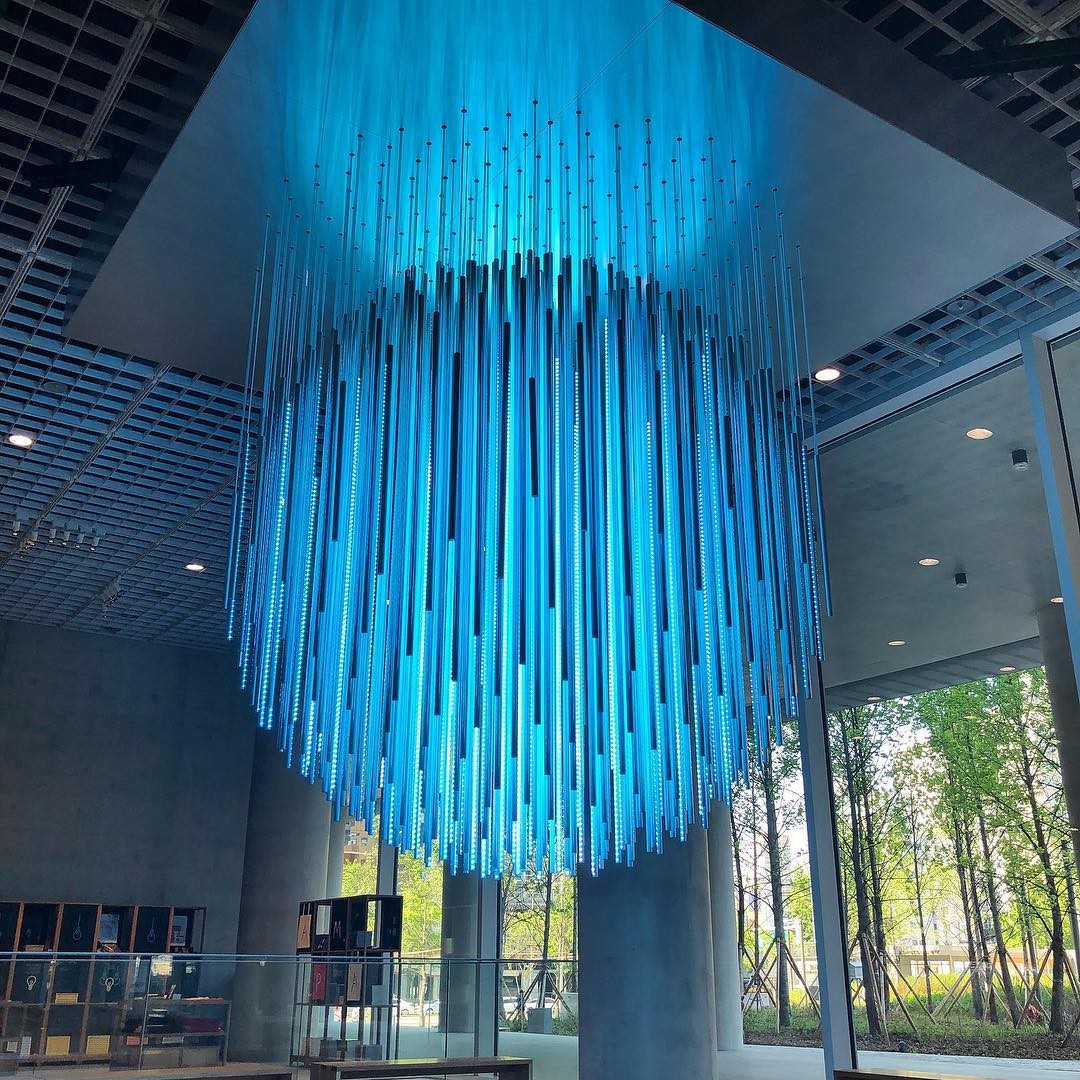 "The Blue Sun," one of works by Mexican media artist Rafael Lozano-Hemmer, which is on display the AmorePacific Museum of Art in cerebration of the opening of the museum.
(Photos: AmorePacific)