LS Cable & System is World's 1st Company to Have HVDC Cable Certified in Long-Term Reliability Test
Technology of transmitting electricity over a long distance is considered to be a core part of an ambitious "super grid" scheme in Northeast AsiaTechnology of transmitting electricity over a long distance is considered to be a core part of an ambitious "s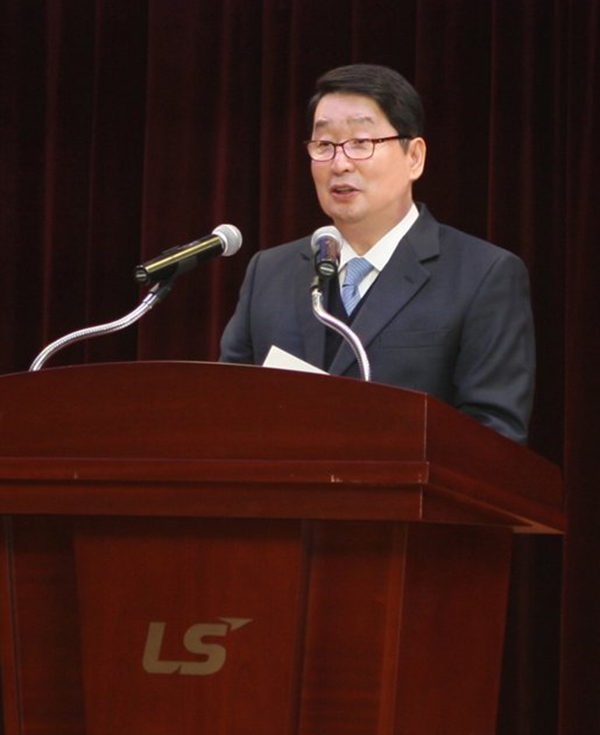 LS Cable & System Chairman Koo Ja-yup.
LS Cable & System had its High Voltage Direct Current (HVDC) cable approved by a certification institute for the first time in the world. The technology of transmitting electricity over a long distance is considered to be a core part of an ambitious "super grid" scheme to connect Korean, Japanese, Russian, and other inland countries' power networks.
LS Cable & System's 500kV-class HVDC cable passed a long-term reliability test, which was conducted for a six-month period from last October by the Korea Electrotechnology Research Institute at the company's business site in Donghae, Gangwon-do. It means that LS Cable & System's 500kV-class HVDC cable has been officially recognized for its technology power with a certification from an international certification institute, and it can be exported without an additional certification test in foreign country.
The HVDC cable technology is owned by only five companies, including LS Cable & System, European and Japanese firms.
HVDC refers to the method of converting an alternate current generated by the power plant into a direct current, transmitting and converting it back into alternate current and supplying it. It can transmit a large quantity of electric power over a long distance with a minimum loss. In particular, DC transmission is highlighted as a method of transmitting electricity from photovoltaic power, wind power, fuel cell, and other new and renewable energies sources.
Figures released by the Ministry of Trade, Industry and Energy (MOTIE), showed that the value of HVDC business market is forecast to surge to about 70 trillion won by 2020 with an explosive growth rate. The HVDC cable has almost no limitations in power transmission distance ― transmitting electricity up to 600 km ― and has such strengths as reducing the number and size of transmission towers as well as malfunctions of telecommunication networks and systems, caused by electromagnetic waves.
HVDC supplies are on the rise in such countries as China and India, in which the distance between power plants and electricity consumers is more than 1,000 km. Projects to transmit such new and renewable energy plants as an European sea power plant complex and a photovoltaic power plant complex in the Sahara in Africa are to employ the HVDC cable.
Super grid refers to a power network in which more than two countries transmit or receive electricity mutually. A super grid in Northeast Asia would allow Mongolia's rich wind power and photovoltaic power and Russia's abundant hydro power to be supplied to Korea and Japan, the countries with chronic electricity scarcity.
Following the thawing of inter-Korean ties, a Northeast Asian super grid scheme may be materialized, LS Cable & System officials said. Although South and North Korea have different voltage and current frequency, the HVDC technology would transmit and receive power between the two Koreas, they said.
LS Cable & System President Myung No-hyun said LS Cable & Sytsem is the sole company in Korea to have experience in areas ranging from the development of HVDC cables to construction.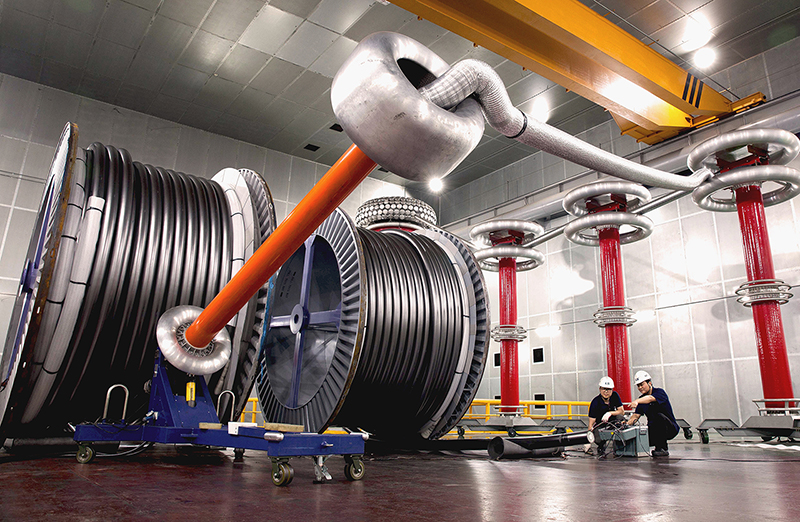 Officials with LS Cable & System conduct a performance test on a 500kV-class HVDC cable. ( Photos: LS Cable & System)